Post-crash Hopium: Bitcoin Bulls Look for Light in the Dark Tunnel
Things are not as grim as they seem, find many hardcore Bitcoiners. Sure, the situation is bad currently, but it's just a period that has its end, at that end await more investors, and the entire situation should be used to buy more bitcoin (BTC), they say.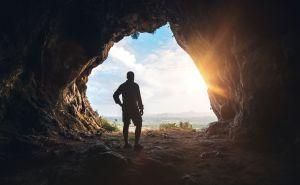 Source: iStock/da-kuk
Good for gold and bitcoin
Anthony Pompliano, co-founder and partner at digital asset management firm Morgan Creek Digital, said in a blog post yesterday that "both gold and bitcoin should do incredibly well during this time period." He encouraged people, saying that - between the Covid-19 outbreak causing major economic difficulties and S&P 500, the Dow Jones Industrial Average, oil, gold, and bitcoin all dropping, it's been a very tough week, but that this too shall pass. As a matter of fact, bitcoin, the hardest money ever, was built for this scenario, and its celebrated features are what will prove themselves "exponentially important" in the next phase of this crisis.
"The structural flaws in various markets are exposed when economies slow down, including too much leverage and lack of liquidity," Pompliano writes, and "we are watching a liquidity crisis play out in real-time," meaning that investors go for the exit at the same time, but they can't see their assets as there aren't enough buyers, so the desperate investors start lowering prices aggressively.
However, if an asset has a liquid market, it will be sold for cash. "Investors are incredibly insensitive to price. They need cash so badly that they will make traditionally irrational decisions in order to optimize for liquidity." And that is why gold dropped during the 2008 global financial crisis - not because it was a bad store of value or was no longer a safe haven, says Pompliano. As a matter of fact, it behaved as both of these things the entire time and the price still went up over the years.
Bitcoin is going through the same thing, he says: having a liquid market, it's being sold for cash now, and most of those who wanted to, "have already sold the asset over the last week, which is why we have seen such a significant drop in bitcoin's price." And even though the price can still drop briefly:
"The weak hands and/or those seeking liquidity have most likely acted already, so it is unlikely that we will see continued sell-offs that cause massive price decreases from these levels," he wrote when BTC was still around USD 6,000.
Furthermore, bitcoin has "strong hands" - financially educated individuals who "are convinced that bitcoin's sound money properties are superior to any other form of money," and they're not selling their BTC. They're likely buying it now.
The next phase will see rates continue to fall aggressively in the U.S. with possibly trillions of USD dollars "printed," Pompliano believes, which will further remind people that "the U.S. dollar is not sound money."
As the government tries to bail out the economy via market manipulation (interest rate cuts and quantitative easing), investors go through the liquidity crisis and then seek sound money and safe havens.
"You can choose which system you prefer, but I am uncomfortable putting my wealth in the hands of those who can (a) shut down the market, (b) devalue my currency on a whim by printing trillions of dollars, and (c) have a history of lying to the American people about what they are doing and why," Pompliano added today in his newsletter, stressing that most people on Wall Street don't understand the importance of Bitcoin. "They were literally begging for the Fed to pump billions or trillions of dollars into the system on national television yesterday!
The (dead) halving narrative
"But bitcoin has one other aspect to it than gold — the upcoming supply shock (bitcoin halving in May 2020). Right when bitcoin is about to become super attractive to people because the U.S. government / central bank begin incredible monetary stimulus efforts, the digital asset is going to see the incoming supply cut in half. One of the scarcest assets in the world is about to become even more scarce," Pompliano said.
However, earlier this week, Ryan Selkis, CEO of crypto researcher Messari, argued that the halving narrative "is completely dead now": "The only thing that matters with respect to the halving now is whether it breaks the mining market."
"The miners that have predominantly new gear, they are probably fine," Chris Bendiksen, head of research at digital-asset manager CoinShares, told Bloomberg today. "But then you have the previous generation ones, they are starting to sweat a little. If the prices remain like this, the halving will finish them off."
"People were expecting price increases either before or after the halving, whereas now it seems like the exact opposite is going to happen," Ryan Watkins, an analyst at Messari, added.
Bitcoin is working
Just as Pompliano discussed, other Bitcoiners also believe that the moves made by the governments now will drive the investors into the hands of bitcoin tomorrow.
Jack Mallers, the founder of Lightning Network wallet Zap, said that with the interest rate cuts and quantitative easing by the Federal Reserve, "the soundest money mankind has ever encountered becomes more and more attractive by the second." Bitcoin is working "when we need it most," he writes, adding: "My full nodes are still receiving blocks every ~10 minutes, with 12.5 new bitcoins in them. I know what the supply of BTC will be tomorrow, next year, and in 100 years."
Others too, like Jill Carlson, a co-founder of the Open Money Initiative, are pointing out that even U.S. treasuries are selling off (given their massive liquidity, as Pompliano discussed), and that the markets are in "free fall as people scramble to get cash," which leads to solvency issues.
Raoul Pal, Founder and CEO of Global Macro Investor and Real Vision Group, finds that "not far away a total cash ban ushered in under the virus... this is bullish bitcoin," he says.
Meanwhile, according to Mohamed A. El-Erian, Chief Economic Adviser to Allianz, the current situation and all its complications are a huge wake up call for investors previously lulled into complacency by "unhealthy Central Banks - markets CO-DEPENDENCY." "They're now scrambling to price in more realistically a host of risks, including liquidity," he concludes.
Are we at the bottom yet?
Crypto analyst Tone Vays can't say for sure if bitcoin has bottomed, as the last two years of the bear market were not standard. However, "the way we bounced off [USD] 3,850 is very promising," he writes, adding "These capitulations 'usually' drive the price to NEW lows but we stayed above [USD] 3,150."
In the meantime, Tushar Jain, Managing Partner at crypto hedge fund Multicoin Capital, finds it likely that all those who were "going to get shaken out of bitcoin just got shaken out," leaving "only strong conviction and well-capitalized holders."
Anonymous bitcoin analyst PlanB, known for his stock-to-flow model, stated that he's not planning to sell for a few more years at least, while Vays also recommends hodling.
Meanwhile, Peter Brandt, the well-known trading veteran who forecasted a year ago that bitcoin might reach USD 50,000 in 2021, now doesn't rule out that bitcoin might drop below USD 1,000.
The well-known crypto whale, J0E007, who raked in USD 9 million in a matter of minutes in February, also joined the price discussion:
Death and dips
"No, Bitcoin as a store of value isn't dead just because it had a super shitty day," writes Erik Voorhees, the founder and CEO of the crypto exchange ShapeShift. "No, Ethereum and [DeFi] aren't dead just because they had a super shitty day. In the coming months the world will see what anti-fragile means."
Other Bitcoiners, like Michelle Phan, former giant YouTuber, are advising people to buy in the dips.
Meanwhile, following the crash yesterday, BTC is now (15:00 UTC) trading at USD 5,682, having dropped 7% in 24 hours and 38% in a week. The price is still up 48% in a year.
____
More Bitcoin hopium:
__
__
__
__
__
__
__
___
---