Newly (Re)released Game Allows Players to Simulate Bitcoin Mining and Earn BTC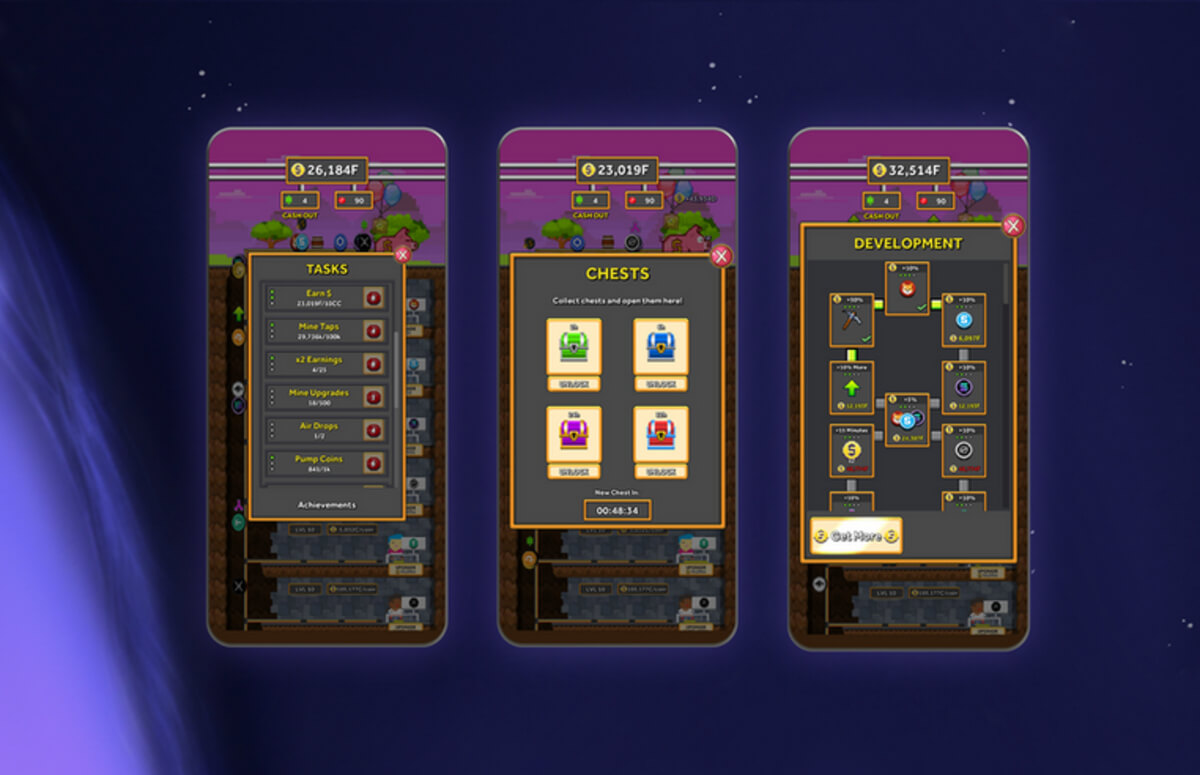 The innovative crypto space keeps producing novel ways to merge with different industries and engage more people with cryptoassets, this time crossing the boundaries between gaming, crypto, mining, and earning.
Gaming fintech ZEBEDEE and UK mobile gaming studio Fumb Games have joined forces to release Bitcoin Miner, a game that provides players with real bitcoin (BTC) for running a simulated crypto mining operation.
Paul West, Founder of Fumb Games, said that the latest development marks a second attempt by the developer to introduce players to the concept, but this time, the companies allow users to earn real cryptocurrency for their efforts.
According to ZEBEDEE's blog post:
"The game represents a fusion of tapping to collect coins with methodical strategy as you find the most optimal way to build your mining farm. But the twist is that you get paid real Bitcoin while simulating an activity that would generate new Bitcoin in the real world."
West said that Bitcoin Miner was originally released some four years ago, "when crypto started taking off," but that there was "no real appetite for the game" since it was impossible to enable players to earn actual BTC. Now, the game includes this latest functionality.
He added that, "with ZEBEDEE, we were able to put real Bitcoin into the game, which makes the premise of Bitcoin Miner much more fun, impactful and noteworthy for players."
The blog post instructed that,
"When you see a green satoshi symbol over a coin, you'll earn Bitcoin for tapping it."
The game also pays out "a little bit of " BTC when a user levels up their mining farm.
The fintech's website explains how to withdraw funds from the ZEBEDEE Wallet.
One of the objectives behind the effort is to use the game to promote cryptoassets among gamers. ZEBEDEE's self-declared mission is "making it easy for gaming studios to put bitcoin into games and revolutionize user-game interaction," according to the company's recent tweet.
Simon Cowell, CEO of ZEBEDEE, said that the company hoped that "fun and easily approachable games" like would "foster curiosity" about the world's number one coin, and that they would get more people "of all ages and backgrounds learning about it and participating in the new digital economy powered by Bitcoin."
The 'miners' will also need to make a choice if and when to sell their portfolios. When they sell, they get GPUs (graphics processing units) to help their machines get more coins, and if they HODL, they can continue collecting profits and "mining for new and improved coins."
To play Bitcoin Miner and other games for free, players will be required to download the ZEBEDEE app which comprises links to various games. The app is also available for download via Google's Play platform and Apple's App Store, according to the statement.
Fumb Games's portfolio includes mobile games such as Merge Monsters, Blacksmith, Zombie Labs, and Mergecraft.
____
Learn more:
- Bitcoin Mining Difficulty Hits ATH as 'Tectonic Shifts' Bring 'New Opportunities'
- Small Argentine Town Turns to Crypto Mining to Pay for Improvements

- Sky Mavis Releases Early Access of Its Much-Anticipated Axie Infinity: Origin
- Zilliqa Token Rises Further as New NFT Gaming Partnership Announced

- How To Design Blockchain Games Ethically
- Blockchain Games in 2022: Play-to-Earn, Gamification, Interoperability and Major Publishers
---