New Altcoin Season: Is It Coming Anytime Soon?
As Bitcoin dominance in the crypto market grows, another altcoin rally may be just around the corner, and tightly tied to the price movements of BTC, some industry players estimate. Although there are disagreements as to what that tie really looks like, some argue that it is only a matter of time before whales move into altcoins, increasing demand for them, which in turn increases the price.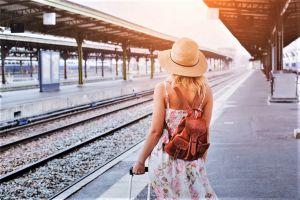 At pixel time, only 16 coins among the top 100 coins by market capitalization registered higher gains than Bitcoin. It includes BAT (+19%), ENJ (+9.66%), MKR (4.73%), while c. 40 coins are in red. Also, less than 30 coins registered gains in the past week.
Top 10 coins by market capitalization:
(14:30 UTC)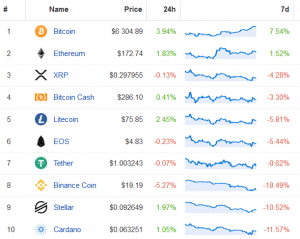 ____
Bitcoin dominance (percentage of total market capitalization):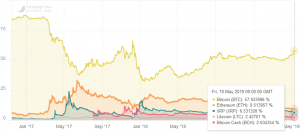 Altcoins vs Bitcoin: what correlation?
Author of the popular book Cryptoassets: The Innovative Investor's Guide to Bitcoin and Beyond and partner at venture firm Placeholder, Chris Burniske, explains in a tweetstorm: "Here's the cycle: BTC rallies hard, majority of 'alts' drop as BTC is the main liquidity provider to crypto (right now) and no one wants to sell BTC. Value of 'alts' in *BTC terms* then drops until whales choose to cycle into 'alts.'" He goes on to explain that this system of setting the price of Bitcoin as a standard against altcoins, but that this system will fade over time, "as liquidity broadens beyond BTC, market gets more discerning, shorting matures, etc etc."
However, Su Zhu, CEO of fund manager Three Arrows Capital, disagrees: "The issue is that whales have to have BTC to be able to cycle into alts in the first place. But I reckon a lot of the BTC is moving into hands that dont [sic] care for cycling alts + a lot of nonBTC whales missed this entire move." Indeed - even though Bitcoin is gaining traction in its mass adoption process, it is doing so at a faster pace than altcoins, so many institutional BTC holders are not comfortable moving into altcoins.
As for the reason for this current state of affairs in the market, popular crypto trader @CryptoTutor explains: "When all altcoins (regardless of what they do) move in the same direction, it causes an overreaction, just like [it] is happening now. Some altcoins will bounce back very strong ("return to fundamentals" phase [...])."
Looking at altcoins purely through Bitcoin-tinted goggles may be another all too common mistake made in the space. Gautam Chhugani, a senior analyst at global asset management firm AllianceBernstein, tweets: "Here is a prediction - You will discover new patterns this crypto season. Not all alt coins [sic] will remain alts. They will become more mainstream and establish their own place and valuation. Be patient."
Should I Buy?
The most common question that any crypto trader would kill to know the answer to is "when should I buy." Crypto trader and DJ Scott Melker seems to have cracked the code, tweeting: "My feed is littered with 'alts are going to 0' chatter. It may almost be time to buy." On the other hand, Twitter user @CobraCrypto believes that alts will skyrocket when "when BTC is around [USD] 18K."
But there is another age-old question: are you in it for the gains or for the technology? Because, as crypto trader and analyst Nick Cote points out, there are obvious examples of those two not necessarily going hand in hand.
But, in the spirit of a true crypto enthusiast, Cote also took the opportunity to take a jab at the infamous "XRP army," fans and bots of Ripple's native cryptocurrency, who have been known to remain loyal to their coin of choice in the face of many drops and general bad news. "XRP / BTC entering vertical down. No curve. Just ruler stick down. When xrp army?" he asked on his Twitter profile. Interestingly, the XRP army does not seem to have caught wind of this, otherwise his replies would presumably be flooded by them defending the coin.
Others are poking fun at the whole situation.
And when you really don't care about altcoins, only need Bitcoin to go up, then you might choose to write a prayer to Arthur Hayes, CEO of cryptocurrency exchange BitMEX, and hope you'll be heard.
---