Moving to Green Bitcoin May be Moving To a Two-Tier Bitcoin
Given the recent and increasing developments over the so-called 'green' bitcoin (BTC), it seems that the industry might be moving to a two-tier BTC.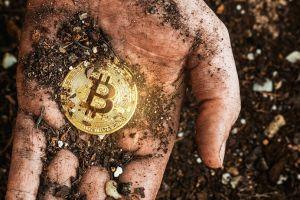 As Tesla chief Elon Musk and quite a few others criticized Bitcoin over its energy consumption and the potential impact on the environment, Twitter CEO Jack Dorsey, along with active management firm Ark Investment, have argued quite the opposite - that bitcoin incentivizes renewable energy. (And Musk agreed with this before he started criticizing BTC mining.)
Meanwhile, Blockchain and crypto company DMG Blockchain Solution's operations in British Columbia already rely on cheap hydropower from dams. In March 2021, DMG and crypto mining company Argo announced the establishment of a Bitcoin mining pool powered by hydropower - calling it the first one to be powered by green energy exclusively.
As reported, the Terra Pool will initially consist of both Argo's and DMG's hashrate, and it represents "the first-ever opportunity for the creation of 'green bitcoin'."
"We already have interest from financial institutions in those coins," DMG CEO Sheldon Bennett, said Nymag this week. Their pool is expected to be launched in a month or two.
This comes at the time when institutional interest in bitcoin rises, along with the pressure for the crypto they're interested in to be 'green' in accordance with many companies' environmental policies.
Additionally, Bennett is investing in a solar installation, expecting to begin reaping returns on that investment in a few years. Pushing into renewable is a logical way to go for them, he said. "It's natural and logical for me to put a solar plant up because that would give me the lowest-cost power."
And Nymag concluded,
"In the future, you could imagine that bitcoin mined with coal or fossil fuels will be seen as the crypto equivalent of blood diamonds — with perhaps a premium market for those created in environmentally friendly ways. That there are cleaner and dirtier varieties of bitcoin mining might even help explain Elon Musk's complicated views on the subject."
Curiously, this potentially reminds of the so-called virgin bitcoin - the freshly mined BTC that has not been used for any transaction, that is, that doesn't have a transaction history. As reported, some industry players claim that both reputable institutional investors and money launderers are competing to hold these "clean" bitcoins in order to be on the safe side, as there is no history to track.
The argument over the green BTC matter continues: some argue that as more miners join, the network will consume more energy, others say that each institution that buys BTC is actively increasing energy usage/CO2 emissions, while defenders claim that the critics who discuss Bitcoin's increasing footprint as the usage grows don't understand how Bitcoin works.
Now, Musk argues that audits of renewable energy used by the largest Bitcoin miners could help lessen these worries.
When Ark Investment director of research Brett Winton said that "bitcoin minting could allow solar + battery systems to economically scale to provide a larger share of grid energy," Musk agreed that it could be done over time, but that "recent extreme energy usage growth could not possibly have been done so fast with renewables."
He added that "this question is easily resolved if the top 10 hashing orgs just post audited numbers of renewable energy vs not."
Crypto derivatives exchange FTX CEO Sam Bankman-Fried also gave his rough calculation of the amount of CO2 BTC creates.
"Elon will come back and be part of that ecosystem," the CEO of Ark Investment, Cathie Wood, told Bloomberg. This will happen once renewables are incorporated into the Bitcoin mining, like she said she expects.
Wood also expects BTC to reach a price of USD 500,000.
At 10:05 UTC, BTC is trading at USD 40,167. It increased by almost 1% in a day, trimming its weekly losses to less than 20%.
____
Learn more:
- Green Investments Help Bitcoin Miners Amid Possible Regulatory Crackdown
- Bitcoin Mining Difficulty Hits an ATH As Miners Send Bullish Signs
- Proof-Of-Bitcoin Needed As Critics & Competitors Unite To Play Climate Card
- A Closer Look at the Environmental Impact of Bitcoin Mining
---