More Good Signs From Bitcoin Network
In December, the Bitcoin mining difficulty was forecasted to drop once again, but it actually beat the forecast and increased during both of the last adjustments. This means that the miners are coming back, creating a more competitive environment. However, some players in the mining industry still need to deal with certain challenges.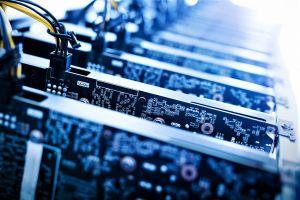 It was previously estimated that the mining difficulty, the adjustment of which was set for end of December 2018, would drop by 8.22%. However, data from major Bitcoin mining pool BTC.com shows that the difficulty on December 31st actually increased by 10.03% at that time, and again two weeks later, at the next adjustment, by 4.72%. Now, the pool estimates that the difficulty will increase by another 4.35% in almost 13 days.
10 recent Bitcoin mining difficulty adjustments: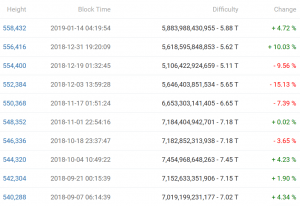 The mining difficulty of Bitcoin is adjusted every two weeks (every 2016 blocks, to be precise) to maintain the normal 10-minute block time. This means that if there are many miners competing amongst themselves and propagating blocks in less than ten minutes, the difficulty of the next puzzle will be increased; if there are few miners and it takes them much longer to find a solution, the difficulty is decreased - both times just enough to keep block times at around 10 minutes.
To further add to the proof that miners are turning their rigs back on, the hash rate is also growing: in the past month, it is up from some 36.5k TH/s to around 42k TH/s, an increase of around 13%.
Bitcoin hash rate: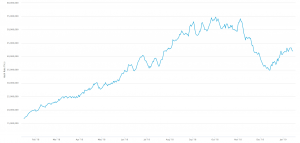 _____
Bitcoin price chart: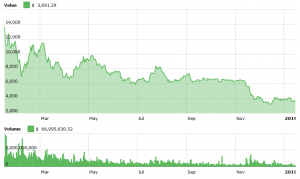 Moreover, small miners are increasing their share in the Bitcoin network, which helps boost decentralization. Unknown miners closed December having solved 22% of the total blocks up from 6% at the start of the year, according to weekly cryptocurrency publication Diar. The Bitcoin network is currently even less likely to experience a 51% attack given the fact the BTC.com controlled pools have lost dominance over the network, instead spreading the mining power over smaller participants.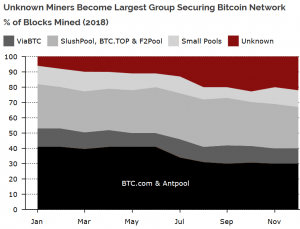 However, Bitcoin mining is expensive business, and not just due to the cost of the hardware rigs required. The amount of electricity spent is often the cause for incredibly high bills - and that's without governments additionally increasing the cost of electricity spent on mining operations. As of April 1st, power rates for cryptocurrency firms will go up by 15% in Washington. This is scheduled to go up by another 35% in 2020, and another 50% in 2021. Now, according to the Grant County public utility district (PUD), nine cryptocurrency firms have filed suit at the US District Court of Eastern Washington for imposing an "evolving industry" rate that targets mining operations.
Things are getting increasingly difficult for some other mining industry companies as well. Meanwhile, Bitmain, the world's largest mining hardware maker and operator of the two major Bitcoin mining pools, is seeing their share of trouble, too. The company has announced another round of layoffs, after they were rumored to have lost over USD 700 million in Q4 2018. They closed down their Israeli branch and fired all of its employees, which was followed by reports by Chinese media that Bitmain CEOs Jihan Wu and Micree Zhan are set to step down. The new cuts are happening in Amsterdam, Netherlands and Rockdale, Texas - both of which are losing all Bitmain operations located there.
Moreover, US-based Bitcoin mining company Giga Watt is finally going out of business after declaring bankruptcy in November 2018, and the company's token will become worthless, CCN reported. The firm lasted a little over a year, launching with an initial coin offering in September 2017. The reason for this are unpaid power bills, according to the report. As reported by Cryptonews.com, Giga Watt had filed for bankruptcy in Washington in November, still owing creditors nearly USD 7 million.
---