McAfee to Launch Freedom Coin With "Zero Cash-in Value"
John McAfee, the renown crypto advocate and IT security entrepreneur, announced the launch of McAfee Freedom Coin - a cryptocurrency "with zero cash-in value, yet accepted universally." The coin should be released this fall.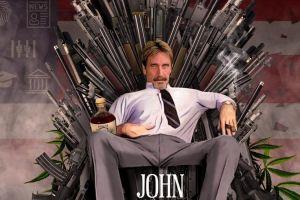 McAfee claims that the freedom coin "is designed to confront the problem of exchange head on." It will use a "unique paradigm" and a new structural concept, which is why it is not based on any commodity nor connected to the value or behavior of any external asset: "The value of the coin will always be zero in relation to any other currency yet it's natural market value is free, completely, to grow."
According to McAfee, the idea is to detach the coin from the "fear, greed, manipulation and the vagaries of external economic conditions."
While it is still unclear how the whole concept is supposed to work, the further details shall be clarified in the Freedom Coin's whitepaper which should be released later.
The most sensible view is that the "McAfee Freedom Coin" will be available for transactions directly between user wallets, but not cryptocurrency exchanges so that its value in relation to other currencies would remain non-existent.
The initial announcement also included a now-retracted message:
"No it is is not mined. No, we are not doing an ICO. No, we are not looking for investors. No, we will not be listed on an exchange. No, we will give no more information before release of white paper. Yes, this is real… Also, there will be no airdrops".
There are many original crypto projects in the space, but McAfee's new coin is unique in a way how it will try to remove the currency exchange market from its ecosystem and will rely on private sales or peer-to-peer platforms alone.
Also, there are many cryptocurrencies that are not traded on cryptocurrency exchanges, so it's difficult to argue that such a project will create some unique value without introducing some kind unique breakthrough innovation. Besides, it is likely to have value in relation to other currencies, even if that value is not public.
Moreover, the entrepreneur has also announced recently that he's going to launch a privacy-focused "Visa/Mastercard Crypto Debit Card," which is reportedly being already tested.
Previously, McAfee made the headlines when he promised to reveal the identity of Satoshi Nakamoto but did not do so due to his imminent extradition request to the United States. Also, McAfee is a 2020 United States presidential campaigner.
---