Litecoin Enters Lower Supply Era as Second Halving is Complete
The fifth cryptocurrency network by market capitalization, Litecoin (LTC) just had its second halving, prompting some miners to shut their machines down, switch to other coins or invest in more powerful mining equipment, while the market is trying to guess how the price of this coin will react.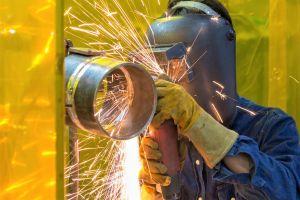 What the halving (also known as "halvening") means is that the digital currency's rate of new supply is now half of what it was – down from LTC 25 to LTC 12.5 per mined Litecoin blockchain block. Litecoin's first halving happened on August 25th 2015, when the Litecoin block mining reward was reduced from LTC 50 to 25 LTC. Until now, around 75% of the total litecoin supply (84 million) are already mined. The next halving is now estimated to happen in August 2023.
The halving is bound to bring changes. In the first place, it is meant to slow issuance in order to make LTC less susceptible to inflation. However, the traders are expecting a period of increased volatility, while the miners will be earning lower rewards.
"The halving of the block subsidy means that earnings generated by mining Litecoin are going to effectively halve instantaneously. Operating costs will remain the same, however, which means that the overall profitability will be severely affected. This is why some operations may have to shut down," a pool operator from Litecoinpool.org told Cryptonews.com. While the operator can't speak for the miners and what they will do if their operation becomes unprofitable, "what usually happens in these cases", the pooler adds, "is that they try to sell their mining equipment to others who have access to cheaper electricity."
On the other hand, a miner, Stephen, told Cryptonews.com that he mines LTC as a hobby. He uses a FutureBit Moonlander 2, which is a USB miner, and which mines at around 3.7 MH/s for him. "I do not have any plans to change the way I operate", says Stephen, "because I don't care about power costs because USB doesn't use that much power." He believes that the price will go up, "and as some people reconfigure [their mining machines], they will drop out for a while, causing the [mining] difficulty to go down for a week or so", which will then make mining more lucrative because of supply-and-demand, thinks Stephen. "Currently I make about USD 0.01 per day, I think I might make about USD 0.02 per day after the halving".
Litecoin hashrate vs. difficulty change ahead of the halving: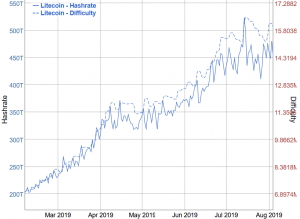 Meanwhile, on Reddit, during last hours before the halving, Litecoin miners were discussing purchasing new equipment, and new miners were joining the game. Redditor SuperLeroy doubts that "people will mine anything different", saying, "In terms of profitability, I think most miners believe LTC will in the future give the most returns out any scrypt coin you can mine with scrypt ASICs [miners]", and adding "mine and hold until next year will pay out better than mine and sell this month." However, while Strawberry_666 has "faith in LTC long term", this miner says that "for now I need to replace my L3++ mini farm with other gear, so after the halving I have to switch coins in order not to bleed profitability too much."
As previously reported, Litecoin creator, Charlie Lee, who claims that he sold all his litecoin holdings in 2017, said that halving is always a "shock to the system" and some miners will not be profitable and "will shut off their machines". If a large percentage of miners shuts their machines off, then it would slow down the network for some time. "For Litecoin, it's two and a half days till next change, so possibly seven days", explains Lee, adding that the mining difficulty will readjust and everything will be fine after that period.
_____________________
_____________________
Right after the halving, Lee tweeted:
Meanwhile, Eric Turner, director of research at crypto analysis site Messari told Bloomberg that some investors are leaving: "In the bear market, a lot of traders saw the Litecoin halving as a good fundamental trade and it became pretty crowded," he said. "Now that the halving is here, some investors are starting to exit the trade. Halvings tend to be priced in, so the event itself isn't the positive catalyst that many expect." Soon after the first halving in 2015, litecoin price corrected lower.
At pixel time (10:12 UTC), litecoin trades at c. USD 99 and is up by 7% in the past 24 hours and by 11% in the past week, trimming its monthly losses to 18%. However, the price jumped by 32% in the past 12 months.
In regards to the drop in developer activity, David Tawil, president of crypto hedge fund ProChain Capital told Bloomberg that "Folks that are invested in Litecoin see these technical moves as not being important enough anymore — there needs to be more fundamental development."
Meanwhile, the Litecoin Foundation has opened a wallet for people to donate and help support the expensive technical developments, such as the development of private transactions on Litecoin, the Lightning Network, and LoafWallet. There were 18 transaction so far. The address has received LTC 6.66, which are worth USD 646.
As Cryptonews.com reported, while the Litecoin block mining reward is halved, other numbers show that the network metrics have significantly increased in four years since the first halving. Among other findings, we saw that the price is up by 2,370% and the market capitalization surpassed USD 6 billion, while the mean fee per transaction dropped 25%. Furthermore, hashrate, or computing power of the Litecoin network, is up by 37,379%, while the mining difficulty has skyrocketed from 457,914 four years ago to today's 15,930,321.
---