Launching Ethereum 2 Phase 0 On December 1 is an 'Uphill Battle'
Judging by the speed ethereum (ETH) is being staked in the recently launched Ethereum 2.0 (ETH 2.0) deposit contract, the Phase 0 would not be launched before January. Still, some members of the ETH community hope that the validators will pour in with the genesis time nearing, while others still question how good of an idea is to lock away one's ETH in the first place. Meanwhile, a call to "war" has been issued.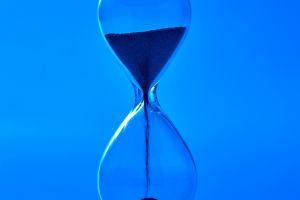 Per the ETH 2.0 Deposit Contract Progress Meter Bot on Twitter, the Beacon Chain's final version likely will not be ready until November 24. This is important, as the earliest date for the mainnet launch is set for a week later.
That's not all. As reported, ETH 2.0 deposit contract went live six days ago, on November 4. At the same time, the first of the ETH 2.0 phases, Phase 0 (which will bring the Beacon Chain), is expected on December 1. However, at least 16,384 unique validators staking ETH 524,288, are needed to trigger this genesis time, 7 days before December 1, or it will be triggered seven days after that threshold is reached, whenever that may be.
There were ETH 18,981 staked a day after the contract went live, and today, six days post-launch, per the ETH 2.0 Launch Pad, that number is up to ETH 50,593 (at the time of writing). This is 9.65% of the threshold.
At this speed, it would be impossible to meet the threshold by November 24. The genesis time wouldn't be triggered for approximately another 56 days, or until January 4 - more than a month past the earliest given date of genesis.
Meanwhile, according to the data provided by Dune Analytics, there are currently 242 unique ETH 2.0 depositors, and 1,548 transactions to the deposit contract.
The most ETH was sent to the contract on November 5, nearly 85% more than on the day of the launch one day prior, while the least so far was seen on November 9.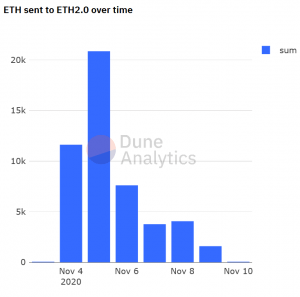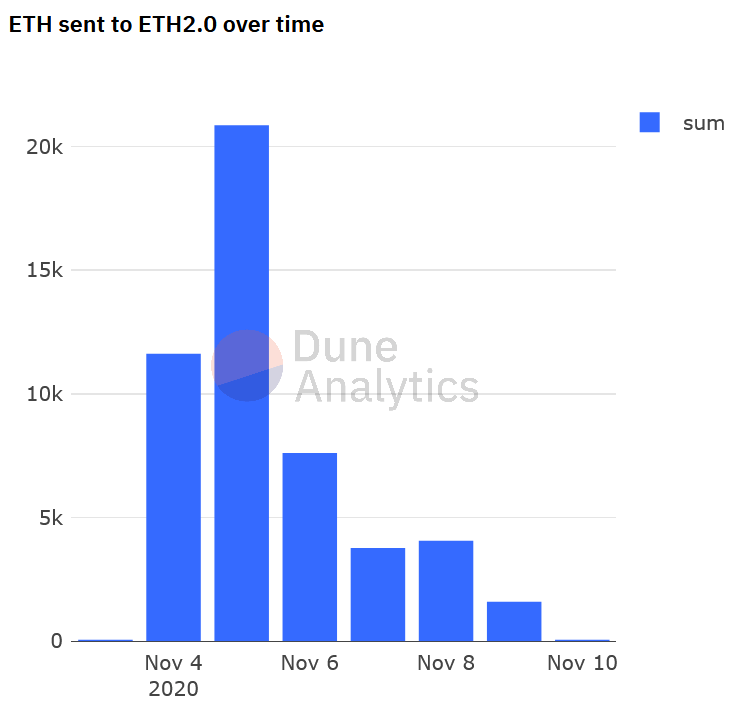 However, it's not necessarily the case that staking will continue at this speed, and some ETH fans hope that the pace will drastically pick up closer to the expected genesis time, or rather November 24 - meaning that the next week will be the deciding period.
Others, however, like Bitcoin (BTC) evangelist at crypto exchange Kraken, Pierre Rochard, argue that this type of staking is "an economically irrational thing to do."
Rochard is not the first to express this opinion, as many have been debating over the past few days if locking away ETH 32 (USD 14,304) for years is a good idea. And Ethereum supporters are aware of this.
Anthony Sassano, SetProtocol product marketing manager and author of the Ethereum-focused newsletter The Daily Gwei, stated that meeting the threshold in this short amount of time "is going to be an uphill battle," given that:
sending ETH to the deposit contract is a 1-way street until phase 1.5,
the ETH price has been trending up over the last few weeks which is dissuading people from locking up their ETH for 1-2 years,
the 32 ETH required to stake is now worth [c. USD] 14,400 which is unfortunately out of reach for many people,
there's an opportunity cost of sending your ETH now rather than waiting until the day of,
and getting involved with staking in phase 0 is still quite technical."
This is why he's calling for individuals to set up their own validators and in other ways join a 'Genesis War Effort,' rather than depending on ETH whales, or holders of large amounts of ETH.
Meanwhile, as reported, Ethereum co-founder Vitalik Buterin already sent ETH 3,200, currently worth USD 1.43m, to the deposit contract.
At pixel time (13:52 UTC), ETH trades at USD 447 and is unchanged in a day. The price is up by 16% in a week and 20% in a month. It also rallied by 139% in a year.
---