Is Shiba Inu Still a Viable Investment? SHIB Price Declines While SPONGE Shows Strong Rally - Is There 100x Potential in 2023?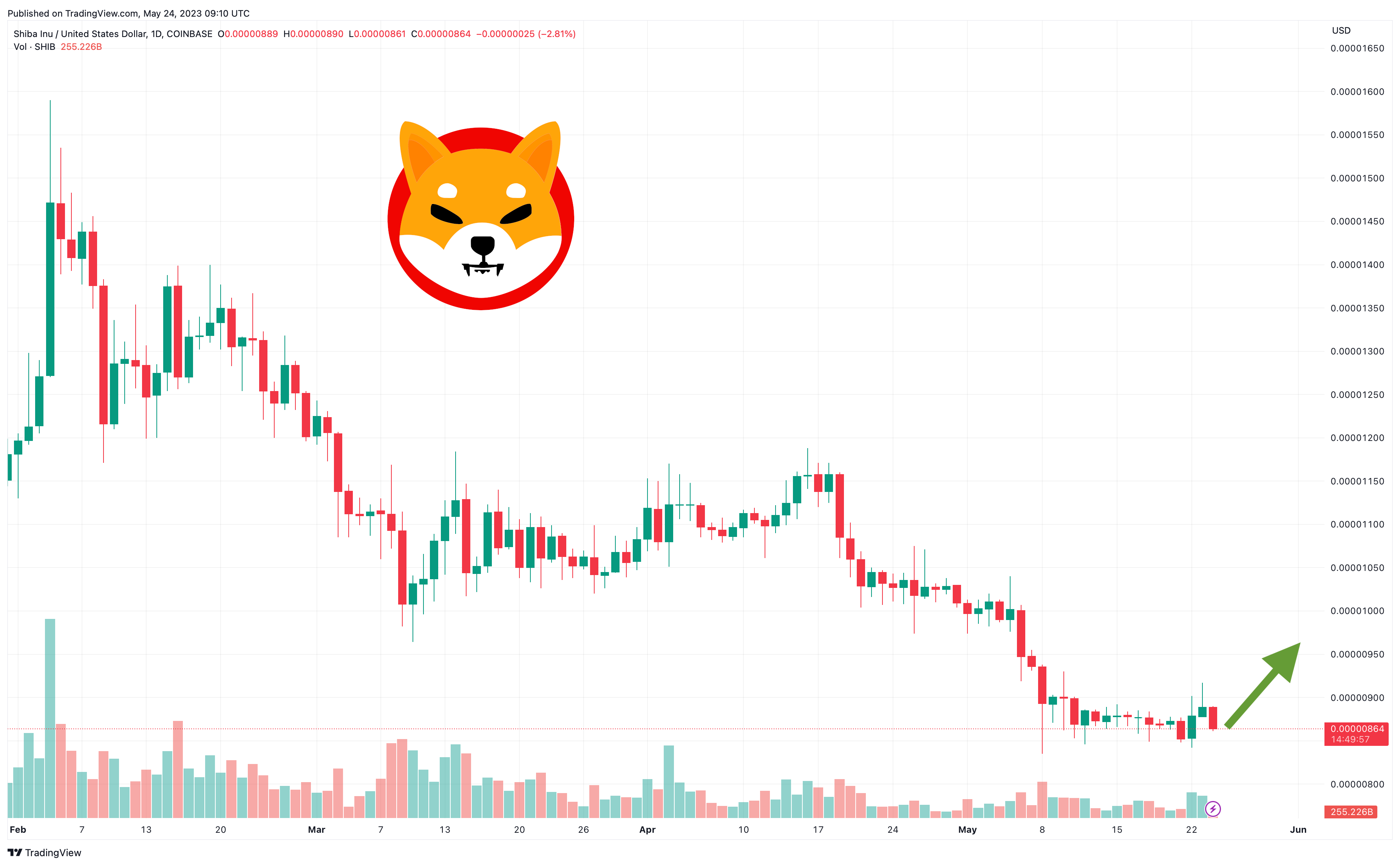 The price of Shiba Inu (SHIB) has dropped by 2% in the past 24 hours, slipping to $0.00000865 as the cryptocurrency market as a whole falls by 1.5%.
SHIB's dip today means it has lost 1% in a week and 16% in the last 30 days, with the meme token up by 6.5% since the beginning of the year.
Given that the likes of Bitcoin (BTC) and Ethereum (ETH) have gained by 61% and 51% since the start of 2023, SHIB could easily be accused of underperforming in recent months, with the coin having been on a steady decline since February.
But while this ongoing loss of value could be used as evidence that SHIB may be in a state of terminal decline, the long-awaited arrival of layer-two network Shibarium could easily send the meme token flying in the next few months, as could the appearance of SHIB: The Metaverse.
On top of this, traders may also seek to diversify their holdings into newer meme tokens that have been enjoying more momentum as of late, with SpongeBob (SPONGE) being one of the most notable of these.
Is Shiba Inu Still a Viable Investment? SHIB Price Declines While SPONGE Shows Strong Rally - Is There 100x Potential in 2023?
SHIB's chart doesn't provide much in the way of good news at the moment, with its indicators suggesting further losses in the coming days.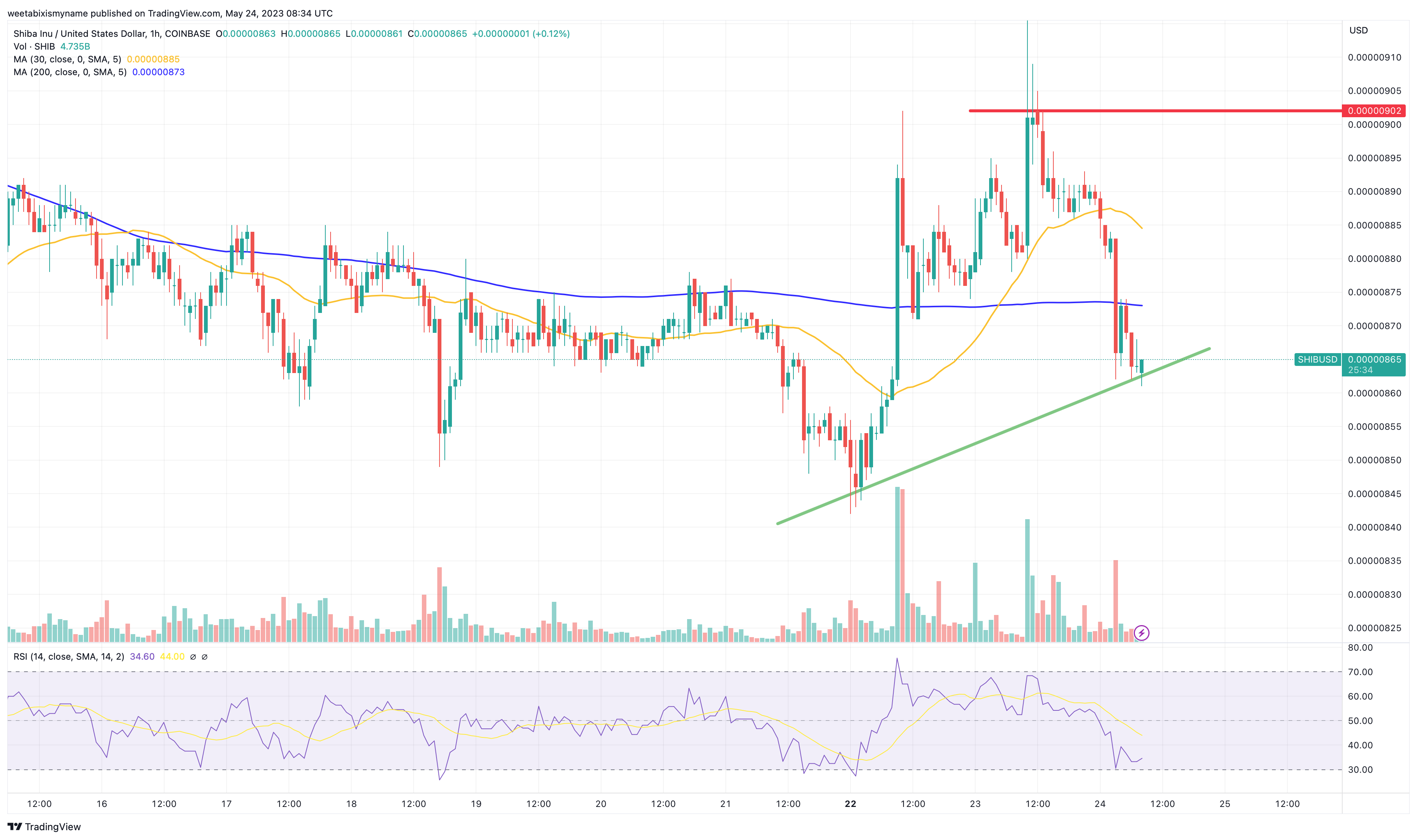 The coin's relative strength index (purple) has declined from just over 70 a couple of days ago to nearly 30 today, and could drop further before it makes a comeback.
Also suggesting further declines is SHIB's 30-day moving average (yellow), which is now dropping towards its 200-day average (blue) and could fall below the latter in the next one or two days, forming a 'death cross.'
And while SHIB's support level (green) has risen in the past two days, the meme token could easily fall through this floor, something which would portend more losses.
Because the wider market remains in a mixed and uncertain state, SHIB could certainly fall some more in the near term, with the coin also suffering from a lack of positive news at the moment.
That said, data from Whale Stats continues to indicate that SHIB remains the most traded token among ERC-20 whales and the most widely held in terms of the total dollar value of all whale holdings.
As such, it seems that bigger investors are sitting on the meme token, expecting a big rally to happen sooner or later.
Such a rally is likely to be initiated by the full public launch of Shibarium, a layer-two network for Shiba Inu that will provide the meme token and its small ecosystem of dapps with faster and cheaper transactions.
According to developers working on Shibarium, the layer two should see its full launch at any point "from now until the end of August."
Once launched, it could potentially drive Shiba Inu adoption and development, helping the meme token to expand its dapps beyond ShibaSwap and a few others.
In turn, this could increase demand for SHIB, which would inevitably boost its price.
Much the same thing applies to SHIB: The Metaverse, a Shiba Inu-themed virtual world that will enable users to buy plots of digital land as NFTs and play a variety of mini-games.
There's no release data for SHIB: The Metaverse, but once it does arrive it too could help SHIB rally massively.
So from its weak position of $0.00000865 it could easily shoot up to $0.0001 or higher in the next few months, and potentially lose one or two more decimal places by the start of 2024.
SPONGE Outperforms SHIB
Almost needless to say, SHIB holders could be waiting months for a turnaround in the meme token's recent fortunes, which leaves them and traders needing to look elsewhere if they want to make gains in the meantime.
Fortunately, the past few weeks have brought a wave of new meme tokens that have comfortably beaten the market on more than one occasion, and one of the best-performing of these is SpongeBob (SPONGE).
Since listing directly on May 4, SPONGE has already seen gains as high as 6,000%, with the coin being listed on a wide variety of exchanges.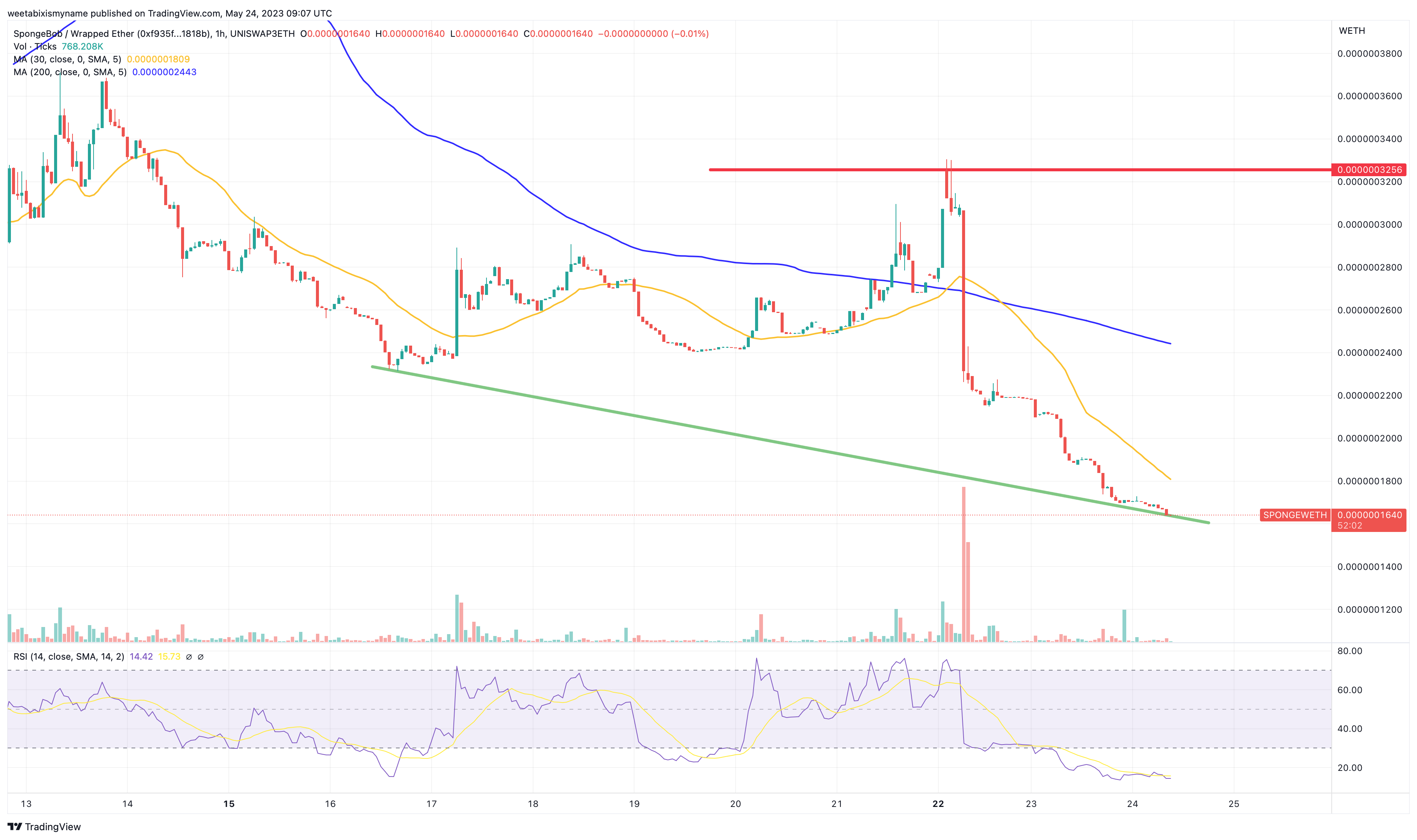 This includes Gate.io, MEXC, LBANK, CoinW and Toobit, while more exchanges are likely to follow suit in the next few weeks, providing SPONGE with even more impetus.
With a total maximum supply of 40.4 billion, SPONGE currently has more than 13,000 holders, as well as over 45,000 followers on Twitter.
This represents some impressive growth for a coin that isn't even a month old, and seeing as how other recent meme tokens such as PEPE seem to have lost much of their momentum, it suggests that SPONGE could be the next big altcoin.
---