Is Altcoin Season Really Back?
Could altcoins be staging a comeback from the bear run of the past year? This is the new hot topic in the cryptoverse, with one side trying to figure out what's going on, while another is trying to decide if it's already too late to profit on the sudden boom among altcoins.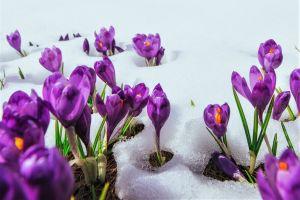 In a market analysis piece, senior analyst Mati Greenspan of eToro, a social trading platform, writes that, "Because we're coming off a particularly harsh winter, we can't exactly expect conditions to warm up immediately and turn to summer without any transition phase." On Twitter, he further added: "It's [altcoin] season. We don't ask why. Just say thanks and take the gains as they come."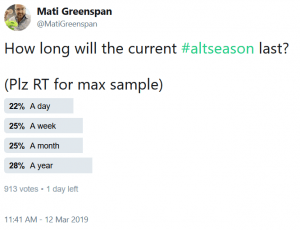 His opinion is similar to what many believe: that altcoins are back, but there is still a way to go until a real bull run begins.
Popular cryptocurrency trader Nik Patel, author of the book An Altcoin Trader's Handbook, took to Twitter to explain what he thinks is currently happening: "BTC is now as cheap as it was in Q2 2017. Many altcoins are even cheaper than they were back then. Does it not then make sense that, irrespective of what Bitcoin does over the next ~3 months, it is likely that we get a cyclical shift in altcoins to capitalise on this scenario? However, unlike the altcoin bull run of Jan '18, where we should have been paying attention to ALTUSD prices, because of the decline in BTC, we now need to revert attention to ALTBTC prices."
He further goes on to conclude:
Still, not everyone agrees. Crypto trader Pierre (@fle_pie on Twitter) tweeted, "It's definitely not the beginning of the alt season, might be the start of the euphoric shitcoins pumps tho. Glad we did not jinxed [sic] it mid February."
Similarly, another popular trader Peter Brandt, author of the book Diary of a Professional Commodity Trader, warned:
Whether or not these individual bull runs mark the start of altcoin season, the fact remains that some coins have made huge returns in short periods of time.
Four cryptocurrencies out of the top 20 by market cap are trading above their 200-day moving average - the calculation of the closing prices of an asset over a period of time, as spotted by Coindesk. These are Litecoin (LTC), Binance Coin (BNB), TRON (TRX) and Maker (MKR) - all of which broke through the averages paired against both USD and BTC.
Out of the top 100 coins by market capitalization, nine have seen their price rally by more than 100% in the past month. The obvious leader on this list is Enjin Coin (ENJ), which is up by 540%, followed by MaxiMine Coin (MXM) with 413%, and Crypto.com Chain Token (CRO) with 387%. Additionally, out of the top 100, only seven coins have seen a net decrease in price where the biggest drop happened to TRON with -14.75% - the same coin that currently trades above its 200-day moving average.
Top 10 winners among the top 100 coins by market capitalization: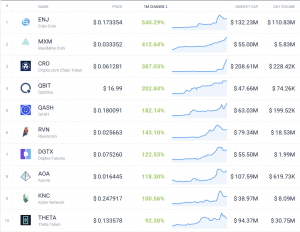 The market is indeed looking more positive than it has in a long time, and altcoin season or not, seeing coins in green is refreshing after the entirety of 2018. Regardless of their other opinions on the matter, the whole crypto community agrees that this is a great thing, and their reactions are summarized in a video by Twitter user @wawin.
---