ICOs that Deliver: The Case of Sirin Labs' Finney Phone
Switzerland-based Sirin Labs was the fourth largest initial coin offering (ICO) of 2017, having raised USD 157.8 million, and they're finally delivering their product in the shape of a blockchain phone named Finney.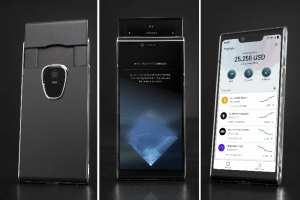 Many ICOs from last year flopped, and the top five ones saw their token price tumbling. However, it now looks like Sirin might be back in the race, as their coin (SRN) is up by around 18% in the past 24 hours (UTC 7:00 PM) - and the phone has been launched at an event in Barcelona today.
SRN price chart: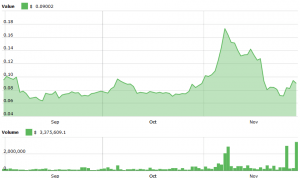 Finney is a smartphone, named after Hal Finney, the second ever user of Bitcoin (after Satoshi Nakamoto,) with an operating system (OS) based on blockchain, called SIRIN OS. It features a cold storage wallet, a special operating system and an additional screen called the Safe Screen, as well as increased security. Technological specifications of the phone have been published at the beginning of this month, and the phone does not lack any other, more common specifications either, boasting: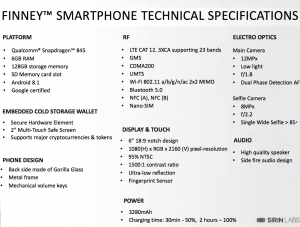 The phone was initially announced in September 2017, and the company signed on football superstar Lionel Messi as its brand ambassador in December 2017, followed by raising USD 157.8 million in the fourth largest ICO of the year. More news followed in April this year, when FIH Mobile, a subsidiary of electronics company Foxconn, was chosen to manufacture it. Notably, FIH are also makers of the iPhone phone, Xbox video game console and Kindle e-reader.
Its two main competitors are the HTC Exodus (available for pre-order) and Pundi X XPhone (to be launched in Q2 of 2019). Although they share many of the same basic specifications, Exodus does have a better main camera at 16 MPX. The XPhone, which has it's own blockchain-based operating system, does not have any of its attributes currently listed other than 64 GB of internal storage and 6 GB RAM, which they say is the "minimum specs requirement." However, the phone's website adds that, "This is a working prototype hence the final product will be different."
As for differences in the way they work, all three use operating systems based on Android in some way or other, with the main difference being that Exodus runs Android and another, micro operating system running parallel with it for added security. All three should be able to run dapps (decentralized applications), as well as offer dapp marketplaces, and should be able to double as cold storage wallets. Finney differs from its competitors by offering a Safe Screen, which they consider its strongest feature. It operates as the gateway to the crypto world by activating the cold storage wallet, and it has a separate power switch for users to access it relatively independently. The phone also offers its Token Conversion Service (TCS) which enables users to make crypto transactions for supported coins and tokens (at launch - BTC, ETH, and SRN.)
Finney can currently be pre-ordered through Sirin Labs website and paid for with SRN tokens with a discount of 10%, and should be available through the Amazon Launchpad program from January. Its price stands at USD 999. Later on, the phone is set to be available for purchase through additional channels of payments, including credit card. The company will also open two flagship concept stores first in London in December 2018, and later in Tokyo in January 2019, where the phone will be physically sold. The store on London is also set to become a "blockchain academy for our community and any blockchain-curious audience."
____
Finney introduction by Sirin Labs:
---