How Are People Trading MIOTA When IOTA Mainnet is Paused?
The IOTA (MIOTA) mainnet has been on pause for two weeks now, yet MIOTA is still trading. The question asks itself at this point really: how?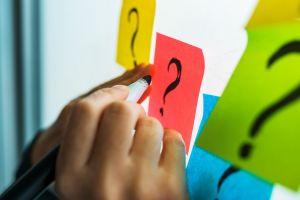 Following the discovery that the Trinity Desktop wallets have been compromised, starting with January 25, the Coordinator, a node run by the IOTA Foundation for network protection and transaction confirmation, has been turned off to prevent additional hacks. The status page set up by the Foundation to keep the users posted about the developments in the investigation, as well as the remediation plan and seed migration tools release, shows that the mainnet is still down.
Nonetheless, the coin apparently keeps doing its thing. When we reported on it the last time, less than a week ago, MIOTA was still in green. Now it's red across the board. It was trading with no major signs of trouble until February 12, even rising 6% that same day. It dropped 9% the next day, before correcting somewhat, and starting the final gradual descent we're still seeing.
Currently, (15:42 UTC) trading at c. USD 0.22, the 24th coin by market capitalization is almost unchanged in the past 24 hours and is down 16% in the past week.
MIOTA price chart: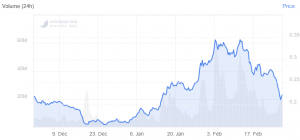 "From what we understand, crypto exchanges do not conduct trades 'on-chain'. This means that when someone buys something on an exchange, the transaction isn't signed to the Bitcoin blockchain or IOTA DLT [distributed ledger]. Instead, the exchanges have their own internal bookkeeping mechanism that credits trades back to a large holding of a particular currency. Because of this, exchanges can still trade IOTA on their order books, but you'll notice that deposits and withdrawals are disabled," the IOTA Foundation told Cryptonews.com.
Cryptocurrency exchange Gate.io, which supports MIOTA, confirmed that they do indeed keep their own bookkeeping mechanism and that they saw sell orders today as well.
"Users are still able to trade IOTA on Gate.io but most coins are locked on the network," spokesperson Marie Tatibouet told Cryptonews.com.
The discussion on 'how does IOTA trade when the network has been suspended' is also active online, with commenters offering explanations. Crypto researcher Hasu said that "supply on exchanges can still change hands"; Tezos' Arthur Breitman wrote that IOTA can still trade inside of an exchange ledger; Polymath's Graeme Moore added that "IOTA on exchanges sits in one wallet, and an exchange's internal spreadsheet is updating which customer owns what"; and BitsBeTrippin Youtube/Twitch channel argued that the fees are accumulating, so if IOTA were to die, "the question is will an exchange still draft your overall position in another currency to cover the trade fees they owed."
Nic Carter, co-founder of Coin Metrics, a provider of crypto asset market and network data, explained that it's a matter of "Captive supply on exchanges. Essentially IOTA IOUs that never settle to users. Price discrepancies among exchanges will eventually emerge."
Top MIOTA markets: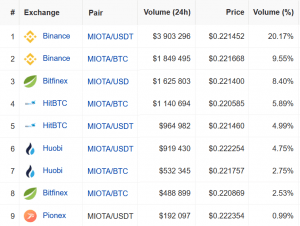 ---