Gold Investors Eyeing Bitcoin on its Way to USD 100,000 - Plan₿
Some gold investors are not only looking at the digital gold, Bitcoin (BTC), but also considering investing in it, while its price is expected to hit USD 100,000 by the end of 2021, according to anonymous investor and Twitter user Plan₿, known for his insights into the stock-to-flow ratio, cited even by traditional banks.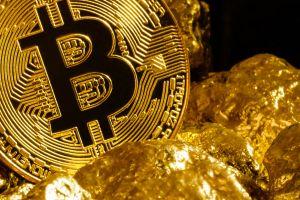 "I do know a couple of well-known gold and commodity funds and managers, and I talked to them frequently because all those gold people are also looking at the digital gold, the Bitcoin.<...> Everybody is looking at this thing and especially the more open-minded gold investors are maybe thinking about rotating a little bit into the digital gold," the investor said in a recent interview with Raoul Pal, a renowned economist, founder of Global Macro Investor.
Also, Plan₿ believes that the exponential growth in bitcoin's price will continue, and that it will be fueled by BTC's scarcity dynamics.
"Before Christmas 2021 bitcoin should be, or should have been, above USD 100 K; if not, then all bets are off and it probably breaks down." He clarified later that by "it" he didn't mean Bitcoin, but the stock-to-flow model.
Stock-to-flow graph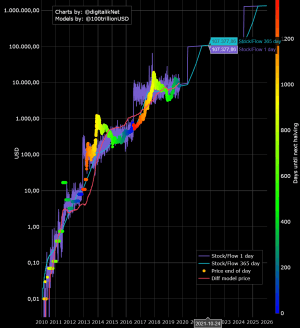 The stock-to-flow is a number that shows how many years, at the current production rate, are required to achieve the current stock, meaning – the higher the number, the higher the price
"Once something becomes scarce enough, it can be used as a money," Plan₿ and another Bitcoin analyst, digitalik.net, explain on a webpage dedicated to this model. With the current data, they say, and at the current production rate, it will take 62 years to dig out all the gold that's currently in circulation, but 27 years of current Bitcoin production in order to produce the current stock. After the next halving in 2020, however, the stock-to-flow will climb to 52 years, which is closer to gold. It will continue to climb with each halving event, unlike gold. (Learn more: Only 3 Million Bitcoins Left Unmined (And 120 Years to Get Them))
Several points have been raised by the commentators post-interview. Some, like 'peter n', have said that comparing the centuries-old history of gold and a decade-old history of Bitcoin is like saying that a month-old child will rule the financial world when she is 60, asking why BTC and not a 'shitcoin.' Others have raised the argument that the scarcity may be illusory because it's so easy to create alternatives, followed by the counter-argument that it's the network effect that has made Bitcoin 'rare' among numerous other cryptocurrencies. Yet, there were a few others who, while agreeing that while the path of BTC may be similar to that of the Internet, Bitcoin itself may be only the first version of what's to come.
Meanwhile, looking at what is happening now, Bloomberg reports that BTC should brace for another volatility storm. "The difference between Bitcoin's upper and lower band in the Trading Envelope indicator is at its narrowest since mid-September," it says, adding that "a similar narrowing last month preceded a drop of more than 12% for Bitcoin on Sept. 24." That's not all, as the article finds that the world's most popular coin "closed below its opening price in six of the last seven trading sessions," and when this pattern happened in mid-September, BTC lost about 20% in one week. "As it becomes more and more obvious that the Libra thing is not going to take off — it's going to be a long time before it becomes an important part of anything Facebook's doing — as that becomes more obvious, the volatility will pick up again," Matt Maley, equity strategist at Miller Tabak + Co. was quoted as saying. "This issue with what's going on with Libra and Facebook is a definite headwind and it's not going to go away." (Tomorrow, we'll see the CEO of Facebook, Mark Zuckerburg, testify before the U.S. Congress.)
Meanwhile, Mati Greenspan, Senior Market Analyst at eToro, said that while periods of stable prices are "actually quite healthy" as "there's no doubt that speculation in crypto is vastly disproportionate to the transactional use," it is possible that by now, "there's actually too little speculation."
"At times when volumes are low, it makes liquidity thin as well, which in turn can make the market susceptible to wild price swings," the analyst said in his daily newsletter.
Whether bulls or bears are correct – or perhaps both – it remains to be seen.
BTC is currently (14:57 UTC) trading at c. USD 8,259 and is almost unchanged in the past 24 hours and the past week. The price is down by 17.5% in the past month, and is still up by 26% in the past 12 months.
Lear more:
Bitcoin Bulls Pushing a New Narrative - BTC at USD 100,000
These Three Graphs Show How Big Money is Coming for Bitcoin
---