Game of Forks: BCH Beat the Market as BSV Rift Deepens (UPDATED)
Earlier on Tuesday, Bitcoin Cash (BCH), the most popular fork of Bitcoin, was up by almost 5% in the past 24 hours (05:51 UTC), while the rest of the market was in red, with Bitcoin SV (BSV), the infamous fork of Bitcoin Cash, dropping the most (-20%). However, later, BCH corrected lower, despite new signs emerged that more exchanges might delist BSV. (Updated on 14:50 UTC: updated price information and the "Decisions and polls" section.)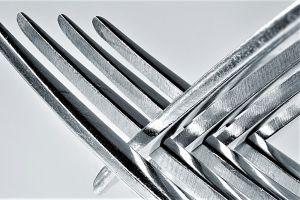 As reported, cryptocurrency trader and analyst Luke Martin (a.k.a. Venture Coinist) suggested yesterday that any bets that were on BSV are going to flow into BCH, as more exchanges are likely to follow major exchange Binance and delist BSV. The exchange confirmed on Monday that it will delist the coin on April 22.
BCH price chart:

____
BSV price chart:

____
Decisions and polls
Erik Voorhees, founder and CEO of Switzerland based crypto exchange ShapeShift, confirmed yesterday that the company will also delist BSV "within 48 hours". Additionally, major cryptocurrency wallet Blockchain said that they "have determined to end all support of BSV within the Blockchain Wallet by May 15, 2019."
"We're invested in the long-term health of the crypto ecosystem and are mindful to support cryptocurrencies that are reliable, safe, and convenient," the company said, adding that their users should swap BSV for another crypto in the Blockchain Wallet or send the tokens to another service.
Meanwhile, another popular exchange, Kraken, asked their followers on Twitter whether the exchange should delist BSV. At pixel time, 71% out of almost 58,000 responses were in favor of the delisting. The exchange did not provide any other comments on the matter.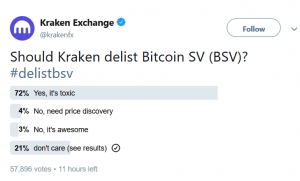 Another exchange, BitForex, which was responsible for 10% of BSV's trading volume in the past 24 hours, also launched a poll, adding that they'll delist BSV if at least 50% of respondents support the idea. At pixel time, results are these: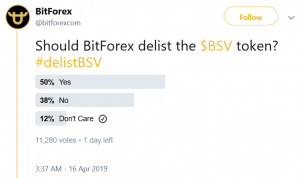 Some smaller crypto-focused companies also announced that they will no longer support BSV:
Not everyone agrees
However, some other exchanges confirmed that they'll keep BSV on their platforms. Major exchange OKEx said that BSV "currently does not meet our delisting criteria" and the company "has no intention to delist BSV for the time being."
Also, in an interview, streamed via Twitter account @whalepool (a community of daytraders) on Monday, Paolo Ardoino, Chief Technical Officer of the Bitfinex exchange, also said he's against the delisting of BSV because this would harm their customers.
In total, BSV can now be traded on 71 exchange. Also, big proponent of Bitcoin SV, Calvine Ayre, announced that a new "BSV-based" exchange, Float SV is going to be launched on April 19.
Meanwhile, the cryptoverse debates what does the BSV delisting mean for the industry and whether it might set a bad precedent as some some members of the community are already suggesting Bitcoin Cash should be delisted next.
---