'Fulfilment of Satoshi's Dreams' Ethereum Gets a Nod from JPMorgan
As Ethereum (ETH) co-founder's father finds this project to be "the fulfillment of Satoshi's dreams," major investment bank JPMorgan expressed their belief that Ethereum is going to keep outperforming the world's number one crypto - while some are preparing headstones for bitcoin (BTC)'s grave yet again.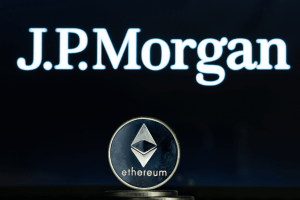 However, reported, JPMorgan is preparing to offer an actively managed BTC, not ETH fund to private wealth clients as soon as this summer.
In either case, per Business Insider, citing the bank's note, analysts at the bank said that the trend of the world's second crypto outperforming BTC can continue as the competition in the crypto market heats up. The bank gave three reasons why ETH is outperforming bitcoin:
More resilient liquidity: the liquidity shock seen last week originated in the derivatives market, leading to sizable liquidations, but it hit BTC harder than ETH;
less reliance on derivatives markets to transfer and warehouse risk.
more durable underlying demand base: as a consequence of high transaction fees, a higher proportion of ETH (11%) behave as if highly liquid than bitcoin (4%) over the past month; and connected to the second reason, it may be that the underlying base of long exposure in ETH is less reliant on leverage in the form of futures and swaps than BTC.
ETH is "the backbone of the crypto-native economy and functions more as a medium of exchange," said the note. This is a major difference from bitcoin which is "more of a crypto commodity than currency," competing with gold as a store of value.
Vitalik Buterin's father, Dmitry, may agree with this, while he is also voicing out his agreement with the statement that "Ethereum is the fulfillment of Satoshi's dreams" - Satoshi Nakamoto being the anonymous creator of Bitcoin.
Meanwhile, JPMorgan concluded that,
"To the extent owning a share of this [ETH's] potential activity is more valuable, the theory goes, ether should outperform bitcoin over the long run."
In the past year, ETH skyrocketed by 1,305%, compared with BTC's 594%. Moreover, ETH keeps hitting its new all-time highs (ATHs) this month, almost touching USD 2,800 today, while BTC is down by 17% from its ATH of USD 64,805 (per Coingecko), reached 15 days ago.
At 13:50 UTC, ETH trades at USD 2,769 and is up by 3% in a day and 52% in a month. BTC is down by 2% in a day and almost 7% in a month, reaching USD 53,885.
Also, per the note, as shared online, the banking giant stressed that,
"Nevertheless Bitcoin has remained dominant well into the DeFi [decentralized finance] boom that started late last year. If anything, the total value locked in such contracts has slowed down in recent months."
Total value locked in DeFi is now USD 65bn, per DeFi Pulse. To put this in perspective, it got to this number from USD 1bn hit in late May 2020 - in less than a year.
The bank's statements, though, are seen as bullish for altcoins. "When Wall Street banks start covering [altcoins] like ETH, you know we are going to be in alt season soon," said Eugene Ng, Gemini's Business Development Head for the APAC region.
Commenters are, however, arguing whether the common statement that "ETH does not compete with BTC because they are totally different things" is really true. According to one Redditor, that's hardly the case, stating that the two projects do compete for capital allocation. Many analysts argue, said the commenter, that Ethereum is superior to Bitcoin in every aspect pertaining to monetary networks, except that Bitcoin has already reached "ossification," which Ethereum will enter it in 2-3 years.
"The BTC vs ETH debate reminds me of how fax machines did not compete with the internet because "they were totally different things"," said 'TheWierdGuy'. "That is entirely true, but the first is just a small subset of what the second is capable of doing."
Others note that, when BTC's price maintains a certain level for a few days, there are those who start writing it off as a version one, or a prototype, establishing a path for the arrival of the real thing.
Per 99Bitcoins data, Bitcoin has already been declared dead 408 times.
As for the prospects of the second project by market capitalization flippening the first one this year - which would surely be a historic moment - above half of more than 3,000 respondents in a Twitter poll said 'no'.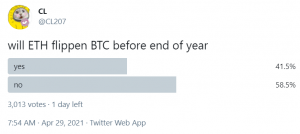 But this is not the first piece of news coming from the 'traditional' world in favor of Ethereum. Just recently, Dallas Mavericks owner Mark Cuban said that Ethereum was set to "disrupt the f*** out of" a range of industries – including the world of sports. He also added that the applications leveraging smart contracts and extensions on Ethereum will "dwarf" Bitcoin.
"Over the course of 2020 we are seeing a new group of investors who are Ethereum-first and in some cases Ethereum-only," Michael Sonnenshein, managing director at Grayscale Investments told Bloomberg last December. "There's a growing conviction around Ethereum as an asset class."
___
Learn more:
- Ethereum Needs To Clean Its Value Proposition - Coinbase
- Ethereum is Still an Unfinished Product, Says Bitcoin Investor Lyn Alden
- Ethereum Exchange Inflows More Concentrated, Fewer Insiders Dominate
- Binance Chain is On 'a Parabola', Surpassing Ethereum in Several Metrics
- How Bitcoin and DeFi are Completely Different Phenomena
- Ethereum Won't Hide From Quantum Computers Behind PoS Shield
- Bitcoin Is More 'Public' Money than Central Bank-Issued Fiat Currencies
- Proof-of-Disagreement: Bitcoin's Work vs. Ethereum's Planned Staking
- DeFi On Bitcoin To Grow In The Shadow Of Ethereum
- Analysts Deconstruct Bitcoin vs. Ethereum Debate As Alts Outperform
- Bitcoin vs. Ethereum Fight Escalates amid Fresh Capital Entering the Space
- Bitcoin Is Better Than Ethereum At These Four Things
---