Fed's 'Lower Rates - Increase Inflation' Plan Might Help Bitcoin Too
The US Federal Reserve, the country's central banking system, might announce its policy review soon, a major aspect of which would be keeping interest rates low for years to come while trying to increase inflation and employment numbers. This strategy would be "bullish" for alternative asset classes, bitcoin (BTC) including, according to analysts.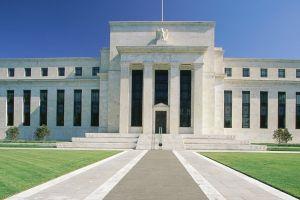 Source: Adobe/spiritofamerica
The goal, according to the recent statements by the Fed officials and analysts cited by CNBC, is to move to "average inflation" targeting "in which inflation above the central bank's usual 2% target would be tolerated and even desired." Therefore, they would pledge not to raise interest rates until they hit both the inflation and employment targets.
"There is one major problem though," wrote Anthony Pompliano, Co-founder of Morgan Creek Digital, "the Federal Reserve has been horrible at hitting their targets in the past."
Pompliano argued that the worst scenario would be the Fed overshooting the inflation target and not be able to increase rates quickly. They would be "accelerating inflation at the exact moment that they should be reigning it in."
"My anticipation is that real estate, gold, bitcoin and stocks are all going to run much, much higher than they already have. Bitcoin is going to be the largest winner out of all assets since it is the most volatile. [...] just don't get caught holding cash while the Federal Reserve is systematically devaluing the asset under the guise of creating economic activity," he said.
Similarly, Jameson Lopp, Chief Technology Officer of US-based crypto security specialist Casa, tweeted: "The Fed is expected to make a major commitment to devaluing your money. Whatcha gonna do about it?" (Learn more: Fiat Money Printer 'Goes BRRR,' Is It a Time To Sell All Cash For Bitcoin?)
Ed Yardeni of sell-side consulting firm Yardeni, told CNBC that the Fed "publicly would welcome inflation in a range of 2% up to 4% as a long overdue offset to inflation running below 2% for so long in the past" - and this, he said, would be "wildly bullish" for alternative asset classes, such as stocks, as well as precious metals.
Furthermore, Peter Boockvar, chief investment officer at Bleakley Advisory Group, was also quoted by CNBC as saying that rising inflation at a time of historically high unemployment "doesn't make any economic sense whatsoever."
"The consumer is very fragile right now. The last thing we should be shooting for is a higher cost of living, he added."
Meanwhile, Mati Greenspan, founder of Quantum Economics, stated that bitcoin and the crypto markets are once again no longer correlated with the traditional markets. "The number one factor that moves prices is the Federal Reserve, and their propensity to print," Greenspan continued, and when they print, the prices in all markets go up. But to reduce the risk to their assets, portfolio managers diversify their holdings with different asset classes.
"Now, with the bond markets in trouble and yields sinking to levels so incredibly low that it's hardly attractive for investors to hold them long-term, my guess is that portfolio managers are actively looking for other ways to achieve diversification," Greenspan said.
Meanwhile, last week, one of the world's major credit-rating companies, Fitch, gave the US a credit score warning, while Goldman Sachs analysts warned about the risk of the US dollar losing its dominant reserve currency status. But the "US dollar weakness has also helped buoy crypto demand," argued major crypto wallet provider Blockchain.com.
They found that, while July was USD's worst month in a decade, major cryptos "significantly" outperformed other asset classes, including stocks and gold.
The company added that "the next major financial meltdown" is on its way. And while central bank digital currencies come with great benefits, there are also great risks (e.g. hack).
"Bottom line: The mighty US digital dollar is not unsinkable, and a failure to focus sufficient attention on both public debt sustainability and cyber security increases the odds of a financial crisis in size and scope unlike anything prior," the company said.
As reported today, following announcements from major mainstream investors such as Paul Tudor Jones that they are adding bitcoin to their portfolios as an inflation hedge, a US-based major software company MicroStrategy said that it may also invest part of its cash into bitcoin and other alternative investments, citing "negative real yield on US dollars."
Bitcoin is trading at USD 11,858 (15:14 UTC), having appreciated by 1.5% in a day and 8% in a week. It's also up by 27% in a month, while it slipped by 1.5% in a year.
__
Learn more:
Fiat Failures, Inflation to Fuel 'Fear-Driven' Bitcoin Rally - Crypto Insiders
Washington Warned: Launch Digital Fiat or Say Goodbye to USD Dominance
Another Bitcoin Stimulus Check Might Be Around The Corner
QE Won't Trigger Hyperinflation, says World's Hyperinflation Expert
---