Ex-Block.One CTO Larimer Makes a Comeback With Social Network Project
Well-known blockchain developer Daniel Larimer is back with plans for a new, "logically decentralized" communication platform dubbed Clarion, being showered with both praise and criticism for it.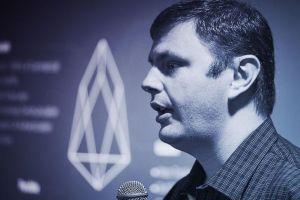 In a Tuesday GitHub post, Larimer introduced the new project, stating that it's a logically decentralized platform, "a censorship-resistant "friend to friend" network which will leverage the unused resources of your friends and family to distribute your content."
According to him, the goal is to provide the performance and reliability of a centralized service, but with independence of a logically decentralized network, freeing people from "the tyranny" of major social media sites, such as Twitter and Facebook, and creating "a social network free from manipulation and 3rd party dependence."
Clarion operating system (OS) is in the early design stage, said the post, and a team of developers to build the first prototypes is currently being assembled. The project will be developed in the open and welcomes contributions, it noted.
By utilizing programming language WebAssembly plugins, it should be possible to build different kinds of applications on top of Clarion OS, said the post, including tokens and smart contracts. In the comments section, Larimer said that the new platform does not have a token at its foundation, but can integrate with existing token systems. He added that "if there are tokens, then they could be airdropped on EOS."
In January, Larimer stepped down from his role as chief technical officer (CTO) at Block.One, the firm that masterminded the EOS network that raised USD 4bn in its initial coin offering, stating he wanted to focus his efforts on the development of "censorship-resistant" technologies. This was perceived as a major blow for EOS, with the token seeing a sharp plunge following the news.
Per Larimer, Clarion "learns lessons" from projects such as Voice (developed by Block.one), RetroShare, and Hive (which forked from SteemIt). Before moving to Block.One and EOS, Larimer made a name for himself as a co-founder of BitShares, decentralized social networking platform Steem, which is the SteemIt app home, as well as software development firm Cryptonomex.
The latest project Clarion's post continued, stating that four different kinds of message flows are enabled between cryptographic identities via Clarion OS's friend-to-friend message propagation protocol, two kinds of person-to-person messages (like email, and like video or chat in real time), one-to-many (like tweets), and many-to-many (like a chatroom / blockchain).
It adds that,
"A key distinction between Clarion OS and prior blockchain platforms is that the base layer has no need to reach consensus on the "order" of user actions nor to interpret the meaning of transactions. If typical Ethereum and EOS smart contracts are considered "layer 1", then Clarion OS could be considered "layer 0"."
Another distinction, this time of the architectural design, that differentiates Clarion from most other peer-to-peer applications, said its creator, is using a progressive web application powered by Web Assembly. Not being able to rely on app stores and hosting providers by Google, Amazon, and Apple to distribute applications and content, argues Larimer, "the only viable way to get a censorship-resistant application onto a cell phone is via Progressive Web Applications," a type of application software delivered through the web.
And while many commenters on the GitHub post showed support for the new project, as well as interest in the fine, technical details, some on Twitter seem to be skeptical and/or critical. There are those who argue that Clarion sounds too similar to Voice or SteemIt. Per some tweeters, Larimer keeps ""inventing" the same two or three things over and over again," saying that he works on his projects a few years, "preaches it's the best thing ever. Raises a boat load of money from noobs. Then quits," and others add: "Don't get Larimered."
Others are openly calling Larimer a scammer. Popular crypto analyst Tone Vays, for example, tweeted: "Daniel Larimer is launching his 5th Scam, don't forget to dump your bags before he leaves this future dumpster fire to the community and moves on to the 6th."
___
Learn more:
US Election Results Written on Ethereum and EOS Blockchains
From USD 150k to 30m: How MicroStrategy CEO Sold Voice.com To Block.One
Overnight Move Fuels EOS Decentralization Debate
---