Even Financial Professionals Say Bitcoin to Outperform S&P 500
Disclosure: Crypto is a high-risk asset class. This article is provided for informational purposes and does not constitute investment advice. By using this website, you agree to our terms and conditions. We may utilise affiliate links within our content, and receive commission.
Almost 50% of surveyed financial professionals think that, over the course of the next year, Bitcoin (BTC) will outperform a popular stock market index, S&P 500. And while many of them still avoid cryptocurrencies, majority believe there will be a global digital currency in the next decade.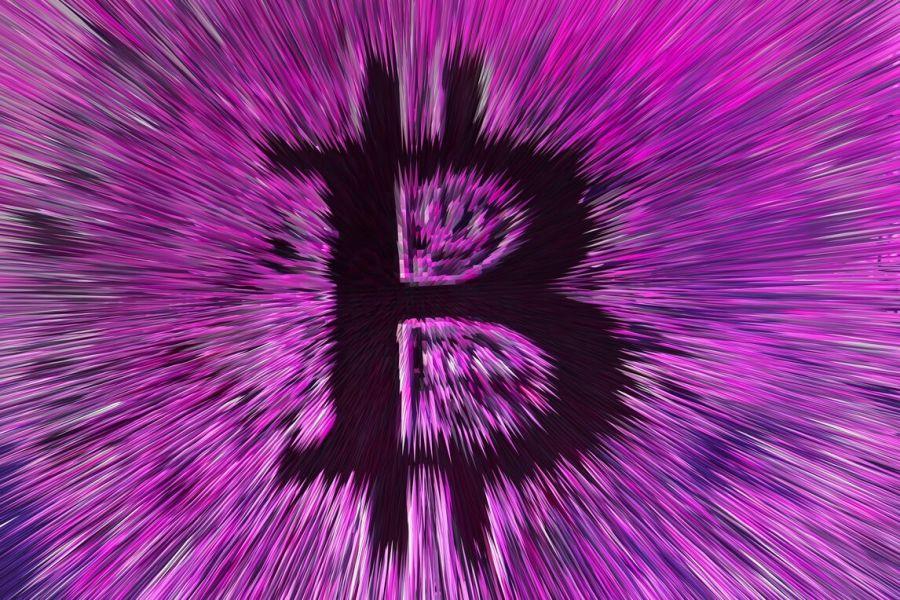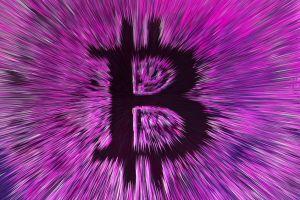 Crypto volatility is not killing the crypto industry in the eyes of many financial professionals as, according to the latest survey by blockchain analysis company Chainalysis, 48% of these professionals believe that in the next 12 months, BTC will be the investment class with the highest growth rate – surpassing even S&P 500, which tracks the stock performance of 500 large companies listed on stock exchanges in the U.S.
Which of the following will have the biggest growth rate over the next 12 months: Bitcoin, the S&P 500, the Bloomberg Barclays Bond Index, or the House Pricing Index?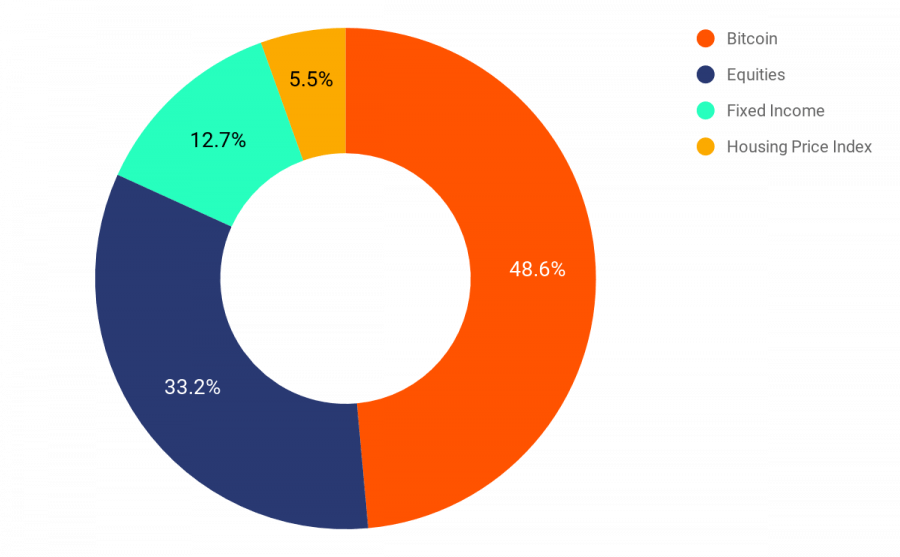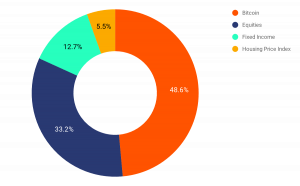 Chainalysis polled finance professionals working at banks, credit unions, financial services providers and regulatory agencies, in September 2019, collecting a total of 350 responses. Besides their above-mentioned conclusion, they found that simply recognizing the value of crypto is not enough, as more than 78% of survey respondents stated that less than half of their retail clients transact with cryptocurrency businesses. Meanwhile, 28% percent said that between 1%-10% of their customers transact with cryptocurrency businesses, and for one third that percentage is zero. Additionally, 13.5% of respondents also said that they didn't know whether any of their customers had purchased cryptocurrency.
Nonetheless, 70% of all the surveyed respondents believe that in the next 5 or 10 years, there will be a global digital currency, controlled by the U.S. (37.2%) or China (21.2%) – which the analysts find logical as the former controls the world reserve fiat currency, and the latter is getting more involved with blockchain. However, 29.9% of the respondents find that the global digital currency will be decentralized.
If we were to have a global digital currency in the next 5-10 years, who do you think is most likely to control it?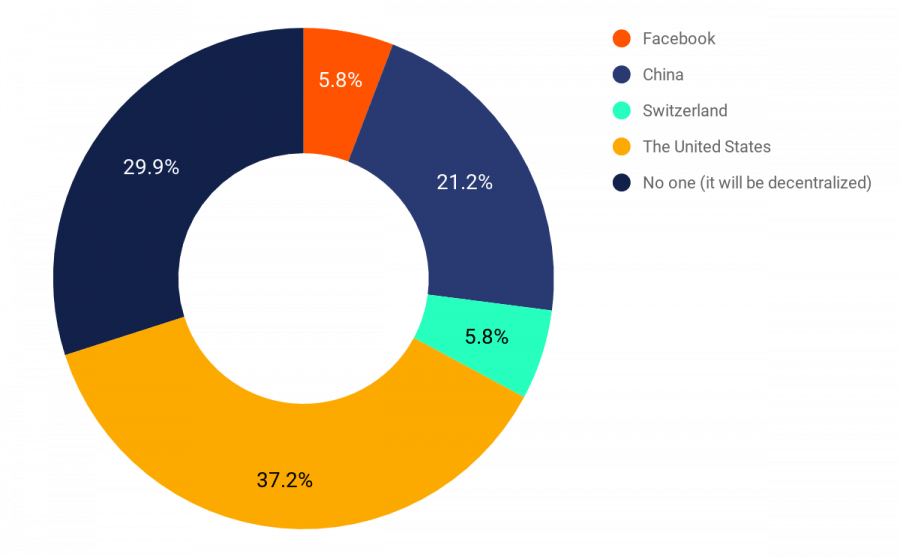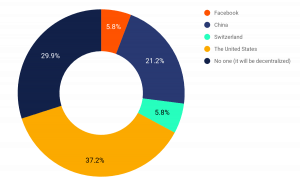 Michael Gronager, co-founder and CEO at Chainalysis, said that, while blockchain can actually help professionals in the financial industry to monitor transactions, detect criminal activity, mitigate risk, promote transparency, and offer new options to their clients, they're reluctant to use it. "Many finance professionals understand that cryptocurrency presents a massive opportunity," he said, "yet institutions are hesitant to enter the market due to perceived risk and some don't even realize the exposure that they already have to cryptocurrency."
As to the number one reason behind this reluctance to work more with crypto:
39% of the respondents stated "the inability to control for illicit activity facilitated by cryptocurrency"
25.1% said that the market opportunity isn't big enough
17.9% said lack of executive support
17.9% cited inability to comply with regulations.
This the analysts find to be "more a problem of education than capability" of the financial industry.
That being said, as to the motivating factors to get involved with crypto, the professionals responded: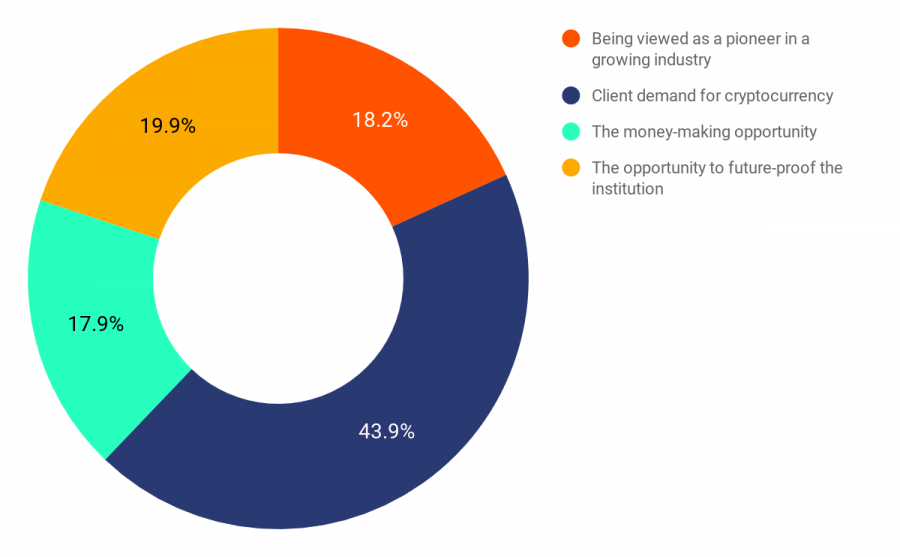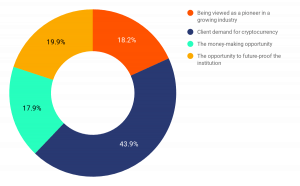 Chainalysis says that it's even possible that institutions have the demand but they don't realize it, given that an earlier poll by YouGov, London-based international research data and analytics group, found that 81% of surveyed Americans know about at least one crypto, that 18% of Americans have bought at least one type of crypto, and that for millennials, that number goes up to 35%.
"Financial institutions are a critical component to the cryptocurrency ecosystem," said Jonathan Levin, co-founder and Chief Strategy Officer at Chainalysis, adding that the company's own "belief in the potential of cryptocurrency was echoed by the number of finance professionals who view Bitcoin as a high-growth asset class and envision a global digital currency in the near future."
At the moment of writing (9:45 UTC), BTC is trading at USD 8,754. It dropped by 1.2% in the past 24 hours and by 5.12% in the past week.
---