Ethereum and Tezos Surge Most in Top 10 as Altcoins Rally
Both ethereum (ETH) and tezos (XTZ) surged overnight to post double-digit 24-hour gains, positioning them as two the best-performing cryptoassets among the top 10 coins both over the past 24-hours and for the week.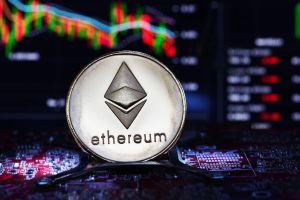 As of pixel time (10:00 UTC), ETH is up by over 14% over the past 24 hours to a price of USD 253, while tezos gained 25.55% to trade at USD 3.28. The latest gains in the two coins coincided with bitcoin (BTC) once again breaching the USD 10,000 level, after dipping below that on Monday.
Following the latest rally, ETH has now gained an impressive 97% in the roughly one and a half months of trading we have had so far in 2020.
The strong performance for ETH comes as the highly anticipated upgrade that will lead to the Ethereum 2.0 network – referred to as Serenity – is getting closer, with developers now saying that it's certain that Ethereum 2.0 will come this year.
Looking at the technicals for ETH, the slopes of the important 50 and 200-day moving average lines suggest that they are about to cross each other, completing what's known as a "golden cross." This is a long-term bullish signal used by many investors to differentiate between uptrending and downtrending markets, and is thus a significant event for attracting a new group of buyers into the market.
Despite the currently strong sentiment, however, traders should be prepared for a pullback in price occurring some time soon. As can be seen from the widely used Relative Strength Index (RSI) at the bottom of the chart, ETH is now in overbought territory, approaching levels on the RSI not seen since the end of the parabolic rally in May 2019.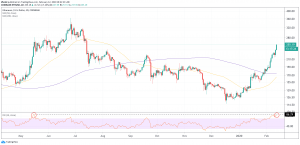 Although ETH's rally has certainly raised eyebrows this year, it is still dwarfed by tezos, which is up by more than 140% year-to-date, in what cannot be explained as anything else than a parabolic rally.
After breaking through a key resistance area on the chart on February 2, traders now seem to be targeting the USD 4.2 level, which is the next major area of resistance. And given that tezos – unlike most other altcoins – had a "golden cross" appear in its chart already in December of last year, there is currently little holding the coin back other than the overbought RSI level.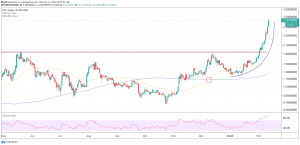 ---