Ethereum 2.0 Phase 0 is 'On track' With 0 Deadlines
A recent mistake by Vitalik Buterin, co-founder of Ethereum (ETH), confirmed that Phase 0 of Ethereum's next version, Ethereum 2.0 (ETH 2.0) will not launch this July, but it might happen in Q3.
Buterin appeared at the CoinDesk's Consensus: Distributed conference this Monday, where he replied to the question if Phase 0 is coming this July, with "I think so, yeah," prompting media reports that Phase 0 is coming this July. However, he now claims that he did not hear the "July" part of the question.
Also, the co-founder told Coindesk that his actual stance is that ETH 2.0 is "on track" in that there aren't any unexpected bumps in the road. "But I defer to the client devs on timelines and if they are now saying 'Q3' more broadly then I believe them," he was quoted as saying.
His clarification follows the comments by software engineering Marco Levarato who argued that Buterin's made wrong predictions before, and that July is not a possible deadline, as not even an official multiclient testnet has been launched yet, which itself would need to run at least two months smoothly - similar to what Buterin himself said earlier. ETH 2.0 testnet coordinator Afri Schoedon agreed with Levarto, adding "the final spec is not implemented in any client and we didn't launch a coordinated testnet yet."
Among the commenters, some were suggesting that Buterin must've seen the talks of Serenity coming in May, asking why he made no corrections.
Much of what was coming out about the launch from Ethereum's side was pointing to this year, and the second part of this year specifically. In October 2019, Buterin said Phase 0 was months away. In December, Ethereum researcher Justin Drake suggested the fifth anniversary of Ethereum in July 2020 as the launch date, though many disagreed with this suggestion. In January this year, Andrew Keys, a managing partner at investment firm Darma Capital and one of the first employees at Ethereum application developer ConsenSys, said that the roadmap to Serenity is "in full effect," and that "2020 will see Ethereum move stridently beyond Phase 0 of Ethereum 2.0, onto Phase 1 and the launch of shard chains."
In an AMA (ask me anything) session in February, the ETH 2.0 team agreed that Phase 0 is coming in 2020, providing a list of accomplishments. They did say at the time that the launch is being pushed back as changes had to be made to Phase 0 specs to accommodate Phase 1's new direction, but also that there are many unknowns still waiting. And just recently, coders from Prysm and Lighthouse released the Schlesi, a multi-client testnet for ETH 2.0, which many saw as a major step towards Phase 0, though the official testnet is yet to come.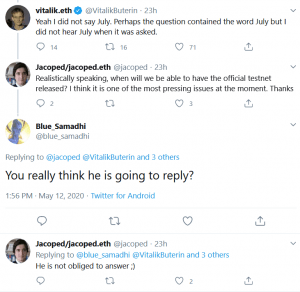 In Phase 0, the "Beacon Chain" should be implemented. It stores and manages the registry of validators, and will implement the Proof of Stake (PoS) consensus mechanism for Ethereum 2.0. The original Ethereum Proof of Work chain will continue to run alongside the new Ethereum PoS chain, ensuring there is no break in data continuity, according to major Ethereum-focused blockchain company ConsenSys.
At pixel time (10:24 UTC), ETH trades at USD 191 and is unchanged in a day. The price is down by 8% in a week, trimming its monthly gains to 25%. ETH dropped by 8% in a year.
---