Ethereans Write Rebuttals, While Still Closed Grayscale Ethereum Trust Shrinks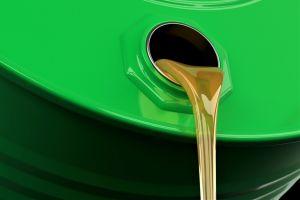 Ethereans have been hard at work providing rebuttals to recent Ethereum (ETH) critique, while ETH is slowly flowing out of major US-based digital asset manager Grayscale Investments' trust that is still closed. (Updated at 14:52 UTC with a comment from Fundstrat Global Advisors.)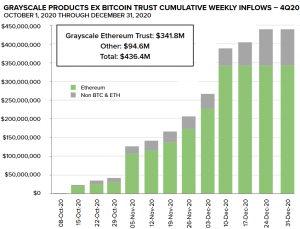 Many in the ETH camp have joined hands to provide counterarguments to an analysis of Ethereum by popular generalist investor and bitcoin (BTC) investing app Swan Bitcoin advisor, Lyn Alden, in the form of an open letter by Bankless podcast, as well as "over 50 comments in the document, including a number from Vitalik [Buterin, Ethereum co-founder]," as Bankless' post said.
Alden recently provided her reasons why she doesn't invest in Ethereum's native coin, with some of the major arguments being that it's an unfinished and changing product.
Alden said that Ethereum is still a work in progress on its base layer and is still changing core underlying mechanics.
Meanwhile, per the open letter, "Ethereum in its current form makes no claims to be a finished product." Ethereum is a project committed to and being held back by its research and development, and is not yet outside that phase.
While Bitcoin "committed to calcifying itself ASAP," Ethereum doesn't prioritize it in the same way, the Ethereum proponents said. Bitcoin and Ethereum are designed to be able to withstand crises and should be able to survive the worst-case scenarios - "Bitcoin has fully reached that state, Ethereum has not."
Alden further argued that "Ethereum developers change their monetary policy as often as the Federal Reserve does, and for similar reasons."
"Ultimately, minimum necessary issuance is secured the same way on Ethereum as the 21m fixed cap is secured on Bitcoin--by social contract," Bankless' Ryan Sean Adams commented in the document. (Learn more: Attempts to Increase Bitcoin's Supply Would End Up With Another "Bitcoin")
The open letter added that Ethereum, in addition to other protocol changes, formally changed the issuance rate of ETH three times - but that these are results of other changes to the protocol. The two forces, "block times and ETH issuance per block, are the two reasons behind why the historical ETH issuance graph is choppy and undefined."
The monetary policy of ETH is 'Minimum Viable Issuance' as ETH needs to have a monetary premium in order to maximize security, while rejecting a supply hard cap as there's no evidence that it's a sustainable design for the network's security, it said, adding: "The difference between ETH and BTC monetary policy is that Ethereum is choosing to go through the 'hard part' of blockchain design upfront before it settles and calcifies."
Alden provided a response to the crowdsourced response:
And as this was happening, according to bybt.com, ETH has been slowly leaving Grayscale Investments Holdings: ETH 203 in the last day, 1,406 in the last week, and 6,033 in a month. Per the current price, this means an outflow over the past 30 days of nearly USD 7.3m. Total ETH holdings currently amount to USD 3.47bn worth of the coin.
However, while Grayscale recently reopened some of its trusts, including the Bitcoin trust, the Grayscale Ethereum Trust still remains closed.
That said, litecoin (LTC) holdings are up by 189,768 coins in the past month, currently worth nearly USD 26.5m. Grayscale Bitcoin Trust added BTC 53,643 (USD 1.69bn) in the past 30 days.
Cryptonews.com has contacted Grayscale for comment.
And while institutional investors have been buying BTC, helping its price, via Grayscale, ETH still managed to outperform the most popular cryptocurrency even without the help from Grayscale investors. At the time of writing (11:52 UTC), ETH trades at USD 1,198, having gone down 4% in a day and 2% in a week. It appreciated nearly 100% in a month, or almost three times more than BTC.
As reported, ETH could skyrocket to USD 10,500 from as this is "the best risk/reward investment play in crypto," according to a strategist at Fundstrat Global Advisors, David Grider, as reported by Bloomberg. Risks include setbacks for the network upgrade or a crypto bear market, he added, without specifying when ETH might climb above USD 10K.
Meanwhile, where the Grayscale coins are going is unknown, but those in the ETH 2.0 deposit contract are stacking up. More than ETH 2.57m have been sent already, worth some USD 3.2bn. ETH 225,408 was sent last week alone, between January 11 and 18.
___
Learn more:
Ethereum's Upgrade Runs Into an Obstacle as Some Miners Try To Stop It
What And How 'Slow' Bitcoin Wins In The Storm Of Crypto Innovations
What's in Store for Ethereum in 2021?
"Ethereum Is (Not) Money" Trigger Tested Again And It Still Works
Bitcoin vs. Ethereum Fight Escalates amid Fresh Capital Entering the Space
Bitcoin Is Better Than Ethereum At These Four Things
---