Dogecoin's Surge a Result of a Elon Musk-DogeDay-Crypto Popularity Mix
Disclosure: Crypto is a high-risk asset class. This article is provided for informational purposes and does not constitute investment advice. By using this website, you agree to our terms and conditions. We may utilise affiliate links within our content, and receive commission.
The world's most popular meme coin, dogecoin (DOGE), continues to baffle the Cryptosphere and the spheres beyond it, with many seeing its recent massive surge as a result of a combination of elements, including: Elon Musk, Mark Cuban, DogeDay, Coinbase, increased crypto popularity, and a quick buck chase.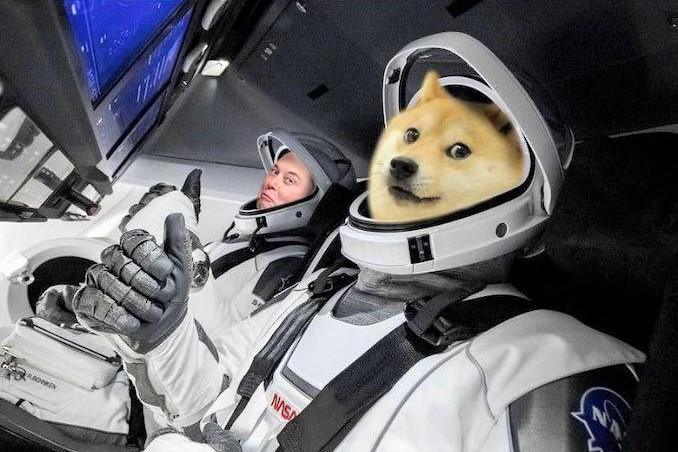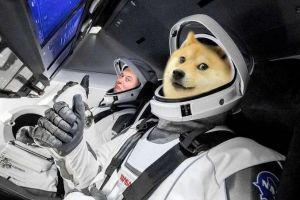 "There's a tribe of investors, many of them Millennials, who see it as a cause, a movement. […] Dogecoin is symptomatic of the zeitgeist happening before our very eyes," Nexo co-founder Antoni Trenchev told Bloomberg.
At the time of writing, DOGE – the only green coin in the top 50 today – surged last Friday, entering the top 10 list by market capitalization, and quickly surpassing the first five coins on its way. At 7:27 UTC today, it's sitting on the 5th spot.
Its price is currently USD 0.42, after it appreciated 14.5% in a day, 107.5% since Friday, and 483% in a week. Overall, the price is up 629% in a single month and a whopping 20,940% in a year.
Per the 24-hour trading volume (USD 32bn), DOGE is in the 4th place, behind tether (USDT), bitcoin (BTC), and ethereum (ETH), respectively.
Investor Dan Tapiero wondered how DOGE "could be worth more than what ethereum was worth just 6 months ago." On November 1, 2020, ETH's market capitalization was USD 43.8bn. DOGE's current cap is USD 55.9bn.
Many, like Qiao Wang of the DeFi Alliance, find the reason for the rally to be a combination of factors:
Bloomberg Intelligence strategist Mike McGlone finds that the recent rally is exemplary of retail's involvement in crypto markets, and a result of the "perfect storm" of "pandemic lock-ups, lots of cash in the system, and investors' ability to speculate around the clock" in a market that's "the easiest to access in history."
Similarly, per Fast Company, a reason DOGE is surging this year may be that cryptos in general are becoming more popular with the "everyday" investor, while the Coinbase direct listing added legitimacy to the assets. Also, this mainstream media outlet labeled dogecoin as "the cute bitcoin cryptocurrency rival." Some Cryptoverse residents also argued that DOGE's fundamentals "have always been, "Bitcoin, except it's fun.""
As for why it surged on Friday, many also point to Elon Musk's latest tweet, that said "Doge Barking at the Moon."
Many seem to agree that the social media force is a major part of the rally. The asset has little intrinsic value but is boosted by investors' fear of missing out (FOMO), with the main driver behind DOGE's popularity being its online communities, coupled with business magnates' support, like Musk, said Michael Kamerman, CEO of trading platform Skilling.
In the past week, the dogecoin subreddit on the Reddit platform got more than 205,000 new subscribers and now has 1.45m of them. On Twitter, Dogecoin has almost 879,000 followers.
Additionally, Mark Cuban recently reported that Dallas-based NBA team Mavericks had seen a surge in sales in DOGE.
"I have no idea what [this DOGE rally] means," Cuban told CNBC last week. "But I do know that supply and demand is undefeated. So it will find its level."
Furthermore, according to Bloomberg, Dogecoin's sprint is propelled by the DogeDay hashtag trending on Twitter, with many, including Musk, pushing for record highs on April 20 (which is also a day celebrating cannabis use).
Jeff Dorman, Chief Investment Officer of US-based investment management firm Arca, found that, spurred somewhat by Musk's tweets, DOGE has become the 2nd most popular cryptocurrency on Twitter, accounting for 23.2% of total crypto tweets.
He described the "bitcoin-less rally" as a result of a trader likely logging into the Robinhood app, seeing huge outsized gains in DOGE, "and immediately snap [buying] the only other tokens from the limited pool of assets available on the Robinhood app — causing large gains in LTC, BSV, BCH and ETC as well."
But as for will DOGE actually succeed, Dorman said: "There is almost no chance that it does. But, for all you math majors out there, one minus almost no chance equals some small chance."
"This market has taught us not to bet against underdogs. One can look at Gamestop (GME) for proof that social investing is often more powerful than fundamentals," he added.
Warnings aplenty
While Cardano (ADA) Co-founder Charles Hoskinson also argued that the DOGE rally is caused by Elon Musk and market manipulation by "clever whales," he warned that "this is a bubble. The price of DOGE is not sustainable, it's going to collapse and massive amounts of retail money is going to be lost very quickly."
VP Capital founder Viktor Prokopenya said in an emailed commentary that should cases like DOGE attract attention from the regulators, it could lead to more regulation and scrutiny for the crypto industry and "that can be very bad news." This turning out to be "a classical pump and dump case" would be bad for the sector, he said, adding:
"Thus, I would say the story with Dogecoin is more of a risk in terms of bringing in more regulation of the crypto industry than the Turkey ban."
And Prokopenya is not the only one who says so – many others say that the price surge and the number of people advertising DOGE may catch the regulators' eye, with stricter laws coming for the entire sector. Some even wonder if it's potentially being used for money laundering.
Analyst David Kimberly said that people are buying DOGE, not because they think it has any meaningful value, but because they hope others will too, pushing the price up, so they can make a quick buck.
"But when everyone is doing this, the bubble eventually has to burst and you're going to be left short-changed if you don't get out in time. And it's almost impossible to say when that's going to happen."
The sudden surge is a reminder for veterans and a lesson to newcomers that violent price swings are "nothing new if you've been in the industry for a few years," as Philip Gradwell, Chief Economist at crypto data tracker Chainalysis, said.
Additionally, some worry that DOGE's potential crash would reflect badly on the entire industry:
For others, however, hating on DOGE is the same as hating on BTC:
All this said, there are also similar-sounding coins – possibly copydogs – on the market as well:
____
Other reactions:
__
__
__
__
___
Learn more:
– DOGE Flips XRP, Ethereum, and Bitcoin On Google, Surpasses Tether
– Dogecoin At The Top 10 Gate as Cuban, Musk Stoke Social Media Flames
– DOGE's Rally Has Revived Dogecoin Development, But For How Long?
– Novogratz Brands Dogecoin a 'Joke,' Tells Mark Cuban to Steer Clear
– Crypto ATM Provider CoinFlip Adds Dogecoin, 'Validating Its Legitimacy'
– Are GameStop-Style Surges In Crypto Any Different From Old Pumps & Dumps?
---