Turkey Bans Crypto Payments (UPDATED)
Turkey's central bank has banned the use of cryptoassets in payments, claiming that tokens entail significant risks due to volatile market values, irrevocable transactions and can be used to fund illicit behavior. (Updated at 07:41 UTC: updates throughout the entire text. Updated at 10:03 UTC: updates throughout the entire text. Updated at 12:39 PM UTC with a comment from Elbruz Yilmaz and new reactions. Updated on April 19, 08:34 UTC with a quote from OKEx.)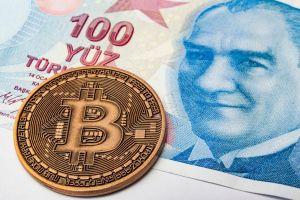 Source: iStock/undefined undefined
The restriction would come into effect on April 30.
The bank said that cryptoassets were "neither subject to any regulation and supervision mechanisms nor a central regulatory authority." In an official statement, the bank claimed it had issued what it called a "Regulation on the Disuse of Cryptoassets in Payments."
At 10:01 UTC, bitcoin (BTC) trades at USD 60,719 and is down by 3% in a day, ethereum (ETH) dropped by 2.6%, to USD 2,387.
The move follows months of economic turmoil that culminated last month in President Recep Erdogan replacing the central bank governor and appointing a close supporter, Şahap Kavcıoğlu.
And it appears that Kavcıoğlu's regime has little time for crypto. The release detailed the following reasons for its decision, claiming that cryptoassets:
are neither subject to any regulation and supervision mechanisms nor a central regulatory authority,
have market values that can be excessively volatile,
may be used in illegal actions due to their anonymous structures,
use wallets that can be stolen or used unlawfully without the authorization of their holders
make use of irrevocable transactions
"Today's announcement by the Central Bank of Turkey was not a surprise, as there were recent statements by the Central Bank and other authorities about the need for a regulation of the crypto industry in Turkey," Elbruz Yilmaz, MENA Managing Director at Bitpanda Turkey, told Cryptonews.com, stressing that this ban does not affect crypto trading.
According to him, users in Turkey are able to utilize bank wires for their deposit and withdrawal processes with crypto exchanges and brokers, while Bitpanda "continues its operations as usual."
"When it comes to Fintech, we would be appreciative if the government would go more into the direction of 'smart regulation', ready to be changed at any point and allowing innovation and personal freedom," Yilmaz said, adding that today's digitalization speed compared to the legislation speed makes a law outdated as soon as it is implemented.
"Our expectation and correspondence with local authorities indicate that they are working on a comprehensive set of regulations which will support the development of the crypto industry in Turkey," he added.
Failed to discuss
Meanwhile, Turkey's central bank banned the use of cryptoassets to purchase goods and services, a week after Turkish authorities demanded user information from trading platforms, Reuters added.
Kemal Kilicdaroglu, leader of Turkey's main opposition party CHP, criticized the government in a tweet for failing to discuss the ban with all cryptocurrency participants before announcing the ban, Bloomberg reported.
The regulation should have been "communicated in a better way given the level of disinformation," Ozgur Guneri, CEO of BtcTurk, one of Turkey's largest crypto platforms in terms of number of clients, told Bloomberg. "Users won't have a hard time making investments in digital currencies, business will go as usual," he said. "This mainly targets electronic payment systems."
The central bank has struggled to control the descent of the lira in recent months, and in a statement yesterday, it announced that it had decided to keep interest rates at a sky-high 19%.
Ahval reported that Erdogan's decision to appoint a new governor of the bank last month has "raised concerns among investors that Turkey will keep monetary policy too loose in the face of accelerating inflation and a weak lira."
"Taxes might come next. We've seen rapid growth from the Turkey crypto market, joining the global rally in Bitcoin. However, as per the economy in Turkey now, the central bank made its move trying to keep every transaction within Turkey and Turkish obligated companies," an OKEx spokesperson told Cryptonews.com.
Other countries have previously moved to ban the use of crypto in payments, including Russia this year and China back in 2017.
On Twitter, many reacted with shock, but others, including prominent crypto investor Anthony Pompliano, were resolute. The latter wrote that BTC was "winning in the free market, so governments and central banks try to rig the game."
"It doesn't matter," he concluded, "Adoption continues on unabated in these countries."
Some speculated that crypto crackdowns have been more frequent in countries with "weaker" currencies, and opined that the measure was an act of desperation as the lira continues its downward slide.
But some predicted a rebound. The entrepreneur Jeff Booth said that "there is no better signal that you need bitcoin rather than central banks trying to ban it." He added: "I'm betting adoption accelerates."
Prominent bitcoiner PlanB reacted with ire, opining that "brains and capital" would leave the country in protest and announced that he had "canceled" his "sailing holiday to Turkey" in protest.
And another bitcoiner, pretyflaco, offered some analysis, writing that the Turkish central bank was evidently "afraid of" the "circular Bitcoin economy," and observing that "buying, selling" and holding crypto had not been banned, perhaps in a bid "to force users through off-ramps."
Erdogan is currently attempting to complete what the Washington Post has labeled an "insane canal project" that could "trigger the biggest fight in Turkish politics" – a 48km shipping route that will run parallel to the Bosphorus. The project is likely to cost between USD 13bn and USD 25bn.
Cryptonews.com has contacted the central bank for comment.
____
Reactions:
___
Learn more:
- The Case Of a Plunging Fiat Currency: Turkey's Struggling Lira
- Turks Turn to Exploring Bitcoin, Ethereum, And Tether as Lira Plummets
- Venezuela Paying Iranian, Turkish Companies in Bitcoin – Report
- Thai Central Bank Sets A Precedent By Banning Baht-pegged Stablecoin
- Latest Episode of India's Crypto Ban Soap Draws Decidedly Mixed Reviews
- Here Are the Ways Governments Could Attack Bitcoin – and None of them Sound Hot
- Nigerian Senators Blast Central Bank For Its Crypto Ban
---