'DOGE Killer' Shiba Inu Clogs Ethereum While Musk Lifts Dogecoin Again
Disclosure: Crypto is a high-risk asset class. This article is provided for informational purposes and does not constitute investment advice. By using this website, you agree to our terms and conditions. We may utilise affiliate links within our content, and receive commission.
Shiba Inu (SHIB) token has taken over the Cryptoverse, calling itself the dogecoin (DOGE) killer and prompting many to raise alarms. Meanwhile, 50% of SHIB's total supply is deposited to the wallet of Ethereum (ETH) co-founder Vitalik Buterin, while the Ethereum fees skyrocket yet again and DOGE received another boost from Elon Musk.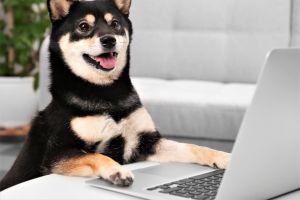 DOGE has become such a widespread phenomenon both within the Cryptoverse and outside of it, that it's little surprise we're seeing projects trying to capitalize on its image/likeness.
And today, Elon Musk took to Twitter yet again to fuel the flames, asking if Tesla should accept the coin – with 77% of nearly 1.24m votes saying 'yes' and 22 hours to go.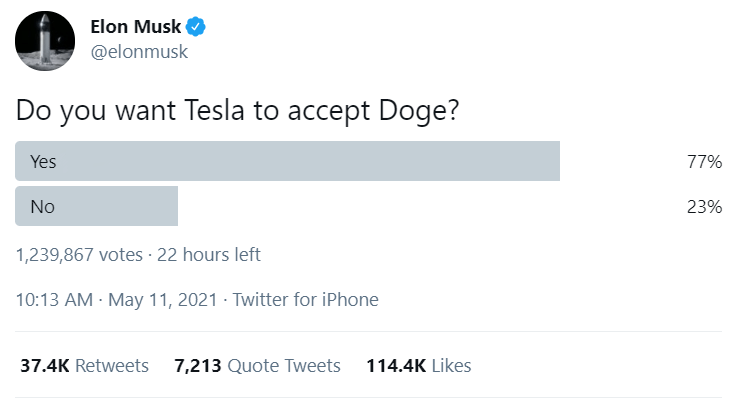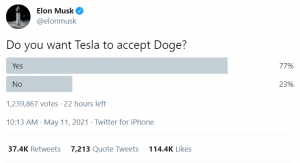 DOGE jumped by around 14% in half an hour and is now (10:10 UTC) trading at USD 0.519. The price is unchanged in a day and is up by 19% in a week.
However, a digital 'dog' coin, launched in August 2020, is the talk of the town today. Called SHIB, it's referencing the Shiba Inu dog breed, which has been so firmly connected to DOGE that it's its first association.
Perhaps there'd be nothing much to talk about SHIB has its price not jumped in the past month, the speculations being that it caught the eye of Chinese investors, in addition to being listed on major exchanges Binance, OKEx, and Huobi – all popular with Chinese traders.
Binance's May 10 announcement describes it as "an experiment in decentralized community building and another meme coin similar to Dogecoin [and] the first token to be listed and used as an incentive for using ShibaSwap, a decentralized exchange." It also adds that three wallets hold 60.5% of the coin's total supply.
Binance shortly suspended all withdrawals on the same day, with some suggesting it was due to the SHIB trading traffic.
CEO Changpeng Zhao (CZ) also said that "a large number of users" were demanding SHIB.
"SHIB token allows users to hold Billions or even Trillions of them," stated OKEx's announcement.
The Shiba Token website adds to all this that SHIB is nicknamed 'the DOGECOIN KILLER', and that it's an ERC-20 only token which "can remain well under a penny and still outpace Dogecoin in a small amount of time."
50% of the total supply is locked in Uniswap and the keys were thrown away, they said, while "the remaining 50% was burned to Vitalik Buterin and we were the first project following this path, so everyone has to buy on the open market, ensuring a fair and complete distribution where devs don't own team tokens they can dump on the community."
The "woofpaper" explains further that the founder, called Ryoshi – who claimed to dislike centralized exchanges – chose Ethereum as a "secure and well-established" network that allows decentralization and growth, while half of the total supply is sent to Ethereum co-founder's wallet because "there is no greatness without a vulnerable point and as long as VB doesn't rug us, then SHIBA will grow and survive."
So the team gave Buterin the coins he didn't ask for to do as he pleases, but his move could potentially bring the price down should he ever decide to sell them.
Per CoinGecko, at 7:43 UTC, the coin's price is up 120% in a day, 1,944% in a week, and 39,205% in a month, now trading at USD 0.00003249. The maximum token supply is 1 quadrillion, while the circulation supply and the market capitalization remain under a question mark. According to CoinMarketCap, its market capitalization is USD 11.95bn, and ranks 18th by this metric.
SHIB price chart: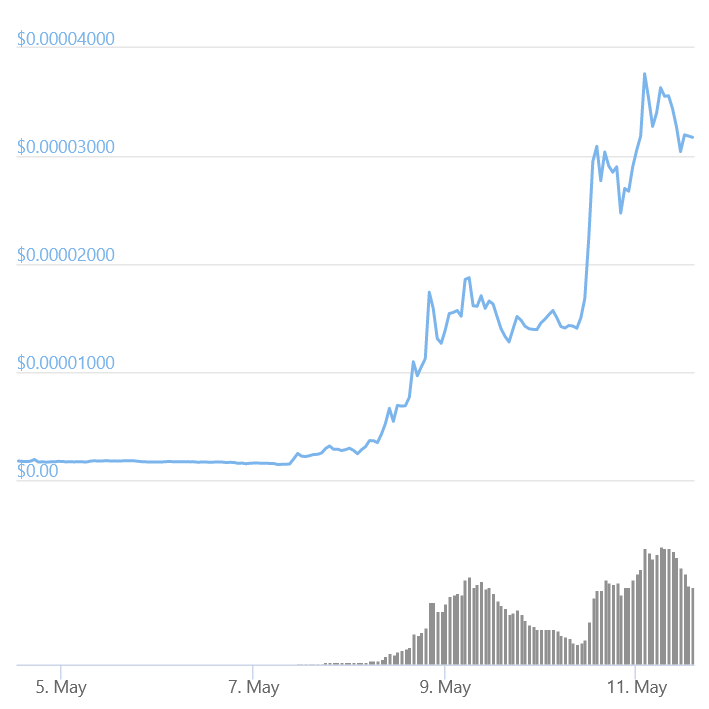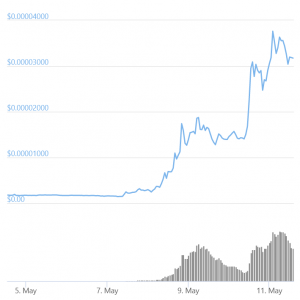 Those behind SHIB also launched LEASH, the purpose of which was "to tame DOGE [in a way that, every day] the price of LEASH will rebase to 1000/1 the price of DOGE." Now, it has been unleashed and will not rebase, the website added, announcing the next token called BONE Dogecoin Killer, with the details to be revealed along with ShibaSwap.
They also claim that a percentage of purchases using Amazon Smile goes to a non-profit Shiba Inu Rescue Association.
Ethereum fees skyrocketing
Speaking of the Ethereum network – while dropping somewhat by the beginning of the month, Ethereum median transaction fee started rising on May 2 and then jumped on May 7, altogether seeing a 684% increase in a matter of eight days. On May 10, the number stood at USD 31.
This is in comparison to Bitcoin (BTC)'s median fee of USD 8.25 on the same day, while its highest in the past month was USD 28 – still lower than Ethereum's latest jump.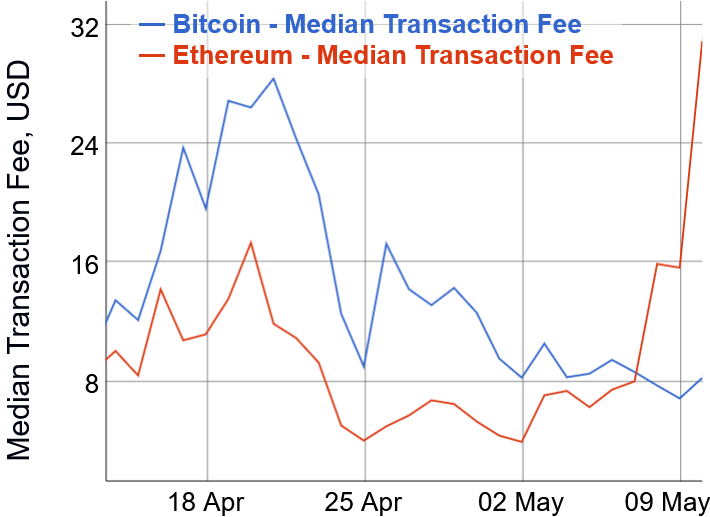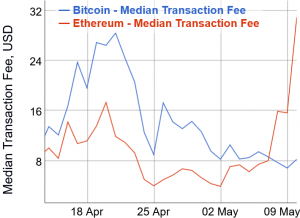 This, some find, could be SHIB's work as well.
Warnings and worries galore
And while some claim that a lot of money can be made with a portfolio comprised entirely of dog-themed coins, with the sudden rise in SHIB, much like what happened with SafeMoon in late April, came many warnings against purchasing the coin.
Many are also calling it a scam, likening it to the famous Bitconnect scam.
To others, there's no difference between the 'dog' coins, or others described as scams. While everybody are free to do what they want, "things like DOGE, SHIB, SafeMoon take away the spotlight from the decentralized future we're trying to build," argued analyst Michaël van de Poppe, adding that "90% of the people will lose money on it."
"You can make a lot of money short term on memecoins, but the stink stays on you for a while if you are looking to stick around and build," tweeted Messari CEO Ryan Selkis.
Per CZ, "it seems people don't care about use cases anymore. We are probably in a bull market."
Pierre Rochard, a Bitcoin strategist at the Kraken exchange, called the entire situation absurd:
_____
Other reactions:
__
__
__
__
__
____
Learn more:
– Traders Rotate From Bitcoin To Alts, While JPMorgan Sees Ether As Overvalued
– Dogecoin Needs 3 Conditions Fulfilled to Move Beyond USD 1
– New Generation of 'Bitconnectors' Flock into SafeMoon Despite Warnings
– Are GameStop-Style Surges In Crypto Any Different From Old Pumps & Dumps?
{no_ads}
---