DeFi Adoption Driven By Seasoned Traders, Investors From High-Income Countries - Report
Decentralized finance (DeFi) adoption has been primarily driven by experienced cryptocurrency traders and investors which explains why its adoption is more visible in high-income countries which benefit from established cryptocurrency user bases, according to a recent report by blockchain analysis company Chainalysis.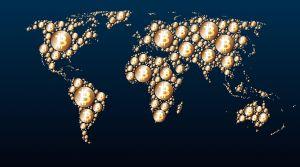 While emerging markets are powering cryptocurrency adoption across the world, the importance of experienced traders and investors in DeFi's growth highlights the distinctions between the DeFi ecosystem and the broader crypto ecosystem, according to the report.
"The question for the coming years is whether we'll see DeFi follow the same pattern as the cryptocurrency services that came before it, with wider swaths of the population adopting it for tangible benefits beyond speculation and investment," Chainalysis said.
The company's findings stem from its 2021 Global DeFi Adoption Index which ranks 154 countries in terms of their performance measured by three metrics: on-chain cryptocurrency value received by DeFi platforms weighted by PPP (purchasing power parity) per capita; total retail value received by DeFi platforms; and individual deposits to DeFi platforms.
Chainalysis observes that one of the particularities of such an approach is that, unlike its 2021 Crypto Adoption Index report, many of the countries that secured top ranks in terms of their grassroots DeFi adoption are those that show high raw volumes of cryptocurrency value moved, both currently and in the past.
"These countries tend to be middle to high-income countries or countries with already-developed cryptocurrency markets, and in particular strong professional and institutional markets. Standout countries exemplifying these trends are the United States, China, Vietnam, the UK, and several other Western European countries that rank high on the DeFi Adoption Index," according to the report.
The top ten countries include the US, Vietnam, Thailand, China, the UK, India, the Netherlands, Canada, Ukraine, and Poland, respectively.
This contrasts with the findings of this year's Crypto Adoption Index in which the top ten spots were taken almost exclusively by countries with predominantly low to medium gross domestic products (GDPs), namely Vietnam, India, Pakistan, Ukraine, Kenya, Nigeria, Venezuela, the US, Togo, and Argentina, respectively.
Commenting on the DeFi report's findings, David Gogel, Growth Lead at DeFi protocol dydx, said that large-scale traders, ranging between individuals operating at a professional level to crypto-focused hedge funds, have presented themselves as DeFi's leading adopters to date.
"Right now, DeFi is targeted towards crypto insiders," Gogel said. "It's people who have been in the industry for a while and have enough funds to experiment with new assets. In the long run as ETH gas prices fall, it'll become accessible to more people."
____
Learn more:
- Regulators are Coming for the DeFi Goose and Its Golden Eggs
- US May Regulate DeFi, El Salvador's Bitcoin Draft Regulations + More News
- Total Value Locked in DeFi is a 'Deceptively Complicated Metric'
- Square Targets Bitcoin DeFi Business
- Global Crypto Adoption Up 2,300% in Two Years - Chainalysis
- Estimated Number of Crypto Users Reaches 221M, Spurred by Altcoins
- Bitcoin Usage up in Vietnam, Bangladesh & S Africa - Blockchain.com
- FTX Sees 'Explosive Growth' With More than 1M Sign-Ups This Year
---