Damien Hirst Starts USD 20M Experiment - NFT vs. Paper
Continuing his dive into the realm of non-fungible tokens (NFTs), UK superstar artist Damien Hirst has created a collection of 10,000 art pieces that come with accompanying digital artwork. Eventually, their owners will have to decide, however, whether they want to keep the physical or digital artwork in their possession, allowing the other one to be destroyed.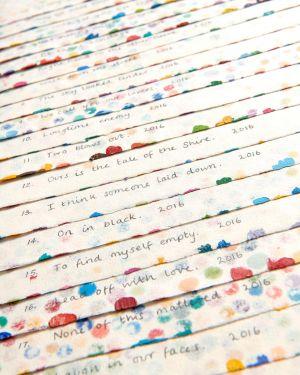 The 10,000 unique artworks feature batches of multicolored dots, unique titles, and cost USD 2,000 apiece. They are the same size, created with the use of the same material, and made as part of The Currency project which is being launched today.
Meanwhile, per the press release, buyers will have one year (until July 27, 2022) to decide whether they want to keep the NFT or exchange it for the physical equivalent - depending on the decision, only one version will survive.
Hirst claims that this project challenges the concept of value through money and art as it forces people to confront their perception of value, and how it influences their decision.
"One of the problems of the art market is it's not easy to ascertain the price of, say, a blue period Picasso," Joe Hage, Hirst's advisor and collaborator who is also the founder of art services business Heni, told Bloomberg. Hirst's "point was to create art that was freely traded enough, in a relatively frictionless environment, which had a value you'd actually know."
Potential customers can buy them using banking cards and various assets, including bitcoin (BTC), ethereum (ETH), USD coin (USDC), and dai (DAI).
Buyers can sign up to buy a piece from the Currency series for the next week, and close to the end of July, purchasers will obtain the NFTs of their artworks.
Hirst's latest project builds on the success of his previous similar initiative. Last March, Hirst offered his works on paper published with the platform HENI Leviathan, generating USD 22.4m from the sale of 7,481 prints in what was believed to be the most successful print drop ever at that time.
Over the past years, the 56-year-old Hirst has risen to prominence as the UK's richest artist, earning him a spot on the annual Rich List published by The Sunday Times in 2020, with an estimated net worth of USD 384m.
___
Learn more:
- NFT Market Becomes More Active, But Prices Drop
- Latest Major NFT Auctions Test Buyers' Price Ceilings For History & Art
- Sotheby's Record CryptoPunk Auction Sees a Wave of New Bidders
- Why NFTs Aren't Just for Art and Collectibles
___
(Updated at 15:58 UTC with a video.)
---