Crypto-to-crypto Exchanges Sent Another Sign of Altcoin Season
Another possible proof of the altcoin season has emerged - the trading volume on crypto-to-crypto exchanges increased in February, outpacing December results, while the trading volume on fiat-to-crypto exchanges remained flat, according to cryptocurrency market data provider CryptoCompare.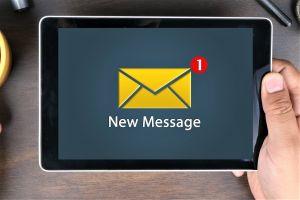 Their data shows that fiat-to-crypto trading dropped from USD 73 billion in December 2018 to USD 63 billion in both January and February of this year. Meanwhile, crypto-to-crypto trading seemed to be thriving in the last month: having dropped from USD 142 billion in December to USD 131 billion in January, it more than made up for this drop by climbing to USD 157 billion in the shortest month.
Monthly total volume: crypto-to-crypto vs fiat-to-crypto exchanges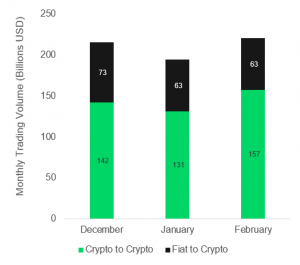 Mati Greenspan, senior analyst at social trading platform eToro, told Cryptonews.com, "This is quite consistent with what I've been saying about the market condition since mid-February. It's alt season. Crypto investors are seeing huge potential in some of the smaller tier coins."
As reported, the altcoin season is the new hot topic in the cryptoverse, with one side trying to figure out what's going on, while another is trying to decide if it's already too late to profit on the sudden boom among altcoins.
"My hunch, and without more data its hard to say conclusively, is that sentiment in the market is shifting to a more positive stance and if so, any signal of a turnaround would be first seen in the crypto to crypto economy," George McDonaugh, CEO of KR1, a publicly listed cryptocurrency and blockchain fund, told Cryptonews.com, reminding that crypto-to-crypto exchanges have the benefit of having far lower barriers to entry and traders prefer to stay within the crypto ecosystem by using stablecoins.
"There are potentially large sums of fiat sitting on the side lines waiting for a strong sign that the market has changed character, and hence these markets will move far slower. For now, we have to wait and see if a more bullish trend is forming or if it's just a temporary up tick in sentiment," he added.
Meanwhile, a recent poll by Binance CEO Changpeng Zhao, showed that the majority believes we're still in the bear market:
Moroever, according to CryptoCompare, the web traffic at exchanges has been steadily dropping in spite of the volume: "According to calculations based on Alexa traffic data, total monthly unique visitors decreased from 10.4 million in January to 9.9 million in February."
As for Bitcoin to fiat trading, almost half of it (46%) in February went into the US dollar - which is still slightly less than in January, when 48% of all Bitcoin was converted into this fiat currency, CryptoCompare said. The second largest fiat currency is the Japanese yen that made up 33% of all Bitcoin-to-fiat trading in February, followed by the euro and the Korean won. The month saw USD, JPY, EUR and KRW making up 95% of total trading from Bitcoin into fiat.
However, these fiat currencies could be getting some serious competition: data from cryptocurrency analyst website CoinLib shows that USD 115 million worth of Chinese yuan poured into the Bitcoin market, followed by USD 69.3 million into Ethereum and nearly USD 22.6 million into Stellar - all within the past 24 hours (UTC 10:00 AM).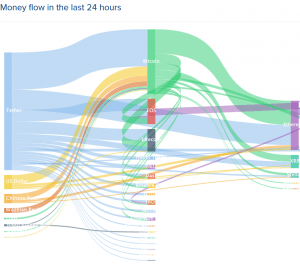 Unfortunately, some trading statistics could be off due to manipulation tactics, such as wash trading. A wash trade is a form of market manipulation in which an investor simultaneously sells and buys the same financial instruments to create misleading, artificial activity in the marketplace. Another research, this one by crypto analytics company The TIE, has shown that: "When we divided the top 100 exchanges' expected by their reported volumes, we found that 59% of exchanges' reported volumes were over 10 times higher than what we would have expected had they similar volume per visit to Coinbase, Binance, Kraken and others."
The company additionally explains that it has chosen Coinbase, Binance, Kraken and others as their reference due to their "large usage among institutions, reputation within the market, and because their web viewership appeared consistent with their reported trading volumes." They go on to add, "75% or exchanges reported trading volumes that were more than double what we would have expected [...] In total we estimated that 87% of exchanges reported trading volume was potentially suspicious and that 75% of exchanges had some form of suspicious activity occurring on them."
Derek Silva, Head of Community & Developer Relations at blockchain identity platform Bloom, wrote on Twitter, "I have received probably 20+ offers via email and Telegram to provide fake liquidity. This is not a surprise, but it's a scourge on the industry." With this in mind, real trading volumes on many cryptocurrency exchanges become anyone's guess.
---