15 Crypto That Will Make You Rich in 2023
Disclosure: Crypto is a high-risk asset class. This article is provided for informational purposes and does not constitute investment advice. By using this website, you agree to our terms and conditions. We may utilise affiliate links within our content, and receive commission.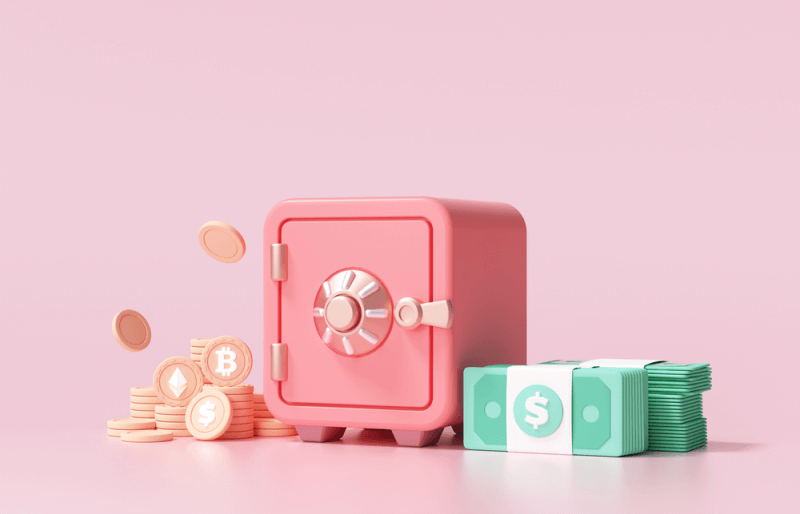 Disclaimer: The Industry Talk section features insights from crypto industry players and is not a part of the editorial content of Cryptonews.com.
The crypto market has been recovering in 2023, alongside the Bitcoin rally. With BTC at resistance, many investors are looking to rebalance their portfolios with digital assets that have the most potential to explode. 
Looking for crypto that will make you rich? In this guide, we explore the best cryptocurrencies to consider investing in right now. 
The 15 Crypto That Could Make You Rich 
Consider the list of cryptocurrencies below that could help investors grow their portfolios in 2023. 
Bitcoin ETF Token – This new ERC-20 token is linked to the fate of the upcoming Bitcoin ETF. With $BTCETF, investors can generate staking rewards as high as 2,650%. This deflationary crypto will burn 25% of its token supply and will rise by 36% on presale. 
Bitcoin Minetrix – Bitcoin Minetrix offers an eco-friendly, secure, and user-friendly alternative to traditional Bitcoin mining. Its unique Stake-to-Mine model, security measures, intuitive dashboard, and high APY make it the best crypto that can make you rich – it has already raised almost $2 million in its presale.
Meme Kombat – High-utility meme coin project that offers huge staking rewards during the presale and a unique play-to-earn game, the Battle Arena, which is powered by AI and blockchain tech and allows wagering on battles. More than $575k already raised in its presale.
TG.Casino – Newly launched crypto casino that will allow new players to earn a 200% welcome bonus and 25% weekly cashback on losses. Its native token, $TGC, has already raised more than $1m in its presale and offers 450% staking APY, a buyback, and burn mechanism.
eTukTuk – Green campaign targets transport in Sri Lanka with zero-emission electric vehicles for TukTuk drivers. A multi-utility BSC token with 2,000% APY and an aim of financial inclusion for all – has raised over $120k in its presale at the time of writing.
Green Bitcoin – A token presale with gamified rewards based on your Bitcoin price predictions, with generous rewards during the presale. 
Scorpion Casino – A casino and betting platform that offers returns in more ways than one, with $1.4 million raised in its presale.
Launchpad XYZ – Access crypto pairs, create a web3 wallet and access presale listings with this all-in-one Web3 ecosystem. Has raised almost $2 million and features an alpha Telegram signals group that recently made a 7,000% call.
yPredict – A data-driven trading platform that offers token insights by leveraging artificial intelligence. The $YPRED token is priced at $0.1 during the presale, which has raised $4.3 million.
Bitcoin – The first and largest cryptocurrency, Bitcoin is still considered a must-have for investors no matter their risk profile or portfolio size. Currently around 60% down from its all time-high, but predicted to break six figures during the next crypto bull run.
Arbitrum – Despite only launching in March 2023 – in the midst of an extended bear market – ARB has already reached a $1 billion market cap, with the layer-2 Ethereum blockchain seemingly poised for a huge break out when wider market conditions improve.
Aptos – Launched in late 2022, Aptos is a layer-1 proof-of-stake blockchain that can reach a theoretical transaction throughput of over 150,000 transactions per second (TPS), way in excess of Visa (2,000 TPS) and Ethereum (100k TPS).
Polygon – Layer 2 blockchain built on the Ethereum blockchain. The $MATIC token is used to settle transactions on the ecosystem. 
Ripple – Scalable crypto payment protocol that is used by a number of banks and financial institutions. 
Ethereum – One of the largest cryptocurrencies in the world, which can deploy smart contracts.
The best digital tokens for an individual's crypto portfolio will ultimately depend on their risk profile and investment style. 
Read our reviews in the following sections to find out more about the top crypto gainers to consider investing in right now. 
A Closer Look at the Cryptos That Will Make You Rich
It can be challenging to know which will be the next cryptocurrency to explode. With that said, investors can pick out possible candidates based on trends, utility, and scope for growth. 
In this section, we take a closer look at some of the top crypto that will make you rich – based on their past performance and estimated future potential. 
Do note, however, that the views expressed in this guide are those of the author and thus -independent research is crucial. 
1. Bitcoin ETF Token – Top Crypto That Can Make You Rich Through High Staking Yields
Bitcoin ETF Token ($BTCETF) is a new cryptocurrency platform that offers deflationary tokenomics and high staking yields. This cryptocurrency is linked to the fate of the Bitcoin ETFs – as it will reduce in supply as the SEC approves the release of the ETFs.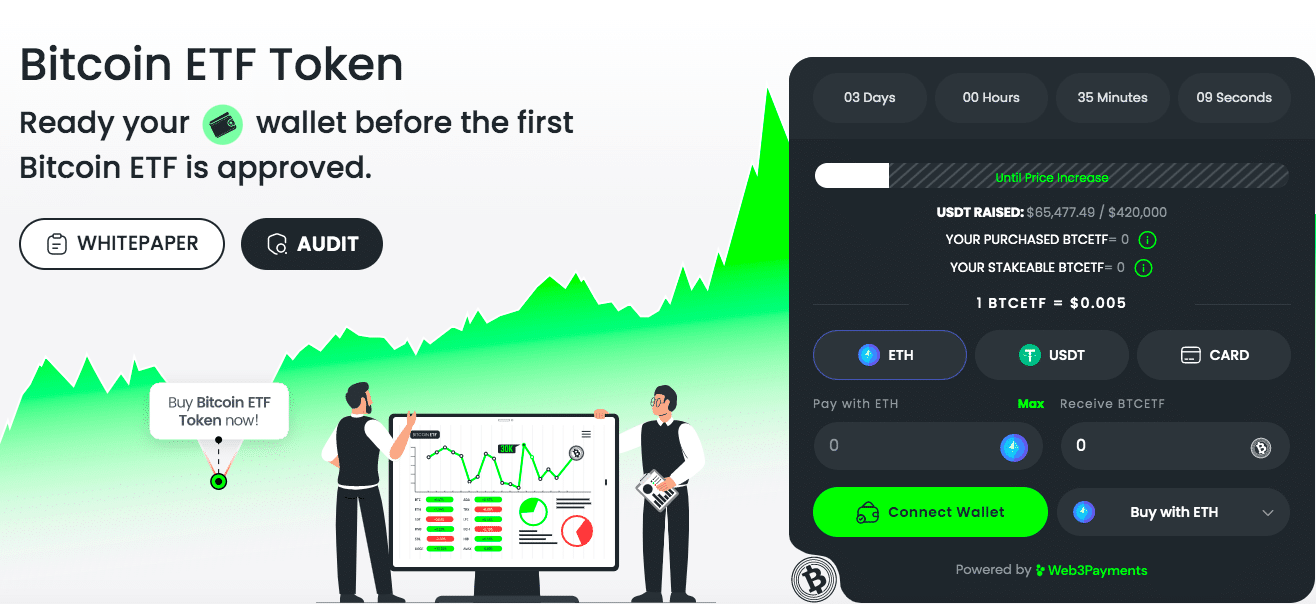 A Bitcoin ETF (Exchange-Traded Fund) will allow traders to buy and sell Bitcoin like a normal asset on the stock market. Since the ETF will be regulated, it will be an attractive proposition for hedge funds and pension funds. At present time, the first Bitcoin ETF is awaiting approval by the SEC. 
Bitcoin ETF Token can be a valuable token to help investors generate profits due to its strong tokenomics. $BTCETF has a low supply of 2.1 billion tokens – which will reduce by 25%. This is because Bitcoin ETF Token will conduct 5 burning events, after the successful completion of different milestones. 
For example, when $BTCETF crosses a $100 million market cap, 5% of the token supply will be burned. Similarly, another 5% will be burned after the SEC approves the first Bitcoin ETF. Thus, the reduced token supply can help increase the demand for the token and push up the token price. 
Another reason why $BTCETF can be a good token to hold is due its staking mechanism. At press time, Bitcoin ETF Token is offering 2,650% in staking APYs (Annual Percentage Yields) through its smart contract – verified by Coinsult. Over 10.7 million tokens have already been locked on the contract. 

25% of the total token supply will be distributed as staking rewards over a 5-year period. To avail of all of these benefits, you can buy $BTCETF through the ongoing presale. Currently, the cryptocurrency is priced at $0.005 during the first round. The price will increase to $0.0068 by the last round – a 36% price jump. 
Bitcoin ETF Token aims to raise $4.965 million by the end of the presale. Stay updated with this cryptocurrency by reading the Bitcoin ETF Token whitepaper and joining the Telegram channel.
| | |
| --- | --- |
| Presale Started | 6 Nov 2023 |
| Purchase Methods  | ETH, USDT, Card |
| Chain | Ethereum |
| Min Investment | None |
| Max Investment | None |
2. Bitcoin Minetrix – Overall Best Crypto That Can Make You Rich with Staking & Cloud Mining
Bitcoin Minetrix ($BTCMTX) is a trending crypto presale due to its new-age approach to Bitcoin cloud mining. The platform has seen significant investor interest since it launched and has now raised almost $2 million in less than a month.
Native token $BTCMTX is currently in stage 2 of its presale and is available for $0.0111 – as the presale progresses, the price will increase to $0.0129 by the 20th and final stage. Buyers can also immediately stake tokens and earn a current APY of 350%.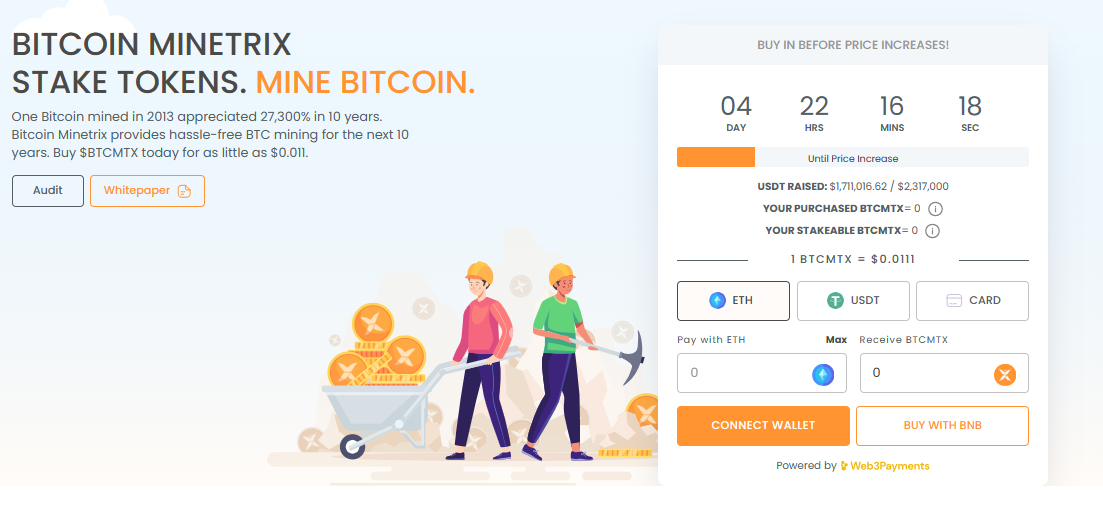 With a soft cap of $16 million, the platform plans to allocate 42.5% of the funds for mining operations and 7.5% for staking activities.
What sets Bitcoin Minetrix apart is its innovative Stake-to-Mine feature. Unlike traditional cloud mining, which usually requires upfront payments, this model offers a safer entry point into the mining ecosystem. Users stake $BTCMTX tokens in exchange for non-tradable ERC-20 'mining credits.' When burned, these credits unlock a specific cloud mining period, and you get a share of the generated revenue.
The platform prioritizes user control and security. You can un-stake your tokens and sell them at market rates after a predetermined period. 
This flexibility is a refreshing change from conventional mining contracts, which often lock in users' funds. A third-party audit has verified the platform's smart contract, further solidifying its credibility.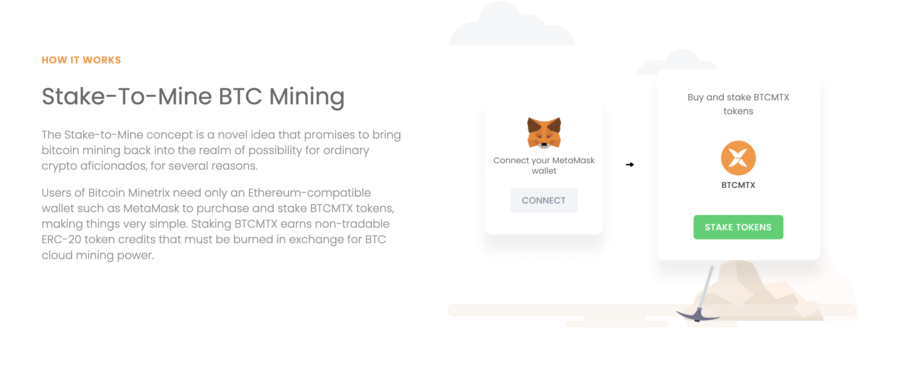 Per the Bitcoin Minetrix whitepaper, the platform features an integrated dashboard accessible via desktop or mobile. It offers a comprehensive view of your mining activities, including projected daily, weekly, and monthly earnings and detailed stats on your mining credits and hashing power.
One of the standout attributes of Bitcoin Minetrix is its eco-friendly mining operation. It's in sync with the increasing eco-consciousness within the crypto community, making the project financially and environmentally appealing.
The project has issued 4 billion $BTCMTX tokens, with 2.8 billion earmarked for the presale. As the token price is set to rise during the presale stages, early investment could yield higher returns.
You can follow Bitcoin Minetrix on their Telegram channel or X (formerly known as Twitter) for up-to-date information.
| | |
| --- | --- |
| Presale Started | 26 Sept 2023 |
| Purchase Methods  | ETH, USDT, BNB |
| Chain | Ethereum |
| Min Investment | $10 |
| Max Investment | None |
3. Meme Kombat – Meme Coin with Play-to-Earn Game and Staking
Meme Kombat ($MK) is a newly launched meme coin project that offers unrivaled utility through its token staking and play-to-earn game.
Buyers can immediately take tokens during the presale – which has already raised more than $575k – and earn an APY of 112%.

The Meme Kombat Battle Arena is the main element of the project and will allow players to wager on the outcome of battles between characters that represent meme coin favorites such as Pepe and Floki.
The game is underpinned by blockchain technology and artificial intelligence, meaning all results are immutable and transparent, with winnings being paid out immediately.
The Battle Arena will also feature side bets, alongside the outright result, to add depth to the play, while the game will be seasonal with new themes, characters and game modes added regularly.
The project has been developed by a doxxed and public-facing team and has a small supply of just 120 million tokens.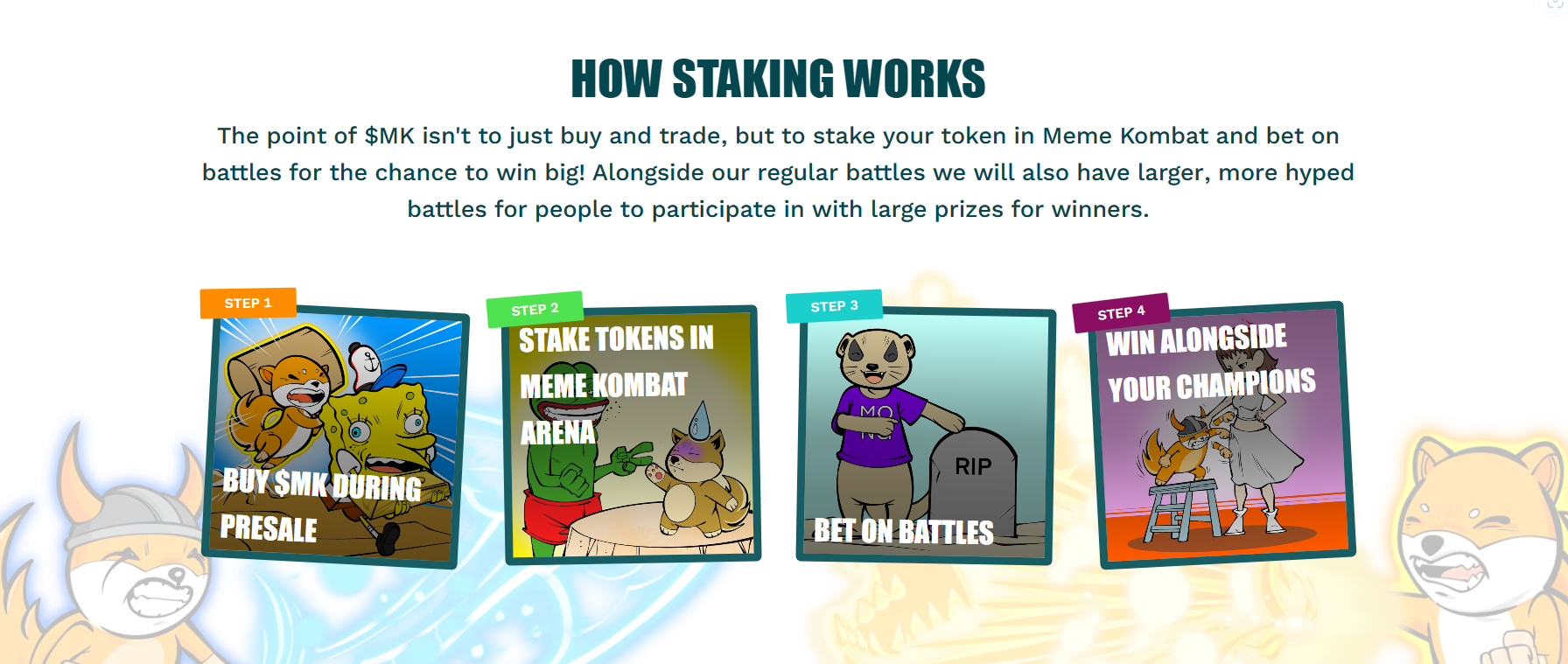 Half of those tokens – 60 million – will be allocated to the presale, with 30% set asied for staking and battle rewards, 10% for DEX liquidity and 10% for community rewards.
For more information, join the Meme Kombat Telegram group.
| | |
| --- | --- |
| Presale Started | 21 Sept 2023 |
| Purchase Methods  | ETH, USDT, BNB |
| Chain | Ethereum |
| Min Investment | $10 |
| Max Investment | None |
4. TG.Casino – Newly Launched Crypto Casino Offering Staking, Buyback & Burn
TG.Casino is a newly launched crypto casino that not only offers thousands of games and a huge welcome bonus, but offers increased anonymity and multiple ways to earn rewards.
Its native token $TGC is currently on presale and has raised more than $1.1 million, with buyers able to earn 450% staking APY at the time of writing.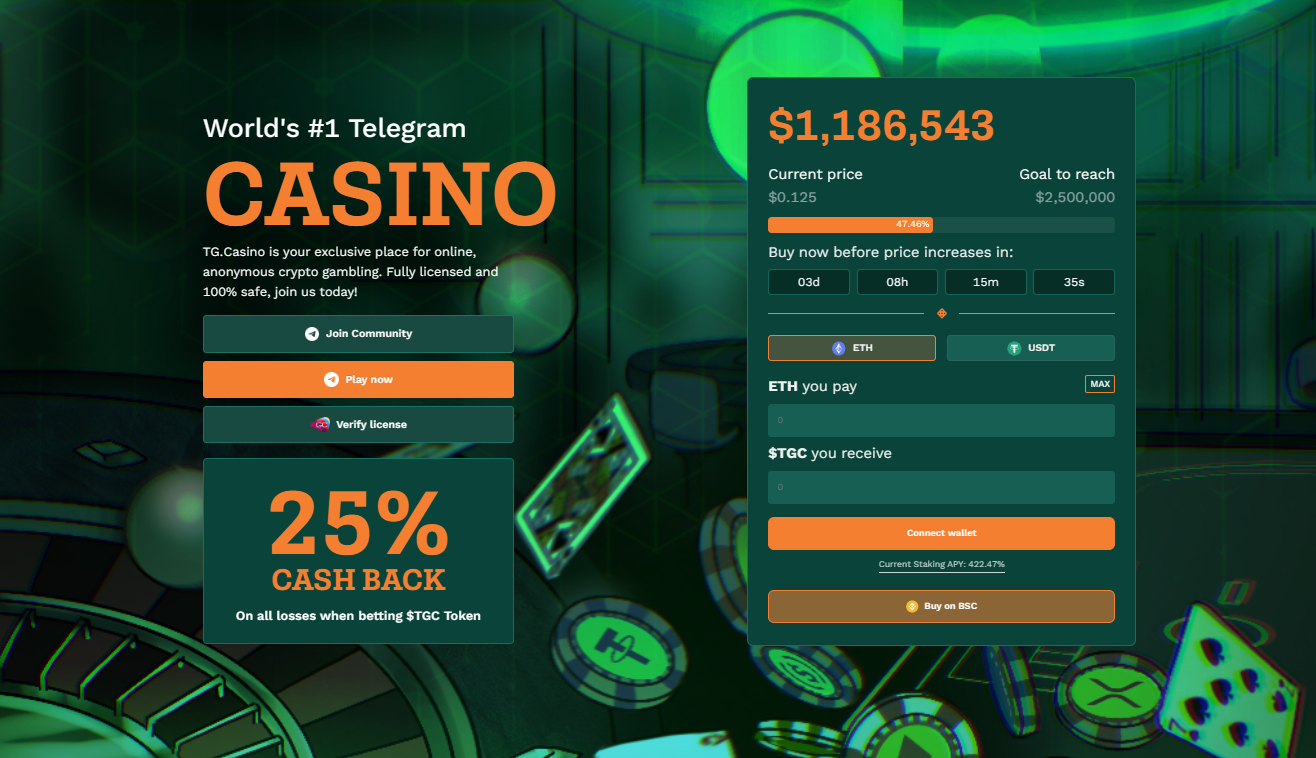 That's not the only reward, however – like Rollbit ($RLB), which pumped 600% earlier this year, TG.Casino will have a token buyback that sees profits shared among those holding.
It will go a step further than Rollbit by also using its buyback to make the token deflationary, with 60% of the purchased tokens distributed to token holders and 40% sent to a burn address.
TG.Casino is fully licensed in Curacao and available to players globally, and is also powered by Telegram bots which allows for anonymous, instant, and secure account creation and crypto transfers. There are no fees or limits on deposits and withdrawals, with players able to use BTC, LTC, ETH and around a dozen tokens to play with.
There are thousands of slots to choose from – including favorites such as Aviator, Mines, and Plinko – as well as a casino with virtual and live dealers for poker and blackjack. The TG.Casino also offers pre-game and in-play markets on the NBA, NFL, Premier League, and hundreds of other sports and competitions.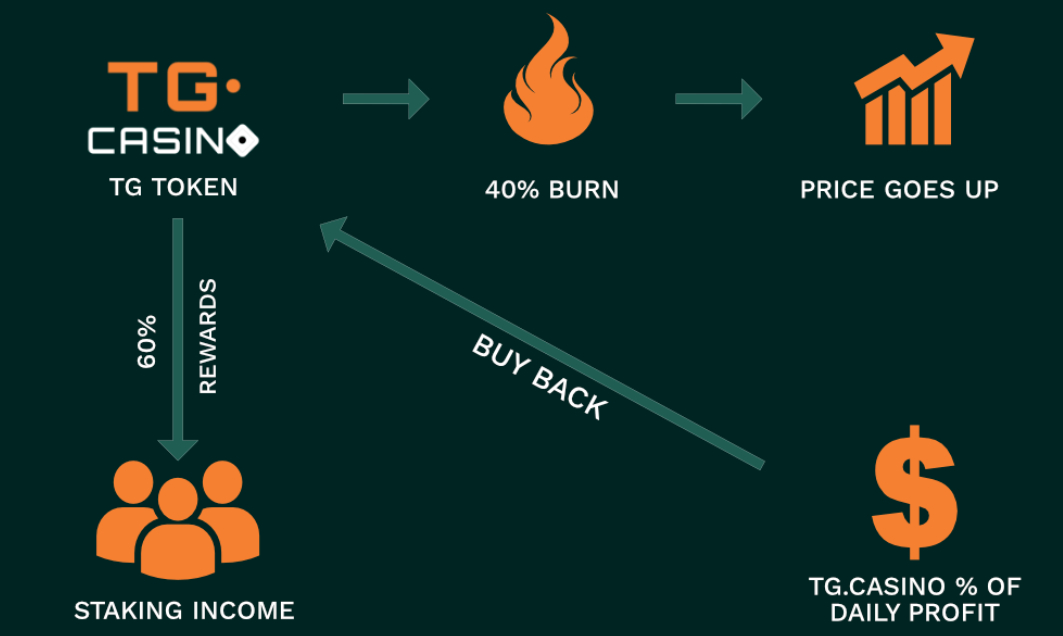 New players receive an incredible welcome bonus of a 200% matched first deposit, up to 10 ETH, while ALL players will earn 25% cashback on losses if they play with $TGC when it's launched.
Join the TG.Casino community Telegram group for more information and news.
| | |
| --- | --- |
| Presale Started | 21 Sept 2023 |
| Purchase Methods  | ETH, USDT, BNB |
| Chain | Ethereum |
| Min Investment | $10 |
| Max Investment | None |
5. eTukTuk – Utility-Based BSC Token Provides 2,000% APY
eTukTuk (TUK) is a crypto that would definitely make certain people rich, with sky high 33,478% PoS yields and a token that has many layers of utility.
eTukTuk is targeting the transport sector in Sri Lanka, and hopes to spread to many surrounding regions. Its aim is to replace TukTuks, a form of 3-wheeled vehicle common to Asia, with more efficient Zero Emission Vehicles (ZEVs) that are powered by electricity.  By doing so, it will increase the economic well being of drivers while simultaneously cutting down on carbon emissions significantly.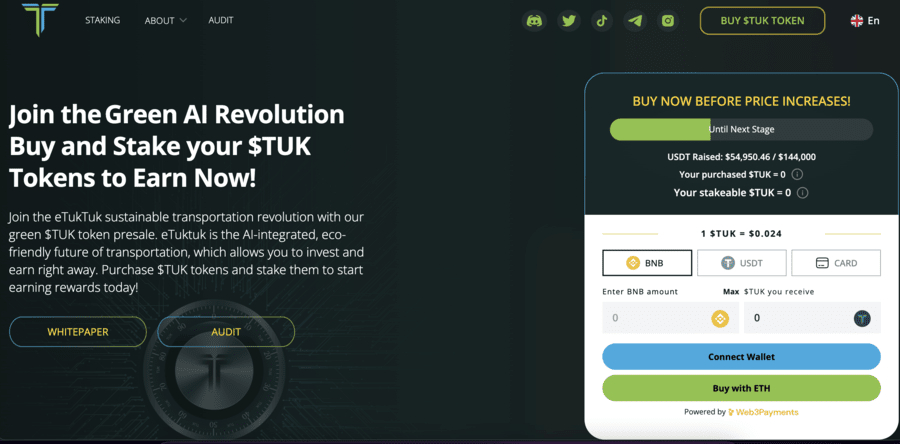 Sri Lanka rates poorly in terms of environmental pollution, and the Whitepaper further articulates the detrimental effects of air pollution, with its associated medical costs. These new ZEVs will be more eco-friendly than both cars and TukTuks. They will further be augmented by AI for route optimization and to promote vehicle longevity. The vehicles will also be far cheaper with no fuel costs, which will be very beneficial for drivers.
This is a BNB Chain token, and the founders choose this token due to its low cost, speech, and low carbon footprint. However, it takes a multichain approach, and currently supports other chains such as Cardano. 
The TUK token will be used for research into green initiatives. It also aims to bank the unbanked and create its own sharing economy. Both of these ideas have been expressed many times by crypto projects, but have yet to come into full fruition.
In other words, this is an ambitious project that is aiming to tackle many socio-economic problems at once, through the introduction of its electric vehicles. If it catches the attention of government departments or big companies, the price could certainly explode.
After all, Sri Lanka and other areas are in need of solutions that assist in terms of pollution, which is an issue of national concern. The transport industry is a huge part of revenue generation for such regions, and a commonly accepted transport token could be of huge benefit.
The price per token is just $0.024, with more than $120k raised in the presale so far – tokens can also immediately staked to earn an APY over 2,000%. More details can be found in the Telegram and Twitter social media channels.
| | |
| --- | --- |
| Presale Started | August 2023 |
| Purchase Methods  | ETH, USDT, BNB |
| Chain | Binance Smart Chain |
| Min Investment | $5 |
| Max Investment | None |
6. Green Bitcoin – Popular Crypto Presale With Gamified Rewards
Green Bitcoin is a new crypto project designed to reward holders who stake their tokens and accurately predict Bitcoin's price.
All you need to participate in Green Bitcoin is to get their $GBTC token, currently in a presale, and stake it. Once the prediction goes live, you can earn additional rewards when you accurately predict Bitcoin's price.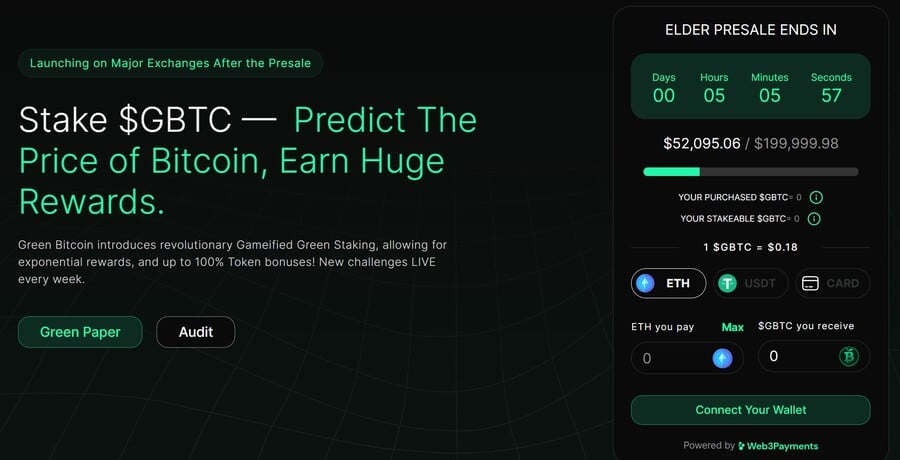 Similar to many other token presales, $GBTC will run in multiple stages where each stage will have a slightly higher token price. This means buying early is likely the best option as you get the lowest possible price. Once the token is listed on an exchange, it could go way higher, especially if the project is popular and succeeds.
During the presale, you can stake your tokens. This gives you the chance to earn even more $GBTC tokens. Those who stake early get to earn the highest APR as not many tokens are staked. But as the presale progresses and more tokens are bought and staked, the APR will drop.
With over 40% of the total token supply dedicated to the token presale, early investors have the chance to grab a huge piece of the token supply. Moreover, another 27.5% will be dropped as staking rewards, according to Green Bitcoin's whitepaper.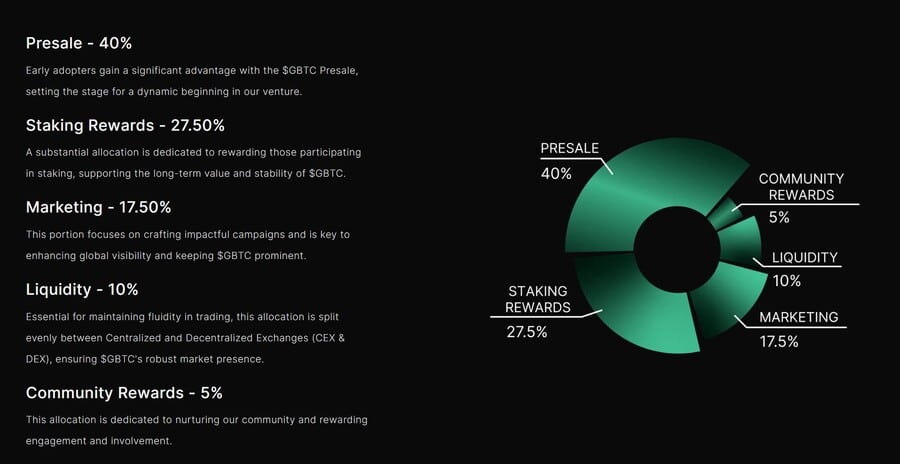 For the future, Green Bitcoin keeps it simple. With four roadmap stages planned, it shouldn't be hard to implement given all goes well with the presale.
Phase one is underway with the token presale.
Phase two will see the token list on multiple exchanges.
Phase three will implement the prediction game and the staking rewards.
Phase four will improve upon the prediction game.
More information can be found via Green Bitcoin's X account and Green Bitcoin's Telegram channel. 
| | |
| --- | --- |
| Presale Started | Q4 2023 |
| Purchase Methods  | USDT, ETH, Card |
| Chain | Ethereum |
| Min Investment | N/A  |
| Max Investment | None |

7. Scorpion Casino – This Crypto Casino and Betting Platform Offers Returns in More Ways Than One
The crypto casino market has witnessed significant growth over the past few years, with numerous projects gaining immense popularity in a short period. However, there is one new project and platform poised to disrupt this niche.
The project has raised more than $1.4m in its presale at the time of writing.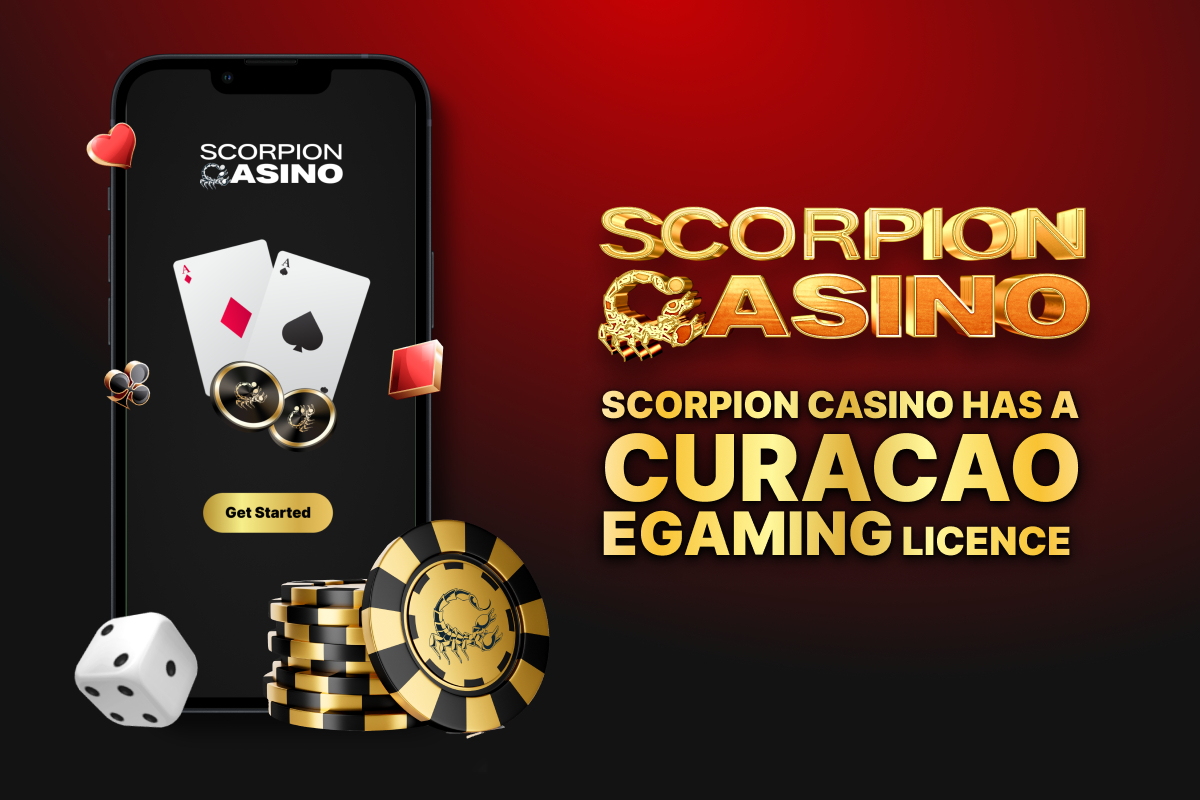 Introducing Scorpion Casino, a revolutionary betting platform leading the industry into the future. The core objective of this project is to provide users with a seamless and enjoyable gaming experience while enabling everyone to earn. With the global online betting platform valued at an estimated $530.2 billion, Scorpion Casino has a remarkable opportunity to capture a substantial share of this market. Furthermore, the online betting market itself is projected to reach $145.6 billion by 2030, underscoring its significance and potential.
Scorpion Casino's ecosystem comprises three key elements: the Scorpion Casino platform, the affiliate system, and the SCORP token. The platform itself is a licensed crypto sports betting and casino platform, while the affiliate system operates as a referral and reward mechanism. The SCORP token functions as a governance and reward token for users, completing the ecosystem and enhancing its functionality.
Scorpion Casino boasts an impressive selection of over 200 licensed casino games and 160 live games, ensuring a fair and enjoyable gaming experience. Players can indulge in a variety of popular games such as slots, blackjack, roulette, poker, and live casino offerings. The casino has established connections with renowned providers, including Evolution, NetEnt, Play N Go, Novomatic, EGT, and AMATIC. In addition to the casino games, Scorpion Casino offers a wide range of sports betting options encompassing football, tennis, American football, horse racing, basketball, golf, boxing, and MMA.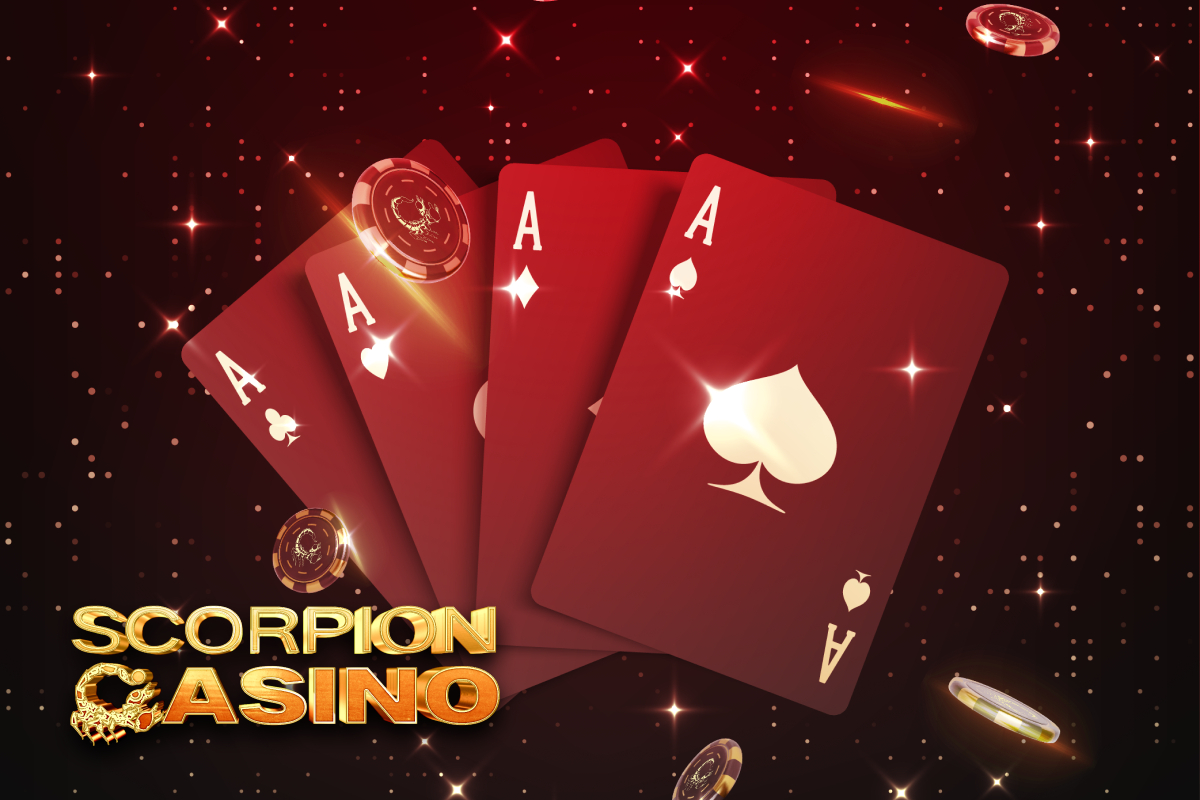 Scorpion Casino also has the Elite Scorpion Members Club, an exclusive membership program that grants access to VIP service, cashback, additional staking rewards, and extra SCORP tokens.
The SCORP token assumes a central role within the ecosystem, providing users with four major benefits. Firstly, it serves as the exclusive payment method within the ecosystem. Token holders also have the opportunity to earn passive income through their holdings. Additionally, the token unlocks weekly bonuses and free games, enhancing the overall user experience. Moreover, the SCORP token plays an integral part in the affiliate system.
With a total supply of 1 billion, the SCORP token designates 280 million tokens for the presale phase and reserves 300 million tokens for rewarding affiliates.
The Scorpion Casino team has unveiled an exciting roadmap that encompasses various upcoming developments. These include live affiliate events, strategic partnerships, targeted marketing campaigns, and collaborations. The team's focus for the latter half of the year is to scale the platform, aiming for significant expansion and growth.
8. Launchpad XYZ – Access Different Web3 Services  
Launchpad XYZ is trying to make it easier for users to navigate through the different Web3 ecosystems and features with its cryptocurrency platform. By using $LPX on the ecosystem, members will be able to create their own crypto wallet, access presale listings, and get discounts on a decentralized exchange.
The presale has already raised more than $1.9 million and is currently offering new buyers 13% in bonus tokens.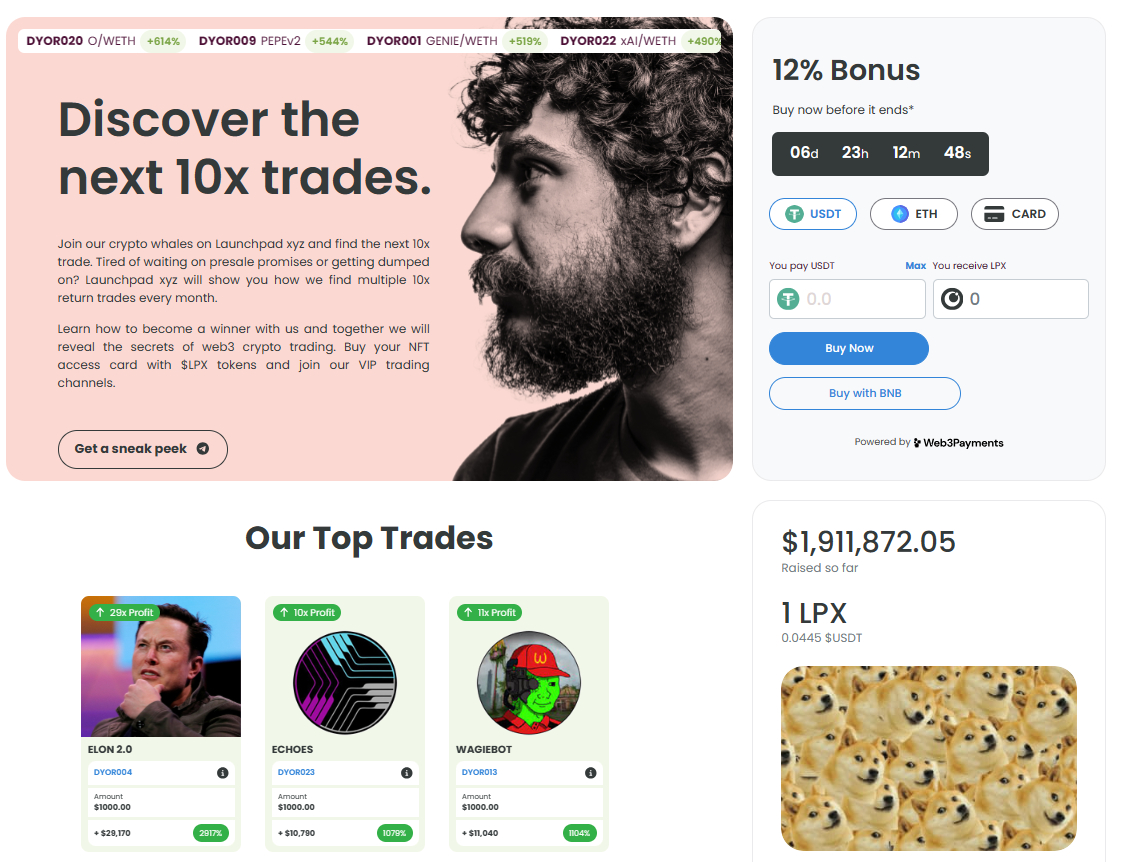 Launchpad XYZ lets users create their own Web3 wallet by simply entering their email address or phone number. One can also stake a monthly average of 10,000 $LPX to get discounts on trading fees through the platform's decentralized exchange (DEX). 
On this DEX, members can access hundreds of crypto pairs and will eventually be able to access limited perpetual contracts. Those staking tokens will also get guaranteed access to new web3 presale listings on the ecosystem. 
Launchpad XYZ lets token holders purchase items of historical value, such as cars and real estate. One can access a range of NFT marketplaces and create their own collection. One can also access Launchpad XYZ's NFT exchange to take loans by staking your assets as collateral.
One of its main features is an alpha Telegram signals group which recently made a 7,000% call on LINQ.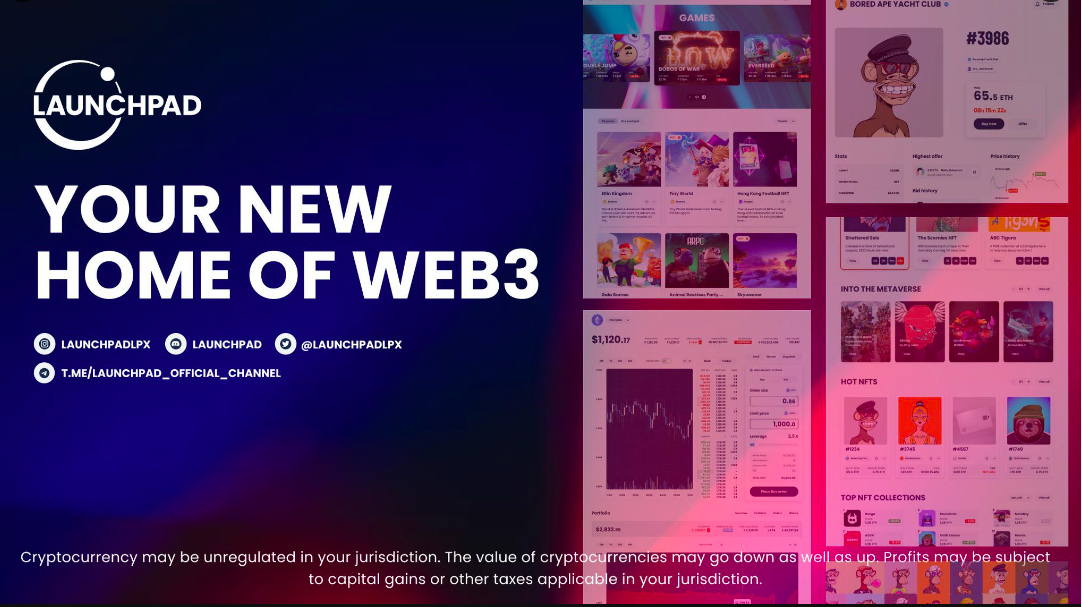 By offering all these use cases, Launchpad XYZ aims to onboard the next 10 million Web3 users. The $LPX token is priced at $0.0455 per token and from a 1 billion token supply, 250 million tokens are being allocated across ten presale rounds. 
Read the Launchpad XYZ whitepaper and join the Telegram channel to keep yourselves updated with this presale. 
| | |
| --- | --- |
| Presale Started | 25 April 2023 |
| Purchase Methods  | ETH, USDT, Credit Card |
| Chain | Ethereum |
| Min Investment | 100 LPX |
| Max Investment | None |
9. yPredict – Access Data-Driven Insights into the Crypto Markets
yPredict is a next-gen trading and research cryptocurrency platform. One of the main offerings of yPredict is its predictive models, which analyze the future of the crypto markets. 
Members can purchase monthly subscriptions to these models with $YPRED, the native token.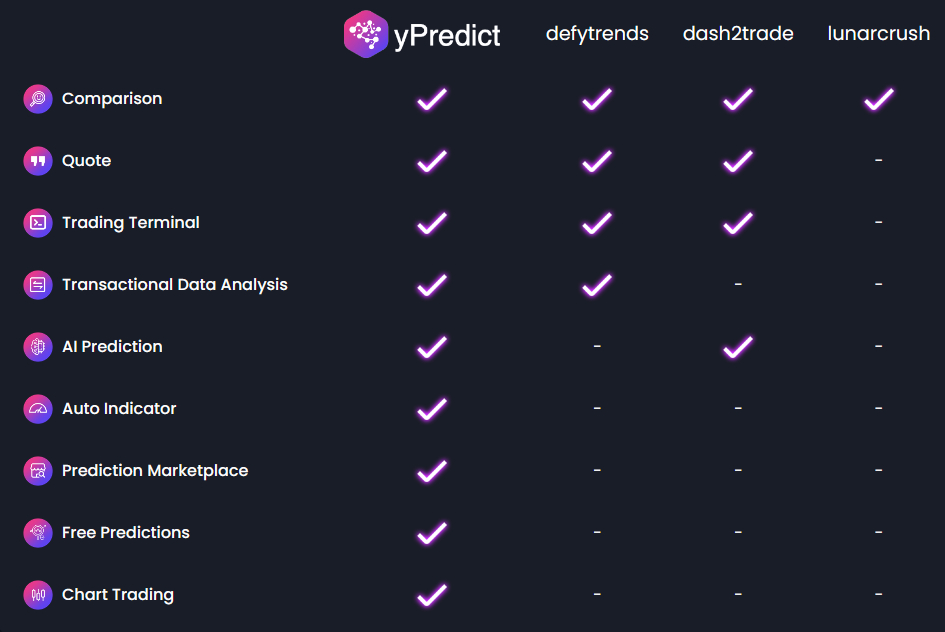 The predictive models are available to view on yPredict's financial marketplace. The models are only listed after being verified by the platform's DAO (Decentralized Autonomous Organization). The platform's models are created by AI trading experts and analysts. 
They provide AI-driven trading signals and conduct sentiment analysis to determine the buying behavior of different cryptocurrencies. By studying over 25 charting patterns, yPredict tries to predict whether certain coins are bullish or bearish. 
This token can also be used to earn passive income. By staking $YPRED, users will be allocated 10% of all new subscription revenue through a staking pool. 15% of the swapping fees generated will also be divided among token holders. 
The token can be used on yPredict's play-to-earn ecosystem to make directional bets on the future of the markets. With $YPRED, members can also access a Learn2Earn ecosystem to study the crypto markets. After completing assessments, users are rewarded with $YPRED tokens. 

Currently, $YPRED is priced at only $0.1 per token during the ongoing presale. The price for the exchange listing is set at $0.12 per token. 
Since the presale began, yPredict has raised more than $4.3 million. Read the yPredict whitepaper and join the Telegram channel for more information on this project. 
| | |
| --- | --- |
| Presale Started | Q1 2023 |
| Purchase Methods  | MATIC, ETH, USDT, BNB, Credit Card |
| Chain | Polygon |
| Min Investment | 200 YPRED |
| Max Investment | None |
10. Bitcoin – Largest and Safest Cryptocurrency
Bitcoin is the first and largest cryptocurrency and while the days of its largest growth are likely behind it, BTC still represents one of the best cryptos that will make you rich.
That's because the crypto market has been in an extended bear market for around two years and the coin is currently 60% down from its all-time high.

However, numerous analysts and investors believe that the bear market will soon be coming to a close, especially with the next Bitcoin halving approaching in mid-2024.
The halving, the event every four years when it becomes doubly difficult to mine BTC, has historically been a huge catalyst for every other bull market.
Analysts at Standard Chartered, for example, believe BTC could reach $120,000 by 2025 – a 350% price increase from its current price.
While there may be larger gains to be had elsewhere in the market, Bitcoin represents the safest crypto investment, especially for those willing to hold it over the long term, and we would always recommend holding it as part of a diverse investment portfolio.
Your capital is at risk. Crypto asset investments are highly volatile and speculative.
 
11. Arbitrum – Layer-2 Solution with Huge TVL
Arbitrum is an Ethereum layer-2 scaling solution that uses optimistic rollups to improve speed, scalability, and cost-efficiency on the Ethereum blockchain.
Native tokens ARB are used for governance, with holders able to vote on matters in a decentralized autonomous organization (DAO).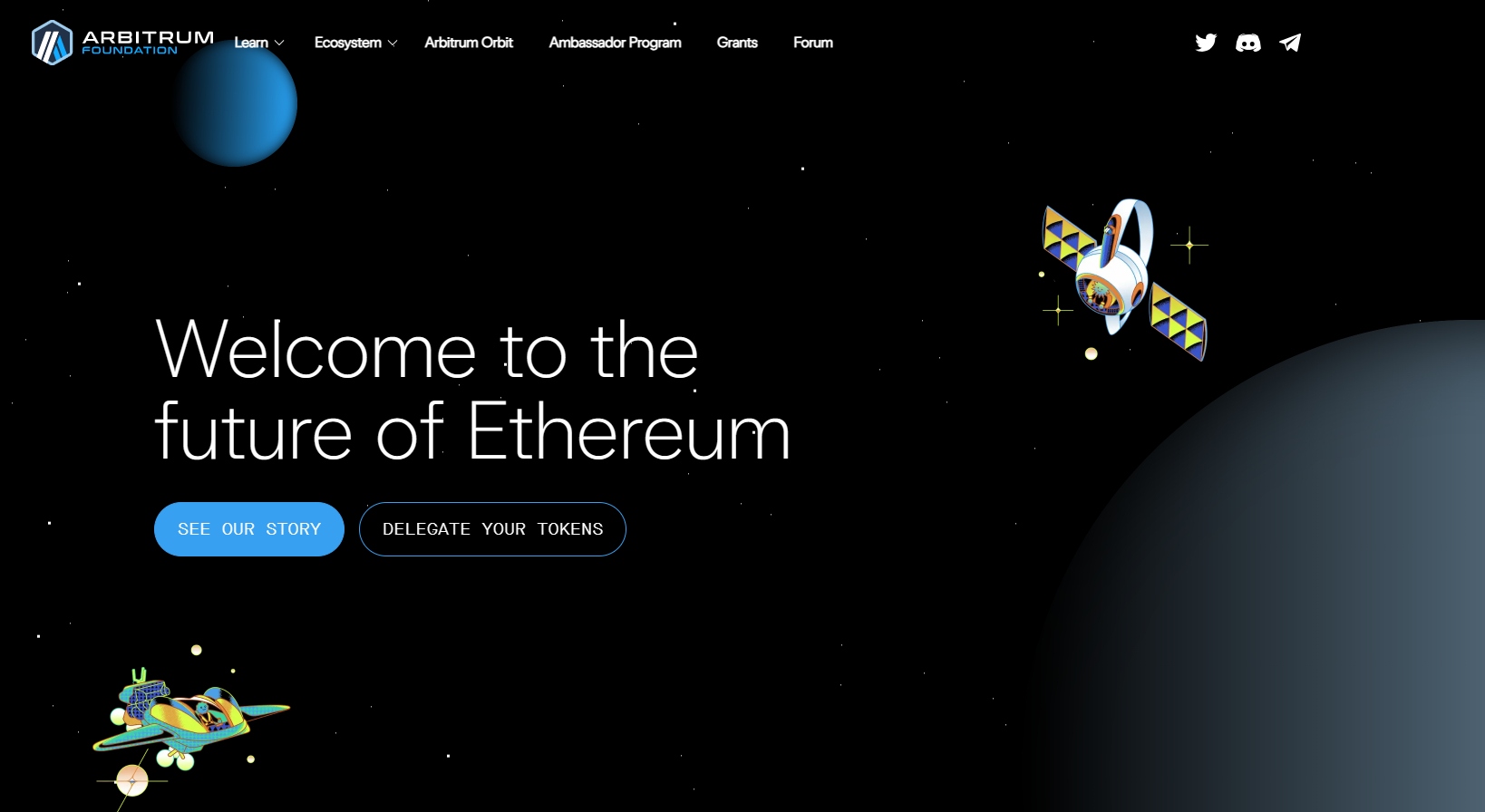 Only launched in March 2023, Arbitrum has a $1 billion market cap and a total value locked (TVL – the value of dApps built on its network) of over $1.67 billion.
That means it trails only Ethereum, Tron and the Binance Smart Chain, but is already ahead of rival layer-2s such as Polygon and Avalanche and other popular layer-1s like Solana and Cardano.
Arbitrum already has more than 110,000 active users, which makes it the sixth-most active chain.
ARB is currently 55% down from its all-time high, leaving huge room for growth in the next bull run.
Your capital is at risk. Crypto asset investments are highly volatile and speculative.
12. Aptos – Super-Fast Layer-1 Blockchain
Aptos (APT) was only launched in late 2022 and, like Arbitrum, it has never seen a bull market.
However, the layer-1 proof-of-stake blockchain could be another major project to break out even further than it has in 2023.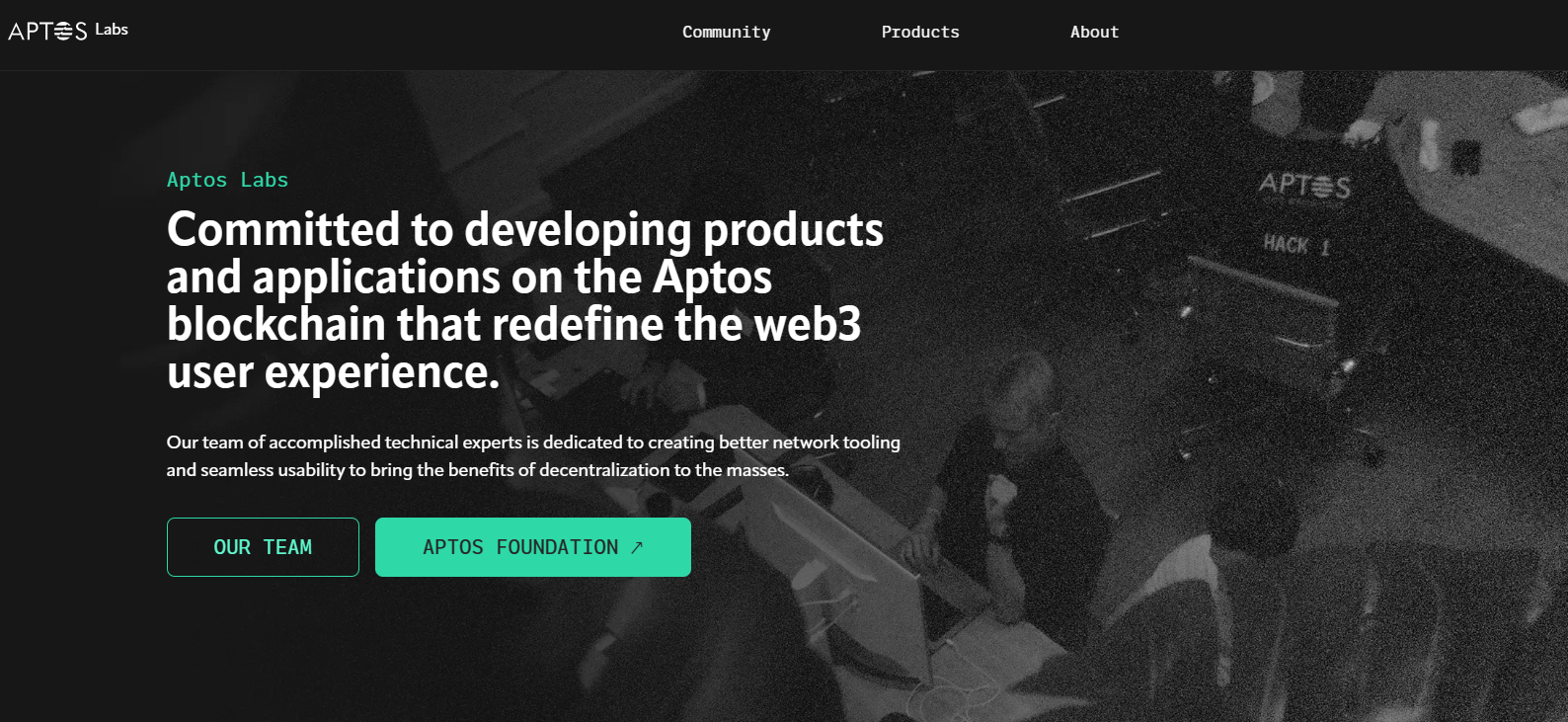 Aptos currently has a market cap of $1.2 billion but its theoretical throughput dwarfs most of the competition and could see it breakout.
Aptos is claimed to be capable of 160,000 (TPS) well in excess of what Visa (2,000 TPS) and Ethereum (100k TPS) can handle.
Should they reach those speeds in reality, then Aptos has the potential to replace Ethereum as the top destination for dApp builders and developers in the coming decade.
It remains around 72% down from its all-time high – in a bear market – leaving plenty of room for growth.
Your capital is at risk. Crypto asset investments are highly volatile and speculative.
13. Polygon – Layer 2 Blockchain on Ethereum
Polygon, previously known as the Matic network, is the most popular layer-2 blockchain built on top of Ethereum. It improved on some of the drawbacks of Ethereum, such as scalability and high costs. With Polygon, developers can create Ethereum-compatible apps at a much lower cost. 
Polygon has already gained popularity among crypto investors. However, with the Ethereum merge, this network is expected to grow even further. Moreover, Polygon is also building partnerships to increase its exposure in the crypto market. 

Earlier in 2022, Polygon became one of six projects that were added to Disney's highly prestigious Accelerator program. Starbucks, Nike and numerous other major brands have also entered into long-term partnerships with Polygon over the years.
After launching in 2019, the price of Polygon fluctuated between $0.01 and $0.03 until 2021. The token hit its all-time high in December 2021; however, in 2022 and 2023, Polygon also fell prey to the crypto winter. 
The price of Matic tokens could witness a bullish market in the near future, if wide conditions improve. As such, many investors will be interested in adding Polygon to their list of 'crypto that will make you rich'. 
Your capital is at risk. Crypto asset investments are highly volatile and speculative.
14. Ripple – Scalable Crypto Payment Protocol 
Ripple is a payment protocol created using blockchain technology to enable fast and inexpensive transactions. The network has designed RippleNet to streamline international transactions and has already partnered with over 200 financial institutions. Importantly, Ripple is open-source – meaning anyone can use its technology to develop their own payment systems. 
Ripple's native digital token, XRP, can be used as a bridge currency for international money transfers. This digital token is used in Ripple products to carry out fast conversions between different currencies. However, bear in mind that users of RippleNet need not use XRP to make transactions.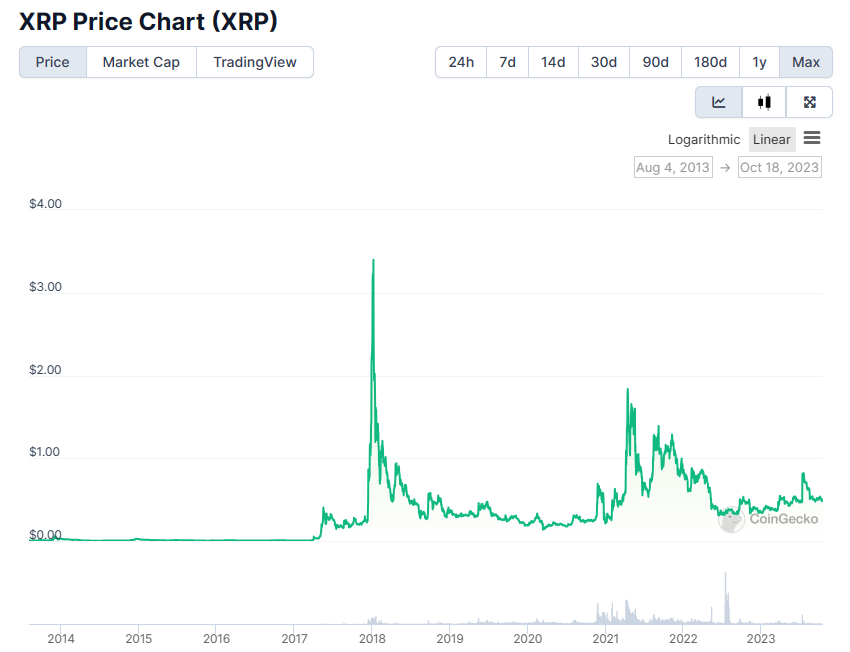 It does, however, have a use case for cross-currency transactions (e.g. GBP/TRY). Ripple has been around since 2012, and given its use case, many might already have it in their 'crypto that will make you rich' list.
However, since 2020 – the project has been embroiled in an SEC lawsuit. The lawsuit seems to be moving in a direction that's favorable to Ripple nonetheless, although the outcome of the case will ultimately decide the fate of the token.
Your capital is at risk. Crypto asset investments are highly volatile and speculative.
15. Ethereum – Leading Provider of Smart Contracts 
Investors looking for crypto that will make you rich shouldn't overlook Ethereum. Although Ethereum is one of the most established cryptocurrencies, it still has plenty of room for growth. It was indeed the first blockchain to offer smart contracts. 
This gives Ethereum the first-mover advantage in a fiercely competitive market. It has also completed its long-awaited merge to a proof-of-stake system, significantly improving its efficiency. This upgrade can help Ethereum become more attractive to developers.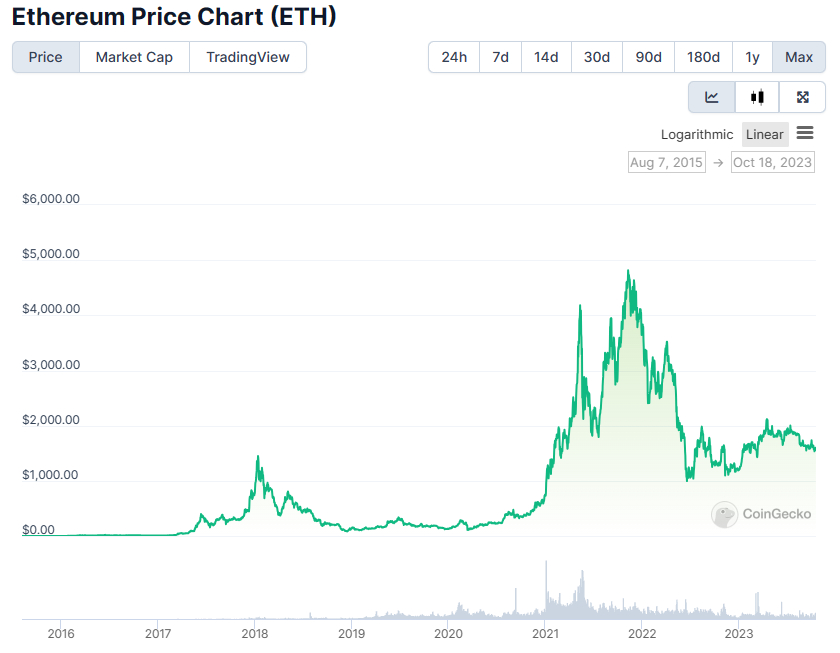 Ethereum is also the biggest player when it comes to the NFT space. Most of the best NFTs available in the market today are built on this blockchain. So, to sum up, Ethereum has a vibrant ecosystem, a major upgrade, and a dominant position in the crypto market. 
All these aspects make Ethereum one of the best crypto to buy during the crash in 2023. 
Your capital is at risk. Crypto asset investments are highly volatile and speculative.
How to Find the Cryptos That Could Make You Rich
Google trends continue to rise on search terms such as 'what crypto will make me rich'. However, the hard truth is that there is never a clear-cut way of knowing the right answer to this question – which is why crypto investing, and investing in general, can be such a risky proposition.
Cryptocurrencies are extremely volatile assets and can increase and decrease in price based on a wide variety of internal and external factors, some of which are totally unpredictable. The best approach is to make calculated investments by considering the advantages and risks of cryptocurrencies. 
So, if you are wondering how to get rich off crypto – consider the points below when picking digital assets for your portfolio. 
Research the Project 
It is crucial to conduct independent research when attempting to make money with crypto. This guide should act as a starting point for further research and due diligence into any project that has gained your interest.
Investors should always spend time properly researching crypto projects they are interested in. 
A good place to start is the project's website, where its whitepaper and roadmap will be available. 
Reading the whitepaper can give investors a solid idea of the project's objectives, while the roadmap should offer a detailed guide of how it plans to accomplish them and over what time frame.
The website should also give details about the project's partnerships and new developments. 
Social media can also show general sentiment from the wider market in a project, which can be key to its success or failure.
Doxxed and public-facing teams are also a big bonus over anonymous founders.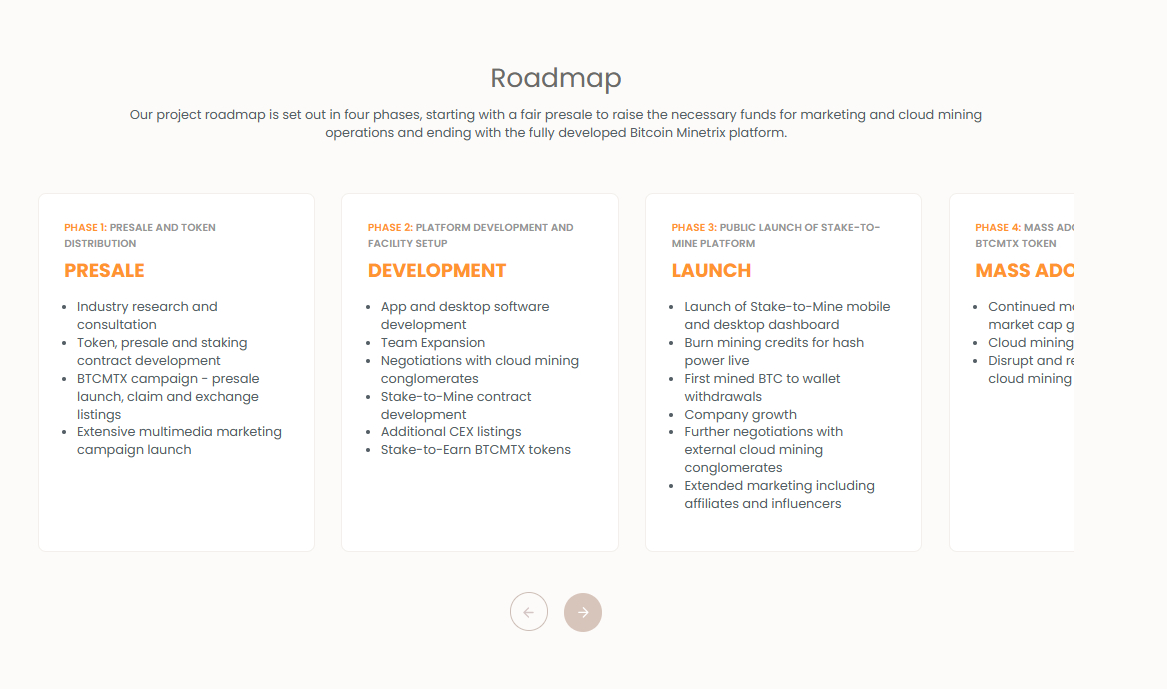 In addition to this, it is also necessary to check out third-party websites to learn about the market sentiments toward the project. This is where social media platforms such as Reddit and Twitter come in. 
Investors can visit crypto-oriented subreddits, and Twitter accounts to find the best digital tokens to buy. 
Investors can also join the best crypto YouTube channels and Telegram groups to get real-time news about the most promising cryptos. 
Find Undervalued Crypto 
When searching for the top crypto that will make you rich, investors should also look for digital assets that are perceived to be the most undervalued cryptos. 
In the following section, we explain why crypto presales could be of interest – as they generally offer discounted prices and a larger room for growth than established projects. However, there are also digital assets that have lost a significant part of their value due to the wide crypto winter. 
Most tokens, including the most popular ones such as Bitcoin and Ethereum, are currently priced way below their former all-time highs. The theory behind investing in those two now, for example, could mean they grow when wider conditions improve – although some tokens will never reach their former highs.

For instance, let's take the case of Ethereum. 
Based on its potential and utility – with Ethereum the most popular blockchain for dApp builders, NFT collects and crypto gamers – some investors believe that the price of ETH could increase significantly in the future, especially as crypto becomes more mainstream.
As of writing, Ethereum is trading at around $1,600 – which is over 70% less than its peak value ($4,800) back in 2021. 
So, if Ethereum is to regain its prior all-time high, investors are looking at an impressive upside of 200% from the current price.
Look for Crypto Presales
The best crypto ICOs and presales offer investors the chance to get in on new projects from the ground up. This means that if the project in question takes off, early investors can target above-average market gains. 
For instance, at the time of its launch in 2015, Ethereum was priced only at $0.311. Investors who bought Ethereum in its early stages and held on to their ETH coins until 2021 would have reaped monumental returns of 1.4 million percent.  
In other words, a $100 investment in Ethereum would have been worth over a million dollars at its peak.
As such, when looking for a cryptocurrency that will make you rich, it would be wise to keep an eye out for the best upcoming ICOs as many presale cryptos have low entry prices – which means that investors won't need to risk huge sums to gain exposure – and offer innovative use cases.
However, crypto presales and ICOs come with even greater risk than investing in established tokens. That's because they have no proven market for their utility and no proof that they are able to deliver what they are promising, no matter how exciting the project looks on paper.
Furthermore, investors should also be wary of projects that are outright scams, with many newly launched tokens created solely to steal funds.
Red flags to look out for include poorly written and presented websites and whitepapers, roadmaps that are vague and/or unrealistic, anonymous founders (although this can be an exception in the meme coin space), and negative social media sentiment. 
Have a Diverse Portfolio
Investors should not place all their eggs into one basket and rely on just one project to make them rich, as that strategy means that all funds are wrapped up in the success or failure of one project. 
Having a diverse portfolio of multiple projects offers more chances at potential success, while also mitigating the risk attached to investing in just one project.
Investors need to understand their own risk tolerance and whether they are comfortable investing in high-risk/high-reward projects – which may take more hands-on management due to the volatility and possibility of rapid changes in price so as not to miss chances to cash out profits or cut losses – or are comfortable investing in projects that may take years to become profitable.
We would recommend a mixture of high and low-risk investments as well as also diversifying funds outside of cryptocurrency and into savings accounts and pensions, commodities (gold/oil etc), real estate, and equities (stocks and shares) etc if possible.
Have an Investment Strategy
Another major factor to consider and is key to making profits or losses is when to enter and when to exit into a position or holding.
If an individual invested all of their funds into Bitcoin during the 2021 bull run then that investment is currently 60% down, a huge loss. 
There are several strategies to mitigate that kind of loss, however. Popular methods include dollar-cost averaging (or DCA) which is when an investor spends a set amount of funds at regular intervals to have an average price. For example:
Bitcoin currently costs $28,300 at the time of writing.
A $100 investment today would set $28,300 as the entry point and the price to beat for profit or loss.
With a DCA strategy, an investor could have spent $20 once per week over the last five weeks for the same total investment of $100.
However, the average entry point would be $26,957 – 5% cheaper – giving the investor more breathing room to grow from the $100 invested.
One saying to consider is 'time in the market over timing the market'.
While DCA-ing can help with the entry strategy, an exit strategy is just as important as exiting too early could leave potential profits on the table, while waiting too late could see profits vanish and never return.
The most profitable method is to set a target and stick to it rather than getting greedy and waiting for larger gains that may never come. It is equally important to know when an investment is bad and to minimize losses before watching funds drop to zero.
Conclusion
When searching for the crypto that will make you rich, it is important to remember that the digital asset space operates in a highly risky arena.  
Nevertheless, there are some cryptocurrencies that have the potential to grow, and as such, they may succeed in generating suitable gains. 
One of the top cryptos right now is Bitcoin ETF Token. This new crypto is created to celebrate the imminent arrival of Bitcoin ETFs. The project has set 5 milestones – and will burn 5% of its total token supply as each milestone is met. $BTCETF token holders can stake their tokens and earn high APYs. 
Currently, $BTCETF is priced at $0.005 during its first presale round. 
References
FAQs
Which crypto can make you rich?
Finding crypto that can make you rich is a tough challenge. One strategy is for investors to consider buying digital tokens that have the potential to grow. For instance, Bitcoin ETF Token has already raised over $65K in just two days since the release of the presale. 
What crypto will make me a millionaire in 2023?
After researching some of the most impressive crypto projects in the market, we found that several digital tokens have high upside potential. Some of the best cryptos to consider include Bitcoin ETF Token, Bitcoin Minetrix, Meme Kombat, TG.Casino, yPredict, and eTukTuk. These projects are in presale mode right now. Investors might also be interested in more established cryptos with a large market cap – such as Bitcoin, Ethereum, and Ripple (XRP).
Can you get rich off crypto?
Getting rich with cryptocurrency is certainly not an impossible endeavor. Many crypto enthusiasts have made millions of dollars out of their investments. However, it is always important to understand that investing in crypto is highly risky. Investors should always take a cautious approach when choosing crypto to buy. 
What is the best crypto to buy to get rich?
Based on our market research, some of the best cryptos include Bitcoin ETF Token, Bitcoin Minetrix, Meme Kombat, TG.Casino, and eTukTuk.
Can crypto make you rich?
Some analysts in this space will argue that investing in crypto can make you rich. However, as with any other asset, crypto also comes with its own risks. Investors should learn about the crypto market and the risks involved before staking any money on digital assets. When building a portfolio, ensure that funds are diversified across multiple crypto projects in addition to more traditional instruments such as stocks and index funds. 
---