FTX Latest – Crypto Prices Slip as Contagion Hits BlockFi, Genesis and Gemini, Hacker ID Known, Auditors and VCs Fail, Class Action Lawsuit Filed
Disclosure: Crypto is a high-risk asset class. This article is provided for informational purposes and does not constitute investment advice. By using this website, you agree to our terms and conditions. We may utilise affiliate links within our content, and receive commission.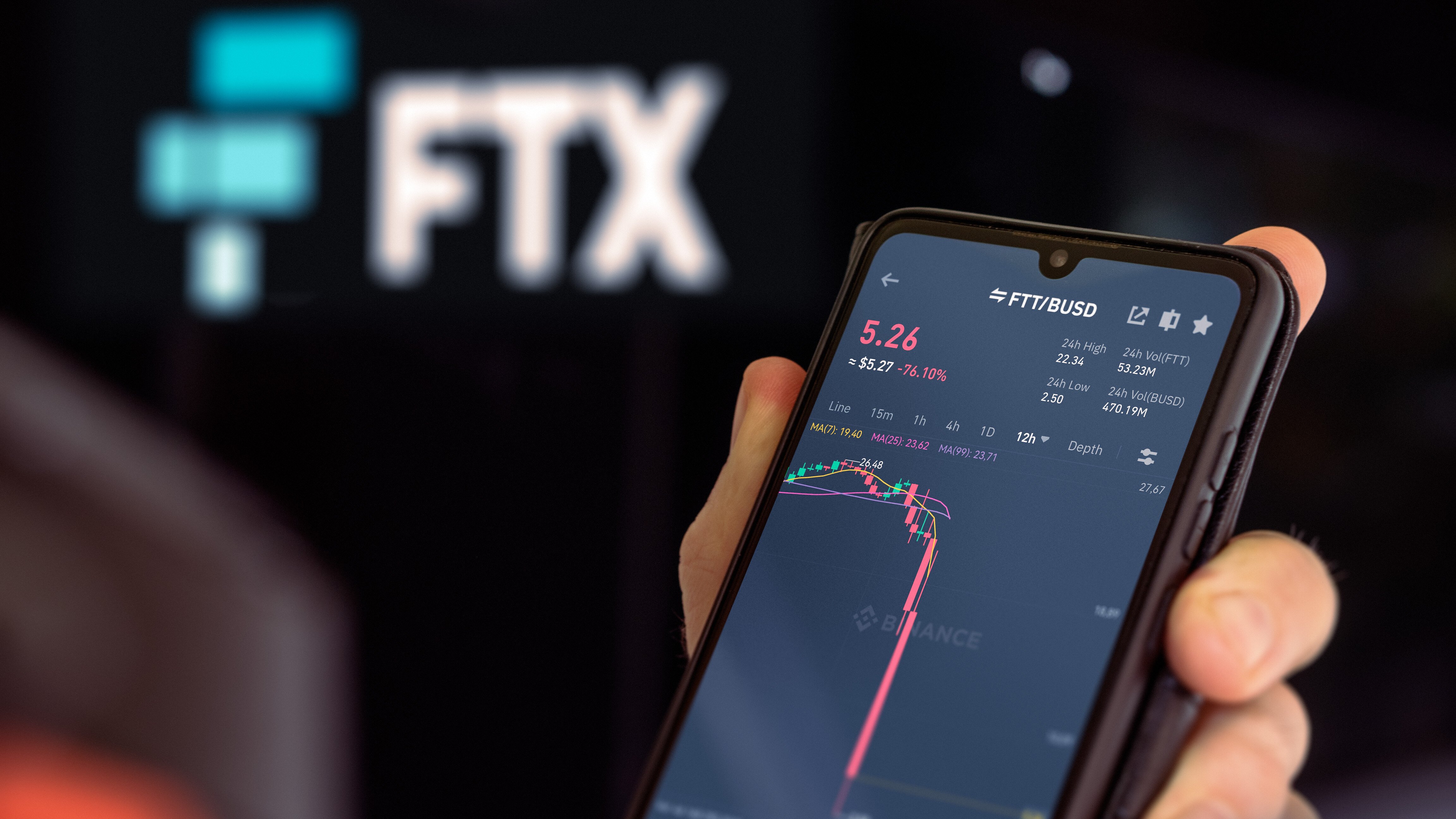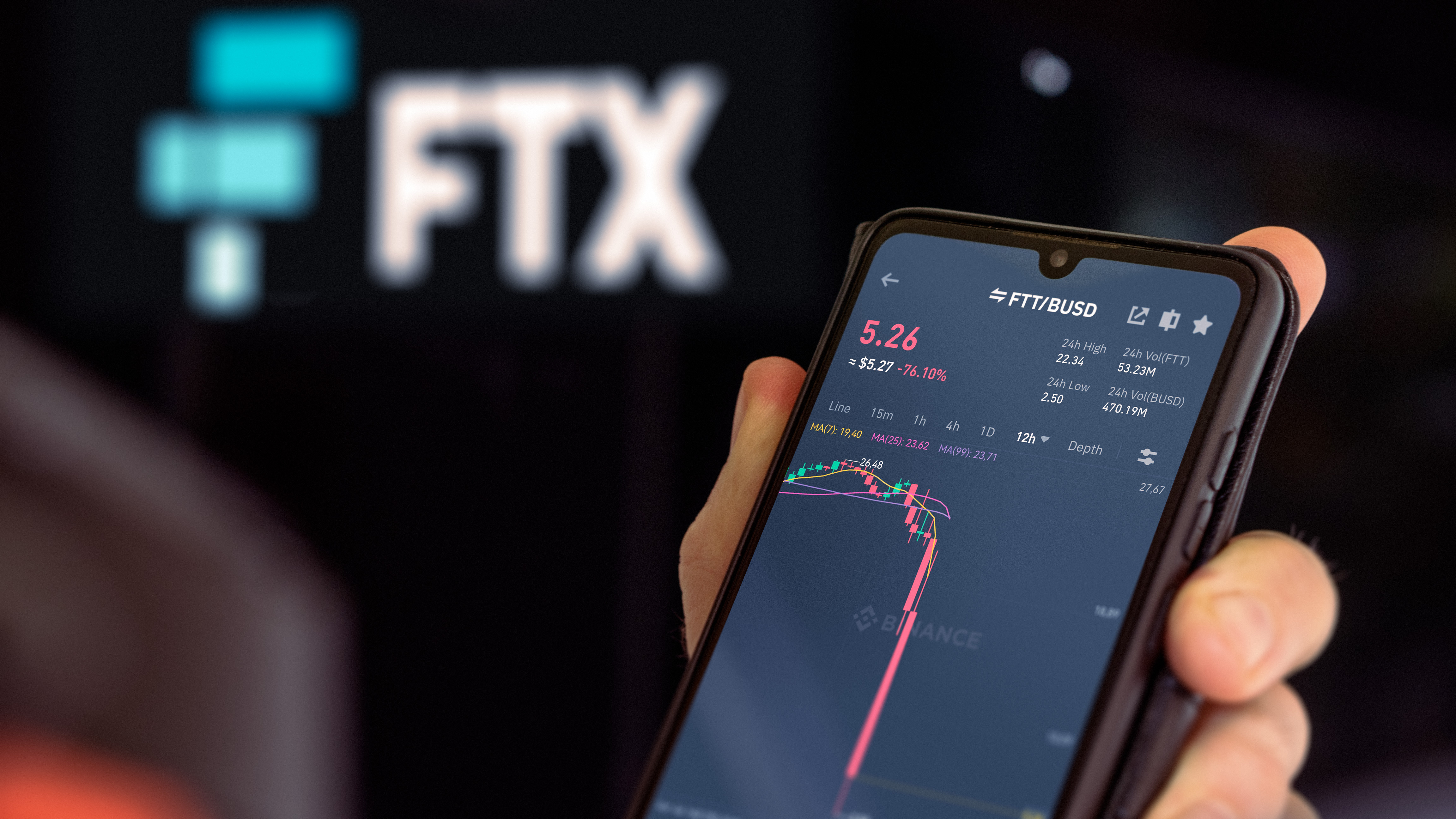 BlockFi, Genesis and Gemini are the latest crypto victims of FTX contagion.
The Wall Street Journal reports that crypto lender BlockFi is preparing for bankruptcy while today Genesis announced that it was halting redemptions on its lending product and would stop making new loans.
However, FTX has created unprecedented market turmoil, resulting in abnormal withdrawal requests which have exceeded our current liquidity.

— Genesis (@GenesisTrading) November 16, 2022
It is claimed that Genesis' trading and custody businesses remain unaffected. Genesis is part of the Digital Currency Group – the closest thing crypto has to an old-fashioned conglomerate and founded by Barry Silbert. The $10 billion Grayscale Bitcoin Trust (GBTC) is also part of DCG.
Today Genesis Global Capital, @GenesisTrading's lending business, made the difficult decision to temporarily suspend redemptions and new loan originations.

— Digital Currency Group (@DCGco) November 16, 2022
The cascading effect was seen in full flow when crypto exchange Gemini followed up with an announcement in a blog post that it would be stopping redemptions on its Gemini Earn yield products. Genesis provides services to Gemini.
Gemini Earn also pausing withdrawalshttps://t.co/Om6FwWtfaM pic.twitter.com/T7QORxZkQh

— Larry Cermak (@lawmaster) November 16, 2022
Crypto.com – Is it safe?
Top-tier exchange crypto.com could also be skating on thin ice, despite protestations from CEO Kris Marszalek that all client deposits were safe and accounted for, and that it had a healthy balance sheet.
But this exchange on CNBC may have undone all that good work:
When asked by CNBC on Tuesday if Crypto.com holds tokens on its balance sheet, Marszalek said it's a "very conservatively run business" that holds "mostly fiat and stablecoins as our source of capital."

"Yeah, but how much?" asked CNBC's Becky Quick, reminding Marszalek that FTX had "billions of dollars" in its self-created FTT token before it declared bankruptcy.

Marszalek declined to say.
As we reported earlier today the Liquid exchange can be added to the list of firms suspending withdrawals.
And there is some FTX contagion in France breaking out too.
In this interesting tweet thread from the editorial manager of Journalducoin he explains that their sister company – tradingducoin (founded by same guys who created journalducoin.com), have more than €10 million of their user funds locked up on FTX – read more on cryptonaute (Google Translate is your friend).
Après la catastrophe #FTX des derniers jours, notre communauté a des questions légitimes et des remarques concernant 1/ notre collaboration commerciale avec FTX sur @LeJournalDuCoin, 2/ l'utilisation de FTX pour gérer les fonds des membres du @TradingduCoin. Thread à dérouler 🧵

— Grégory Mohet-Guittard (@gregmguittard) November 16, 2022
Tradingducoin.com is/was an automated trading app which was using FTX to place orders through its API.
Will bitcoin go to $10k?
Bloomberg Intelligence analyst Mike McGlone thinks bitcoin could go as low as $10,000 as a result of the contagious impact of the FTX collapse.
"Right now, the tide is going out," said Mike McGlone, analyst at Bloomberg Intelligence, who expects the price of Bitcoin could go as low as $10,000. He expects a recovery at some point, but "who knows when?"
Such was the all-pervasive presence of FTX in the crypto world, there are likely to be few firms that are left entirely unscathed by its activities and the trail of counter-party risk it has left.
According to court papers filed on Tuesday, FTX reckons the number of creditors could be more than 1 million.
Bitcoin is currently priced at $16,562.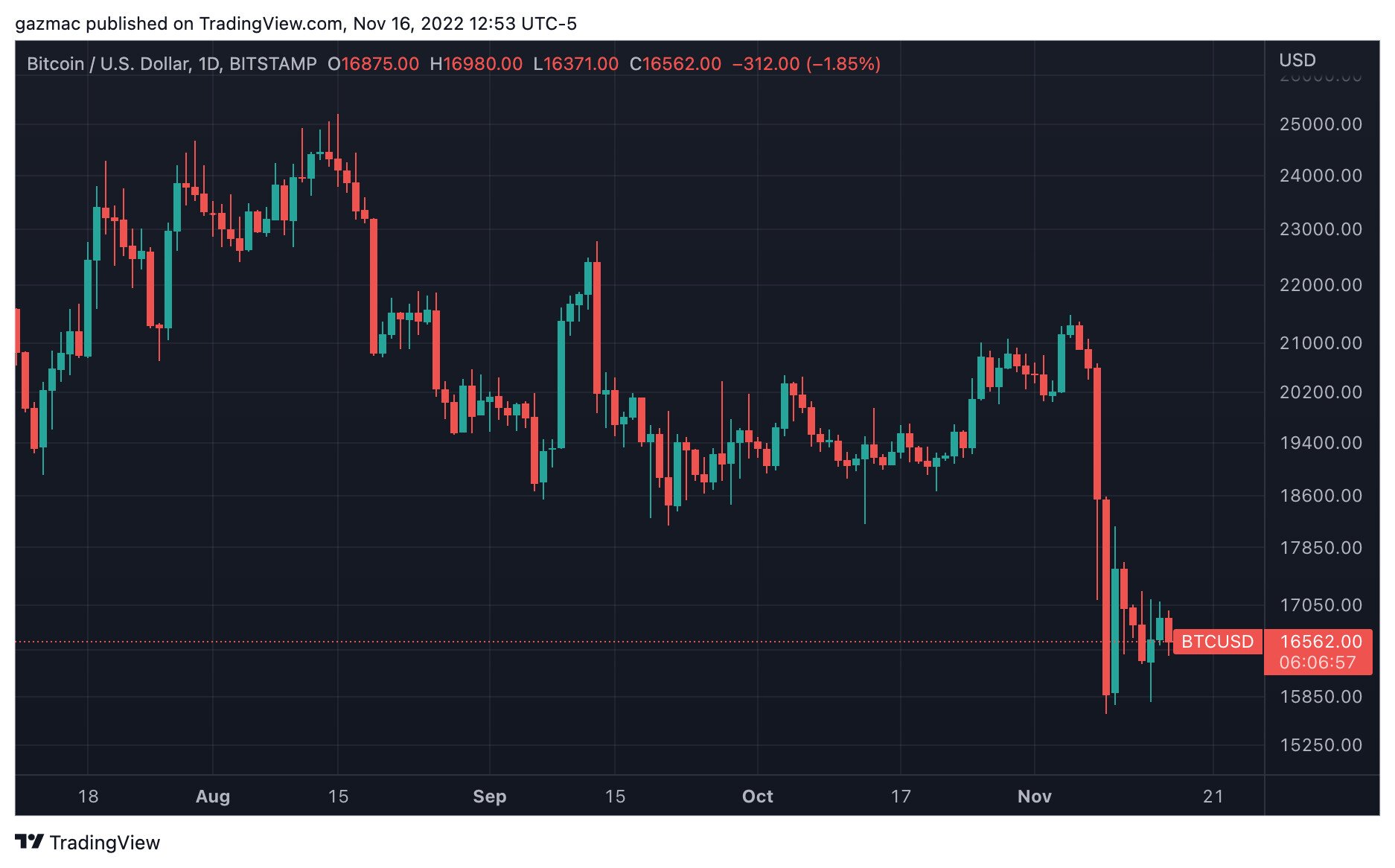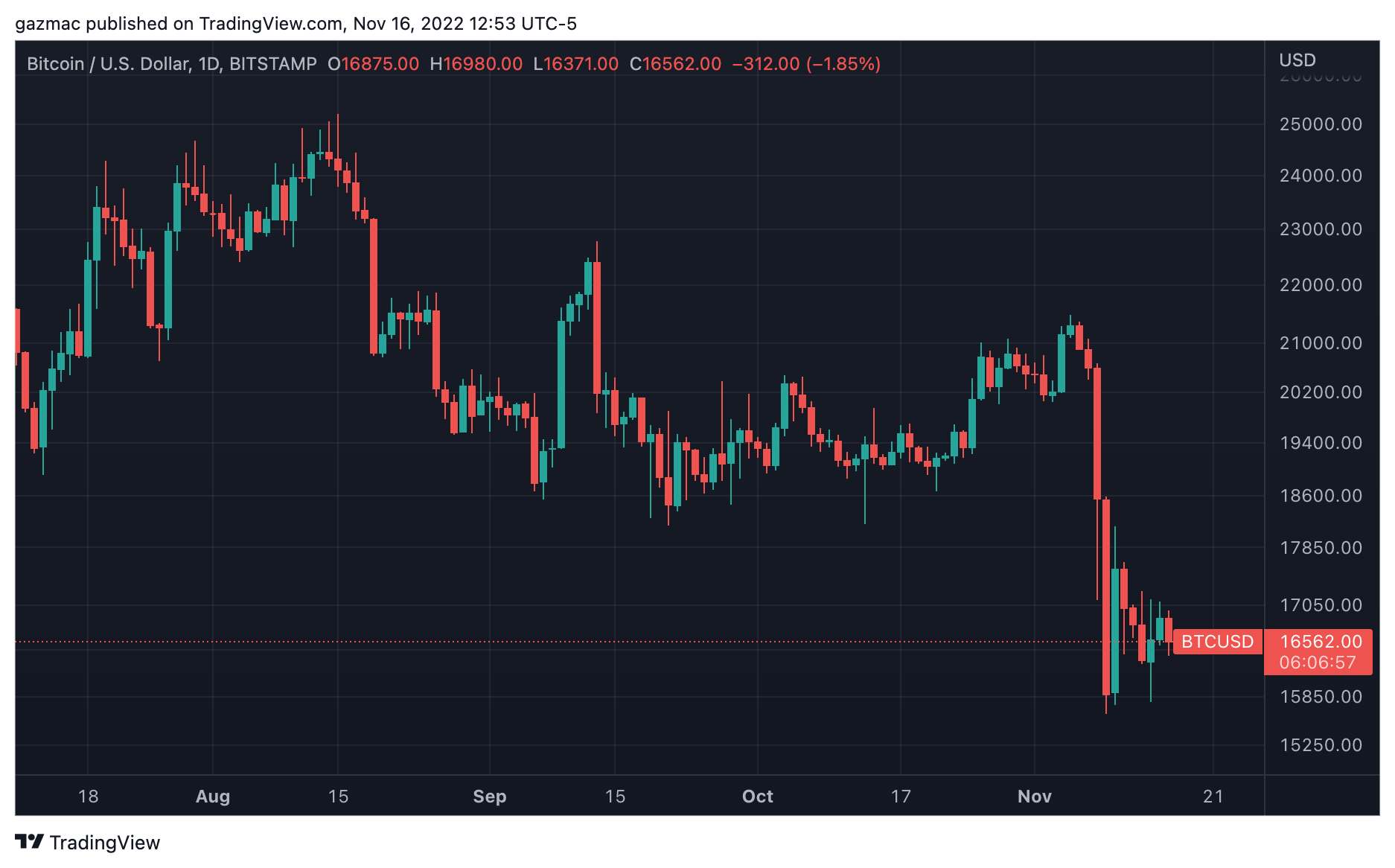 Auditors asleep at the wheel
The losers are not confined to depositors and assorted counter-parties – the reputation of auditors Prager Metis and Armanino have been left in tatters after it emerged that both firms acted as auditors to the failed exchange group.
Former FTX CEO Sam Bankman-Fried was so proud of the audit that he tweeted about it last year, claiming to be the only crypto derivatives exchange to "complete a GAAP audit".
2) Whatever its actual impacts, typing that certainly makes me _feel_ old and wise.https://t.co/dLApBS55pE

— SBF (@SBF_FTX) July 31, 2021
Prager Metis has been successful in recent times in attracting a host of crypto clients and is notable in having joined the trend seen in some areas of US corporate life to appoint a chief metaverse officer, who in the case of Prager Metis is Jerry Eitel.
We have reached out to Prager Metis for comment but had not heard back by publication time.
FTX's other auditor, Armanino, has been touting its technology for establishing trust in digital asset investment called TrustExplorer.
Here's the pitch: "TrustExplorer enhances trust by enabling users to reconcile on-chain data, such as token supply or address balances, to off-chain data, such as fiat reserves or user platform accounts in real-time"
Unfortunately Armanino failed to use its state-of-the-art due diligence tech on FTX, or if it did, it doesn't work.
A collective failure of VC due diligence
But the VCs don't exactly come out of this smelling of roses either.
Not a day passes without another VC or investment firm writing down losses originating from FTX.
The latest is Temasek International, effectively the wealth fund of Singapore, which has lost between $200 and $300 million on its FTX investment.
Arguably leading the pack in the VC hall of shame is Seqouia Capital, which has one of the early cheerleaders of the winderkids, who it turns out, were running FTX from a party house in the Bahamas.
Famously, when SBF was pitching to them for funds, he was playing League of Legends at the same time. So impressed were the gullible VCs, they even wrote about it in a now deleted blog that you can read here:
It is well worth a read. Here is one of the best parts:
What Sequoia was reacting to was the scale of SBF's vision. It wasn't a story about how we might use fintech in the future, or crypto, or a new kind of bank. It was a vision about the future of money itself—with a total addressable market of every person on the entire planet.

"I sit ten feet from him, and I walked over, thinking, Oh, shit, that was really good," remembers Arora. "And it turns out that that fucker was playing League of Legends through the entire meeting."

"We were incredibly impressed," Bailhe says. "It was one of those your-hair-is-blown-back type of meetings."

Not only that, Arora says, but League of Legends is the kind of multiplayer online battle arena video game where every four minutes or so of tactical maneuvering is punctuated by ten seconds of action known as a gank—gamer slang for "gang killing"—where you and your team gang up on an enemy. "There's a fight that happens, basically," says Arora, who was watching over SBF's shoulder as he answered that final question from Sequoia, "and I'm like, This guy is fucking in a gank!"
Oh dear. Sadly, many other VCs went on to follow Sequoia's lead. How that happened will surely be another one of the big stories to come out of this sorry affair. We'll be doing some digging.
FTX hacker's identity is now known – $400 million stolen
Meanwhile, funds siphoned out of FTX wallets on Saturday have been on the move:
#PeckShieldAlert FTX Accounts Drainer has received ~21,155 $ETH from FTX Accounts Drainer 2/FTX Accounts Drainer 5/FTX Accounts Drainer 6 pic.twitter.com/ehzAzsVn6O

— PeckShieldAlert (@PeckShieldAlert) November 15, 2022
Through a series on transactions on the CoW protocol and Finance Smart Chain involving addresses associated with the FTX hack, the hacker has amassed an ETH balance of 228 million, worth $284 million at the time of writing.
You can check the address here:
https://etherscan.io/address/0x59abf3837fa962d6853b4cc0a19513aa031fd32b
The address ranks 34th in the list of largest ETH address balances:
https://etherscan.io/accounts/2
It also now seems more likely than not that the hacker was not a pro – far from it.
To pay for transaction fees the hacker foolishly transferred crypto from his/her Kraken account.
Kraken has strict KYC rules which means that the identity of the hacker is now known, as Nick Percoco, chief security officer at Kraken confirmed:
We know the identity of the user.

— Nick Percoco (@c7five) November 12, 2022
Cybersecurity firm Hacken estimates that the amount stolen is probably nearer $400 million than the $600 million figure previously posited.
Let the class action lawsuits begin – SBF and celebs sued
Elsewhere, SBF continues to tweet, in a move that cynics (or realists) thinks is aimed at making him look good in the bankruptcy court and the prosecutors' offices around the world, when he talks of making customers "make customers whole"
14) My goal:

a) Clean up and focus on transparency
b) Make customers whole

— SBF (@SBF_FTX) November 15, 2022
Here's the beginning of the "What H-A-P-P-E-N-E-D" thread if you've missed some tweets:
1) What

— SBF (@SBF_FTX) November 14, 2022
But none of his tweets are likely to deter the million and more creditors from doing whatever they can to get back their money.
Late yesterday a class action lawsuit was filed in Miami targeting SBF and his legion of celebrity endorsers, charging FTX with selling an unregistered security to the public. The celebrities in the frame include Tom Brady, Larry David, Naomi Osaka, Gisele Bündchen and Shaquille O'Neal.
Specifically the plaintiff allege that FTX violated Florida law when it sold yield-bearing products to the public.
The case is being brought by highly respected firms, Boies Schiller Flexner and the Moskowitz Law Firm.
News emerged moments ago that the FBI is working to extradite SBF from the Bahamas, according to Bloomberg.
On a brighter note…
If you are looking to recoup losses or to add some alpha to your portfolio, a good place to start is in the presale sector, but you need to be careful, so we've picked up on two of the juiciest – Dash 2 Trade (D2T) and RobotEra (TORA).
Dash 2 Trade is building an analytics and signals trading platform with a state-of-the-art dashboard, featuring, unique presale scoring system, social sentiment analysis and social trading, auto-trading and backtesting.
Dash 2 Trade is the perfect antidote for a post-FTX world – its tools and metrics will help traders and investors to spot the problems and steer clear.
In a vote of confidence in the project, LBank and, most recently, BitMart has both signed deals to list the token after its presale ends. You can buy D2T now in presale for $0.0513.
The second project is RobotEra, which could be the next hot metaverse gaming project. The gaming platform is similar to The Sandbox but better – you build planets using robots. Its TARO token is on sale now for $0.020.
Buy Dash 2 Trade in presale
---