Crypto Market Sentiment Keeps Tumbling
After reaching the highest score of 6.23 two weeks ago, the combined moving average 7-day market sentiment for the top 10 coins by market capitalization is still dropping, falling from 5.63 last week to 4.84/10 this week, according to Omenics, a crypto market sentiment analysis service.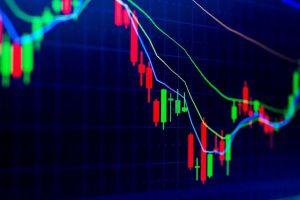 Once again, the drop in market sentiment is visible across the board - most cryptocurrencies have gone down by double digits percentage-wise. Compared to the last week, there are no more coins in the positive zone, as all of them fell back into the neutral zone. But not all things are bad - none of the top coins have reached the negative zone yet, so the overall sentiment is neutral.
Bitcoin (BTC) leads the pack with a 7-day moving average sentscore of 5.6, followed by Ethereum (ETH) with 5.3, and Chainlink (LINK) with 5.1. EOS and Bitcoin Cash (BCH) share the lowest sentscore amongst the top 10 coins - 4.2. Tezos (XZT) has also experienced a dramatic drop - it's sentiment score fell all the way down to 4.6, mostly due to negative sentiment concerning its fundamentals (2.9).
Sentiment change among the top 10 coins*:
Interpreting the sentscore's scale:
- 0 to 2.5: very negative
- 2 to 3.9: somewhat negative zone
- 4 to 5.9: neutral zone
- 6 to 7.49: somewhat positive zone
- 7.5 to 10: very positive
The most dramatic drop last week was experienced by EOS, whose sentiment score dropped by 21%. It remains neutral in terms of news (5.3) and social (4.4) sentiments but is in the negative zone due to lack of social buzz (3.8) and disappointing technicals (3.7) as well as fundamentals (3.3).
On the positive side of things, Bitcoin and Ethereum maintain their top scores. The former leads the way due to very positive sentiment towards its fundamentals (8.7) but is dragged down due to somewhat negative news (3.9) and technicals (3). The latter scores mostly neutral, expect for its fundamentals which are near the somewhat positive zone - 5.8. However, Ethereum seems to have lacked buzz as its price corrected last week. It scored only 3.4 in the buzz measure.
Meanwhile, Litecoin (LTC) and Chainlink (LINK) witnessed the smallest drop in its last week's sentiment - it decreased by 6.7% and 7%, respectively. The market sees a positive sentiment in LINK's buzz (6.1) and technicals (6), while Litecoin was spared mostly due to positive coverage in the news (6.5).
Daily Bitcoin sentscore change in the past month: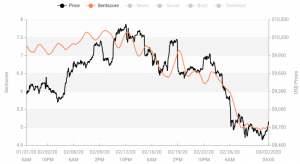 Looking at the last 24-hour sentscores for the top 10 cryptoassets, there seem to be improvements - Bitcoin is up 4.4%, Bitcoin Cash - 5.4%, and EOS - 3.3%
Outside of the top 10 coins list, the 7-day average sentscore of the remaining cryptoassets are in red, too. As a matter of fact, there is no coin which undergone an increase in market sentiment during the past seven days. At the bottom, within the negative zone, we still find IOTA (MIOTA), whose market sentiment hasn't moved and remains at 3.5. This is likely a result of an ongoing investigation which required "pausing" it's mainnet. Komodo (KMD) has joined the IOTA in the somewhat negative zone, too, with an average sentiment score of 3.7. The reasons for this are mainly the project's perceived lack of fundamentals (2.7) and technicals (3.4).
___
* - Methodology:
Omenics measures the market sentiment by calculating the sentscore, which aggregates the sentiment from news, social media, technical analysis, viral trends, and coin fundamentals-based upon their proprietary algorithms.
As their website explains, "Omenics aggregates trending news articles and viral social media posts into an all-in-one data platform, where you can also analyze content sentiment," later adding, "Omenics combines the 2 sentiment indicators from news and social media with 3 additional verticals for technical analysis, coin fundamentals, and buzz, resulting in the sentscore which reports a general outlook for each coin." For now, they are rating 39 cryptocurrencies.
---