Crypto Market Sentiment a Bit Higher in 7 Days, but Brutal in 24 Hours
The combined moving average 7-day market sentiment for the top 10 coins by market capitalization has somewhat recovered, barely passing the score of 5. It has risen from 4.84 which we saw last week to today's 5.08/10. However, as shown by Omenics, a crypto market sentiment analysis service, the top 10 cryptos are having a rough day, as the 24-hour market sentiment fell back to 4.83.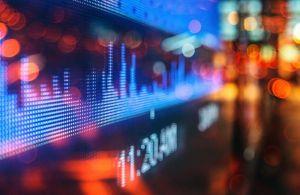 The green days of several coins in the positive zone at once seem long gone, as we find three coins below the score of five in the last seven days, and the rest in the 5-5.8 range. The circumstances have overall improved though, as all but XRP and Litecoin (LTC) are green. Bitcoin (BTC) has the second-highest score of 5.7, while the number one spot is taken by the newcomer - Chainlink (LINK) with the score of 5.8, which has also seen the biggest improvement in its score.
That said, our attention is turned to the 24-hour situation, where only three coins are above the grade of 5 now, and all coins are red yet again, dropping between the day's smallest loser, Chainlink with -1.7%, and the day's biggest loser, Bitcoin with -25.9%. As a matter of fact, this drop has put Bitcoin in the 4-5 score range where we haven't seen it in a long time. The last time we reported on BTC having a score of 4.7 was in February 2019, when we just started this series. EOS, with 4.1, is dangerously close to the negative zone.
Sentiment change among the top 10 coins in the past week*:
Interpreting the sentscore's scale:
- 0 to 2.5: very negative
- 2 to 3.9: somewhat negative zone
- 4 to 5.9: neutral zone
- 6 to 7.49: somewhat positive zone
- 7.5 to 10: very positive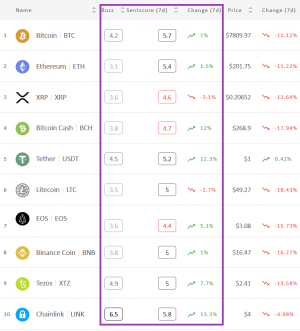 ____
Sentiment change among the top 10 coins in the past 24 hours: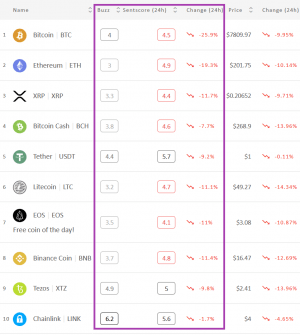 Our three winners today have all seen their grades improve more than 10% over the course of the last week: Chainlink, Tether (USDT), and Bitcoin Cash (BCH), respectively. Chainlink is boasting high scores overall: 7.3 in technicals, 6.5 in buzz, 6.4 in news, 5.3 in social, and 4.3 in fundamentals. Tether also has high scores in news (7.4) and technicals (6.4), somewhat lower scores in buzz (4.5) and social (4.4), but also a negative sentscore in fundamentals (3.1). Lastly, BCH's highest score is 6.9 in news, followed by 5 in social and 4.1 in technicals, while its weakest aspects are graded with negative score of 3.8 and 3.2 in buzz and fundamentals, respectively.
Daily Bitcoin sentscore change in the past month: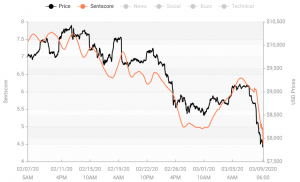 The only two coins to drop in seven days are today's losers. XRP's strongest aspects are news and social (6.2 and 5.1, respectively), with 4.3 in fundamentals, while its weakest aspects are buzz and technicals (3.6 and 3.1, respectively). LTC's strongest aspects are news with a sentscore of 7 and social with 5.5, while it has 4.2 in fundamentals, and its lowest scores are 3.7 in technicals and 3.4 in buzz.
In the last seven days, outside the top 10 list, majority of coins are above the sentscore of 4 or 5, while there are no coins in the positive zone and three are in the negative zone, these being: Komodo (KMD), and IOTA (MIOTA), Holo (HOT), in that order. In the last 24 hours, the situation has worsened as fewer coin are at the above-5 level, many more are closer to the negative zone, and the three coins already in the negative have been joined by Augur (REP).
___
* - Methodology:
Omenics measures the market sentiment by calculating the sentscore, which aggregates the sentiment from news, social media, technical analysis, viral trends, and coin fundamentals-based upon their proprietary algorithms.
As their website explains, "Omenics aggregates trending news articles and viral social media posts into an all-in-one data platform, where you can also analyze content sentiment," later adding, "Omenics combines the 2 sentiment indicators from news and social media with 3 additional verticals for technical analysis, coin fundamentals, and buzz, resulting in the sentscore which reports a general outlook for each coin." For now, they are rating 39 cryptocurrencies.
---