Silver Lining for Bitcoin Amid Global Market Panic, Altcoins Purge Estimated
Disclosure: Crypto is a high-risk asset class. This article is provided for informational purposes and does not constitute investment advice. By using this website, you agree to our terms and conditions. We may utilise affiliate links within our content, and receive commission.
As global stock markets saw massive sell-offs overnight, cryptoassets also fell sharply, with both bitcoin (BTC) and ethereum (ETH) recording double-digit losses over this past weekend. However, some industry observers claim that crypto's mainstream moment as a utility may finally be here, but early-stage projects with limited adoption might become ghostowns.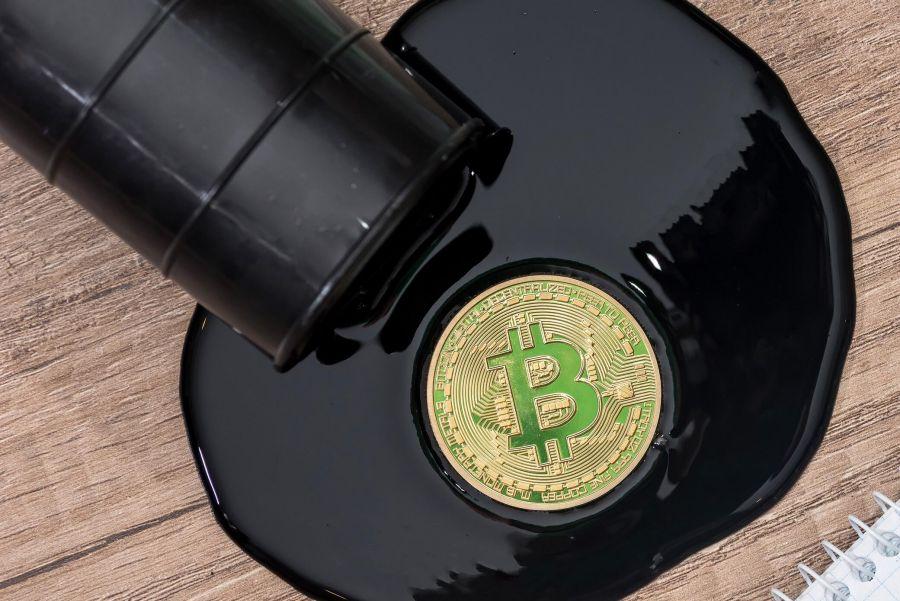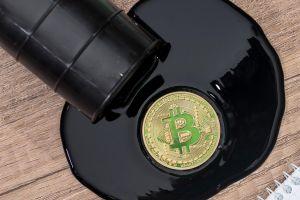 As of press time on Monday (08:45 UTC), bitcoin slightly recovered and is down by 8.6% to a price of USD 7,998, while ETH is down by 9.5% to USD 208. Many smaller altcoins from the top 10 are seeing even bigger losses of between 9% and 14%.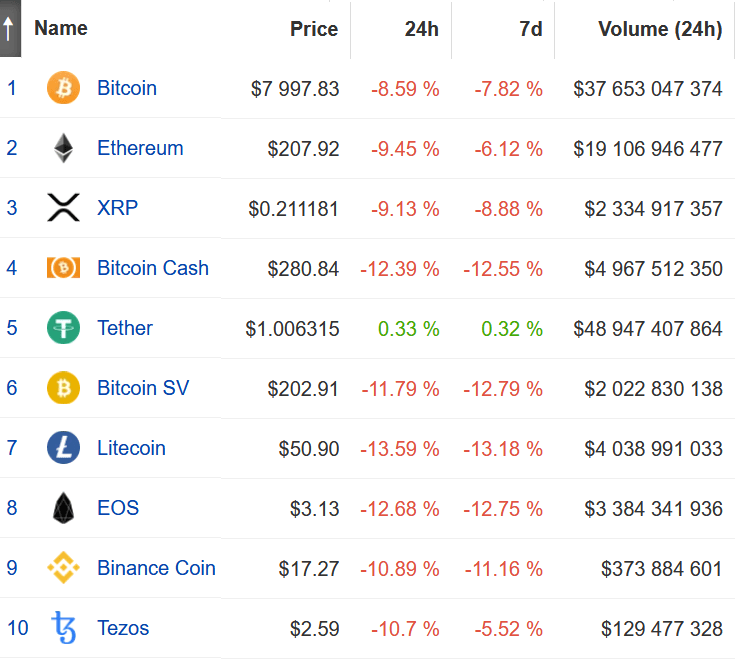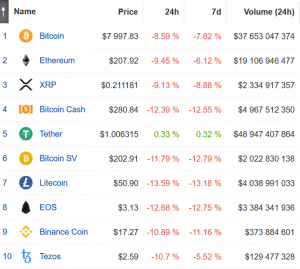 The sharp drop comes as the broader financial markets are experiencing unprecedented turmoil caused by fears about what the Coronavirus might mean for the economy. As of press time on Monday morning, most Asian stock indices have already sold off between 3.5% and 5.5%, with U.S. futures also pointing sharply lower.
Noteworthy was also the massive drop in the oil prices as the markets opened on Monday morning, with the price of Brent oil falling by more than 25% from Friday's close to Monday's open. Gold, meanwhile, is nearly unchanged from the day before, trading at USD 1,670 per ounce.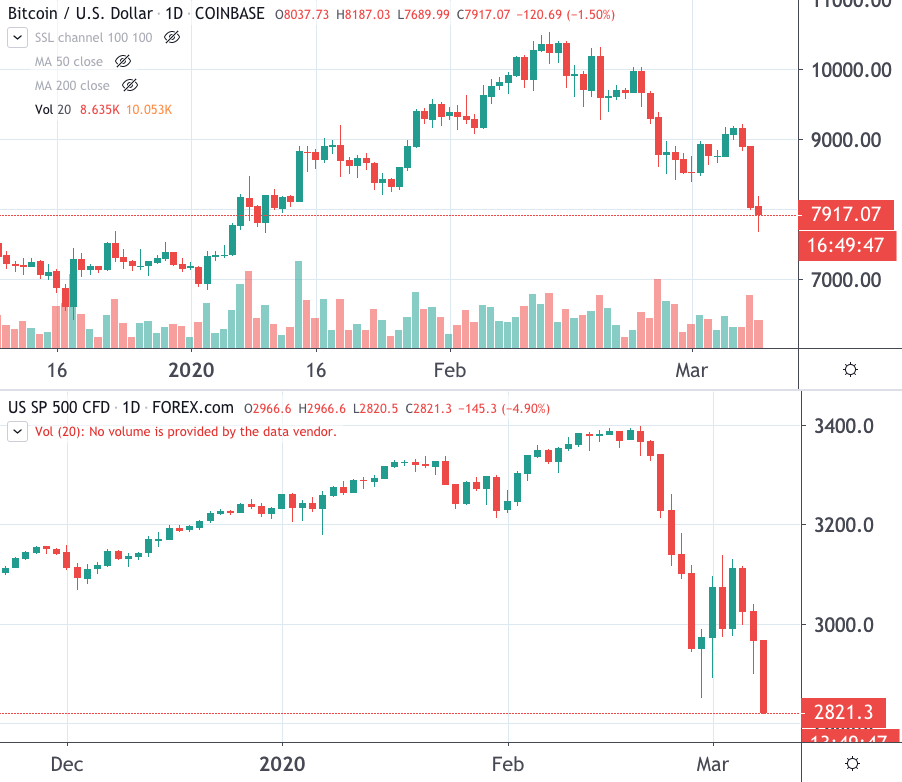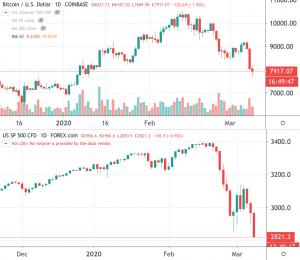 Although the debate of whether bitcoin is a risk-on or risk-off asset continues, most analysts agree that it is above all an uncorrelated asset. However, when we still see selling during stock market panics, it appears likely that the majority of the selling is caused by investors who are forced to raise cash in order to cover losses in other markets. To avoid margin calls, these large investors will, in other words, sell anything they have, and that includes "safe havens" like bitcoin and gold.
The same explanation was highlighted by several crypto market observers, saying that investors have no choice but to sell:
Additionally, some also pointed out the fact that more institutional ownership of bitcoin also means more selling during stock market panics:
However, the market carnage also forced a large number of retail crypto investors to liquidate their long positions, as evident from the high number of bitcoin futures liquidations seen on Sunday and Monday on the BitMEX derivatives exchange.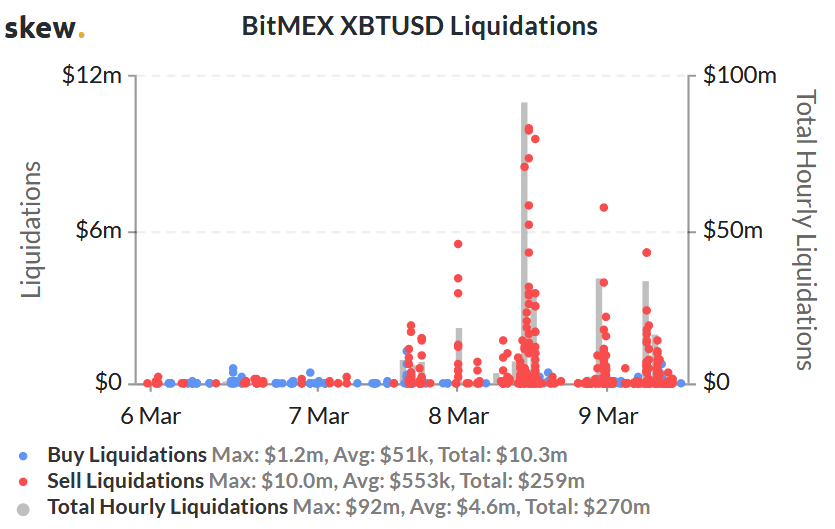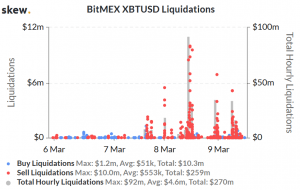 As far as ETH goes, the asset did perform better than bitcoin in the early hours of Monday trading. However, some analysts have warned that the number two digital asset by market capitalization may be in trouble if it breaks below the key trendline that has supported this year's uptrend for the asset.
As of this writing, ETH has already closed its weekly as daily price candles below the trendline found around the USD 222 level, which according to crypto analyst Jacob Canfield could suggest further price drops below USD 200.
Despite the sharp overnight sell-off, market action in the early hours of Monday may suggest that the worst is already over, with bitcoin having already recovered from USD 7,690 to a current price of about USD 7,875. Consequently, some crypto traders already seem to be positioning themselves for the rebound:
Whether it is too early to get optimistic again on behalf of bitcoin remains to be seen, but for the broader economy there could be more trouble ahead.
Macro dominoes and altcoins purge
"Macro dominoes are falling to create a chain of negative sentiment, which is in turn triggering a sell-off of crypto," Jehan Chu, managing partner with blockchain investment and advisory firm Kenetic Capital, told Bloomberg. "Bitcoin has always been subject to short-term sometimes-violent volatility, but today's drop is nothing we haven't seen before" and it could move lower still, he said.
However, according to Chu, the weakness in the global economy, oil's collapse, and the coronavirus outbreak are helping to make the case for investing in digital assets:
"A similarly rapid turnaround and appreciation is equally anticipated on the way to higher levels leading into the [Bitcoin halving]."
Meanwhile, Ryan Selkis, CEO of crypto researcher Messari, expects these things to happen in the crypto markets in 2020:
"We're in the midst of a historic flight to safety and liquidity. Bitcoin is a risk asset. It's not a safe haven in a recession, but rather a check on fiat inflationary pressures. It will sell off with the rest of the risk asset market at first, but may perform moderately better if there's real juice in the "digital gold" meme. The halving narrative is completely dead now. The only thing that matters with respect to the halving now is whether it breaks the mining market."
"We'll see [quantitive easing] and negative rate setting world wide, and it will put more pressure on pensions to find historically uncorrelated assets that could boost returns…however unconventional. That means we could see a bottom for bitcoin followed by its first rally as part of a bona fide digital gold basket."
"Outside of BTC and ETH, I'd expect a late 2018 caliber bloodbath. Nothing else is critical to own or hold right now outside of these two assets, and in a market that may go down 20, 30, 40%, with an unknowable negative human toll (both health and economic wellbeing), the parlor games of the shitcoin casino are over. Crypto assets with strong fundamentals will finally have their day in the sun, and we'll see the decoupling of good and weak projects. There are perhaps 50 assets that could do moderately well in the next 2–3 years in USD terms. Few will outperform crypto's monies."
The co-founder of Delphi Digital, Tom Shaughnessy, added that if we go into a recession, early-stage projects with limited adoption will become ghostowns: "People (in general) aren't going to amplify that risk by allocating to ultra risky micro bets while the macro crypto market is on fire."
In the meantime, Selkis concluded, that "the full moon has been canceled."
"And soaring bitcoin prices will likely take another cycle to come to fruition. Still, crypto's mainstream moment as a utility may finally, if quietly, be here," he said.
Learn more: Antonopoulos: Crypto is Not Yet Ready for Number of People Who'd Use It in Economic Crisis
Other reactions:
---