Market Sentiment: Only Three Cryptocurrencies in Positive Area
Only three out of top 10 cryptocurrencies by market capitalization - EOS, Litecoin, Tether - are starting this week with a positive sentiment surrounding them, according to Predicoin, a crypto market sentiment data analysis service.
However, only EOS, Tether and Stellar saw improvements during the last 24 hours. Meanwhile, in the past 7 days, only XRP and EOS got better, while sentiment towards Cardano, Tron and Tether declined the most.
Sentiment change among the 10 coins:
(5 is neutral, below 5 is negative, above 5 is positive.)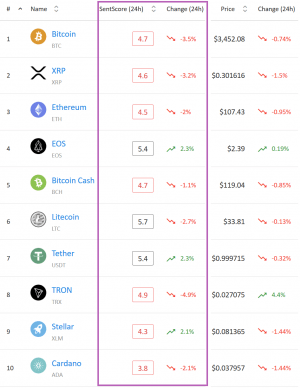 What it is all about?
Understanding the sentiment surrounding cryptocurrencies in general and even individual coins might be an useful tool in trading. One of the companies offering such a tool is Predicoin, as they analyze market data, news and social content to help users anticipate shifts in market sentiment. Starting today, you can follow Cryptonews.com for weekly updates how the sentiment among the top coins is changing.
The company measures the market sentiment by calculating the SentScore, which aggregates the sentiment from news, social media, technical analysis, viral trends, and coin fundamentals based upon their proprietary algorithms.
As their website explains, "Predicoin aggregates trending news articles and viral social media posts into an all-in-one data platform, where you can also analyze content sentiment," later adding, "Predicoin combines the 2 sentiment indicators from news and social media with 3 additional verticals for technical analysis, coin fundamentals and buzz, resulting in the SentScore which reports a general outlook for each coin." For now, they are rating the top 30 cryptocurrencies by market capitalization.
Predicoin co-founder and CMO Pierre-Alexandre Picard told Cryptonews last week: "The market sentiment towards Bitcoin is very neutral and is now approaching a negative range. Bitcoin has a weak social support, which is on a downward trend, and any new price drop could now make Bitcoin enter a negative sentiment range."

Meanwhile, David Thomas, Director and Co-Founder of GlobalBlock, a London based cryptocurrency broker, commented that "February begins and the past week in crypto has been comparatively dull by the standards that we have become accustomed to, and for the most part caution and negativity still prevail."
"The overall market and particularly Bitcoin is struggling to shake off the melee it has been in, and whilst the end of Trump's shutdown signals a return in the US to business as usual for now, there is a certain amount of feeling that the backlog of federal work will now mean that crypto legislation and guidance will be moved further back in the queue. Perhaps, this is part of the reason that some crypto evangelists are remaining cautious in the short-term such as Mike Novogratz, Galaxy Digital CEO, who has said that he doesn't expect much upward movement for the next few months," Thomas said.
He also reminds that internet search terms for key crypto-related keywords significantly lower that they were two years ago, while Twitter reports tweets about Bitcoin being at the same level as they were in 2014, (and lower than at any point in 2016.)
"Something needs be the catalyst to get things going again. Unfortunately, global uncertainty for a multitude of reasons is driving many to become more risk averse and so whatever that spark is- it needs to be significant!" Thomas stressed.
---