How To Get 25% Omenics Discount Coupon
Omenics Discount
Use the code CRYPTONEWS to get a 25% discount of Omenics monthly and annual plans.
The 25% discount applies to the first 3 months of the monthly plan or 25% on the annual plan.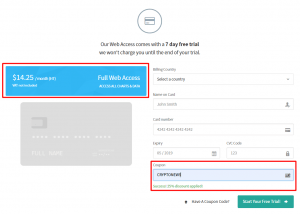 See a step-by-step guide on how to open a Omenics account with CRYPTONEWS discount below.
____________________________
What Is Omenics?
Omenics (previously - Predicoin) is a handy cryptocurrency market analysis and sentiment measurement dashboard which helps traders and enthusiasts cut through the noise and see market moving information.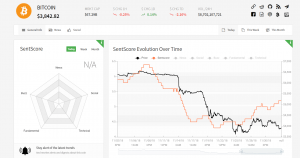 Get 25% Discount for Omenics Plans
Signing up on Omenics is simple.
Using the code CRYPTONEWS, you can get a 25% discount.
First, you need to go to Omenics website. There are two ways you can sign up: using the white Sign Up button in the upper-right corner or blue Start 7 Day Trial Now offer in the middle-left side of the screen.
Once you click either of these, you will enter a Omenics account registration screen. Fill the form with your email address, username, and a strong password to continue.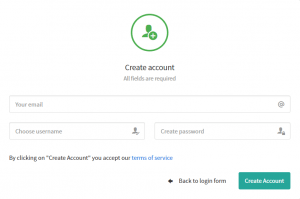 Next, you will enter a pricing screen. Here, Omenics offers you to choose from a basic (free) and advanced plans.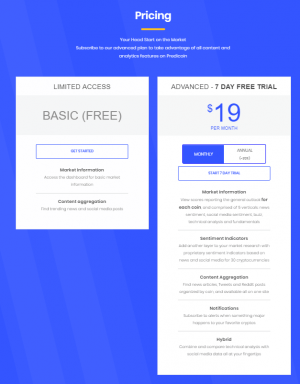 The basic plan is free and lets you view the analysis and indicators of one randomly selected coin per day, as well as make use of Omenics's content aggregator.
The advanced plan grants access to all Omenics's features, including market information for every coin, sentiment indicators, content aggregation, alerts and notifications, and hybrid. Besides, it comes with a free 7-day trial (meaning that your card won't be charged for the first seven days).
Since it's a premium plan, it costs either $19 per month or $149 for one year. However, you can get a 25% discount for the plans you if apply discount code CRYPTONEWS.
Select a plan of your choice and click Start 7 Day Trial to proceed. Next, you will need to enter your billing information. In the bottom of the form, click Have A Coupon Code button.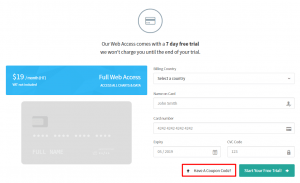 A coupon field will pop-up. You can enter the code CRYPTONEWS there.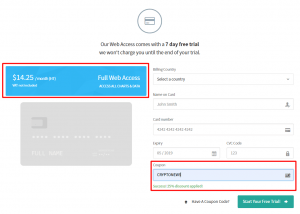 Hit Start Your Free Trial to finish the registration and here you have it, a full-feature Omenics account with a 25% discount.
Enjoy!