Cardano Price Forecast as $600 Million Trading Volume Floods In – Can ADA Reach $1?
Disclosure: Crypto is a high-risk asset class. This article is provided for informational purposes and does not constitute investment advice. By using this website, you agree to our terms and conditions. We may utilise affiliate links within our content, and receive commission.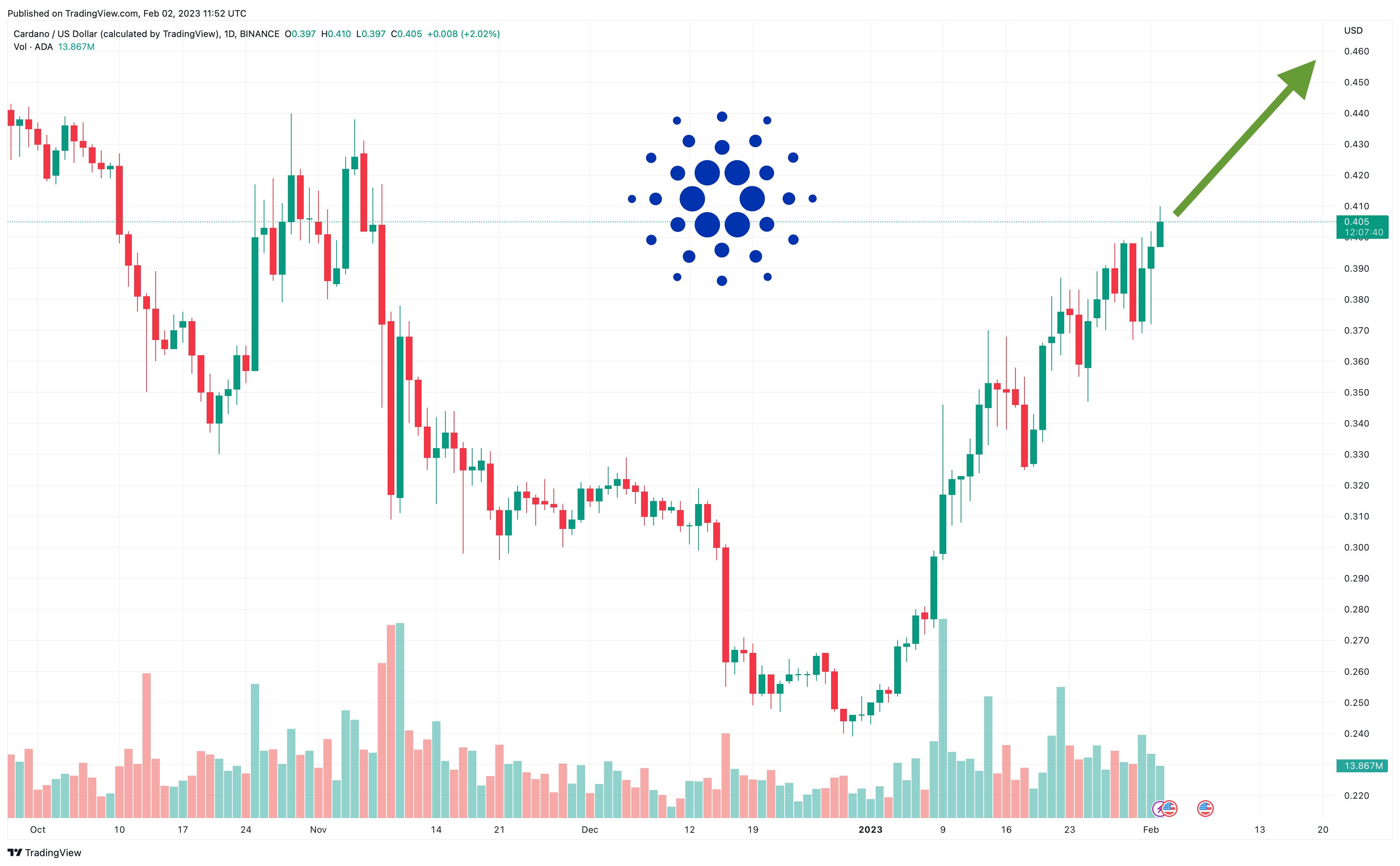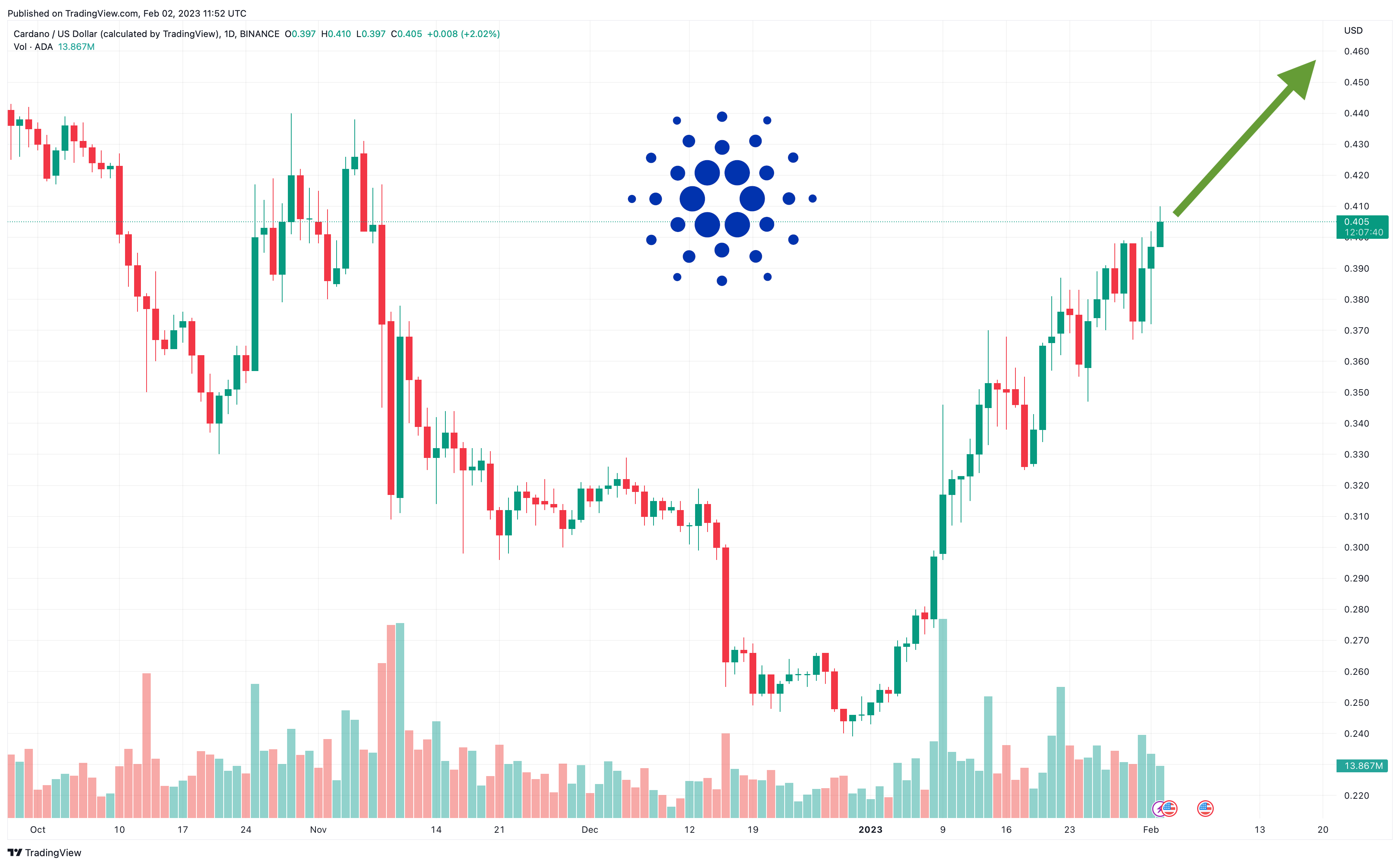 The Cardano price has risen by 6% in the past 24 hours, surging to $0.404805 as the coin's 24-hour trading volume surpasses $600 million. This is its highest in nearly two weeks, with ADA also up by 8% in seven days and by 59% in a month.
This makes ADA one of the best-performing major cryptocurrencies in the market, with growth in the usage of the Cardano-based stablecoin DJED one of the biggest factors in its recent growth. And with the rise of DJED also pointing to the growing utility of Cardano itself, it signals the possibility that ADA may end up being one of the biggest winners in the market this year.
Cardano Price Forecast as $600 Million Trading Volume Floods In – Can ADA Reach $1?
ADA's indicators show that the altcoin is in the middle of a pronounced upswing. Its relative strength index (purple) has jumped to 70 or above in the past couple of weeks and it remains there, signaling ongoing positive momentum.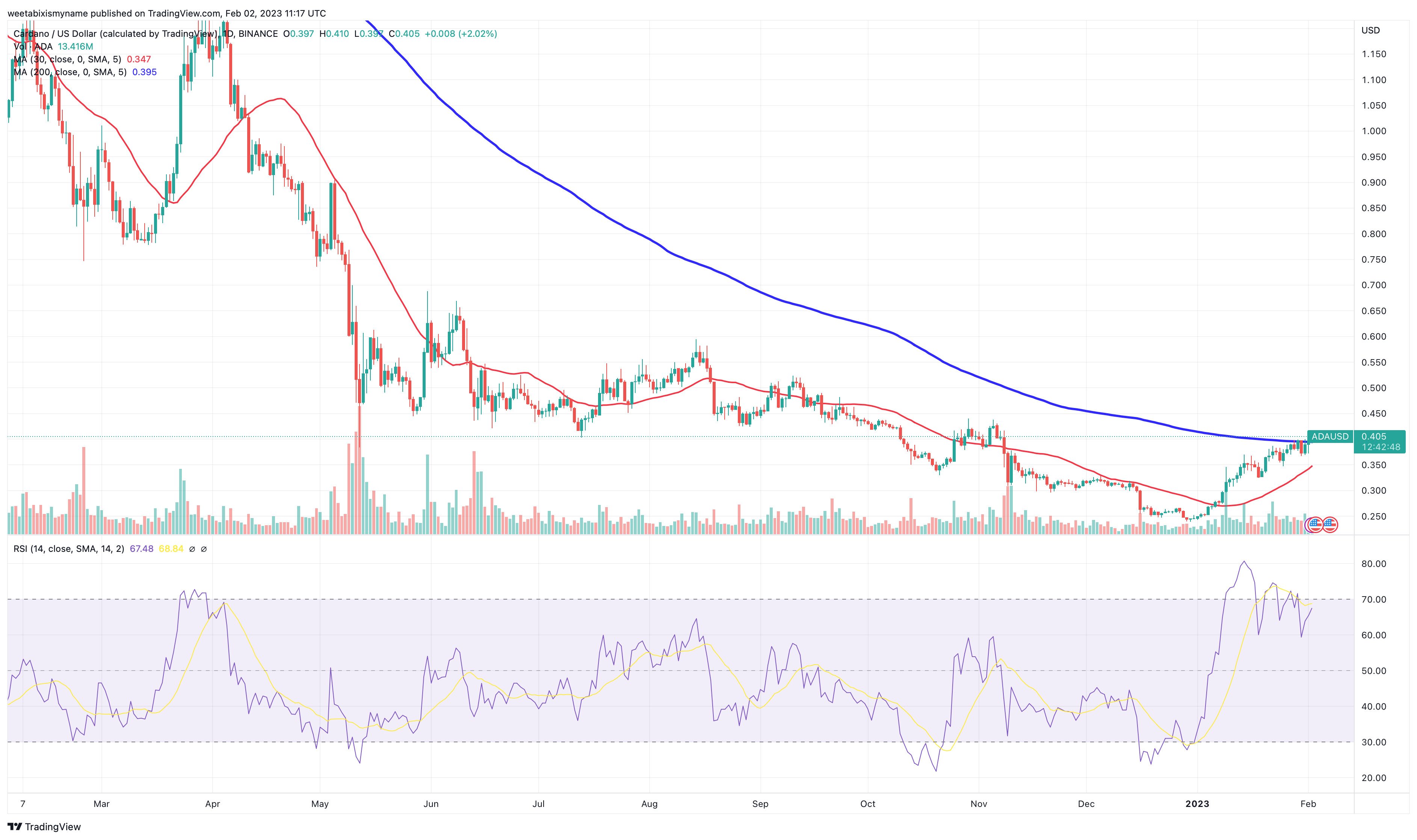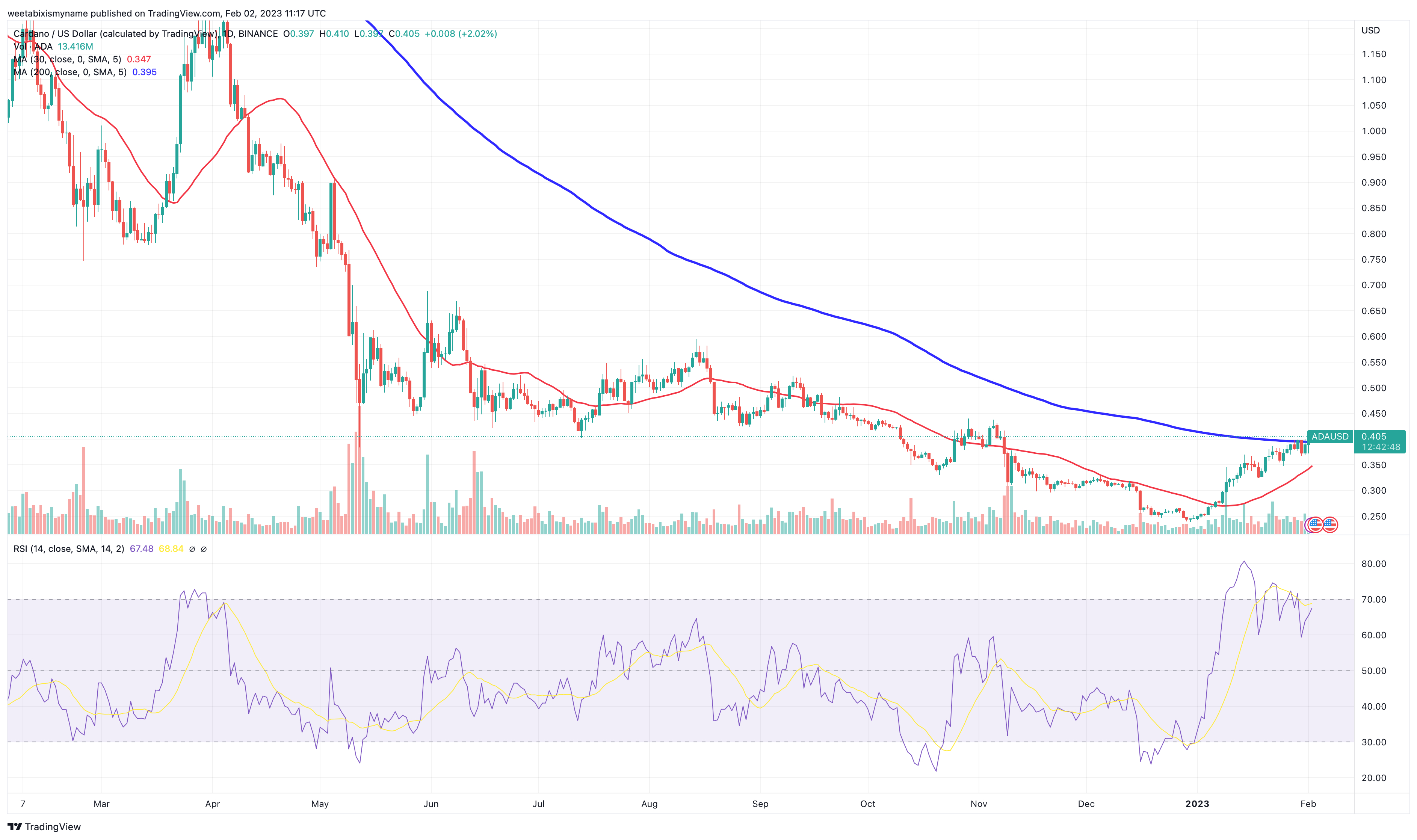 Even more promisingly, the coin's 30-day moving average (red) is getting closer to rising above its 200-day average (blue). If it were to cross the longer-term average, this would form a 'golden cross,' which potentially signals an even bigger breakout.
In other words, there's a real chance that ADA could easily rise beyond its current level in the next few days, moving from $0.404805 to $0.5 and beyond.
And there are plenty of reasons to be optimistic about ADA and Cardano right now. Most notably, the launch of the Cardano-based Djed (DJED) stablecoin has caused a massive spike in demand for ADA.
Because Djed is an over-collateralized stablecoin, this means it requires more backing in cryptocurrencies than it's nominally worth. Much of this backing is currently made up of ADA, with 28.3 million ADA currently sitting in its reserves (and rising).
$Djed and $Shen are coming to MuesliSwap next week! 🥣 Stay tuned for more announcements 👀 pic.twitter.com/RFrF78pgm1

— MuesliSwap Team🥛 (@MuesliSwapTeam) January 26, 2023
Needless to say, Djed's reserves will grow with the growing demand of the stablecoin, with Cardano-based DEXes MuesliSwap and Minswap already listing the new stablecoin. As such, more ADA will be taken from the market and put into these reserves, thereby reducing the circulating supply of ADA and boosting its price.
The market is already witnessing this effect now, seeing as how ADA has risen so strongly since Djed has launched. And given how Djed has been engineered, the stablecoin is likely to attract plenty of converts.
In particular, Djed is backed by a reserve of multiple cryptocurrencies and will have an over-collateralization ratio of between 400% and 800%. This setup is intended to protect Djed against many of the risks highlighted by Terra, which infamously collapsed last year.
At the same time, Djed has been launched in conjunction with Shen (SHEN), which functions specifically as one of its main reserve tokens. Interestingly, users will have to pay a fee in ADA when either minting or burning SHEN (or DJED), something which will further increase demand for ADA as time progresses.
Cardano Upgrades
It's also worth pointing out that Djed's launch opens a chapter in the history of Cardano during which it offers more utility to the crypto ecosystem and as a result, enjoys more adoption. For example, the network's total value locked in has grown from $48.95 million on January 1 to $97.05 million today, representing an increase of around 98%.
It's exciting to see things moving so quickly in the Cardano ecosystem. Sidechains are coming along including Cosmos, djed is launching soon, Hydra and Mithril on schedule, Lace almost out of beta, tons of DApps coming online. pic.twitter.com/qU81S5uHzK

— Charles Hoskinson (@IOHK_Charles) January 28, 2023
Put differently, Cardano's value as a network has doubled in a month, and, likely, it will only grow from here on out. This process will be helped by an important upgrade scheduled for this month, when Cardano will update its Plutus smart contract language.
There will be another hard-fork event in February. CIP-0049 will increase #Cardano's interoperability with #Bitcoin, #Ethereum, and other blockchains. Plutus developers can write an application that can verify ECDSA and Schnorr cryptographic signatures.

— Cardano YODA (@JaromirTesar) January 26, 2023
In a nutshell, the planned fork will "support ECDSA and Schnorr cryptographic signatures to make it easier for developers to build cross-chain apps." This will enable Cardano to benefit from interoperability between itself and other chains, such as Bitcoin and Ethereum.
We could therefore expect the Cardano ecosystem to expand considerably, with cross-chain compatibility meaning that dApps built for one chain can easily be retooled to operate on Cardano as well. This will incentivize greater development over time, with teams knowing that their platforms will be exposed to a greater potential user base.
Even now, Cardano's ecosystem has been growing steadily, with more than 1,100 apps and projects now building on its network, as well as more than 110 projects already launched. This also includes over 5,500 Plutus scripts (i.e. Cardano's version of smart contracts), something which indicates actual usage of the network.
The weekly #Cardano development update is now live on #EssentialCardano.

Check out the key highlights from this week and get the latest on development progress in core technology, wallets and services, smart contracts, scaling and governance.👇https://t.co/YFsUakj3sL

— Input Output (@InputOutputHK) January 27, 2023
And given this month's update, the number of running Plutus scripts will undoubtedly grow even further. Back in the middle of September, these totaled only just over 3,200, with the ensuing increase indicating just how quickly Cardano is developing.
In light of all this, ambitious medium- and long-term price targets for ADA are justifiable. The altcoin's record high is $3.09, set back in September 2021 when Cardano wasn't even half as useful — or used — as a network.
Accordingly, assuming the general recovery of the wider cryptocurrency market, it becomes very feasible that ADA could return to $1 at some point in the next few months.
What if the $DJED mechanism works and proves to reliably maintain price stability? This is a solution that all of crypto is craving!

Could be huge for #Cardano & $COTI.$ADA

— Dan Gambardello (@cryptorecruitr) January 25, 2023
Some experts have set a long-term target of around $5.30 for the coin, as well as a target of $2.45 by 2025. These are arguably conservative forecasts, given that they're averages, and it's entirely conceivable that ADA could rise significantly higher.
For instance, Cardano's total value locked in has really only just started growing. At $97.05 million, it remains only 0.3% of Ethereum's, indicating just how much further it has to rise.
Yet the thing is, ADA is still the eighth-biggest cryptocurrency by market cap, despite Cardano being so small at the moment. If Cardano were to continue seeing higher usage and adoption, ADA could easily rise even further up the rankings.
Cardano Alternatives
If you're looking for other high-potential crypto projects alongside ADA, we've reviewed the top 15 cryptocurrencies for 2023, as analyzed by the CryptoNews Industry Talk team.

The list is updated weekly with new altcoins and ICO projects.
Disclaimer: The Industry Talk section features insights by crypto industry players and is not a part of the editorial content of Cryptonews.com.
---