Canada Asks Banks, Exchanges to Block Crypto Accounts Tied to Trucker Convoy Protests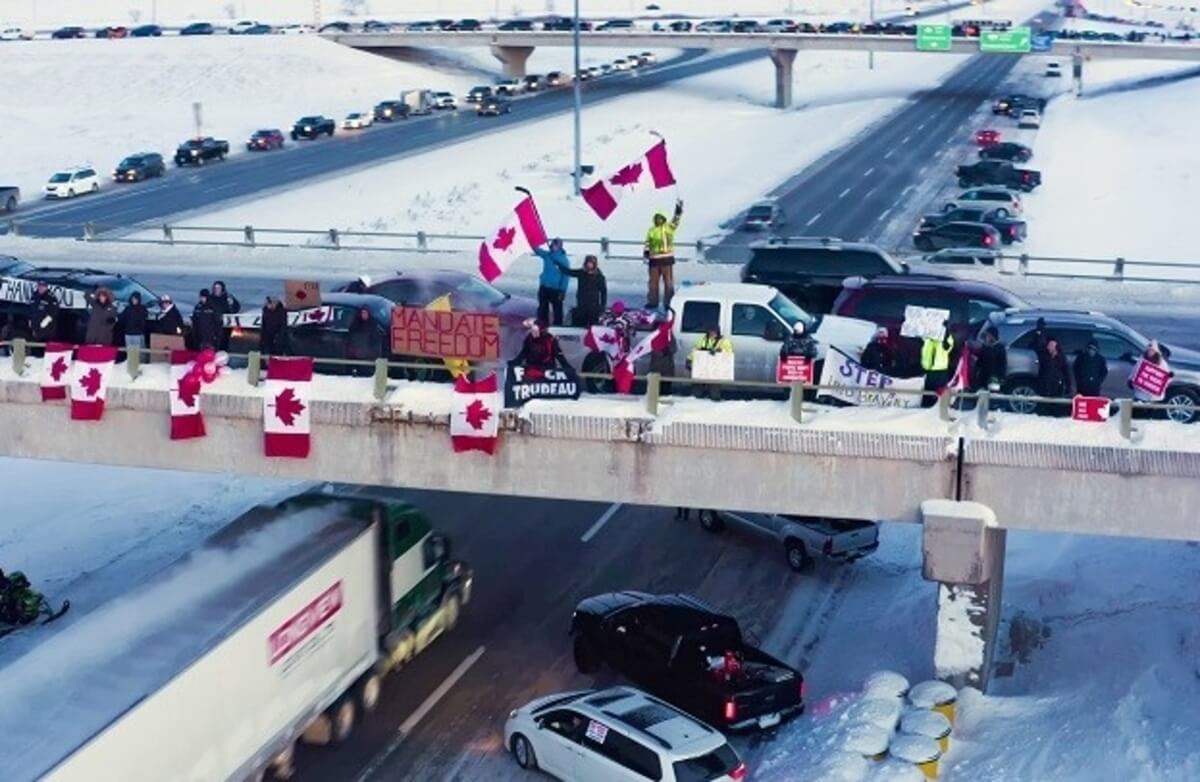 The Royal Canadian Mounted Police (RCMP), the country's federal and national police service, has reportedly asked several crypto exchanges to halt transactions to over 30 crypto wallet addresses that are considered to be tied to the ongoing trucker protests.
The Globe and Mail, citing "a source who has reviewed" a letter sent to banks, as well as a letter to crypto exchanges the publication says it obtained, revealed that the RCMP and the Ontario Provincial Police are trying to track cryptoasset donations in relation to the ongoing protests.
A letter urges the crypto exchanges to "cease facilitating any transactions" with more than 30 specific crypto wallet addresses. It also asks the exchange operators to report details regarding those wallet addresses.
"Any information about a transaction or proposed transaction in respect of these address(es), is to be disclosed immediately to the Commissioner of the Royal Canadian Mounted Police," a letter reportedly reads.
In the other letter, the RCMP has provided the country's financial institutions with names of less than 20 people who are considered to be involved in illegal acts related to the demonstrations, the local outlet reported.
The news has stirred up a backlash within the crypto community, who frame Canada's actions as "authoritarian."
"We are witnessing a pivotal moment in the history of the development of the modern algorithmic authoritarian state," said Jeff Garzik, a blockchain developer and SpaceChain CTO. "Say the "wrong" thing, donate to the "wrong" cause, and you are added to A List. Those on the List will be debanked without trial, unable to buy food or shelter."
Crypto users argue that Canada's actions have "proved that fiat money cannot be owned by its users, it can only be rented."
Concurrently, Canadian banks are hit by hours-long outages. Five major Canadian banks reportedly halted their service for several hours on Wednesday, blocking access to online and e-transfers for customers.
The Royal Bank of Canada (RBC), the country's largest bank in terms of market capitalization, confirmed the outage in a tweet.
"We are currently experiencing technical issues with our online and mobile banking, as well as our phone systems. Our experts are investigating and working to get this fixed as quickly as possible, but we have no ETA to provide at this time," the bank said during the late hours of Wednesday.
It is worth noting that neither Canada nor any other government can in fact ban bitcoin (BTC) and other crypto. What they can do is forbid centralized exchanges from converting crypto to fiat.
"I think most people forgot that Bitcoin was created in order to be an international currency free from any government control, and nothing changed," a crypto user said on Reddit.
Protests initially started with a convoy of truckers who were opposing vaccine mandates for crossing the United States border. However, as more people joined the protests, it turned into a rally against various restrictions.
To finance their programs, protesters started raising funds through the fundraising platforms GoFundMe and GiveSendGo. Following the interference by the Canadian government, the crowdfunding platforms blocked payments to the convoy. Subsequently, protestors turned to crypto for fundraising.
The concerns have been constantly increasing over the impact the protests are having on the already fragile supply chain and the overall economy, as they have been obstructing travel and commerce between Canada and the US.
To handle the protests, Canada invoked the Emergencies Act, which gave the federal government temporary power to freeze bank accounts of suspects, seize protesters' trucks, and suspend their vehicle insurance.
The Canadian government also expanded its anti-money laundering (AML) and terrorist financing scope to include crypto and crowdfunding platforms.
The new regulation will include "crowdfunding platforms and the payment service providers they use. These changes cover all forms of transactions, including digital assets such as cryptocurrencies," said two days ago Chrystia Freeland, Canada's Deputy Prime Minister and Minister for Finance.
____
Learn more:
- Canada Joins Lebanon and Turkey in 'Bitcoin's Marketing Team'
- Canadian Trucker Protesters Eye Bitcoin Amid Court-Ordered Fund Freeze

- Bitcoin Is More 'Public' Money than Central Bank-Issued Fiat Currencies
- Canadian Tax Agency Launches Audit To Thwart Crypto Tax Evasion

- How Global Economy Might Affect Bitcoin, Ethereum, and Crypto in 2022
- 1B Crypto Users, Friendlier Regulations, Countries Adopting Crypto - Crypto.com's 2022 Predictions
---