BlackRock Says Gold Bites the Dust as It Eyes Bitcoin
Gold is failing as a hedge against inflation, according to Russ Koesterich, Global Chief Investment Strategist of the world's largest asset manager, BlackRock, who last year said that gold is "still a buy."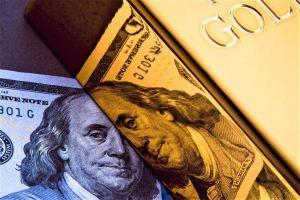 Gold's efficacy as a hedge is declining, said Koesterich in his blog post. While "gold and tech [stocks] are increasingly moving in tandem," gold has struggled since October, in price terms, and as a hedge.
Gold's ability to hedge against inflation "has been somewhat exaggerated," he wrote, and while it's "a reasonable store of value" over centuries, it's "less reliable across most investment horizons, including the most recent period."
Meanwhile, gold could probably be made to "start working" in case of a decline or collapse of USD, Koesterich argued, as there is still a strong, negative relationship between the two. "For this reason, gold should probably still be thought of as a dollar hedge. Absent a strong view on a declining dollar, I would own less gold," he said.
Koesterich was somewhat skeptical of gold already a year ago, but, last June, he still said that his verdict on gold at the time was "It's an imperfect hedge but still a buy," expecting it to move higher due to the period of uncertainty combined with negative real rates. Back then he also said that he finds gold to be more of a long-term hedge against a depreciating dollar and/or stock market risk, than against inflation.
This week, he concluded:
"And for those investors still looking for a hedge, one word: cash."
And while Koesterich did not mention Bitcoin (BTC), which is now often touted as digital gold, BlackRock itself has been demonstrating its increasing interest in this nascent asset class.
BlackRock's Chief Investment Officer of Global Fixed Income Rick Rieder said in November 2020 that BTC "could replace gold to a large extent." A month later, CEO Laurence D. Fink said that BTC could evolve into a global market, already making the USD less relevant, while also deciding to expand their crypto team. Then this year, they revealed their plan to invest in cash-settled BTC futures, and they reportedly started "to dabble a bit" in BTC.
Meanwhile, gold's return vs BTC is -21% in a month, -68% in 3 months, -85% in a year, and -99% in 5 years.
Gold price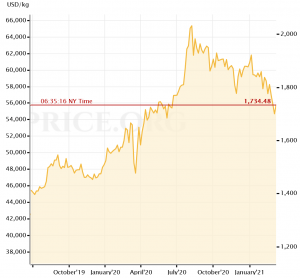 However, not everyone is convinced by Koesterich's analysis.
At the time of writing (11:38 UTC), BTC trades at USD 55,536 and is up by 2% in a day and 10% in a week. It jumped by 20% in a month and 605% in a year.
___
Learn more:
- BlackRock Has USD 235bn in Alternatives And Now It's Coming For Bitcoin
- Why Bitcoin Likes a Hard-On Environment
- This Is Why 'Hedge Against Inflation', Bitcoin, Dropped On Inflation Fears
- Investors Still Prefer Stocks To Bitcoin, But BTC Wins Over Gold - Survey
- Buffett's Partner Munger Bashes Bitcoin, Says It's 'Substitute For Gold'
- Bitcoin Is a Sideshow & a Poor Hedge, but It's Mainstream – JPMorgan
- Ruffer Reveals Why They Poured GBP 550M in 'Non-Sensical' 'Beast' Bitcoin
- Central Banks' Renewed Gold Hunger Shows Need For A Hedge
____
(Updated at 14:10 UTC with a tweet by Mike McGlone, Bloomberg Intelligence Senior Commodity Strategist.)
---