BitMEX Open Interest Drops, Withdrawals 'Stabilize' (UPDATED)
The troubled major crypto derivatives exchange BitMEX has seen large drops in both open interest, and bitcoin (BTC) balances held on the platform. (Updated at 12:49 PM UTC: updates in bold.)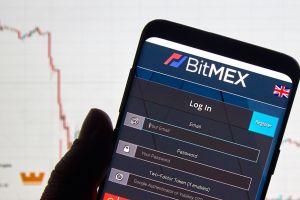 Following the news last week that three owners of BitMEX and five related companies charged with operating an unregistered trading platform and violating multiple regulations, the exchange almost immediately saw a drop in open interest. (Last week, BitMEX said that they strongly disagree with the charges and intend to "defend the allegations vigorously.")
BTC futures - open interest on BitMex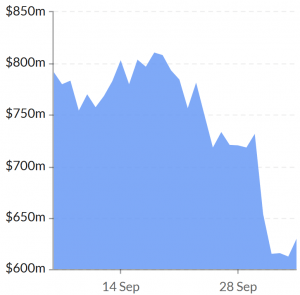 The drop in open interest was also pointed out in a report published yesterday by blockchain analysis firm Glassnode, calling it "a significant decline" that has brought open interest on BitMEX down to a level "not seen since May 2020."
"However, the market appears to be mostly unfazed, and bitcoin futures remain popular on other exchanges despite this setback," Glassnode further noted in the report.
Although trading volumes of bitcoin futures contracts have fallen on BitMEX, the same has also largely been the case on other major exchanges that deal with these types of derivatives, as volumes dropped during the weekend.
BTC futures - aggregated daily volumes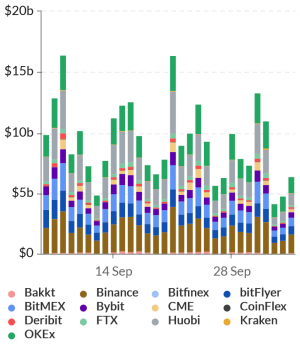 Meanwhile, as reported, BitMEX has also experienced outflows of BTC from the exchange. The fact that withdrawals have been higher than usual was also acknowledged by BitMEX itself, saying in an announcement on its blog that an extra "off-cycle withdrawal" was opened up at 08:00 UTC on October 2 – the day after the incident became known to the public.
The large withdrawals from BitMEX were also pointed out in the latest report from Glassnode, with the firm saying that the day after the news broke was the "largest ever day of net outflows" from the exchange. "Overall, since the announcement, almost BTC 45,000 have been withdrawn from the exchange," Glassnode further wrote, adding that this represents a 27% in the total BTC balance held by BitMEX.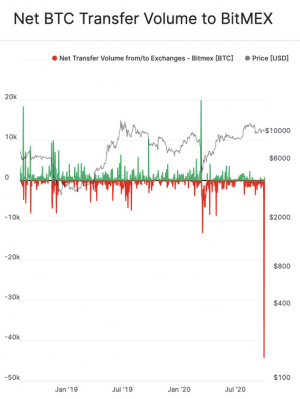 "Crucially, BitMEX's funds are held in multisig wallets that require a signature from multiple private keys in order to be unlocked. BitMEX's three founders each hold a key, and two of three partners must sign each withdrawal. So the funds may have been unobtainable if multiple founders were arrested," a crypto research firm Coin Metrics said in their newsletter today.
According to them, BitMEX had a net outflow of over BTC 20,000 on October 1st and an outflow of over BTC 34,000 on October 2nd.
"However, by October 3rd, as it became apparent that funds would not be locked on BitMEX (at least temporarily), things began to stabilize. BitMEX actually had a positive net inflow of about BTC 472 on October 4th," Coin Metrics said, adding that there is still close to USD 1.5bn worth of BTC held on BitMEX.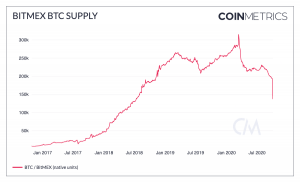 In either case, withdrawals from BitMEX were so large that community members like the popular Bitfinex whale Joe007 even suggested that a recent spike in new wallet addresses on the Bitcoin network could be the result of BitMEX traders taking custody of their own coins.
Cryptonews.com has reached out to BitMEX for a comment on this story and will update it as soon as we hear back.
___
Learn more: Crypto Is Immune to These Headlines On Trump and BitMEX
---