Bitcoin Price Prediction as BTC Rallies 3% From Recent Bottom – How High Can BTC Go Today?
Disclosure: Crypto is a high-risk asset class. This article is provided for informational purposes and does not constitute investment advice. By using this website, you agree to our terms and conditions. We may utilise affiliate links within our content, and receive commission.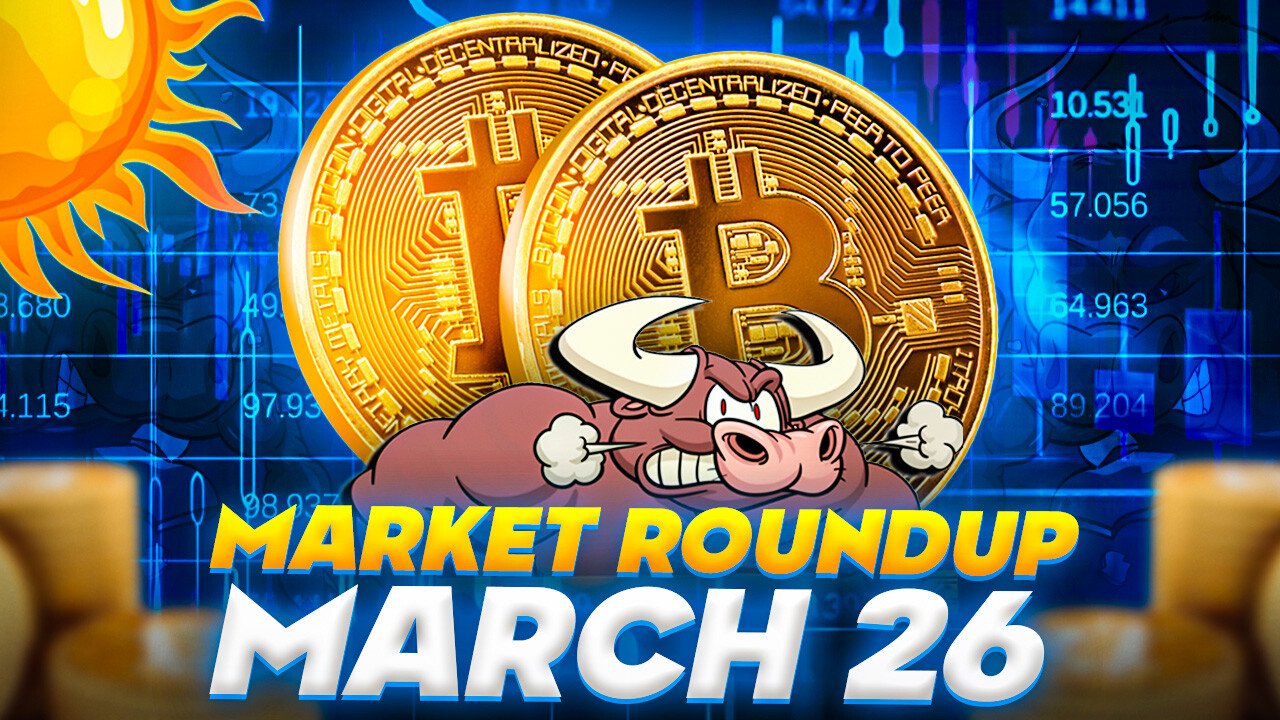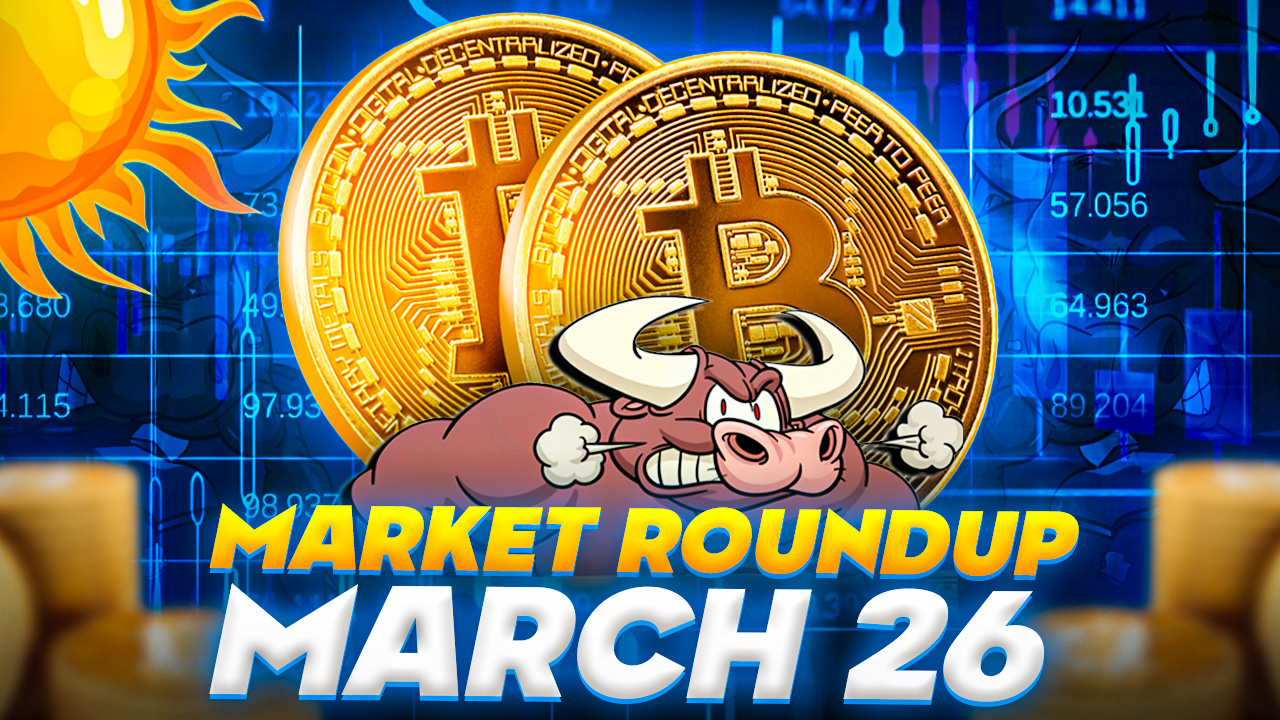 The price of Bitcoin (BTC) has been on the rise recently, rallying 3% from its recent bottom. As a result, many investors are wondering how high BTC can go in the current market.
In this article, we will explore the latest Bitcoin price prediction and analyze the factors that could potentially influence its value in the near future.
🚀🌷 Is the #CryptoSpring finally here? The #Bitcoin price going up has us questioning! Share your thoughts below👇 pic.twitter.com/OmdIc3CXKH

— Ammer Wallet (@AmmerWallet) March 26, 2023
However, the upward rally in BTC has been fueled by various factors, such as ongoing developments in the cryptocurrency sector and Bitcoin's reputation as a safe-haven asset.
It is worth noting that recent bank failures have caused people to lose confidence in traditional banks, which is considered a crucial factor in boosting Bitcoin's price. This is because investors view Bitcoin as a safe-haven asset.
#Bitcoin is suddenly looking like a safe haven
– Reuters

This week WSJ, CNBC and now Reuters.
Narrative is building… 💪

— Bitcoin Archive (@BTC_Archive) March 24, 2023
Bitcoin reached a new high of $28.8K earlier this week, but it appears to have reversed course and has been trading between $26,000 and $27,000 this week. Despite this, many experts predict that there is a high probability that Bitcoin will reach $30k very soon.
👀 👀 Welcome back 28K #BITCOIN    it's going to be a great PUMP week for #BTC and the #CRYPTOMARKET
30k – 33K #BTC INCOMING #LFG pic.twitter.com/XSaYgAO8mp

— Crypto Alert (@cryptoal3rt) March 26, 2023
The worldwide cryptocurrency market has been on the rise and is currently valued at $1.16 trillion, with a 0.90 percent increase in the last 24 hours. On Sunday, Bitcoin (BTC) reached a level of $27,000. As a result, the recent surge in the global cryptocurrency market is affecting the prices of all cryptocurrencies, including Bitcoin.
Former Coinbase CTO Bets $1 Million on Bitcoin
Former Coinbase CTO Balaji Srinivasan has made positive remarks about BTC and bet $1 million that Bitcoin will reach $1 million by June. This prediction has attracted particular attention and discussion in the cryptocurrency world, with some experts questioning its viability.
Former Coinbase CTO bets $2 million on #Bitcoin hitting $1 million in 90 days – is hyperbitcoinization upon us?! Join us as we break down the shocking implications of this bet and explore the future of #cryptocurrency! #BTC #investment #finance #betting #trading #hyperinflation pic.twitter.com/HR5ug3iXkA

— Future Finance Daily (@futurefdaily) March 20, 2023
Srinivasan's bet is very important since he is a major person in the crypto sector, and his forecast has sparked the curiosity of Cathie Wood of Ark Invest, potentially raising investor interest and demand.
Dwpbank's wpNex Platform Allows German Retail Customers to Access Bitcoin Without Additional KYC
Deutsche WertpapierService Bank (Dwpbank) is introducing wpNex, a platform that will allow retail clients of its affiliate banks in Germany to access Bitcoin without the need for extra Verification processes.
A nice boost for #Bitcoin adoption in Germany as dwpbank's #wpNex platform enables 1200 german banks to offer Bitcoin trading.🏦🇩🇪

Crypto holdings will be integrated into customers' online banking securities accounts, providing easy access. pic.twitter.com/FGdUlrq8y1

— Crypto Hunters Elite (@coincatch1) March 25, 2023
Although they won't possess private keys, customers can keep cryptocurrency accounts alongside their bank accounts. Dwpbank intends to incorporate more cryptocurrencies, digital assets, and tokenized securities in the future. MLP Banking, the first Dwpbank affiliate to join wpNex, has already completed a transaction.
Hence, the platform's introduction was seen as another key factor that could boost the BTC price as it might expand Bitcoin's popularity and usage in Germany, thereby increasing demand and price.
On the other side, Crypto mining company BitDeer has expanded the capacity of its mining site in Texas from 386 MW to 562 MW, while Riot Blockchain claims to have 700 MW in the same city. Texas has become a popular destination for miners due to its low energy prices and lack of regulation.
The increased mining capacity in Texas could potentially lead to an increase in Bitcoin's mining power and supply, which could impact its price in the long run.
Bitcoin Price
At present, the current trading value for Bitcoin is $27,888, with a 24-hour trading volume of $13.7 billion. Over the past 24 hours, Bitcoin has seen a 1.50% increase in value. Currently, it holds the top spot on CoinMarketCap's ranking, with a live market capitalization of $539 billion.
Based on technical analysis, the BTC/USD pair is currently exhibiting a choppy trend, although there is a chance it could face resistance at the $28,900 level. As of now, the technical outlook has not shifted significantly, with Bitcoin continuing to trade near the $27,900 mark.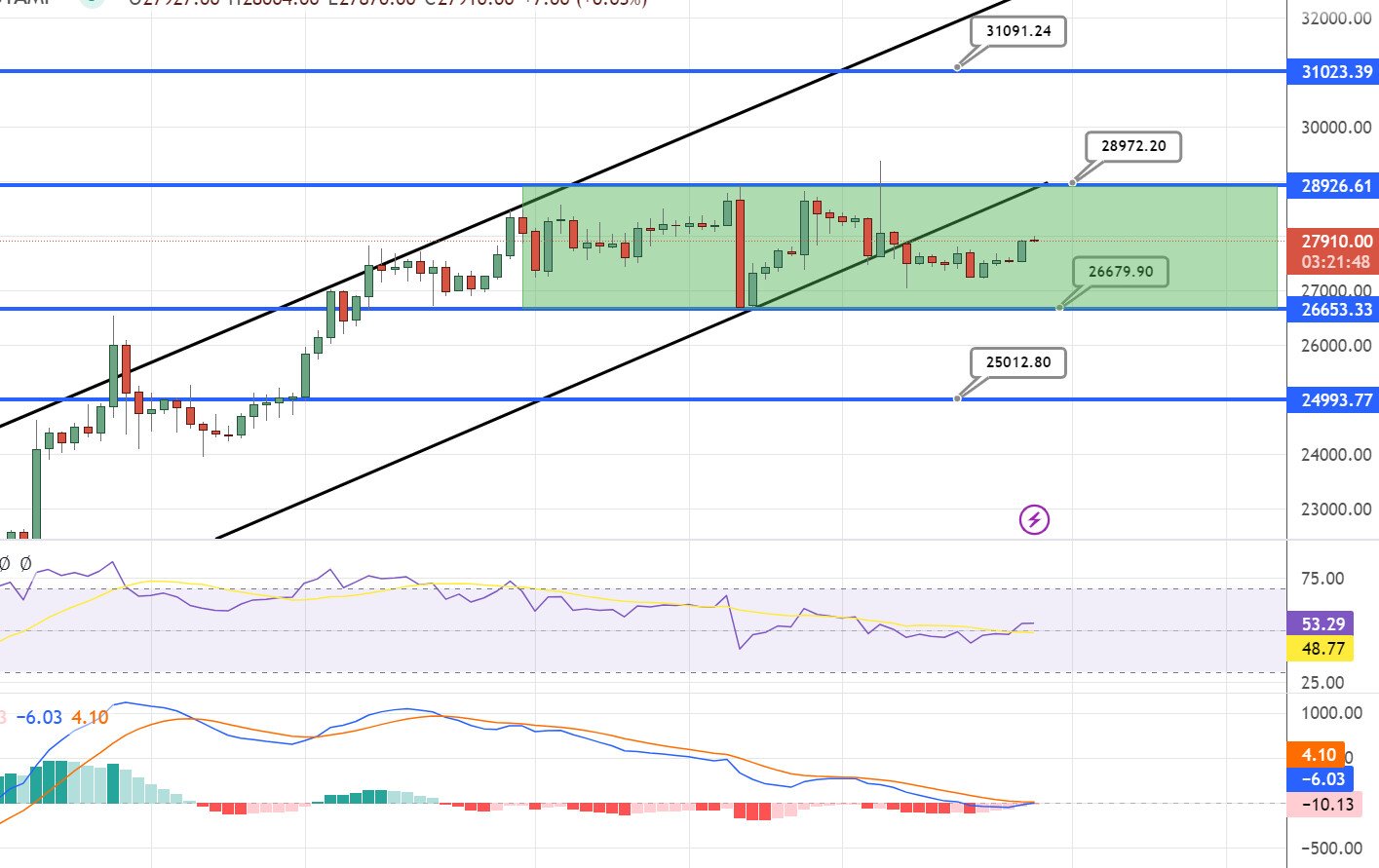 In the event that the BTC/USD pair manages to surpass the resistance level of $28,950, it may result in a rise in Bitcoin's value, with the potential for the price to reach $29,200 or even $30,700.
Conversely, if a bearish trend takes hold, it is expected that Bitcoin's price will find solid support at around $26,600 and $25,200.
Top 15 Cryptocurrencies to Watch in 2023
To stay up-to-date with the latest ICO projects and altcoins, it is advisable to regularly consult the curated list of the top 15 cryptocurrencies to watch in 2023.
This list, compiled by experts at Industry Talk and Cryptonews, offers valuable insights into emerging cryptocurrencies and trends in the crypto market.
By following this list, investors and enthusiasts can stay ahead of the curve and make informed decisions.
Disclaimer: The Industry Talk section features insights by crypto industry players and is not a part of the editorial content of Cryptonews.com.

-Bitcoin Price Prediction as US Inflation Data is Released – Where is BTC Heading Now?
–Bitcoin Price Prediction as BTC Rallies 3% From Recent Bottom – How High Can BTC Go Today?

-Bitcoin Price Prediction as $10 Billion Trading Volume Comes In – Where is BTC Heading Now?
–Binance Coin Price Prediction as BNB Pumps Up 17% in a Week – Time to Buy?
Find The Best Price to Buy/Sell Cryptocurrency


---