Bitcoin Pops Above USD 10K, Ethereum Outperforms All Major Coins Again
Bitcoin (BTC) and ethereum (ETH), the first- and second-ranked cryptoassets by market capitalization, continued higher over the weekend, with both coins breaking through crucial resistance levels at USD 10,000 and USD 300, respectively.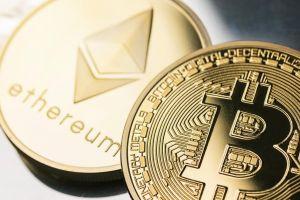 As of press time on Monday morning (04:43 UTC), bitcoin was up by 5.6% over the past 24 hours, trading just above the USD 10,200 mark. The rally comes as bitcoin first started gaining momentum early last week, picking up even more steam over the weekend. The price is now up by 11% in a week.
On Sunday, sentiment among bitcoin traders further improved when the price briefly traded above the USD 10,000 level. The price then returned to break through that level in a stronger move early Monday morning UTC time, further boosting optimism among both traders and 'HODLers'.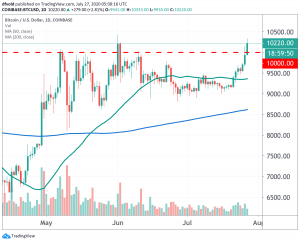 "We remain positive on the overall precise structure for bitcoin and do expect it push through USD 10,000-USD 10,500 as part of its longer-term bullish technical profile," Rob Sluymer, technical strategist at Fundstrat Global Advisors, was quoted as saying by Bloomberg. Even so, that range "remains a resistance band that bitcoin will need to break above to signal its next move to resistance at USD 13,800."
With regards to ETH, the weekend rally also marks a continuation of an already strong rally last week, which has now brought its price up by more than 35% over the past 7 days. At press time today, the token was also up nearly 7% over the past 24 hours, trading at a price of USD 323. Other coins from the top 10 are in the red or advanced less than 2%.
The bullish momentum in ethereum gained traction as the previous high from February at around USD 285 was taken out on Saturday, with the rally continuing throughout Sunday and in the Asian trading hours on Monday.
Based on chart analysis, the next major resistance level for the long-term daily chart of ETH is now around the market top from June 2019 at the USD 340 to 365 area.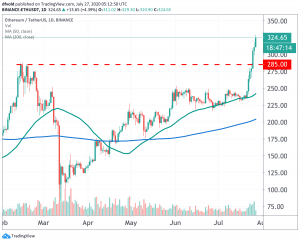 The rally in ethereum has happened as many recently hot DeFi (decentralized finance) tokens have consolidated their earlier gains, and with some even falling from highs seen less than two weeks ago. Among these tokens were chainlink (LINK), aave (LEND), and REN protocol (REN), which have seen losses of 11%, 29%, and 20%, respectively, over the past 7 days.
__
Reactions:
___
Learn more: US Banks Offering Crypto Custody is 'Insanely' Bullish and Risky
---