The Best Bitcoin & Crypto Mining Sites for 2023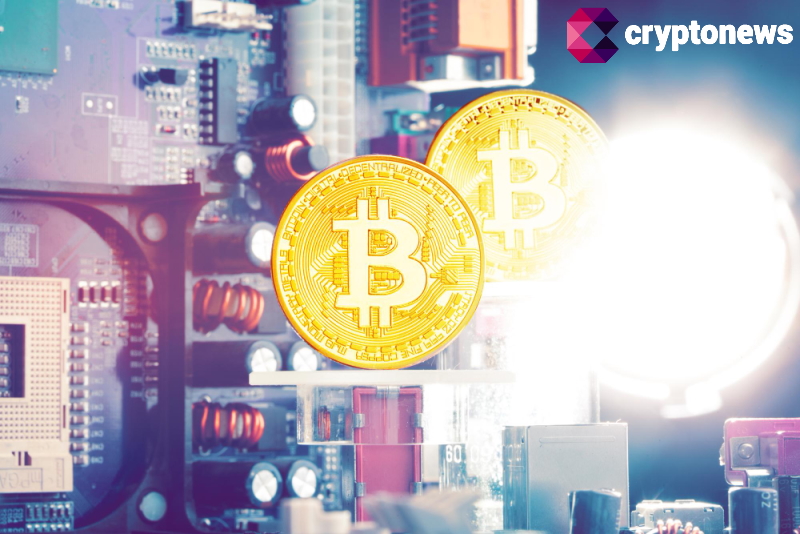 Disclaimer: The Industry Talk section features insights by crypto industry players and is not a part of the editorial content of Cryptonews.com.
With the value of cryptocurrencies struggling throughout 2022, it is little wonder casual investors are now looking for the best Bitcoin mining platforms to enhance their portfolios. With cloud mining, crypto mining platforms let the average investor mine with no equipment.
Our experts review the world's leading crypto mining platforms and explain how cryptocurrency mining can be profitable in 2023. Read on to find the perfect platform to suit your investment goals and learn how to mine Bitcoin without expensive equipment.
Best 8 Bitcoin Mining Sites for 2023
Below are 9 of the very best Bitcoin mining platforms offering simple cloud solutions, so that the average investor won't need to fork out cash for a costly mining setup.
Bitcoin Minetrix - Mining Bitcoin With Ethereum smart contract
ECOS – Create tailor-made Bitcoin mining contracts
Gminers – Low fee Bitcoin mining for casual investors
HashShiny – Mine 7 different tokens simultaneously
BeMine – Affordable ASIC rentals and hosting
TrustMining – Ethereum specialists in Switzerland
GenesisMining – Biggest Ethereum mining farm
BitDeer – Powerful AI managed cloud mining
LetMeCloud – Highly trusted Bitcoin cloud mining
Best Crypto Mining Software Reviewed
We'll review the best Bitcoin mining platforms below. Every mining site is unique and our reviews are designed to help you find the right crypto mining software for your needs.
1. Bitcoin Minetrix ($BTCMTX) - Top BTC Mining Platform Using Etherum Smart Contracts, $100K Raised Within Hours of Launch.
Bitcoin Minetrix ($BTCMTX) is a brand new mining site with a creative solution to BTC mining difficulties. Users can purchase $BTCMTX, an ERC20 token, which is staked in return for Bitcoin mining credits. These credits are burned in return for Bitcoin.
It's a simple yet brilliant concept that removes much of the issues associated with centralized Bitcoin mining, and its harmful environmental consequences.
Bitcoin's Proof-Of-Work mining model is maintained by a small group of centralized mining companies. They possess expensive mining farms, running large hardware rigs. It is too expensive for ordinary people to run such rigs. It is also too technically challenging, requiring lots of study and business acumen.
But Bitcoin Minetrix allows people to earn rewards from a desktop, and plans to release a mobile application in the near future. They also have an integrated dashboard where users have a good overview of all their personal mining operations. They can decide how much to stake and how much to burn. No technical expertise is required and it's an eco-friendly solution.
There are a total of 4 billion tokens available, with 2.8 billion (70%) available in the presale. The presale has 10 stages, with the prices increasing at each stage, meaning you will get a discount for early investment.The initial token price is $0.011 but will rise to $0.0119 in stage 10, the final stage.
Another benefit of this mining site is that the initial investment is only $10, in comparison to the much larger figure seen with other sites. There is no cap on mining credits and they are not transferable.
Most other Bitcoin mining sites also rely on harmful, environmentally damaging mining rigs, but this uses Ethereum smart contracts which is a much fairer system that rewards everybody, not just miners.
More information can be obtained from the Whitepaper.
| | | | |
| --- | --- | --- | --- |
| Mineable Coins | Min. Investment | Mining Fees | ROI |
| Bitcoin | $10 | Gas Fees Only | Unknown |
Pros:
Small initial investment
Eco-friendly mining
New concept
Possible upside potential from token
Cons:
2. ECOS - Create Tailor-made Bitcoin Mining Contracts
ECOS is a complete cryptocurrency investment platform offering an advanced wallet, a comprehensive exchange service, and cloud mining all-in-one.
What's great about this platform is that you can tailor your mining contract at ECOS. You can choose your projected reward amount, the duration of your contract, and how much you are willing to invest.
Your investment ultimately determines the amount of hash power you get for mining. A longer contract length is more likely to yield bigger payouts as well.
Depending on the specifics of your contract, your profitability from crypto mining can range from 300% to over 600%. Your investment also comes with fixed-rate fees, so there are no additional costs for machine malfunctions.
Since this is a cloud mining operation, you need to buy any equipment of your own. However, if you want to really kick things up a notch, ECOS has an ASIC store with machines ranging from $5,300 to $8,200. There is also ASIC mining hosting on offer provided by a 60 MW data facility supported 24/7 by qualified staff. ECOS technicians maintain and operate any machines you decide to purchase.
ECOS even offers a 1-month free cloud mining contract, so you can try mining before taking out a serious long term contract. Prices remain rather low owing to ECOS' mining center being located in the Free Economic Zone of Armenia. Payouts are earned daily and can be tracked using a dedicated mobile app for iOS and Android devices.
| | | | |
| --- | --- | --- | --- |
| Mineable Coins | Min. Investment | Mining Fees | ROI |
| Bitcoin | 100 USD | 0.025 USD per day | 300% + |
Pros:
Low min. investment
High projected ROI
Unique portfolio investments
1-month free trial
Cons:
3. Gminers - Low Fee Bitcoin Mining for Casual Investors
Gminers is one of the newest crypto mining operations available to investors. In only a few short months this operation has already gained more than 3,000 active users. Not to be confused with the Gminer crypto mining software, Gminers is a cloud miner designed for even the most casual investor.
The operation's uptime is close to 24/7. Gminers owns numerous data centers in extremely cost-effective and pro-crypto nations like Kazakhstan, Iceland, and Georgia. Payouts are daily and investors can choose from payment options like PayPal, bank transfers, or Bitcoin withdrawal to a crypto wallet.
Fees are quite low at Gminers. 1 GH/s of hash power starts at only $0.0120. Our calculations put the ROI at around 150% and you can reinvest with a new contract at any time. Casual investors can learn how their investment works through a handy dashboard that displays profits and investment data in real time.
| | | | |
| --- | --- | --- | --- |
| Mineable Coins | Min. Investment | Mining Fees | ROI |
| Bitcoin | 250 USD | 1 GH/s $0.0120 | 150% |
Pros:
Real time dashboard
Cost-efficient data centers
Reinvest anytime
24/7 uptime
Cons:
Not very transparent
Slow support
4. HashShiny - Mine 7 Different Tokens Simultaneously
Founded back in 2017, HashShiny is one of the best crypto mining platforms for numerous reasons. Powered by hydroelectric and wind energy, HashShiny is an environmentally friendly cloud mining service. Their data center boasts more than 15,000 ASIC rigs that are guarded and serviced 24/7.
This is more than just a Bitcoin mining operation. In fact, you can mine 7 different tokens simultaneously including Dogecoin, Bitcoin, Ethereum, and Dash. Mining costs vary between each token and are charged as a hash rate fee and maintenance fee. For example, Bitcoin mining incurs a $0.0004 daily maintenance fee and a cost of $0.40 per 10 GH/s.
The use of renewable energy does help keep the fees low. However, note that the payout calculators at HashShiny don't include the maintenance fee. So, users may find that they receive lower payouts than expected.
| | | | |
| --- | --- | --- | --- |
| Mineable Coins | Min. Investment | Mining Fees | ROI |
| Bitcoin, Litecoin, Dash, Dogecoin, Ethereum, Zcash, Decred | 10 USD | Daily maintenance fee, hashrate charge | 150% |
Pros:
$10 min. investment
7 mineable tokens
Daily payouts
Numerous Bitcoin mining pools
Cons:
High fees
Minimal returns
5. BeMine - Affordable ASIC Rentals and Hosting
BeMine is a comprehensive cloud mining operation with a lot going on for investors. This platform lets users buy 1/100 of an ASIC machine or even the entire machine. BeMine's Mining Hotel platform lets you host your own ASIC miners at any of the platform's 4 data centers, all of which are located in Russia. You can also buy ASIC miners from BeMine that range from as little as $430 up to $16,400.
When cloud mining, you can choose which ASIC mining rig you'd like to use. This is nice because you can be sure your machine is relevant to your mining goals. BeMine offers a bonus for new users too – 3 free days of mining using the Antminer 19 machine.
There are currently 4 cloud mining contracts on offer, each of which vary in hash rate and power. You can easily determine your potential 24-hour income rate. Bitcoin and Alt-miner plans start at $68.
| | | | |
| --- | --- | --- | --- |
| Mineable Coins | Min. Investment | Mining Fees | ROI |
| Bitcoin, Ethereum | 68 USD | Variable daily maintenance fee | 250% |
Pros:
4 powerful data centers
Buy a ASIC miner
Multiple ASIC miners
Low minimum investment
Cons:
Some contracts are sold out
Poor customer support
6. TrustMining - Ethereum Specialists in Switzerland
TrustMining is a leading cloud mining operation and has earned a reputation as one of the best crypto mining sites for rig hosting. While Bitcoin mining is supported at TrustMining, this platform specializes in the ETASH algorithm for Ethereum mining. TrustMining can host your rig in its Switzerland data center, where they'll put your rig into production and maintain its efficiency.
Overall, you'll lose about 30% of your rewards to fees, which is in line with the industry average and leaves 70% as pure profit. Fees cover the electrical costs, accommodation costs in the data center, and a 10% commission fee. Through their partner 2miners.com, TrustMining uses only the very best crypto mining software and utilizes local European mining pools.
TrustMining also allows users to mine for Ethereum, but get paid in Bitcoin. In addition, TrustMining supports crypto staking, enabling users to increase their profits with a return between 4% and 25% APY.
| | | | |
| --- | --- | --- | --- |
| Mineable Coins | Min. Investment | Mining Fees | ROI |
| Bitcoin, Ethereum | 250 USD | Starting at 0.01 GH/s, 15.00 MH/s | 200% |
Pros:
Low fees
Reliable crypto mining pools
Crypto staking
Excellent reputation
Cons:
GPU-only rigs
Sluggish support
7. GenesisMining - Biggest Ethereum Mining Farm
With more than 2 million active miners, GenesisMining is one of the biggest crypto mining platforms available to the average investor. The data center is based in Iceland and uniquely utilizes low-cost geothermal energy to power GPU machines with in-house crypto mining software.
Tokens are mined with at least 2 mining pools and in some cases 4 pools. When a pool is detected as closing in on 50% share, GenesisMining will switch to another. 6 tokens are available for mining including Bitcoin, Ethereum, Dash, and Litecoin. It is best to pay using cryptos at GenesisMining as USD transactions have a rather limiting hash per day rate.
During our reviews, GenesisMining was frequently out of stock, and it is currently rather difficult to rent a mining machine. A no maintenance fee plan is available for Ethereum mining and rentals starting at $499 and moving up to $4,999. Other plans have a fixed USD maintenance fee determined by the specific tailoring of each plan.
| | | | |
| --- | --- | --- | --- |
| Mineable Coins | Min. Investment | Mining Fees | ROI |
| Bitcoin, Ethereum, Dash, Litecoin, Monero, Zcash | 250 USD | 12.50 MH/s – 125 MH/s | 150% |
Pros:
No maintenance fees
Massive Ethereum farm
Variety of plans
Daily payouts
Cons:
Plans may be sold out
USD daily hash limits
8. BitDeer - Powerful AI Managed Cloud Mining
BitDeer is another top managed mining operation that uses both GPU and ASIC machines. It has 5 data centers located around the world and boasts a mining hashrate of 7.0 GH/s. 3 of the data centers use 100% carbon-free power and all 5 centers combined use around 1,700 MW of power. A smart management system handles all the daily tediousness of mining to make things more efficient.
BitDeer is on the expensive side compared to other mining operations. The minimum investment is around $200 for Bitcoin. However, users will probably need to drop much more money as basic plans appear mostly unprofitable.
Unfortunately, BitDeer plans are also sold out much of the time. Users can register their interest to stand a better chance of buying into a cloud mining plan.
| | | | |
| --- | --- | --- | --- |
| Mineable Coins | Min. Investment | Mining Fees | ROI |
| Bitcoin, Ethereum, Dash, Litecoin, Zcash, Handshake | 206 USD | BTC starting at $1 per day | 110% |
Pros:
No maintenance fees
Massive Ethereum farm
Variety of plans
Daily payouts
Cons:
Often sold out
USD daily hash limits
9. LetMeCloud - Highly Trusted Bitcoin Cloud Mining
This Bitcoin mining platform is one of the most reputable organizations with a great reputation and recognition in the mainstream media. Offering 3 simple 1-year contracts, LetMeCloud boasts returns of roughly 150% with the possibility of a bonus 20-30% on top with the right plan. Payouts are made daily and a handy referral program can net you some additional commission.
While based in the UK, LetMeCloud has data centers in Norway, Iceland, Sweden, and Canada – all highly environmentally friendly locations. Those centers mostly leverage solar and wind power to keep costs down.
Pricing for LetMeCloud is rather low, with 1 GH/s costing $0.0120. This means a 12-month Standard contract will set you back about $1,800.
| | | | |
| --- | --- | --- | --- |
| Mineable Coins | Min. Investment | Mining Fees | ROI |
| Bitcoin | 500 USD | 1 Gh/s per $0.0120 | 150%+ |
Pros:
Low fees
Simple set up
Short plans
24/7 support
Cons:
Only mines Bitcoin
Delayed payouts
What is Crypto Mining?
Crypto mining refers to the computational process undertaken to create new tokens for a particular cryptocurrency. The concept is fairly simple - computers go to work to solve problems and cryptocurrency is given back as a reward. However, the complete process is rather complex and requires dedicated crypto mining machines that are capable of solving advanced mathematical puzzles.
Essentially, miners act as a kind of middleman between users on a blockchain network. They validate transactions and distribute them to the ledger, thereby ensuring an irrefutable log of transactions. Miners are rewarded for their efforts with a number of new tokens.
There have been significant developments in the way people can mine cryptocurrencies, with dedicated crypto mining apps, and new methods that reduce costs and make it easier for the average investor. Cloud mining platforms let users rent a crypto mining machine and reap the rewards, while some of the best crypto mining software lets investors join incredibly lucrative mining pools.
How Does Bitcoin Mining Work?
Bitcoin mining has come a long way. Once upon a time, using a massively powerful crypto mining rig was the only way to mine for tokens. However, cloud mining lets everyday investors mine for tokens without the need for expensive equipment.
CPU and GPU mining is the most common process of Bitcoin mining as an average investor. Both methods require incredibly powerful machines that either use the computer's CPU or graphics card to solve the complex puzzles required to validate a transaction. Miners that solve the puzzle first are rewarded with the block of Bitcoins.
The current block reward is 6.25 BTC. The best way of mining for Bitcoin is to use an ASIC machine. These devices are specifically designed purely for the purpose of cryptocurrency mining and substantially more powerful than a CPU/GPU device. When you hear about massive Bitcoin mining companies, these are the devices they'll be using.
Most miners will join a Bitcoin mining pool – a collection of miners using their combined computing power and sharing the results – but it is possible to go it alone. Numerous solo miners have found success, such as the Solo CK miner that earned $220,000 from a single block in January, 2022.
Is Cryptocurrency Mining Profitable?
In short, absolutely. A crypto mining machine can cost you around $2,000 if on a shoestring budget and Bitcoin miners are currently mining in the area of $20 million a day. However, low-end machines are far from efficient and with the value of Bitcoin rewards from mining set to halve in 2024, efficiency will be key.
This means purchasing or upgrading your crypto mining rig as more power simply means more efficiency. According to the Digicominists Bitcoin Energy Consumption Index, a single Bitcoin transaction requires 1,449kWh of power to complete – almost two months of household power.
If you can spend the cash to obtain an efficient crypto mining machine, pay for electricity at an affordable rate, and can access quality and reliable mining pools, you may find profit in mining cryptocurrency the traditional way.
Ultimately, reliable pools may be your most important factor when considering Bitcoin mining, since the chances of finding a Bitcoin block is increasingly more difficult as more miners join the fray.
In July 2022, JPMorgan put the average cost of traditional Bitcoin mining at $12,000 per year but a single successfully mined block would net a reward of more than $130,000 in September, 2022.
Benefits of Mining Bitcoin
For those wondering 'is Bitcoin a good investment?' Bitcoin mining poses many benefits as an investment opportunity. Using one of the best Bitcoin mining sites holds some advantages over traditional mining operations too. Mining is often misunderstood as overly complex and more trouble than it's worth, but in actuality, there are plenty of reasons why investors should consider mining.
Passive Income
There isn't much actual work to mining Bitcoin once you get started. Even less work if you choose to use one of the best crypto mining sites from our list. Bitcoin mining is a passive earner that can simply run in the background of your life while you continue to work a day job. You can even continue to trade cryptocurrency – either as an asset or a CFD – while mining.
Critical Function
As a crypto miner, you will be serving a very critical function of that cryptocurrency. Transactions need to be validated and crypto mining is the way to serve this purpose. You'll be a part of something quite big and help to maintain a genuine, decentralized form of banking that is helping so many businesses and individuals.
Big Payouts
Trading cryptocurrencies can be difficult sometimes. Trying to predict a bull run isn't always the easiest thing in the world and sometimes a small investment just isn't big enough to net bigger results. Mining can provide big rewards though.
The 6.75 BTC reward for successful Bitcoin mining is a massive result, while the right cloud mining pool can potentially produce bigger results than your trading strategies.
Abundance of Choice
There isn't an overly linear path to success when mining for cryptocurrency. So many crypto mining platforms exist that ensures you can shop around for new and improved crypto mining pools. You can also tweak and improve your rig as more advanced technology emerges or you may find a sale on better GPU chipsets.
Environmentally Friendly
Yes, some of the best Bitcoin mining platforms still use coal-fired plants and other polluting means of powering their operations, but that's not the case for all of them. Some Bitcoin mining farm operations use renewable energy sources.
These are mostly cloud mining services, which allow users to mine without the horrible carbon footprint.
Costs of Mining Cryptos
Back in 2009, when only a handful of insightful people saw the potential in Bitcoin, it would only cost about $100 for a mining operation. Flash forward to 2023, and a traditional successful mining operation will run you tens of thousands of dollars.
The initial cost will be the setup of your crypto mining rig. On the lower-end of machines, you can use GPU cards such as a NVIDIA GeForce RTX 3060 Ti which will cost you around $500. On the top-end, a Radeon RX 6800 will set you back at least $1,000.
Piece together the various bits of necessary hardware, and the fact that multi-GPU machines are almost a necessity to stand a chance of success, the machine will likely run you a few grand. Next, you'll need to consider electrical costs.
This will vary from state to state, with some states like North Dakota and Oklahoma boasting some of the lowest average electricity rates in the country and little to no income tax. This brings us to the third cost – taxes. States with low income tax rates will pay less tax on their mining windfalls than in other states.
Bitcoin Mining Apps
There are hundreds of crypto mining apps that will let you use your iPhone or Android device to mine for tokens. This method will never replace the traditional machine methods as you can't net anywhere near the same rewards and the wear on your device can be quite substantial.
Many Bitcoin mining apps on Google Play will need to be avoided. It's very easy to publish an app that won't actually do anything and you'll need to do your research to ensure you download a reputable miner. The iOS App Store is far stricter and that has made it more difficult to find a miner, as Apple removes apps that are associated with cryptocurrency mining.
Many of these crypto mining apps are basically games that offer a small crypto reward for playing. Profits are rarely larger than a few dollars each month and you'll need to consider the cost of charging your device – not to mention the wear and tear too.
There are some cloud mining pools available on iPhone and Android devices too, but mostly Bitcoin mining apps are a bit of fun, rather than a genuine income generator.
Top Bitcoin mining apps
Conclusion
Cloud mining in 2023 is more simple than ever. With only a quick sign-up, even the most novice of investors can mine cryptocurrency without buying any expensive equipment.
Based on our reviews of the best Bitcoin mining platforms, we think Bitcoin Minetrix is the top choice for most investors.
Users have complete control over their very own mining operation with a unique dash, and it offers a novel stake-to-mine model using Etherum, which is more eco-friendly than Bitcoin's blockchain, and requires no technical skill or upfront investment.
Best Bitcoin Mining Platforms FAQs
What is Bitcoin mining?
Bitcoin mining is the process in which individuals or organizations use powerful computers to solve puzzles that validate Bitcoin transactions on the blockchain network. The reward for solving a puzzle first is a Bitcoin block currently consisting of 6.75 BTC.
How does Bitcoin mining work?
The best Bitcoin mining platforms pool together multiple devices to solve cryptographic problems to verify transactions on the blockchain network. Successful solving of problems results in a BTC reward.
What is the best site to mine for Bitcoin?
We think the best Bitcoin mining site is as it offers a mining system that requires no expensive hardware or technical knowledge.
Can you mine Bitcoin for free?
Not really. Some crypto mining apps offer a means to pick up free Bitcoin rewards but you'll need to pay for electrical use and internet fees. Some cloud mining services may be free, but the host will take a cut of your rewards.
What cryptos can I mine other than Bitcoin?
Besides Bitcoin, the best crypto mining platforms also often allow users to mine for Ethereum, Litecoin, Dash, among several other smaller alt-coins.
How do I mine Bitcoin?
There are two main methods for mining Bitcoin. That is cloud mining through platforms such as Bitcoin Minetrix or traditional mining using a Bitcoin mining rig.
How long will it take to mine one Bitcoin?
It only takes 10 minutes for the most powerful of crypto mining rigs to mine one Bitcoin block. However, weaker machines might take upwards of a year to mine a block. Cloud mining provides a slower passive income.
Which cloud mining is legit?
All of the cloud mining services in our top nine best Bitcoin mining sites are legitimate. In particular, we recommend reviewing Bitcoin Minetrix
Can crypto mining make you rich?
In theory, crypto mining has the potential to make anyone rich. However, it won't happen to everyone and there are many factors to consider, and costs to undertake to be successful at Bitcoin mining.
---