Bitcoin Mining Profitability Jumps, Hashrate Starts Picking Up Too
In the midst of China's crackdown on its miners, and following a historic drop in mining difficulty, Bitcoin (BTC) miners are now seeing much higher profitability. Also, there's a noticeable rise in hashrate and a drop in block time.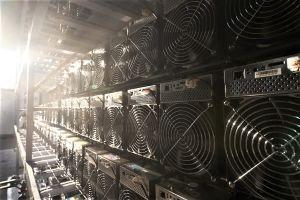 Bitcoin mining profitability (7-day moving average) jumped 31% in five days, between July 2 and July 7. This puts it back up to the mid-May levels, when the profitability had seen a massive 46% drop in 17 days. In mid-May, BTC was still trading at around USD 50,000, while today it's below USD 33,000.
In either case, since the beginning of this year, the mining profitability is up 47%.
Meanwhile, the hashrate, or the computational power of the Bitcoin network, had been in a near-constant drop between May 14 and July 3, falling 54% over that period. Since then, it has recorded a rise in the past four days of 8%. Since the start of 2021, the hashrate is down 36%.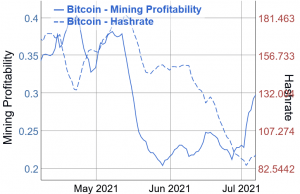 Additionally, while the Bitcoin network targets a block time of 10 minutes, it had recently hit its highest level since 2009, of more than 17 minutes (7-day simple moving average). It has since dropped 27% to 12.5 minutes.
These changes come after the largest mining difficulty drop in the history of the network. It fell nearly 28% five days ago, to 14.36 T, the level not seen since early June 2020.
That plunge itself follows China's crackdown on crypto and mining, which has produced a massive impact on Bitcoin miners across the country, including its most crucial provinces, where a number of large miners have been forced to close shop.
The difficulty adjustment is a lagging indicator, said Quantum Economics founder Mati Greenspan, and "what we're seeing is the Bitcoin network adjusting itself to the loss of China's hashpower."
Or as Jeff Dorman, Chief Investment Officer (CIO) of US-based investment management firm Arca, noted, following "the severe and coordinated clampdown from China, and the subsequent mass exodus of miners," hashrate and block speed dropped dramatically - fewer machines were online mining for BTC, "so there was less competition to earn rewards for solving a complex and random puzzle, which means the expected rate of return increased for those who were still able to mine."
As a result, the mining difficulty dropped dramatically too, which "means it became easier and more profitable to solve this random puzzle, encouraging new participants to mine, and thus becoming more likely that block speed would increase as puzzles are solved faster amongst the remaining and new miners."
Per Dorman, old miners are likely to "pop back up" again in few weeks after relocating, and this should increase hashrate further, as well as the competition, and the difficulty rate.
This, however, is unlikely to happen in July, per Thomas Heller, Chief Business Officer of Compass Mining, as Chinese miners need to take care of data center capacity and logistical challenges, as reported by Reuters. They need to clean and pack up their machines, ship them abroad, clear customs, then install them - and all this after they've found a suitable place, with more tolerant authorities, with low temperatures, and cheap electricity, "ideally surplus power from hydro plants or oil fields that would be wasted."
And all this is even more difficult for smaller miners, if they manage to relocate at all.
BitRiver, which operates data centers in Siberia, estimated that demand for space in its facilities will rise to 1.5m mining machines requiring up to 2.5 gigawatts of power, compared to its current three data centres' 125 megawatts. "We know companies are leaving China because they are running straight to us," spokesperson Roman Zabuga was quoted as saying.
However, "the resilience of the Bitcoin protocol is remarkable," on-chain analysis firm Glassnode said, while Dorman added that "throughout all of these adjustments, Bitcoin itself suffered no down time, a vast improvement over the technologically impaired fiat system."
Glassnode noted that, even if we are in the middle of "the Great Migration," there hasn't yet been a significant increase in miner spending behavior. The speed of hash-rate recovery will give further information: if it's fast, it indicates Chinese miners have successfully relocated, liquidated hardware, or otherwise recovered costs, reducing the risk of treasury BTC sales, and if it's slow, then the opposite happens, increasing "the odds that costs are being carried, debts are accumulating, and thus creating a higher probability for miner BTC sales."
According to ByteTree, miners have been holding more coins than they've been spending over the past week, reversing the trend of the last three months.

____
Learn more:
- China Is Not Done Yet With Its Crackdown On Crypto Mining - Researcher
- Bitcoin Mining Difficulty Plummets While Miners Polish Their Image
- Crypto Mining Rigs 'Selling Like Scrap Metal' as Mainland China Mood Darkens
- Here's What China's Bitcoin Mining Crackdown 2.0 Looks Like
- Bitcoin Miner Relocation Within China and Worst Case Scenario
- Bukele Teases Volcano-powered Bitcoin Mining Center as Exchange Arrives
---