Bitcoin Hashrate, Mining Difficulty Hit New Highs and Inefficient Miners
As Bitcoin (BTC) mining difficulty and hashrate hit new highs, less efficient miners, hurt by the virus outbreak, new-generation rigs, and falling BTC prices, may be out of business.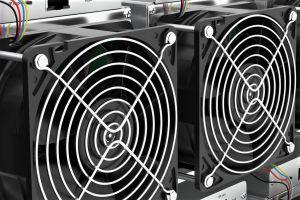 Bitcoin mining difficulty, a measure that shows how hard it is to compete for mining rewards, has hit yet another record. According to the major Bitcoin mining pool BTC.com, it climbed to 16.55 T today, never being outside the 15 T range before.
This was a rise of 6.88%. It follows a 0.38% drop in mining difficulty two weeks ago, which was the first drop this year. That said, it took BTC mining difficulty just half a year to climb from 10 T to 16 T, making validating new blocks harder.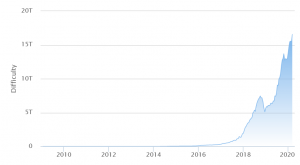 BTC.com estimates that during the next difficulty adjustment, expected to happen in two weeks, it will climb 7% to 17.71 T.
On the other hand, the price of the world's most popular crypto has been falling. It's currently (10:10 UTC) standing at USD 7,935, having dropped 9% in 24 hours and 9% in a week. Since the last adjustment, on February 25, it has dropped 17%.
Meanwhile, corresponding with the rise in mining difficulty, the computational power of the Bitcoin network, known as hashrate, has also gone up. Since the last halving on February 25, the 7-day average hashrate increased by around 9%, to 121 TH/s on March 7, according to blockchain.com data.
The hashrate going up suggests that the network is more secure but at the same time it leads to higher mining difficulty, in order to bring block time closer to 10 minutes. There are three major development that may be contributing to this rise in hashrate, and therefore, the difficulty.
1. Coronavirus outbreak: back to proof of work
As discussed previously, the outbreak of coronavirus and the subsequent quarantine by the Chinese authorities have had a massive impact on businesses and workers, including mining equipment makers. Mining hardware giants Bitmain, Canaan, and MicroBT had issued notices of a delay in the production of the equipment and in its shipment, as well as in upgrading the equipment by miners. Additionally, mining farms, such as that of mining pool BTC.top, had reportedly been shut down.
The number of infected people, and unfortunately casualties, from the novel COVID-19 virus across the world has been on the rise lately. However, it seems that the rise in China itself is slowing down. Crypto-mining publication Mining Update has reported that Chinese ASIC manufacturers and maintenance factories have gradually started reopening and returning to full operations. What this means is that Bitcoin miners can now more easily get their new mining equipment, but also fix those that have been malfunctioning.
How sustainable this is is completely unpredictable. Should the outbreak subside, the majority if not all manufacturers and maintenance factories will be back up, but the other way around is also possible. This means that the next difficulty adjustment may see quite a different end to its estimated story.
2. New mining rigs
The three above-mentioned mining hardware giants have announced their new rigs to hit the markets for BTC miners to update their equipment. With the new rigs, the network will see more hashrate, hence higher difficulty. For miners there's a little option there - not to be overrun, they have to update. Those who can't afford to do so may have to shut down their operations altogether.
However, Miner Update also discusses the Matthew effect, which in the context of miners means that the efficient miners will reap even more benefits, while the future brings nothing good for those less efficient ones. "Those most efficient miners, operating on the lowest end of the cost curve, increase their advantage while all those miners who are higher on the cost curve observe their returns move closer to the cash-flow breakeven," they write. As a matter of fact, the most inefficient will likely be pushed below their cash-flow breakeven figure, which would result in them having to turn their mining rigs off.
However, miners who have deployed their newest rigs before the difficulty adjusted to reflect the higher hash rate, which "makes the initial deployment of new mining rigs an extremely profitable phase."
3. Bitcoin halving
We've already discussed what the upcoming Bitcoin halving, expected to happen in May, could mean for miners. However, given the previous two points, this halving may be extra hard for the less profitable and unprofitable miners who'll have to shut down their rigs.
However, not everyone is worried. As reported, the Greenidge Generation plant in New York's Finger Lakes region can mine about 5.5 bitcoins per day and it estimates that its crypto mining business will remain profitable even after the Bitcoin mining reward halving this year.
"Due to our unique position as a co-generation facility, we are able to make money in down markets so that we're available to catch the upside of volatile price swings," Tim Rainey, Chief Financial Officer at Greenidge," said.
Also, as recently reported, Bitcoin mining is seemingly being shifted to North America from China, which dominates digital coin mining.
---