Bitcoin-Gold Correlation Is Weak; BTC-S&P 500 Correlation Might Drop
While the correlation between bitcoin (BTC) and gold could be "slightly" increasing but still remaining weak overall, that between BTC and the S&P 500 stock market index is unlikely to remain high in the long run, says crypto market analysis firm Coin Metrics.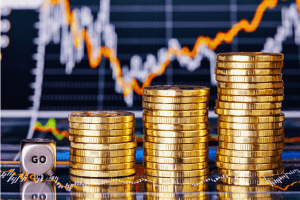 To look deeper into what's been going on: while testing the popular narratives connected to BTC as an investment/store of value - namely that BTC is a) an uncorrelated financial asset, and b) a safe haven asset - the firm found that, while BTC and S&P 500 had little to no correlation since 2012, over the last month alone this correlation has jumped suddenly to all-time highs. Its peak was on March 12, aka Black Thursday, when both crypto and equity markets went through a sudden and major crash. And while it fell back to "relatively normal levels" by the end of March, it's seen rising once more. It's likely that this higher-than-usual correlation will continue for "at least as long as the liquidity crisis lasts," writes the firm in their latest newsletter.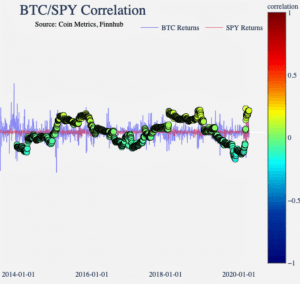 "Does this signal that bitcoin and the S&P 500 are now suddenly correlated? Probably not," says Coin Metrics. The thing is, they find, this short-term correlation has risen to such heights in highly unique market circumstances, given that investors across the globe started selling off their assets for cash, driven by fears of the coronavirus pandemic. Therefore, BTC is not unique here - "correlation shot up between most assets on March 12th."
This means that, unless there are some "fundamental" changes in bitcoin and/or the S&P 500, in the long run, the correlation between the two will likely "return to levels of near zero."
Meanwhile, even though gold is considered a safe haven asset under normal market conditions, it too saw a sell-off when faced with the liquidity crisis. Similarly to BTC's correlation with S&P 500, that between BTC and gold, though not historically strong, also jumped in March as both their prices dropped. The correlation increased despite the price drop because both assets were moving in the same direction, explains the firm. However, this correlation remained strong since.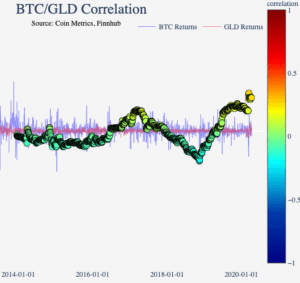 The correlation was already observed this year following the US missile strike in Iran. "Although bitcoin and gold may not act as safe havens during a global liquidity crisis, they may act as a safe haven during increases in monetary inflation and quantitative easing," says the firm. It's also possible, they add, that BTC is acting as a safe haven to only some events, and this may even be changing daily. At the moment, given the pandemic, strong conclusions about this can't be made, according to Coin Metrics.
---