Bitcoin Family Starts their New World Tour
The Bitcoin Family is on the road to share crypto in more ways than one.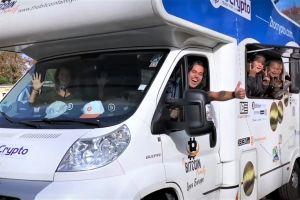 The Bitcoin Family is the famous family of five (Didi and Romaine Taihuttu, and their children Joli, Juna and Jessa) who sold everything they owned – yes, house included – for bitcoin, deciding to live solely on the cryptocurrency. They had travelled only on BTC for two and a half years. Now they have started their "very unique new adventure", a sponsored three-year-long world tour to educate people about crypto, called Sharing is Caring tour, as the father of the family, Didi, explains in a video.
The plan, praised by the supporters and fans, is to buy a car, drive around the world, educate people on crypto and blockchain, screen a documentary on blockchain and crypto events, do Q&As, and challenge other families to live solely on crypto for a couple of hours or days, among other things. (Actually, one can find "The Second Bitcoin Family" on Twitter who claims that they're inspired by Didi Taihuttu).
They have announced treasure hunts as well – they will hide 1 BTC somewhere in the city they are visiting, and the first person to find it, keeps it.
This is not the end, as all revenue made from the events that they will be doing along the way will be donated to help people in need in the countries where the events will take place.
Among the family's sponsors is apparently NDJ Investment Group, to which Didi thanked for the van, named Bitmobile, saying "It's an honor that your Bitcoin mining company supports our sharing is caring tour."
In a Reuters video, Didi explains that the family often travels to places where "bitcoin is accepted a little bit more", so they can spend it in hotels and restaurants for example, which makes the journey easier for them. After Europe, the family plans to drive to places like Iran, India, and Thailand.
The mother of the family, Romaine, explains that the type of life that requires you to always be on the move is not for everybody and depends on what people want to achieve. "We have to live a minimalistic life and teach our children how it is to live without money, and just be happy with living", adds Didi.
Their world tour promo video further explains that through crypto and blockchain education, participation in charity work, and homeschooling, the parents hope to prepare the children of the family for the future.
---