Bitcoin and Altcoins Facing Renewed Selling Pressure (UPDATED 2)
Bitcoin price struggled to break the USD 4,000 resistance and declined recently. Ethereum is down 10% and ripple price broke the key USD 0.350 support. HOT and NPXS trimmed yesterday's gains and declined more than 15% today.
There was a yet another failure to break the USD 4,000 resistance, resulting in bearish moves in bitcoin. BTC/USD declined recently and broke the USD 3,925, USD 3,850 and USD 3,800 support levels to enter a short term bearish zone. More importantly, there was a sharp decline in ethereum below the USD 145 and 140 support levels. Similarly, ripple price failed to surpass the USD 0.365 and USD 0.370 resistance levels. XRP/USD declined below the USD 0.355 and USD 0.350 supports, signaling an increase in selling pressure. (Updated with comments from industry experts.)
Total market capitalization

Reasons for the drop
"Many have been asking about the sudden drop in the crypto markets this morning. In my view, there doesn't seem to be any real reason for this drop, neither technical nor fundamental. The one interesting thing about this movement is that it seems to be an exact reversal of the surge that happened on Sunday afternoon. At this point, the gains made since the start of the year have now been reversed and we're back to a neutral 2019," according to Mati Greenspan, Senior Market Analyst at eToro, a social trading platform.
Meanwhile, David Thomas, Co-Founder of London based cryptocurrency broker GlobalBlock, said that a few drivers "are rumoured to be behind the crypto sell off in the last 24 hours."
"Firstly, there was a 51% attack on Ethereum Classic which resulted in the apparent double-spend of USD 1.1m of ETC. Naturally occurrences such as these can tend to cause some fear in the market surrounding overall security and confidence surrounding both cryptocurrencies and blockchain technology itself. Secondly, there was also talk today of a 'whale' moving ETH 319,000 (USD 68m) onto an exchange today which may well have spooked the market to further sell-offs. Thirdly, ETH has risen off its lows before Christmas by some 80% and any weakness can often lead to a trigger of profit taking from those that managed to catch the lows around USD 82 in December," Thomas said.
"Lastly, it is worth noting that today's move yet again highlights how volatile digital assets can be and we can expect them to remain volatile, at least until there's further institutional involvement in the space," he added.
Bitcoin price
Buyers struggled to push bitcoin price above the USD 4,000 barrier on a couple of occasions. As a result, sellers took control and pushed BTC below the USD 3,925, USD 3,850, USD 3,800 and USD 3,780 support levels. The price is down around 5% (UTC 08:00 AM) and an immediate support is positioned near USD 3,750.
If there is a break below the USD 3,750 support, the price may slide towards the USD 3,660 support. On the upside, the previous supports at USD 3,800 and USD 3,850 are likely to act as hurdles for buyers in the coming sessions.
Ethereum price
Ethereum price faced a strong selling interest below the USD 150 resistance. ETH/USD declined more than 10% and broke the USD 145, USD 140 and USD 138 support levels.
The price is currently trading near the USD 135 support, below which sellers could aim the next major support at 128. On the upside, an initial resistance is at USD 140, followed by USD 142.
Bitcoin cash, eos and ripple price
Bitcoin cash price also declined close to 10% and broke the USD 150 and USD 148 support levels. BCH/USD is currently testing the USD 140 support. If there are further losses, the price will most likely retest the key USD 125 support. The main resistances are USD 145 and USD 148.
EOS trimmed most its gains and declined below the USD 2.80 and USD 2.70 support levels. The price is currently trading near USD 2.65, with an immediate support at USD 2.62 and USD 2.60.
Ripple price failed to clear the USD 0.365 and USD 0.370 resistances, resulting in a drop below USD 0.355. XRP/USD even broke the USD 0.350 support and it may now trade towards the USD 0.342 support.
Other altcoins market today
Small cap altcoins also followed bitcoin and many coins declined more than 10%, including NPXS, HOT, BCZERO, STRAT, IOST, NEO, PPT, RVN, BNB, WTC and DCN. Out of these, NPSX declined more than 18% and HOT is down around 16%.
Overall, bitcoin failed to retain strength above USD 3,900. The recent bearish moves in BTC/USD below USD 3,850 are signaling an increase in selling pressure. If sellers remain in action and the price drops below USD 3,720, bitcoin and many altcoins could extend slides in the coming sessions. Moreover, a new triangle-shaped chart pattern may signal lower prices ahead, analyst Jesse Colombo at Clarity Financial, Houston-based registered investment advisor firm, warns.
_____
Find the best price to buy/sell cryptocurrency: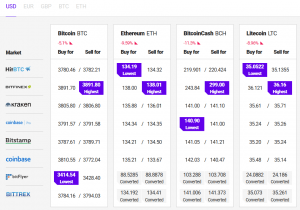 ---