Binance CEO On Outsmarting Users From US, BoE On Protecting Banks + More News
Get your daily, bite-sized digest of cryptoasset and blockchain-related news – investigating the stories flying under the radar of today's crypto news.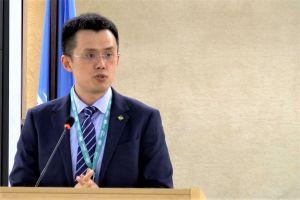 Exchanges news
Crypto adoption news
Bank of England Deputy Governor Jon Cunliffe said that it's not the job of the central bank to protect commercial bank business models from the impact of digital currencies, which could dramatically reduce households' willingness to hold money in traditional bank accounts, Reuters reported.
CBDCs news
The European Central Bank (ECB) President Christine Lagarde signaled that the bank could create a digital currency within years, possibly 2-4 years, Bloomberg reported. "My hunch is that it will come," Lagarde is quoted as saying during a virtual panel discussion hosted by the ECB, adding that "If it's cheaper, faster, more secure for the users then we should explore it. If it's going to contribute to a better monetary sovereignty, a better autonomy for the euro area, I think we should explore it."
Blockchain news
The President of Kyrgyzstan has confirmed that the nation will allow blockchain-powered voting in forthcoming elections. According to media outlet 24Kg, President Sadyr Japarov told media representatives at a press conference that a new system would "partially replace the role of the Central Election Commission." He added that the platform, which is still yet to be built, will ensure that "there will be no falsification or manipulation of votes" at forthcoming elections. (Learn more: 'Russian Dictators Will Use Blockchain to Rig Elections,' Says Critic)
The Tezos (XTZ) blockchain has announced that it has been upgraded by adopting Delphi, which was developed by Nomadic Labs, Metastate, and Marigold. Per the press release, Delphi is the fourth Tezos upgrade in two years, and they plan more for the future. Its most important feature, said Tezos, is "a dramatic easing" in gas consumption, typically by about 75%, and limits for smart contracts, and it also lowers storage costs by a factor of four to reflect improvements to the underlying storage layer. The upgrade is "crucial to enable novel applications on Tezos that target areas like decentralized finance (DeFi), collectibles, and gaming," said a previous joint statement.
DeFi news
Aave V2 is live on the Kovan testnet, said Aave. They added that the Genesis Team has collected feedback from the community since the beginning of 2020 when the open-source, non-custodial money market protocol Aave Protocol first launched, and the new version is "a culmination of community feedback that brings some architecture redesign to upgrade the protocol." The governance power is in the hands of the community, they said, while the Genesis Team will take on the role of builders who gather popular proposals on the governance forum, and enact the updates voted on by the governance.
Regulation news
A second crypto regulation private member's bill looks to be heading for the Argentinian parliament, with a ruling party MP set to table a measure that will rival an opposition member's bill filed earlier this month. Per La Politica Online, the latest measure has been spearheaded by Liliana Schwindt, an MP for the ruling Frente de Todos party. The new measure has the support of seven other signatory MPs, and if passed would see the National Securities Commission appointed as the nation's crypto regulatory authority.
Crime news
"Voices are growing for increased punishment for crypto fraud," said the Jeonju branch South Korean media network MBC. The terrestrial, public service broadcaster hinted that the victims of crypto fraud – usually from multi-level marketing outfits posing as bona fide crypto mining pools, blockchain network operators or crypto exchanges – feel that the current sentencing for convicted fraudsters is too lenient. The media outlet quoted a judge as stating that South Korea had become "a good country in which to commit fraud," adding that "fraudsters" are currently "laughing at the law" and its inability to issue longer jail terms to criminals who had cheated thousands of investors out of millions of dollars.
---