Billionaire Mike Novogratz's Surprising Reason for Endorsing Binance, Urges Success for CEO CZ – Here's What You Need to Know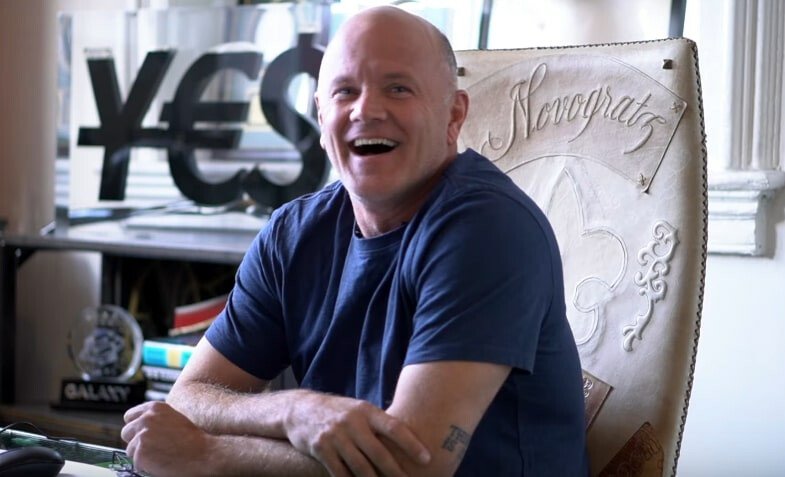 The industry and its participants need the major crypto exchange Binance and its loyal retail following, said Michael Novogratz, the founder of the US-based crypto financial services firm Galaxy Digital Holdings,
Speaking to Real Vision Crypto, Novogratz commented on the announcement of charges against a crypto company made by the US Department of Justice earlier this month, which had the cryptoverse speculating which exchange it could have been.
"And I was like, please don't have it be Binance," said Novogratz. "We need to cheer for Binance."
It turned out to be a little-known Hong Kong-registered exchange called Bitzlato. Its Russian founder Anatoly Legkodymov was arrested by US authorities for allegedly processing $700 million in illicit funds. Binance, however, had had some involvement in the case, with the US Department of the Treasury writing in an order that the world's largest crypto exchange by trading volume was Bitzlato's top receiving counterparty of bitcoin (BTC) between May 2018 and September 2022. Binance said that it "provided substantial assistance to international law enforcement partners in support of this investigation."
Novogratz went on to note that Binance has a "giant percentage of the liquidity" and that CEO Changpeng Zhao (CZ) has always been focused on customer service. Therefore, said Novogratz,
"He's got a very loyal, giant retail following that believe[s] in our ecosystem. We need those guys."
Novogratz noted that he sees numerous people online who seem to want Binance and CZ to fail, but "it's the wrong thinking," he said, adding:
"We need CZ to succeed."
Binance's success = greater adoption
Novogratz suggested that the success of this major exchange would enable it to maintain the retail following it has, while bringing in more institutions and individuals into the industry.
"So we do need adoption, because that's what funds technology growth."
Speaking of institutional investors in connection to the effects caused by the fall of the FTX exchange, Novogratz commented that it is "so freaking unfortunate" that many organizations had gotten caught up in the "frenzy" and the "fraudulence," especially since numerous companies, Galaxy included, had tried for years to bring certain entities, like Canadian pension funds, into the industry - only to see them finally join the space through FTX and lose their investment. This is bound to be harmful and will discourage "the next guy" from joining in, said Novogratz.
"Crypto needs the retail participants that come back to these communities to buy in, to believe, to drive price, because that's what's going to get institutions back engaged. Institutions intellectually understand this business [...], they've done all their homework - they're gunshy, it is going to take energy. Price. Energy is price."
As for price, it is not a matter of believing that bitcoin's going to hit $100,000 or $200,000 but that is going to be higher than $20,000 in two years' time, said Novogratz. Otherwise, this industry is "a too painful place to work."
As for Galaxy, it spent a lot of money investing in different companies in December last year, and it has turned out to be a financial hit, the founder suggested. So the most common solution would be to fire a lot of people, "bugger down", liquefy assets, and "trade your way out until the bull market starts." But Galaxy has chosen "a harder path," said Novogratz.
You can watch the full interview here:
____
Learn more:
- Binance Crypto Exchange Admits to Mixing Customer Funds with Collateral for Binance-Issued Tokens
- Crypto Boss Mike Novogratz Says Its Time to Cut Costs and Survive This 'Transition period'

- Billionaire Investor Mike Novogratz Says Not All Crypto Exchanges Are Criminal Organizations Like FTX
- Billionaire Mike Novogratz Believes Bitcoin Price Will Surge if Fed Makes This Decision

- Binance Banking Partner Restricts Crypto Transactions to $100,000 and Above – Here's Why
- Binance Stablecoin BUSD Loses $2 Billion in Market Cap in a Month – What's Going On?
---