7 Best Solana Meme Coins to Buy in 2023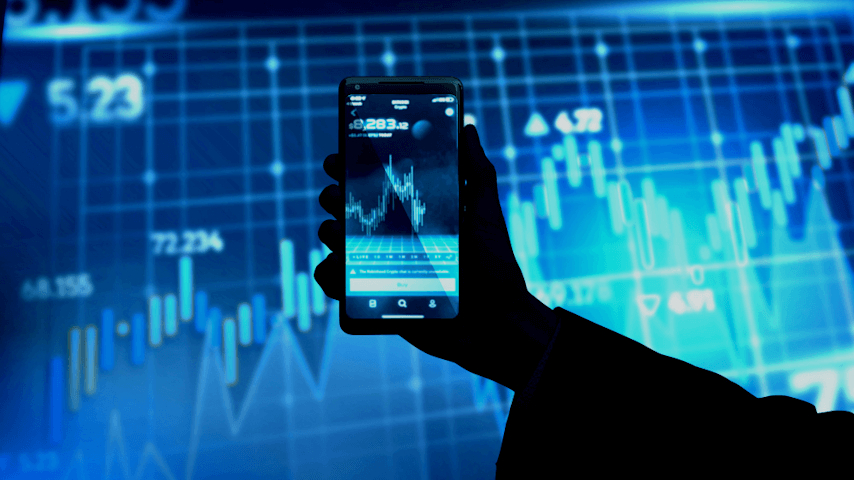 Disclaimer: The Industry Talk section features insights from crypto industry players and is not a part of the editorial content of Cryptonews.com.
The Solana ecosystem is home to over 200 cryptocurrencies. This includes a range of projects, including meme coins with great potential.
In this guide, we examine the 7 best Solana meme coins to buy in 2023.
Top Solana Meme Coins to Buy Today
Before we get into our full analysis, here's a sneak peek at the best Solana meme coins:
Wall Street Memes: Wall Street Memes is the best meme coin to buy in 2023. This new presale project has raised an impressive $9 million from early investors and has been tweeted by Elon Musk, indicating the potential to go viral. Investors can buy WSM at a discount before the meme coin is listed on exchanges.
Bonk: Bonk is a popular meme coin that operates on the Solana blockchain. Launched in early 2023, Bonk is up 181% from its initial listing price. This means Bonk has far outperformed the broader crypto markets. That said, Bonk has a market capitalization of just $17 million, so further gains could be possible.
Fronk: Fronk is another popular meme coin on the Solana network. This is a play on the Pepe meme coin, which hit a peak market capitalization of $1.6 billion in June 2023. Fronk is giving away 45% of its token supply to various Solana project holders, including Okay Bears, DeGods, and Gets on Creck.
Moonlana: Moonlana claims to be a community-driven meme coin. 90% of the total supply was given away for free via airdrops. While the remaining 10% is held by the Moonlana team. The project aims to become the largest meme coin in the Solana ecosystem.
SolDoge: The Dogecoin meme craze has made its way to the Solana blockchain through SolDoge. The project entered the crypto market in April 2021 via a Serum DEX fair launch. Nearly 90% of the total supply is now in the hands of the SolDoge community.
Kitty Coin: Kitty Coin is a Solana meme coin aimed at cat lovers. Those holding KITTY tokens will have access to Kitty Coin meetups, where members are encouraged to bring their cats.
SHIBONK: Another Doge-themed meme coin on this list is SHIBONK. The project operates a hyper-deflationary model, meaning it regularly removes tokens from its total supply. SHIBONK is also building staking tools and an NFT collection.
What are Solana Meme Coins?
When compared to Ethereum and the Binance Smart Chain, very few meme coins have launched on Solana. But the number of Solana meme coins is increasing, largely because of lower fees and more scalable transactions.
While most meme coins build their ecosystem on the Ethereum or BNB networks, Solana also offers a home to various projects.
But what is a meme coin? Put simply, meme coins are cryptocurrency projects that have little to no use case in the real world. Instead, Solana meme coins attract buyers because of hype and FOMO (Fear of Missing Out).
Take Pepe as a prime example. Although this meme coin was launched as recently as April 2023, Pepe has already generated gains of over 1,500%. This highlights that even in the midst of a bear market, meme coins can generate sizable returns.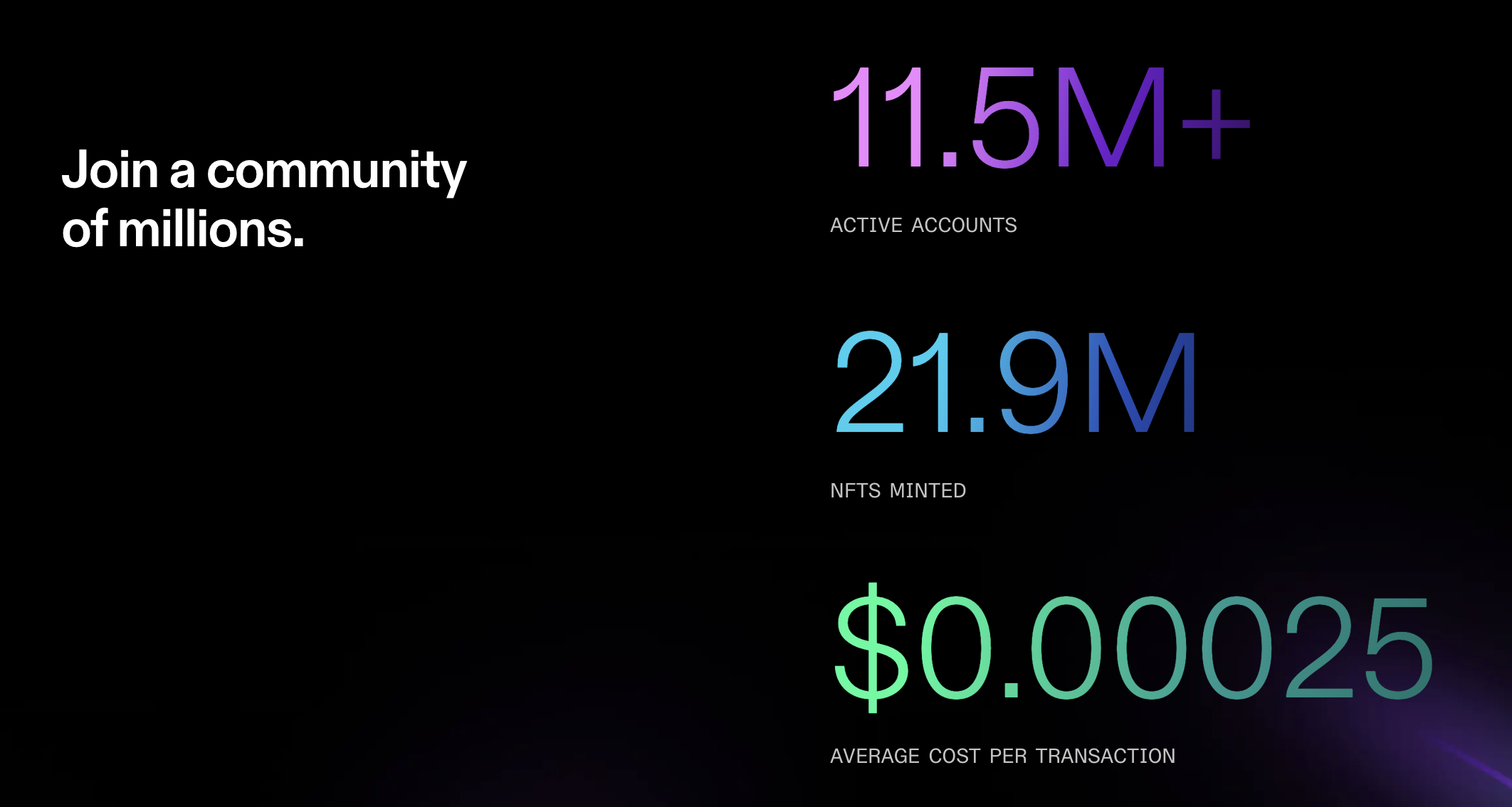 This is why many investors are now searching for the best Solana meme coins. After all, meme coins allow high-risk investors to target gains when the broader markets are stagnant. That said, Solana meme coins are fraught with risk.
In fact, investors should be prepared to lose some or even all of their investment. To counter this, consider diversifying across multiple meme coins - not only on Solana but on other blockchains too.
A Closer Look at the Top Solana Meme Coins
Knowing which meme coins have the potential to explode is like finding a needle in a haystack. The best course of action is to research extensively and ensure the portfolio is well-diversified.
Read on to find our analysis of the best Solana meme coins for 2023.
1. Wall Street Memes - Best Alternative to Solana Meme Coins
Wall Street Memes (WSM) is the overall best meme coin to buy right now. That said, we should make it clear that WSM has opted for the Ethereum blockchain. From an upside perspective, the underlying blockchain is not an important factor. After all, the best-performing meme coins are successful because of hype and FOMO, not the blockchain standard it uses.
So, what is Wall Street Memes, and why is it creating waves in the crypto community? In a nutshell, Wall Street Memes is a fun cryptocurrency project that wants to revolutionize traditional finance channels. As the name suggests, the project is 'Anti-Wall Street'. In fact, Wall Street Memes got its inspiration from the WallStreetBets Reddit group.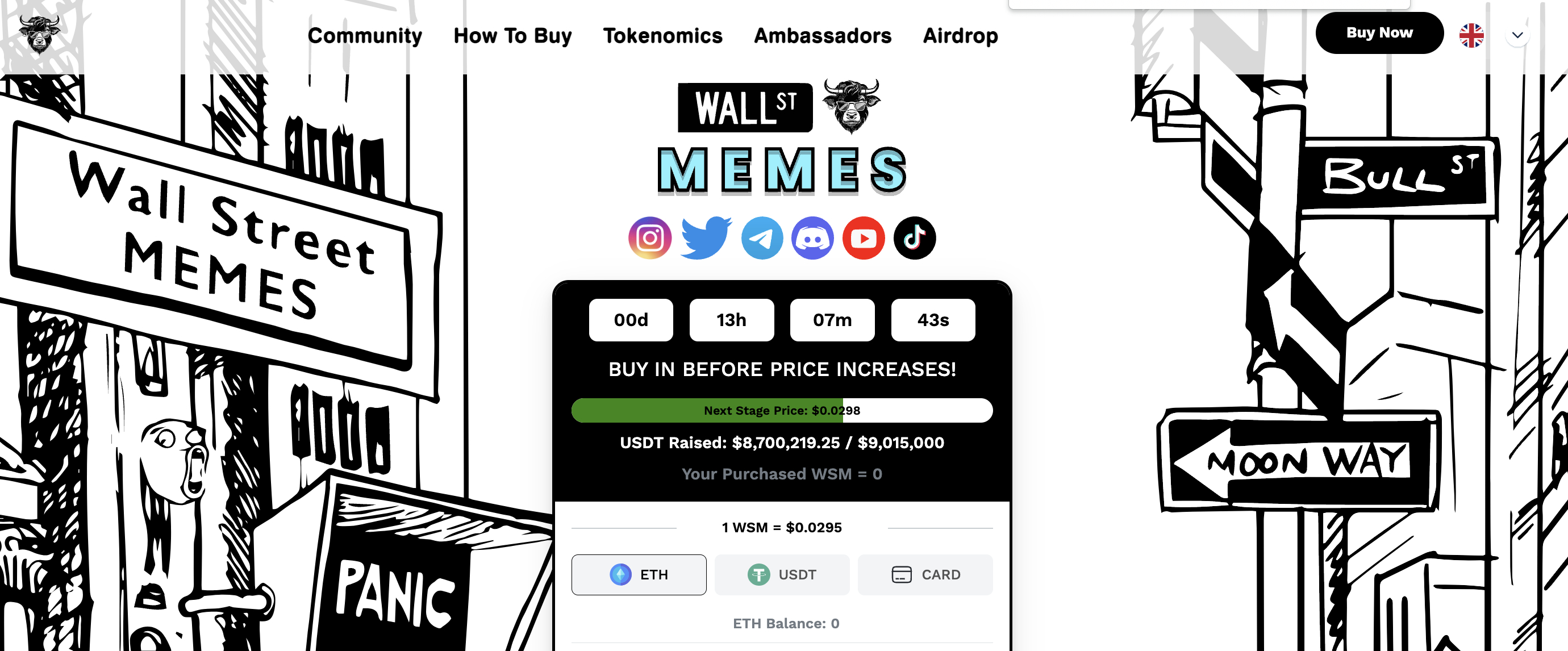 This 14-million-strong group successfully pumped stocks like AMC Entertainment, Blackberry, and GameStop. These companies were some of the most shorted companies on Wall Street, leading to huge losses for hedge funds and sizable gains for WallStreetBets members. Wall Street Memes is following the same ethos. Put simply, it wants to bring power back to the people.
One of the ways it will achieve this is by creating and sharing memes. This will enable Wall Street Memes to get its message across to the masses. That said, Wall Street Memes is already enjoying success - and it hasn't even been listed on a crypto exchange yet. Instead, Wall Street Memes is currently running its presale campaign.

This enables early investors to buy WSM tokens at a presale discount. So far, almost $9 million has been raised. One of the main reasons for this success is the Wall Street Memes community. According to the project, it already has over one million followers globally. This translates into over 40 million impressions per month.
These figures will give Wall Street Memes the best chance possible of becoming the next crypto to explode. In the meantime, investors can still join the movement by purchasing WSM tokens at presale prices. Like many of the best crypto presales, Wall Street Memes accepts ETH and USDT.
Each WSM token is currently available at $0.0295. The price will increase as each presale batch sells.
Note: The Wall Street Memes presale already accepts debit and credit cards. But do note that this requires a KYC process.
2. Bonk - One of the Best-Performing Solana Meme Coins This Year
BONK is the best Solana meme coin for recent performance. This meme coin was launched in January 2021. According to CoinMarketCap, BONK was initially priced at $0.000000109 per token.
Just a few days after hitting the market, BONK hit an all-time high of $0.000004922. This represents gains of over 4,400% in under a week. That said, early investors have cashed out their gains and BONK is now trading at $0.0000003079.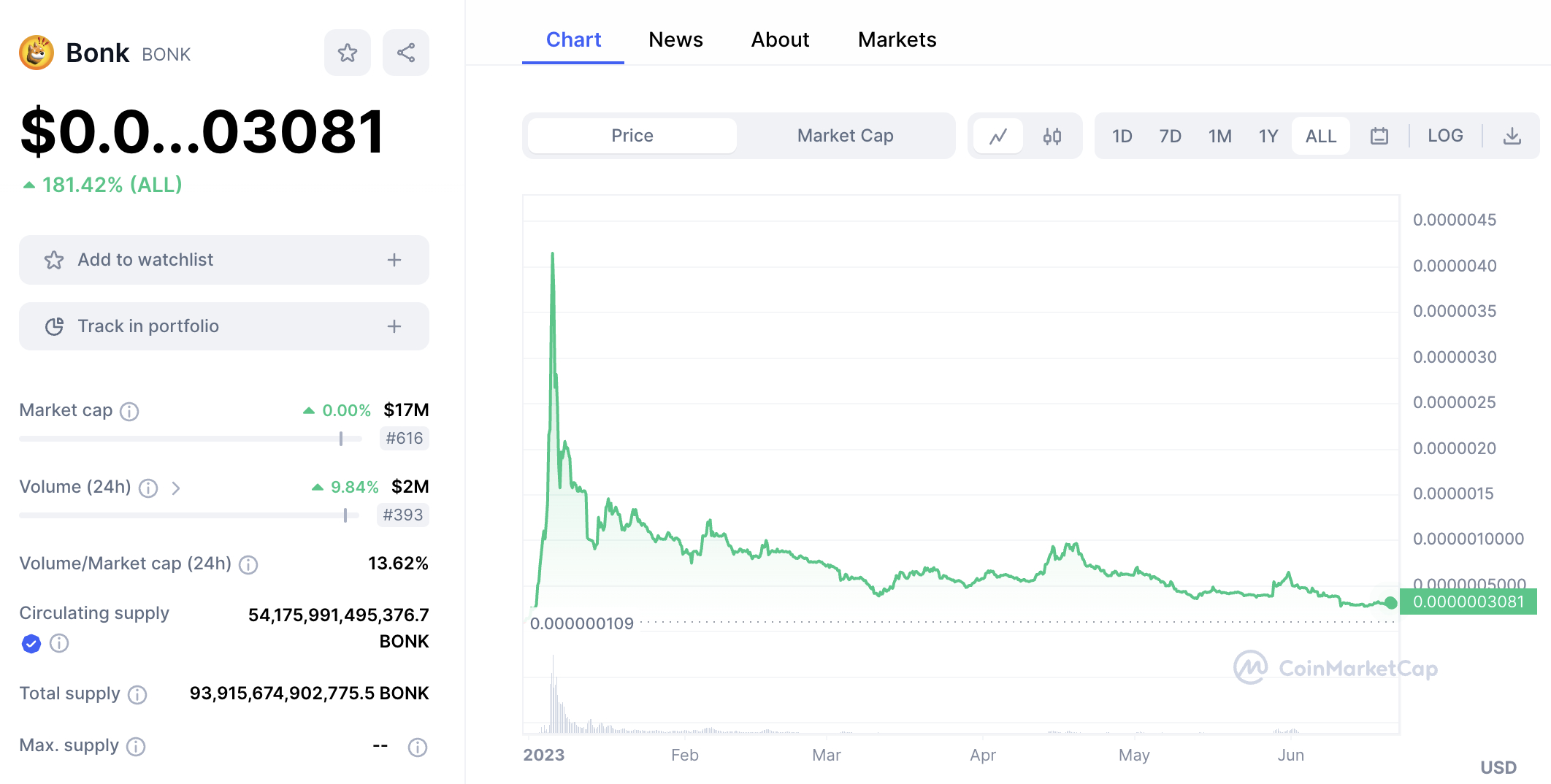 Currently, BONK has a market capitalization of just $17 million. The project is still the largest meme coin on the Solana network. This highlights that the meme coin craze is yet to truly make its way to Solana.
Nonetheless, BONK is still 181% up from its January 2023 listing price. In terms of tokenomics, 50% of the BONK supply was originally airdropped to the Solana community. This includes Solana developers, NFT collectors, DeFi users, and artists.
The remaining BONK tokens are split between marketing, liquidity, and its DAO. Those who believe BONK is the best crypto to buy can complete their purchase at Gate.io, Bybit, Huobi, and Raydium.
3. Fronk - New Solana Meme Coin Looking to Replicate the Success of Bonk and Pepe
Fronk is another new entrant to the Solana meme coin space. It was launched in early 2023 and combines characteristics from Pepe and Bonk. Regarding the former, Fronk uses the same frog-inspired logo as Pepe, which is based on a 2005 comic series, The Boy's Club.
Not only does Fronk want to replicate the success of Bonk, but it claims to have made improvements. For example, Fronk notes that the distribution of Bonk tokens was unfair and biased. As such, Fronk has distributed 45% of its total supply to the Solana community.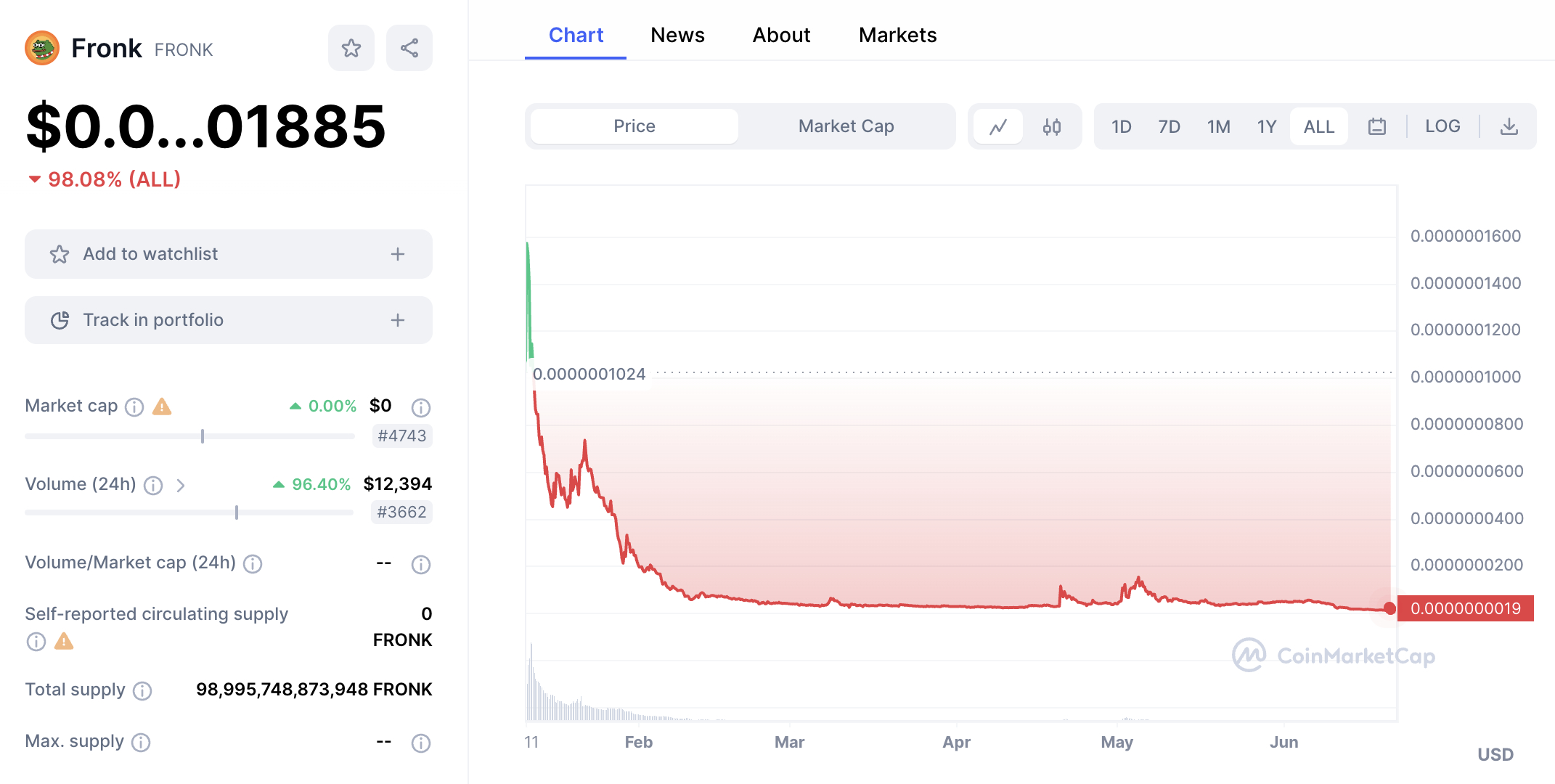 More specifically, tokens went to holders of DeGods, y00ts, Okay Bears, and Cets on Creck. We found that Fronk is also one of the best Solana meme coins for burning mechanisms. So far, more than 34% of the Fronk supply has been burned.
In terms of performance, Fronk is yet to achieve its goals of replicating Bonk and Pepe. Fronk tokens were launched at $0.0000001024, as per CoinMarketCap. Today, BONK is trading at just $0.000000001885. This represents a decline of 98%.
4. Moonlana - Community-Driven Meme Coin Airdropping 90% of its Supply
Moonlana is an established Solana meme coin that was first launched in late 2021. The project claims to be community-driven, and this is supported by its token distribution model. In a nutshell, Moonlana airdropped 90% of its total supply.
The remaining 10% is held by the Moonlana team, who claims to be a "group of enthusiasts, working on Solana for fun". Whether or not this is the case remains to be seen, considering the Moonlana team is anonymous.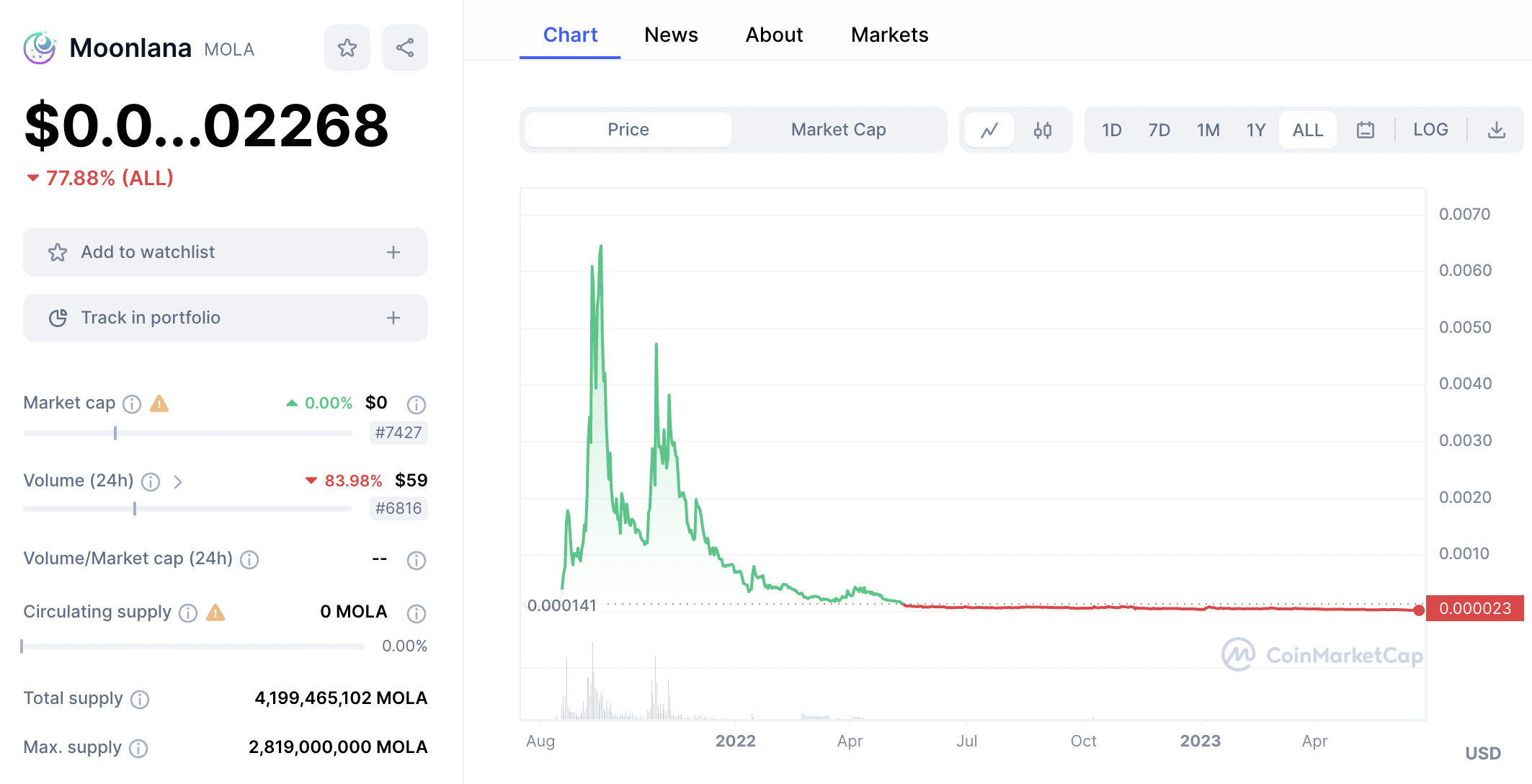 Nonetheless, according to CoinMarketCap, Moonlana was priced at $0.000141 when the meme coin first hit crypto exchanges. Towards the peak of the 2021 bear market, Moonlana hit an all-time high of $0.006. This secured growth of over 4,000% for early investors.
However, the value of Moonlana has since plummeted in line with the bear market. Currently, Moonlana is trading at just $0.00002268. This means that the meme coin has dropped by almost 80% since its 2021 peak.
5. SolDoge - One of the First Doge-Themed Meme Coins on the Solana Network
SolDoge is a Solana-based meme coin that has taken inspiration from the Doge-themed craze. Naturally, its logo resembles the Shiba Inu logo, adapted in a cartoon format. While the project refers to Dogecoin as the "grandfather of crypto memes", it aims to do things better.
At the forefront of this is Solana's efficiency, in terms of low fees, speed, and scalability. However, all meme coins on the Solana network benefit from this, so it's not really a unique selling point. That said, SolDoge sold 100% of its total supply during its launch in April 2021.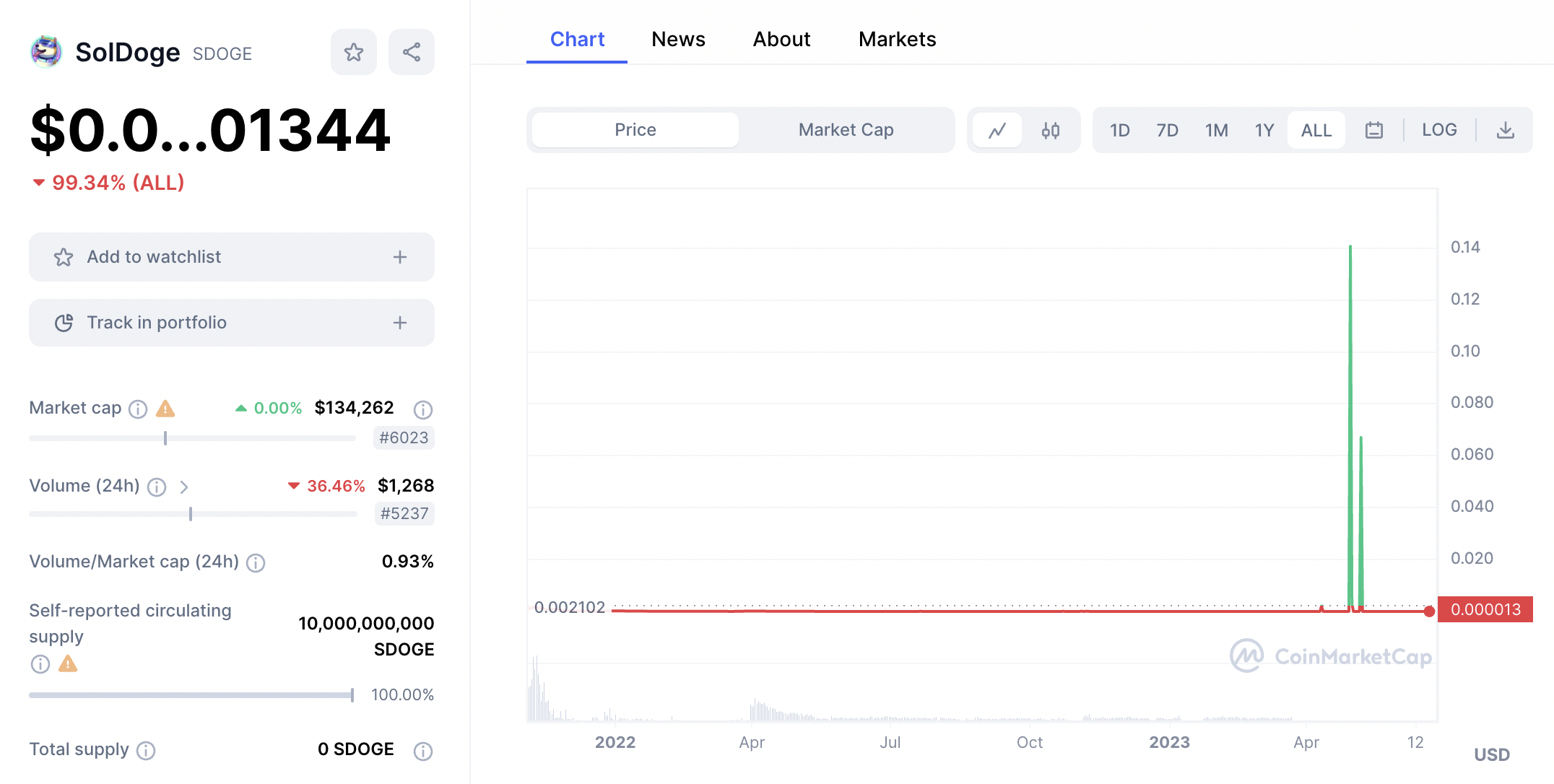 The launch went through the Serum DEX at a price of $0.000001 per token. According to CoinMarketCap, SolDoge wasn't listed on exchanges until December 2021. This was at a price of $0.002102 per token.
This means that presale investors secured gains of over 200,000%. Unfortunately, the hype didn't last long, with presale investors since cashing out. Currently, SolDoge is trading at $0.00001345. Nonetheless, this still represents growth of over 1,000% from the initial presale price.
6. Kitty Coin - Meme Coin Project Aimed at Cat Lovers
Next up on this list of the best Solana meme coins is Kitty Coin. As the name implies, Kitty Coin is aimed at the cat community. Like most meme coins, Kitty Coin has little to no use case. For instance, those holding KITTY tokens can attend meetups and have access to social media contests and airdrops. Other than that, this meme coin is driven by hype and emotions.
Nonetheless, Kitty Coin has generated sizable returns since its December 2021 launch. According to CoinGecko, Kitty Coin was originally listed at $0.00006. Just under three months later, Kitty Coin hit an all-time high of $0.0015.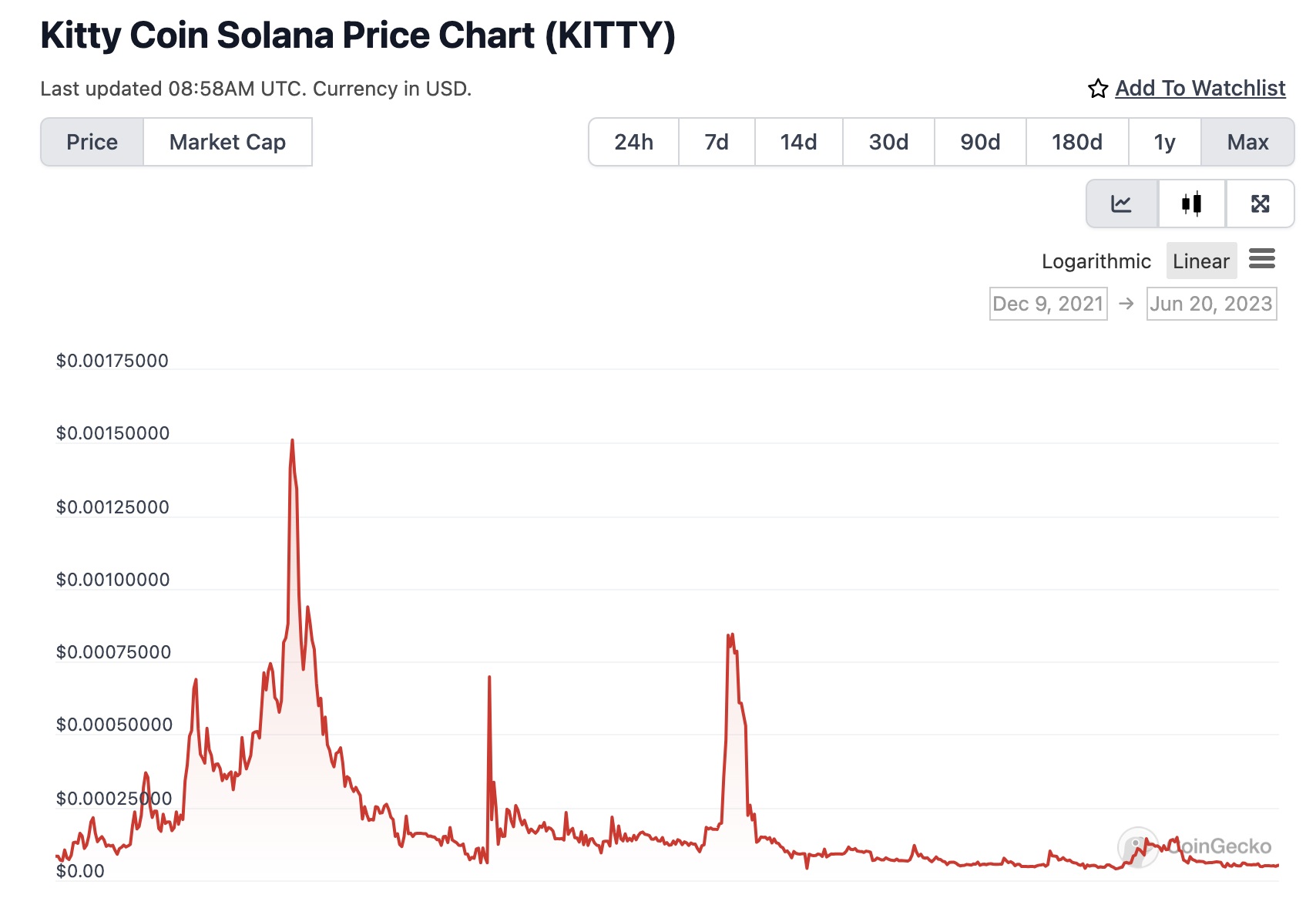 This means that early investors secured gains of up to 2,400%. While the meme coin enjoyed several upward trends after its peak, the trajectory has since turned south. Currently, Kitty Coin is trading at $0.00005153, 14% below its 2021 listing price.
7. SHIBONK - Doge-Themed Meme Coin With a Hyper-Deflationary Mechanism
SHIBONK is another Doge-themed meme coin on this list. The project was launched in early 2023 and has a 'hyper-deflationary' mechanism in place. This is because SHIBONK regularly burns its native token, SBONK. As such, the circulating supply continues to decline.
So far, just over 14% of SBONK tokens have been removed from the circulating supply. In addition, SHIBONK is building an NFT staking facility with APYs of 120%. It will also launch a blockchain bridge that connects to other networks, including Ethereum, BNB, and Polygon.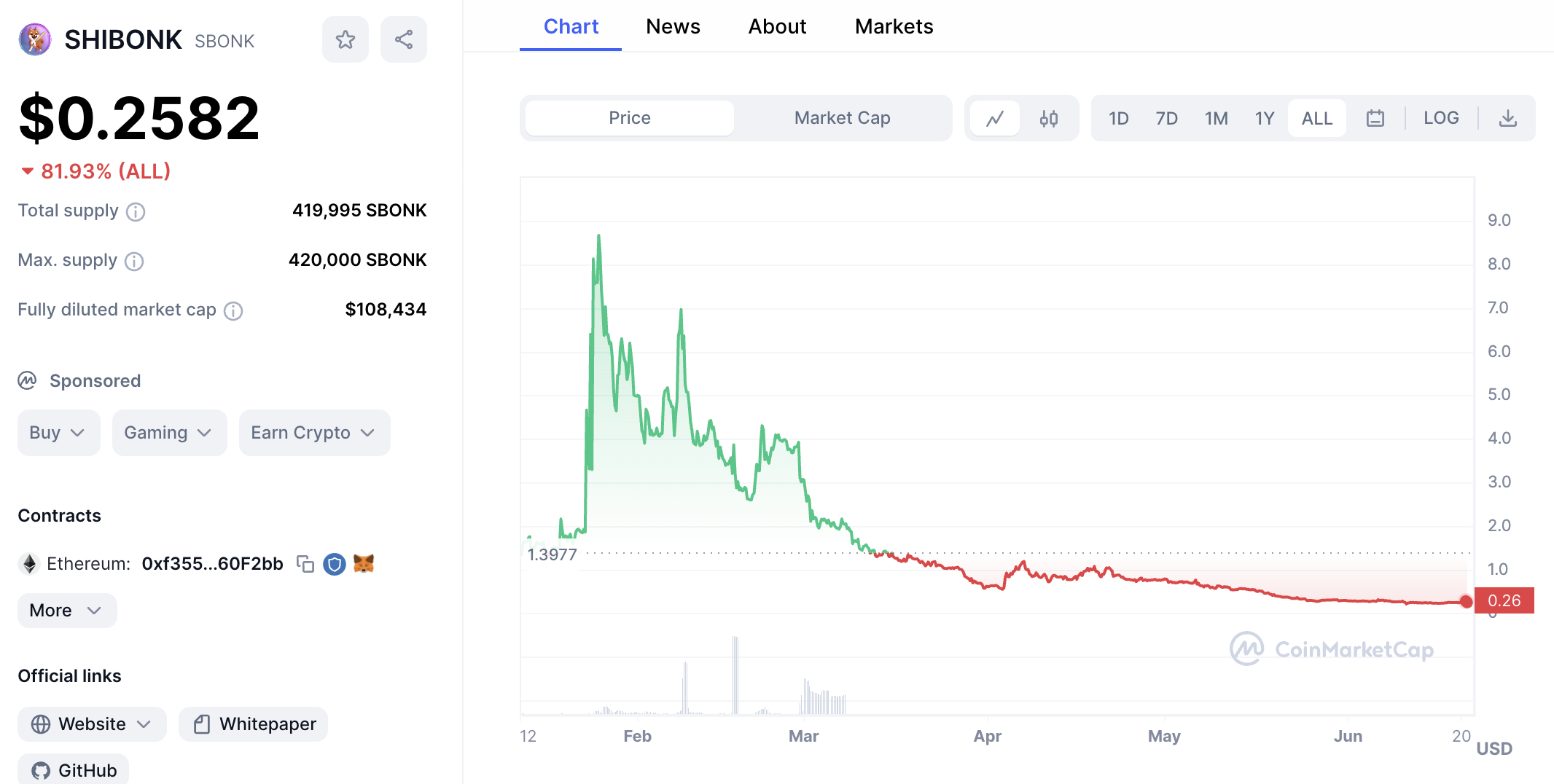 That said, none of these roadmap targets are yet to materialize. In terms of performance, CoinMarketCap states that SBONK was initially listed on exchanges at $1.39. Just three weeks later, SBONK hit all-time highs of $8.60.
This rewarded early investors with gains of over 500%. That said, SHIBONK is now trading at just $0.2582. This represents a decline of over 95%.
How we Picked the Best Solana Meme Coins
When building a portfolio of meme coins, investors should look beyond the underlying blockchain. Instead, the focus should be on the legitimacy of the project, its tokenomics, and the size of its community.
Still not sure which Solana meme coins to buy for maximum upside?
Below, we explain how we ranked the top SOL meme coins for this comparison guide.
Legitimacy
The reality is that many meme coins, whether they are built on the Solana blockchain or not, are scams. This is due to the anonymous nature of cryptocurrencies and presale campaigns.
That said, not all meme coins are illegitimate. On the contrary, some of the best-performing cryptocurrencies of all time are meme coins. This includes Dogecoin, Solana, and FLOKI.
With this in mind, the first step is to assess the credibility of the meme coin. Consider reading its whitepaper to assess who is behind the meme coin project and whether they have any prior successes in this space.
If the team is anonymous, this isn't necessarily a red flag. In fact, even Bitcoin was created by an anonymous developer. Ultimately, the objective is to separate legitimate meme coin projects from the bad. This will require in-depth research and due diligence.
Tokenomics
Next, spend some time researching the tokenomics of the meme coin. This refers to the total number of tokens created and how they are distributed.
The best Solana meme coins will distribute the majority of their tokens when launching. This prevents the team from holding a large number of tokens, which they can dump at any time.
Moreover, some meme coin investors like projects that have a burning mechanism in place. This is similar to a share buyback scheme, as tokens are removed from the circulating supply.
Community
One of the most effective ways to evaluate a meme coin is by the size of its community. After all, the larger the community, the more people there are to plug the project.
A prime example of this is Dogecoin, which has one of the largest numbers of token holders in the crypto space.

Wall Street Memes is another example of a project that has a huge community. The meme coin claims that it has over one million followers, translating to more than 40 million monthly impressions.
Market Capitalization
Meme coin investors generally expect huge returns in a short period of time. This objective is made simpler when the meme coin has a small market capitalization.
After all, with less liquidity in the market, increased buying pressure can result in rapid growth. Therefore, investors should evaluate the valuation of a meme coin before making a purchase.
Why Buy Solana Meme Coins vs Other Meme Coins? Benefits of Solana Blockchain
Some of the perks available to Solana-based meme coins are low fees, fast transactions, and the ability to scale thousands of smart contract movements per second. With this in mind, we could see the meme coin space shift from Ethereum and Binance Smart Chain over to Solana.
In this section, we explore why meme coin investors are turning to the Solana blockchain.
Low Fees
Meme coins based on the Solana blockchain benefit from super-low fees. According to the real estate trading platform Parcl, Solana transaction fees average 0.0001 SOL.
Based on current SOL/USD prices, this amounts to just $0.001 per transaction. As such, meme coin traders can buy and sell tokens without having their profits eaten away by fees.
Now compare this to meme coins on the Ethereum blockchain. Over the prior year, Ethereum transaction fees averaged $1-4.
Scalability
The Solana blockchain is able to handle approximately 65,000 transactions per second. This makes the network ideal for meme coins, as transactions are processed quickly and at low fees. This is because there is no risk of the blockchain becoming overloaded.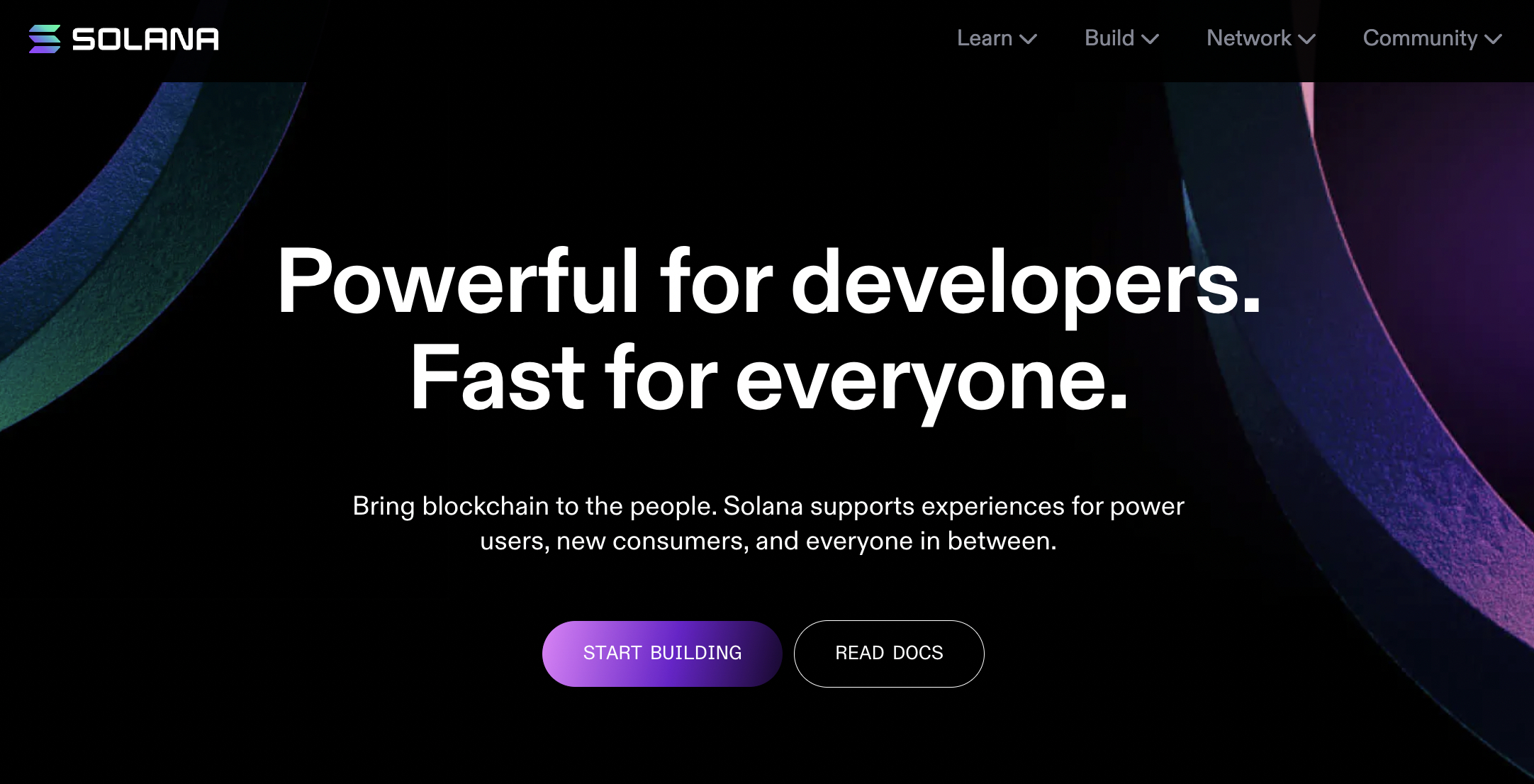 In contrast, Ethereum continues to run at full capacity. Ethereum is still only able to handle 15-16 transactions per second. This is one of the root causes of high Ethereum fees.
Smart Contracts
Not only is Solana one of the most efficient blockchains, but it also supports smart contracts. This is crucial for some meme coin projects, as it enables them to develop some actual use cases.
Smart contracts also allow meme coins projects to raise funds from presale investors. For instance, once the presale has concluded, the smart contract will distribute the tokens to investors automatically.
Conclusion
In summary, Bonk is the most recognized Solana meme coin - having generated gains of over 4,400% in just under a week of launching.
Those that missed out on Bonk might consider Wall Street Memes. Just like Bonk, Wall Street Memes is generating significant hype and FOMO in the meme coin space.
Not only does the project have over 1 million followers, but it has raised over $9 million from presale investors.
References
https://coinmarketcap.com/view/solana-ecosystem/
https://coinmarketcap.com/currencies/bonk1/
https://coinmarketcap.com/currencies/pepe/
https://www.reddit.com/r/wallstreetbets/
https://coinmarketcap.com/currencies/fronk/
https://coinmarketcap.com/currencies/moonlana/
https://coinmarketcap.com/currencies/soldoge/#Chart
https://www.coingecko.com/en/coins/kitty-coin-solana
https://www.cnbc.com/2017/10/27/bitcoins-origin-story-remains-shrouded-in-mystery-heres-why-it-matters.html
https://bitcoin.org/bitcoin.pdf
https://coinmarketcap.com/currencies/solana/
https://ycharts.com/indicators/ethereum_average_transaction_fee
FAQs
What is a Solana meme coin?
Meme coins - some of which operate on Solana, are cryptocurrencies that are focused on hype, FOMO, and speculation rather than real-world use cases.
What coins are based on Solana?
More than 200 coins are built on the Solana network, including Audious, Bonk, Arweave, Coin98, and Raydium.
What are the best meme coins on Solana?
Some of the best meme coins on Solana include Bonk, Fronk, Moonlana, and SolDoge.
What is the Solana meme coin called?
Although not the original Solana meme coin, one of the most recognized is Bonk.

---