14 Best Meme Coins to Invest in 2023
Disclosure: Crypto is a high-risk asset class. This article is provided for informational purposes and does not constitute investment advice. By using this website, you agree to our terms and conditions. We may utilise affiliate links within our content, and receive commission.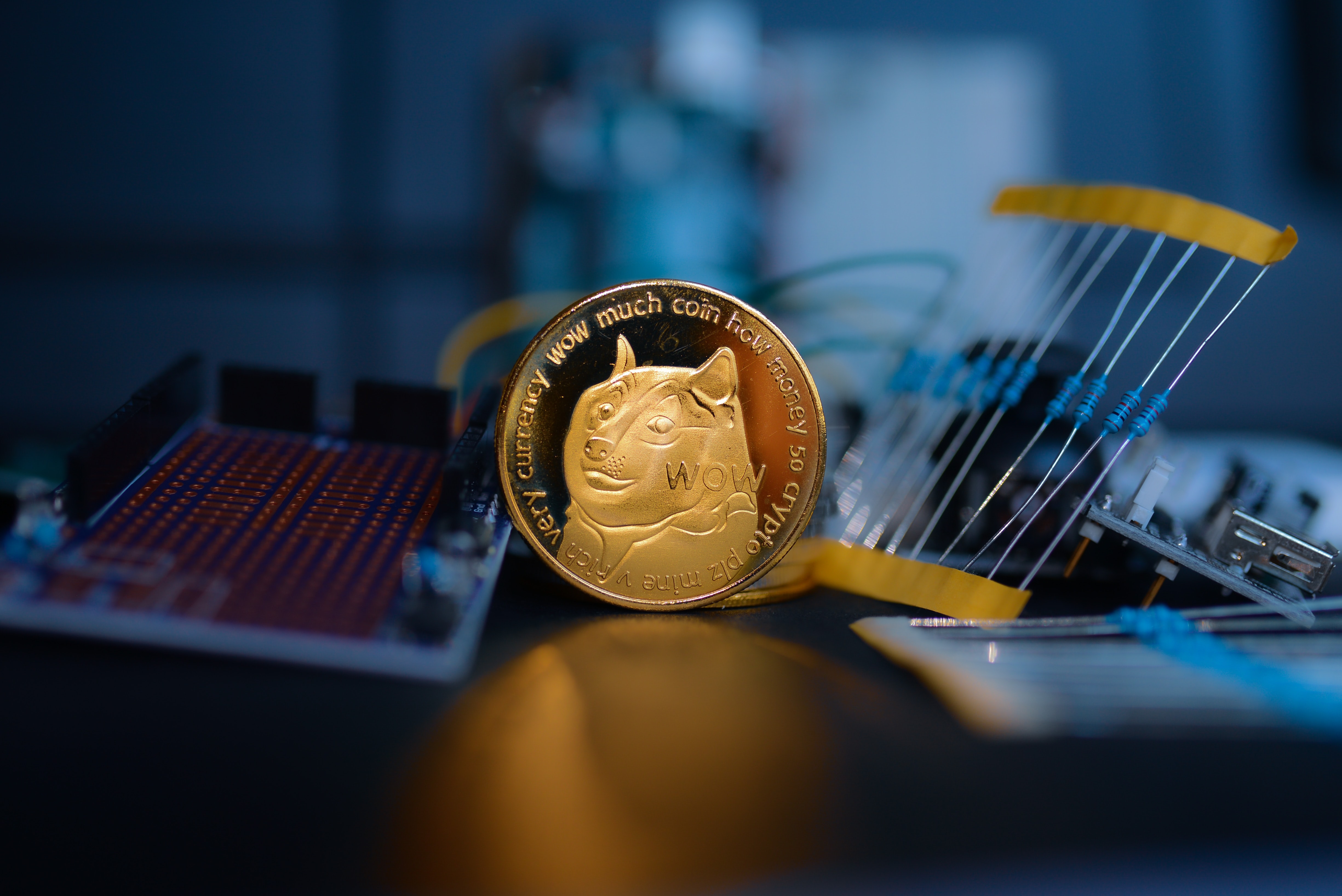 Disclaimer: The Industry Talk section features insights by crypto industry players and is not a part of the editorial content of Cryptonews.com.
Meme coins are one of the most prominent trends to emerge in the crypto space. In simple terms, these digital tokens are cryptocurrencies that are built off of internet memes or ideas – often as a simple joke. 
Nevertheless, some meme coins have blown up in value, gaining multi-billion dollar market caps. In this guide, we will explore the best meme coins to buy in 2023. 
Best Meme Coins to Invest in 2023
Those looking for the next big crypto investment opportunity might be interested in the best meme coins for 2023. 
Below, we list the top meme coins that have the potential to grow in value:
Meme Kombat (MK) – Innovative meme platform offering popular meme coins as characters on its play-to-earn battle arena, with players able to wager on the outcome. The multi-use $MK token can also be leveraged to earn huge staking rewards of 400% and has a low supply. More than $2 million has now been raised in its presale. 
Wall Street Memes (WSM) – High-potential meme coin that has huge trading volume and a low price, as well as huge name recognition in the space. Has recently launched the WSM Casino for added utility.
Sponge (SPONGE) – Soaring meme coin, $SPONGE is up by more than 300% in the last month  – has also just launched a staking pool allowing holders to earn up to 210% staking APY.
Chimpzee (CHMPZ) – Eco-friendly meme coin that will allow holders to earn a passive income and help conserve wildlife – more than $2.3 million raised in the presale so far.
PawFury (PAW) – Multi meme P2E ecosystem ties in player activity with real-life environmental concerns. Provides monthly reporting on carbon reduction and a tiny entry price of $0.000125, which will 20x to $0.00250 upon exchange listing. 
Sensei Inu (SINU) – MemeFi project with 20% token burn based on trivia game performance to generate proof of value rewards. A new kind of meme project that aims to remedy economic differences through a performance-based approach. Over $550k raised in the presale.
Doge Uprising (DUP) – Inventive meme presale that combines digital art, memes, celebrities, and storytelling. This is a new manga concept with a $DUP token that is set to rise 100% in its next presale stage. 
Dogecoin (DOGE) – The original meme coin, still with Elon Musk's support.
Shiba Inu (SHIB) – 'Doge Killer' transforming building out a utility platform for crypto trading.
Vita Inu (VINU) – All-encompassing shiba inu meme coin with zero fees and smart contracts.
MonaCoin (MONA) – Meme coin designed to make peer-to-peer transactions faster and easier.
Dogelon Mars (ELON) – Elon Musk-themed meme coin with comic book NFTs.
Baby Doge Coin (BabyDoge) – Doge meme coin encouraging long-term holding with a tax on every transaction.
Samoyedcoin (SAMO) – Experimental Web3 coin bringing memes to the Solana blockchain.
In the following sections, we will examine each of these meme coins, covering all essential information. This will ensure that an informed investment decision is made. 
Best Meme Coins to Buy in 2023 – Full Analysis
There are hundreds of meme coins competing in the crypto investment space. As such, it is no easy feat for investors to select the best meme coins to buy for their portfolio.
Regardless, it is important that investors educate themselves about crypto meme projects before making an investment. Below, we have included our analysis of promising and popular meme coins that could perform well in 2023. 
1. Meme Kombat – Overall Best Meme Coin to Buy Now
The next best meme cryptocurrency to watch is Meme Kombat ($MK). Unlike other meme coins, Meme Kombat is building an entire ecosystem full of earning opportunities through staking and wagering on a play-to-earn game.
The project has already raised more than $2.25 million in just seven weeks since it launched its presale. One of the main components of Meme Kombat is a battle arena, where avatars of popular meme coins will battle each other.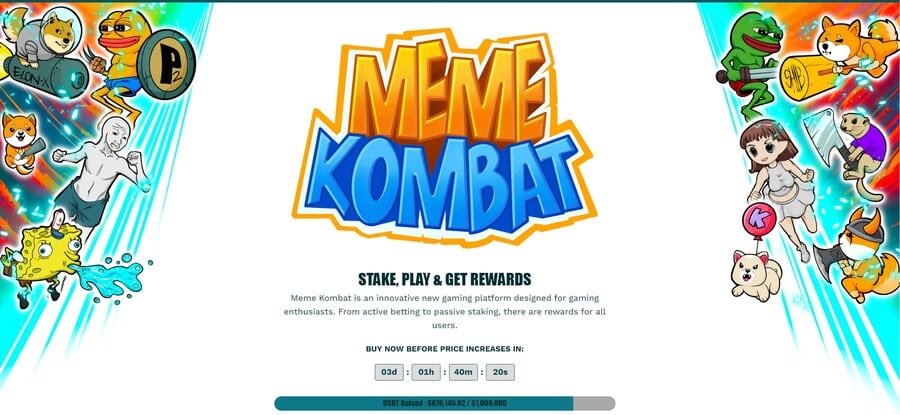 With the $MK token, players can stake and wager on multiple events inside the battle arena with payer vs Player and Player vs Game battles. 
As well as the overall result of a battle they can also bet on specific outcomes, first moves, and various battle events. For a meme token, $MK has a very low supply of 120 million. 
Half of this token supply has been allocated for the ongoing presale. Currently, investors can purchase $MK for only $0.214 per token. As soon as $MK tokens are purchased during the presale, they will automatically be staked on a staking contract. 
After the presale ends, users must lock up their tokens on the staking contract for at least 14 days to receive the APYs – presale stakers can earn a huge 400% APY. 
Notably, the entire token supply will be allocated to the community. While half (60 million tokens) is available during the presale, 30% will be distributed as staking and battle rewards and the remaining 20% will be split between DEX allocation and community rewards. 
According to the Meme Kombat whitepaper, the battle arena play-to-earn game will be released in seasonal modes, while the project also has a doxxed and public-facing team – another rarity for meme projects.
The first season is expected to drop by the end of 2023 and will feature various battle modes and leaderboards. Join the Meme Kombat Telegram channel to find out more about this cryptocurrency. 
2. Wall Street Memes – Trending Meme Coin with New Crypto Casino
Wall Street Memes ($WSM) has quickly become one of the hottest meme coins in the whole space having earlier enjoyed one of the best crypto presales ever – raising more than $25 million.
It has been a fixture in the top 5-10 meme coins by trading volume since it was listed and recently launched a new crypto casino, WSM Casino, for huge extra utility. With the price remaining relatively low, it represents a good opportunity to purchase at a discount ahead of an expected crypto bull run in 2024.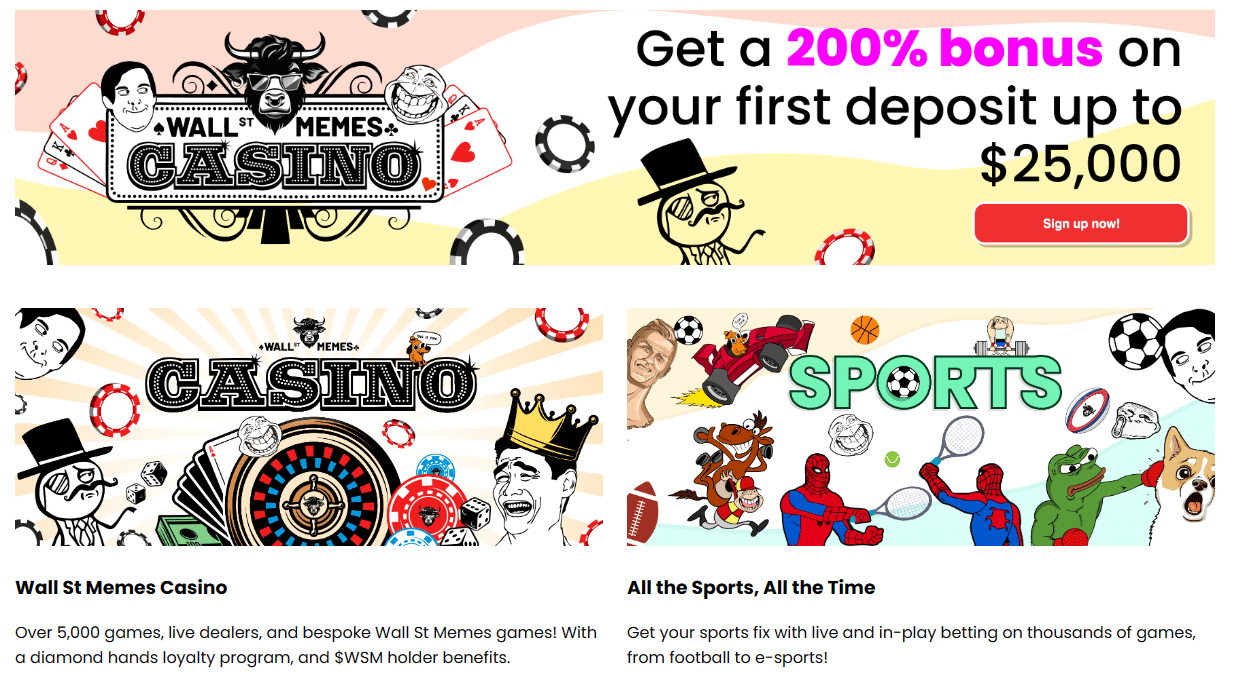 Players at the casino can select from thousands of slots, classic casino games, and sports betting, with new players earning a 200% first deposit welcome bonus, plus 200 free spins should they deposit and play with $WSM.
Before launching its token Wall Street Memes was an influential meme community that has more than 1 million users across different social media platforms. This is the same community responsible for releasing the Wall St Bulls NFT collection – which sold out 10,000 NFT pieces in just half an hour. 
This summer, the platform decided to release its own native cryptocurrency – the $WSM token – which has become the biggest meme coin presale ever. More than $25 million was raised before its listing on OKX. 
With the platform's Twitter page dating back to 2019, Wall Street Memes has expanded its following and even received responses from Elon Musk. It also offers huge staking rewards as an ERC-20 token, with more than 500 million tokens locked into the staking pool and earning 40% APY.
The popularity of this platform gives it a competitive edge over other popular meme tokens, such as $PEPE and $DOGE, which had to work to gather community members.
3. Sponge (SPONGE) – High Staking Yields with Resurgent Meme Coin
The next meme cryptocurrency on our list is Sponge ($SPONGE). This cryptocurrency is named after the popular show Spongebob Square Pants and after releasing directly on the Uniswap exchange in May 2023, $SPONGE reached an all-time high of $0.0024 – 3,200% above its initial price.
However, the token plunged below the $0.0002 mark in the following months but after sideways momentum, and with market conditions vastly improved, Sponge is once again soaring in price.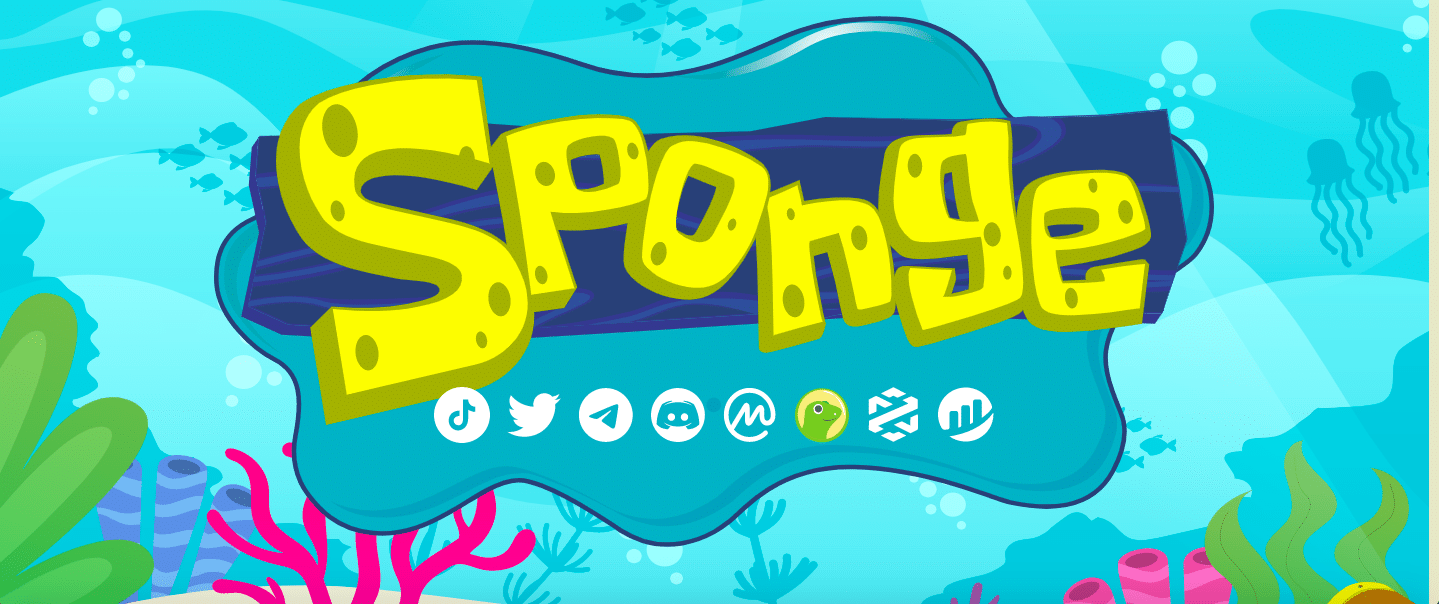 One of the main reasons for this is the new staking mechanism, which is currently offering token holders an APY (Annual Percentage Yields) of 210%. Around 400 million tokens have already been locked inside the pool, with a value of over $100,000.
The project also just revealed the winners of its $100,000 airdrop, with 747 addresses earning a share of the prize and the top winner earning over $6,000. More airdrops will take place in the coming months.

More than 325 million tokens have already been staked on the ecosystem. However, the returns will decrease as more tokens are locked. Following the staking platform's launch and improved market conditions $SPONGE has started exploding in price. According to DEXTools, $SPONGE is now trading at the $0.00037 levels. 
In the last week alone, the token is up by more than 230% and over 300% over a month. With a market cap of more than $8.6 million, this meme coin still has a lot of growth potential. Despite the recent price increase, Sponge is still trading more than 60% below its all-time highs. 
4. Chimpzee – Eco-Friendly Meme Coin Where Users Help Save Wildlife and the Natural World
Chimpzee is an eco-friendly meme coin that will allow holders of CMPZ tokens to generate a passive income while also helping to save wildlife and the environment.
The project will do that with an ecosystem of Web3 platforms and features, with a percentage of profits from each being donated to charities and organizations that save animals and fight climate change.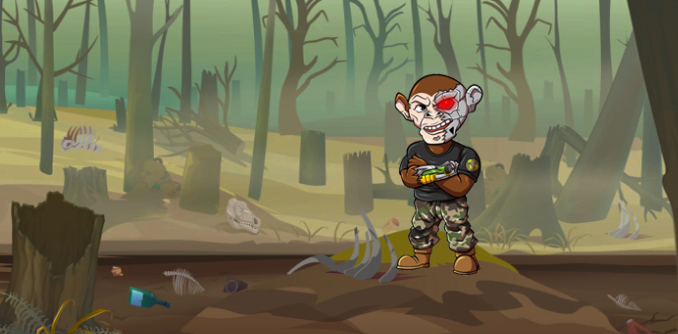 More than $2.3 million has been raised in the presale so far, with the CHMPZ presale already in stage 6. Its products include the Chimpzee store, an NFT marketplace and the Zero Tolerance play-to-earn game.
The Chimpzee store allows users to purchase a wide variety of gear with a percentage of profits donated, incentivizing customers to make purchases. CHMPZ coins are needed to purchase items, which can also unlock discounts and further rewards.
Zero Tolerance players will need a Chimpzee NFT to earn increased passive income, while the game also rewards players when they earn certain milestones.
The NFT marketplace not only shares profits with charitable organizations but a portion of trading fees are shared with everyone on the platform. Up to 20% APY can be earned when staking Chimpzee NFTs – CHMPZ tokens are currently on sale for $0.00095. 
5. PawFury – Multi-Meme Ecosystem With Environmental Rewards For Player Activity
PawFury ($PAW) is a new P2E initiative that ties in player achievements with real-life environmental concerns. In-game actions are tied in with real-world initiatives.
For instance, cleaning up an oil spill in a virtual environment might allow for a portion of the earned rewards to be allocated toward a charity concerned with oil pollution. Players have many quests to choose from. 

Every single transaction made within the PawFury metaverse contributes towards a carbon emission offset. The project releases monthly reports concerning these offsets and has also undergone an audit report from Cyberscope, with clear results. The team works closely with expert environmental analysts to calculate the best way to offset emissions and to track the in-game activity accurately. 
There are five memes to choose from in this new gaming ecosystem. These are Max, Yuki, Boris, Maya, and Spike. Each of the memes has specific strengths and weaknesses. Spike, for example, is an eco-warrior who digs up pollution, while Yuki is an engineer who uses her knowledge to reduce CO2 emissions. The meme heroes have three main attributes – power, love, and speed. 
Players can earn carbon credits for their activity, and these can be traded for NFTs or for real-world rewards, such as a green cause. The ecosystem is partnering with some major tech names for advanced AI carbon tracking. Tools such as Google Cloud, IBM Watson, and Microsoft Azure are utilized for the simulation of climate events and their results.
There is a total of 2 billion tokens with 70% (1.4 billion) available in the presale at a price of $0.000125.
The presale is set to finish in about 3 months, with price increases every five days or so. Upon exchange listing, the price will balloon to $0.00250, a 20x increase.
Connect with the Telegram account for key updates, and read the PawFury Whitepaper for further details.
6. Sensei Inu – Trivia Based MemeFi Project Allows Players To Learn And Earn With "Proof of Value" Consensus Mechanism
Sensei Inu ($SINU) is a brand new MemeFi presale that allocates rewards to players based on their knowledge and skill.  This marks a departure from the staking mechanism where people received tokens depending on their total staking allocation.
This typical PoS mechanism heavily favors wealthy individuals and institutions who can purchase large amounts and reap the majority of the rewards. The Sensei Inu Whitepaper highlights that it wants to remedy this economic disparity with a new model, known as "Proof of Value".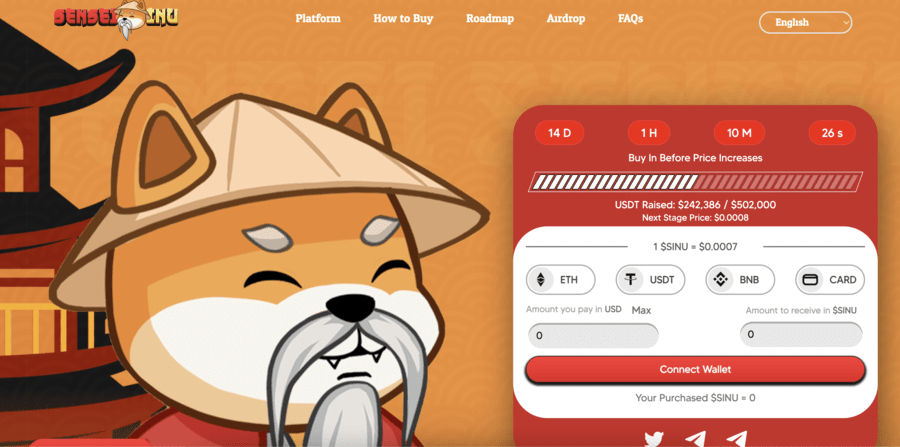 Players compete in trivia games with Web3 questions, and the top 10 participants get the most rewards. These are timed questions that get progressively more difficult. Players have a user-friendly dashboard to oversee their history and to set goals, targets, and areas of improvement. It also includes visual graphs and detailed analytics.
The trivia games are to be available on both desktop and mobile to maximize accessibility. There are 5 billion tokens in total with 50% available in the presale, at a cost of $0.0008 (this will rise to $0.0009 in the next presale stage). Of the remaining tokens, 20% are allocated to liquidity, 20% to burning, and 10% to the team and for CEX listing.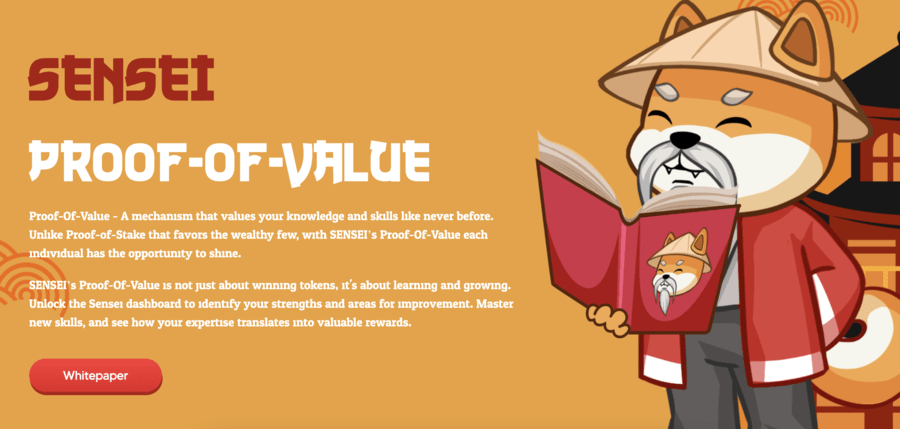 There is a 0% buy tax and a 3% sell tax. A governance DAO is in place for those who wish to vote on important decisions within the wider ecosystem. 
A referral program can also be availed of for additional rewards and there will be a 50 million $SINU airdrop to take place in the near future. Wallet Connect or MetaMask can be used to connect to the presale listing page.
More than $550k has now been raised. Additional information can be found within the Telegram and Twitter social media accounts. 
7. Doge Uprising – Creative Meme Token Based On Musk-Zuckerberg Warfare, Token Available At A 50% Discount
Doge Uprising ($DUP) is a meme coin that is bringing something new to the overall industry. It is based around a particular story. In 2045, in a dystopian era, the planet is governed by Mark Zuckerberg in a surveillance-based world.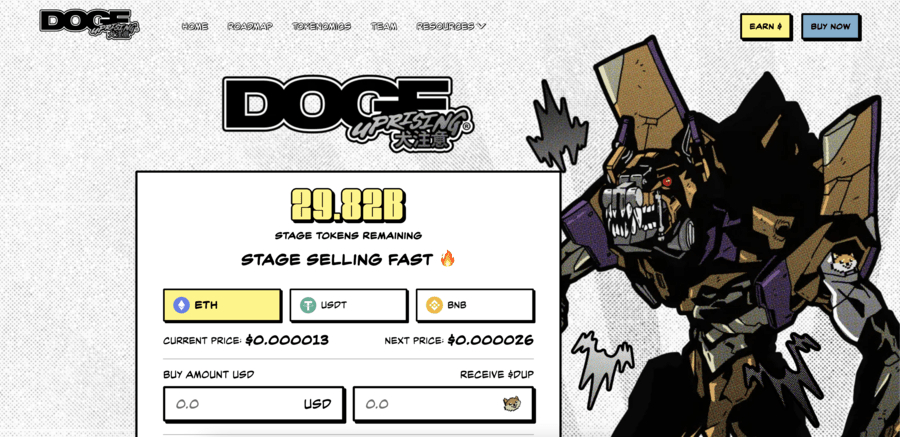 The only thing stopping Zuckerberg from taking complete control is a group of Doge Mechas, robotized machines that are designed to fight the forces of darkness and tyranny. Ultimately, led by Elon Musk, these forces win out to free the population. But soldiers are needed to man the $DUP-powered machines, or the battle will be lost. 
These soldiers are investors, who purchase the NFTs and pilot the machines. So investors can benefit from price appreciation, can purchase the NFTs, or can stake the ERC20 token for rewards, three means of ROI. This meme presale has also undertaken a rigorous smart contract audit from SolidProof, a reliable independent provider.
The Doge Mecha NFT, however, is more than a simple investment. It is a symbol of defiance to global surveillance. The NFT will be minted over Ethereum in the near future. This is a community led movement, and will be hosting multiple AMAs, as well as networking with world-renowned influencers in the Web3 space.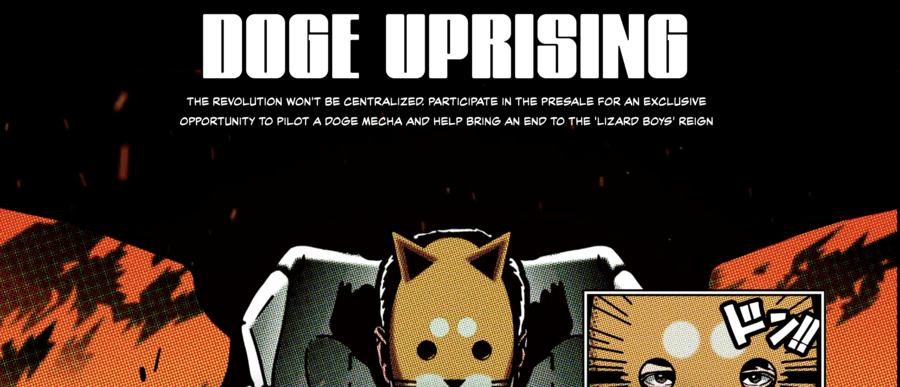 The price in the current presale stage is $0.000013, doubling to $0.000026 in the next stage. So early investment is clearly a better choice from the perspective of price appreciation. 
The token could also rise further when listed on Uniswap, after presale completion. There is a total token supply of 450 billion, of which 270 billion is allocated to the presale.
Users can learn more about this meme coin by looking through the Doge Uprising Whitepaper, and by joining the Telegram channel.
8. Dogecoin – The Original Meme Coin
Dogecoin holds the title of being the 'original' meme coin. Created in 2013, Dogecoin was branded around 'Doge,' a Japanese dog breed named Shiba Inu. According to its founders, the coin was created as a joke, making fun of the frenzy surrounding cryptocurrencies at the time. 
Ironically, Dogecoin went on to become one of the most successful cryptocurrencies ever created. The token did not see any notable price action in its first few years, but by the end of 2020, Dogecoin quickly rose in popularity, fueled by the Reddit army.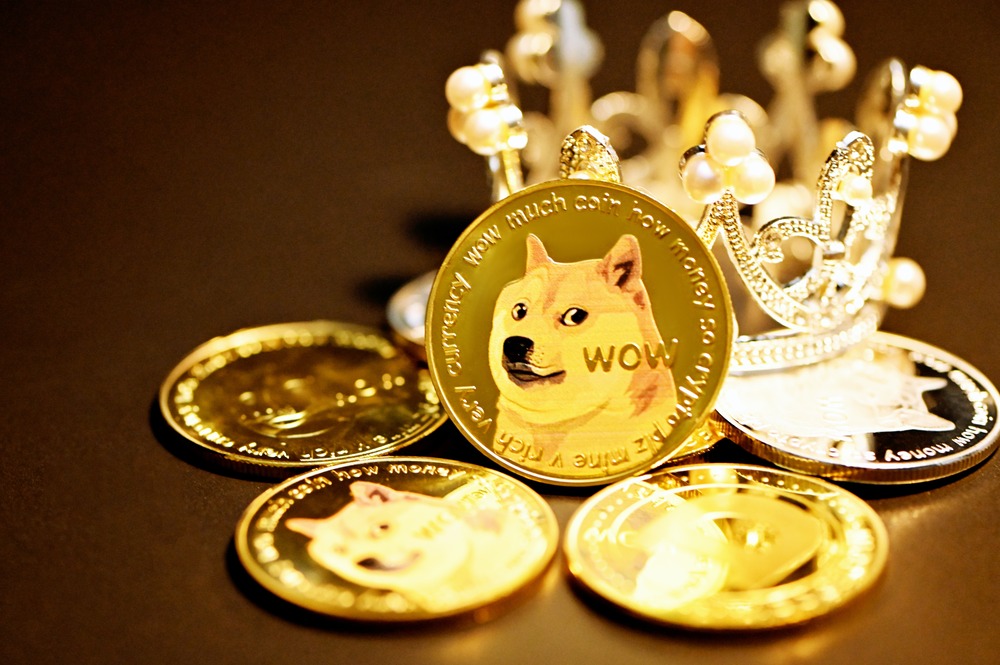 In 2021, along with the rest of the crypto market, the price of Dogecoin rocketed. The digital token hit an all-time high of $0.73 on May 08, 2021. Since then the token has endured huge losses and is currently trading for $0.07 – but is Dogecoin still a good investment in 2023?
Many investors also ask if it is too late to buy Dogecoin in 2023? Nonetheless, this cryptocurrency continues to be recognized as the most famous meme coin. In addition to this, the coin has also inspired thousands of other meme tokens – including those on this list.
Furthermore, Dogecoin is also widely accepted by online merchants across the world. At the time of writing, Dogecoin is trading at around $0.06 per token. The token can be purchased from popular online brokers and exchanges and we have a full guide on how to buy DOGE.
9. Shiba Inu – Meme Coin With Smart Contract Functionality
Following the success of Dogecoin, many other meme coins have performed well in the crypto market. At the forefront of this is Shiba Inu – a digital token that managed to succeed in mimicking the popularity of Dogecoin. 
This digital token was created in 2020 and has the Japanese hunting dog Shiba Inu as its Mascot. The digital token is built on top of the Ethereum network, and as such, it can operate alongside smart contracts.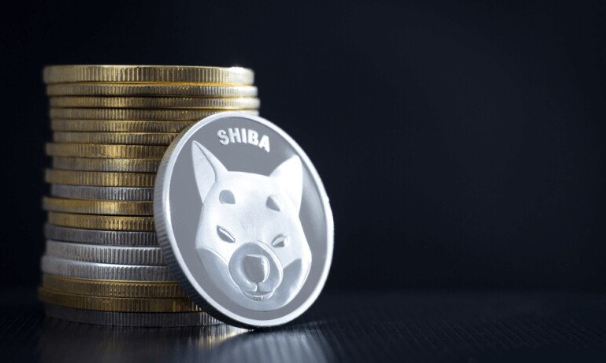 Is Shiba Inu a good investment? This is one of the reasons why many view Shiba Inu as a more attractive investment when compared to Dogecoin, its biggest competitor. On top of this, Shiba Inu is also compatible with a robust network of DeFi services and is available on numerous exchanges and social trading platforms, like eToro.
These attributes allow the token to be easily integrated into other crypto ecosystems. When Shiba Inu was released, the digital token was priced at $0.00000000051. The token's value spiked in October 2021, reaching an all-time high of $0.00008 – translating to an increase of over 15,000,000%. So is it too late to buy Shiba Inu? 
That being said, Shiba Inu is still trading for a tiny fraction of a cent. At the time of writing, a single Shiba Inu token is priced at around $0.000008. In other words, with just $100, investors can get over 80 million Shiba Inu tokens with the best crypto apps like eToro.
Cryptoassets are highly volatile and unregulated. No consumer protection. Tax on profits may apply. 
10. Vita Inu – Dog Coin with Zero Fees and Smart Contracts
The team behind Vita Inu is also focusing on adding utilities to its native token. The Vite DAG network claims to be the world's first fast and feeless dog-themed platform. Created in 2021, the VINU ecosystem comes with high TPS as well as smart contract functionality. 
The team is also working to build a full-scale crypto world within the VINU ecosystem. This will comprise mini-games, crypto payment integration, and custom NFTs. In other words, VINU has plenty of room to grow.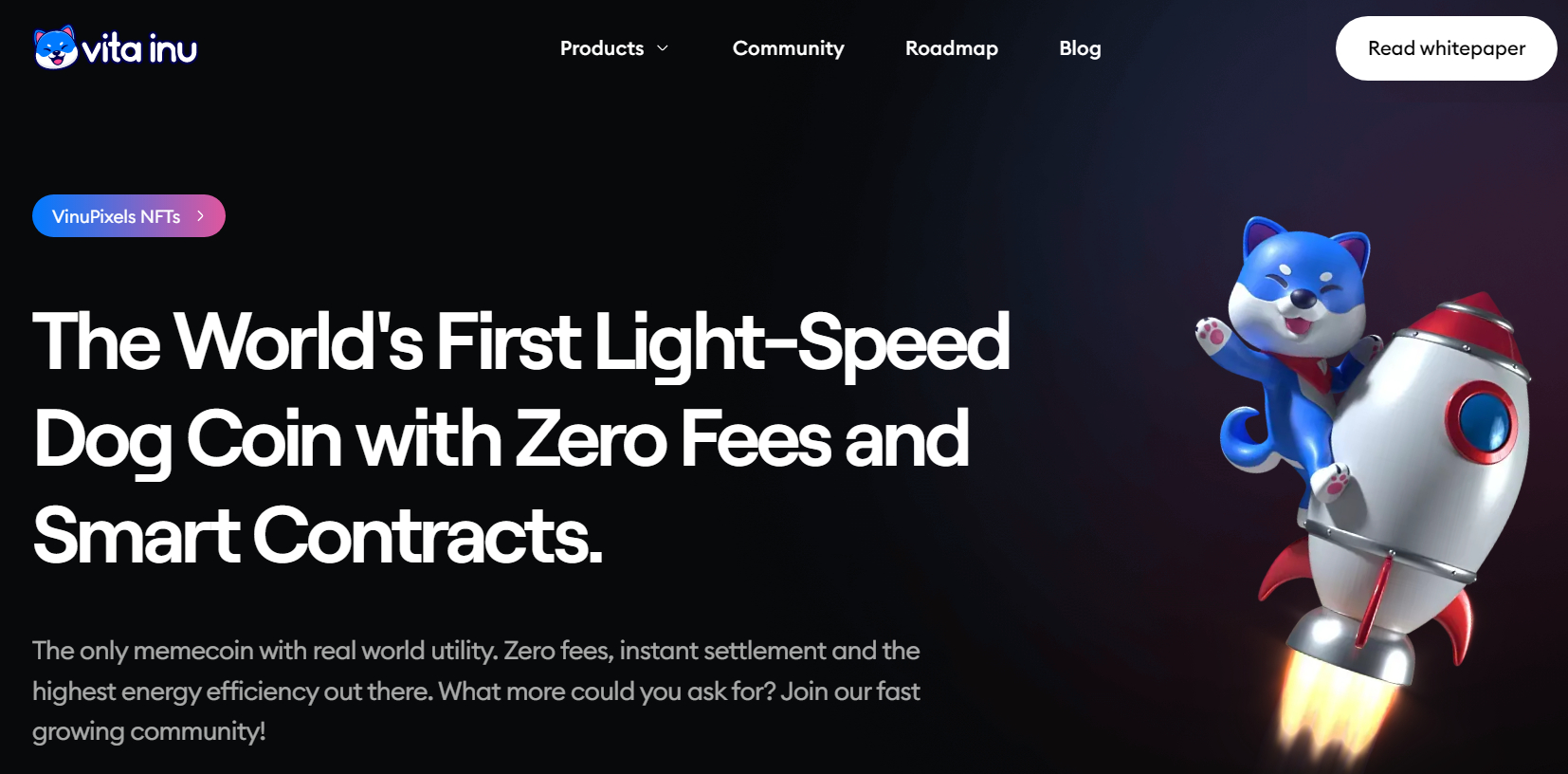 The Vita Inu Coin, also known as VINU, is the governance token of this ecosystem. There is a limited supply of one quadrillion Vita Inu tokens, out of which 100 trillion is set aside for burning at regular intervals. This strategy can help the coin grow in value, given that investor demand also rises over the years. 
However, when looking at the token's price action – it is clear Vita Inu has gone through considerable volatility over the past year and is something to keep in mind when buying altcoins.
11. Dogelon Mars – Musk-themed Meme Coin With Comic Books as NFTs
Dogelon Mars is yet another meme token that follows a doge theme. The team behind the project has touted 'Dogelon Mars' as a character on its venture to space. There is even a line of comics that features this character, which can also be purchased as NFTs. 
However, in simpler terms, Dogelon Mars is viewed to be influenced by Elon Musk's plan to colonize Mars. And what's more, the native token of the platform is called ELON.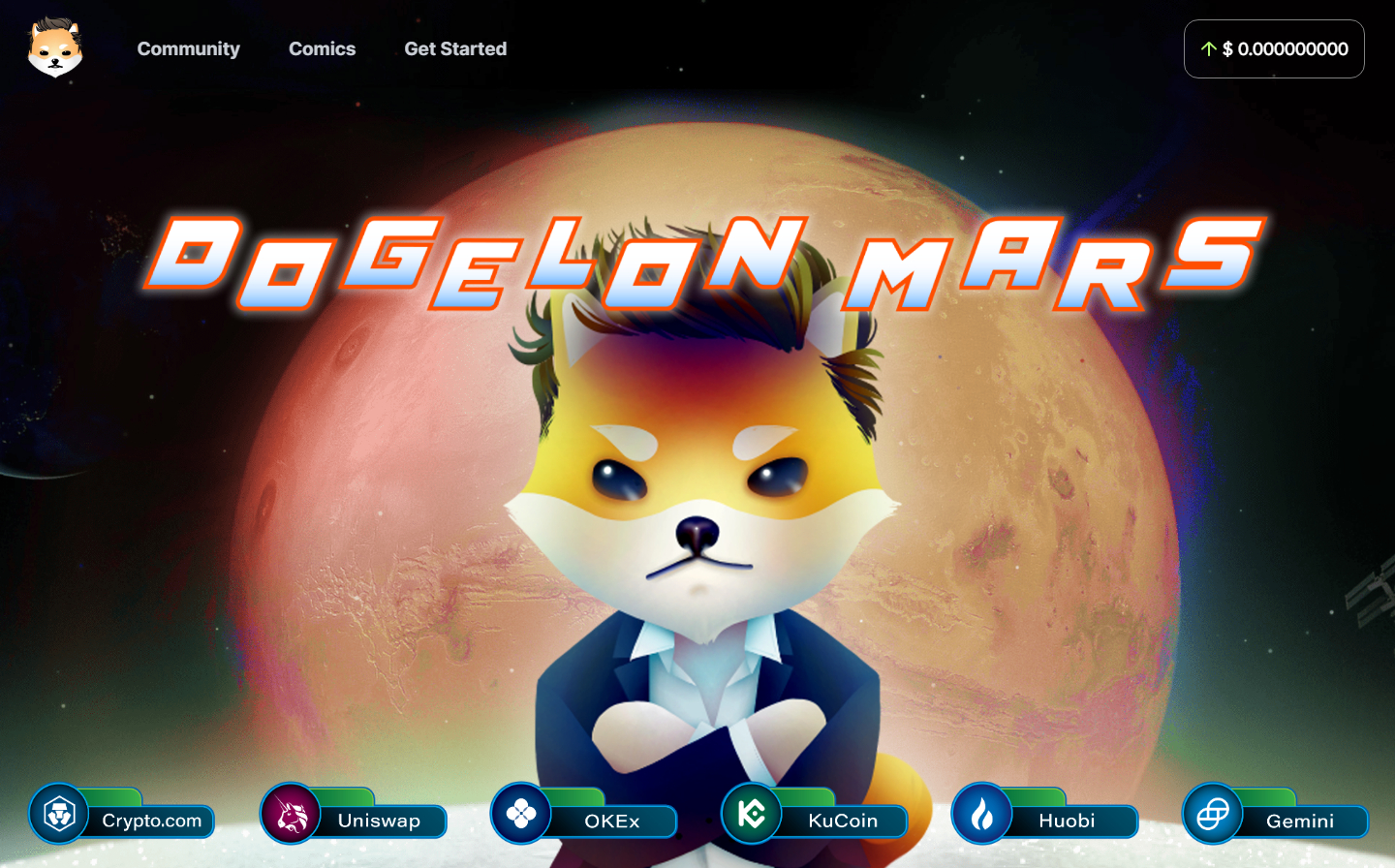 Dogelon Mars was first launched in early 2021, and within the months to follow, the token saw its price go up by over 120%. However, its value plunged by June of the same year to below-ICO price levels. 
By November 2021, the price of Dogelon Mars had hit its all-time high. The value of the token has gradually decreased since then. If the overall crypto market improves, there is a chance that the price of Dogelon Mars can also follow suit. 
The biggest strength of this project is community support. That being said, Dogelon Mars, despite its popularity, does not have any utility whatsoever – which is something to be considered before making an investment. 
12. MonaCoin – Meme Coin Facilitating Peer-to-peer Transactions
MonaCoin is one of the oldest meme coins in this space, with the project launched back in 2013. The digital token is based on a Japanese ASCII art character that looks like a cat. While this makes it a meme coin, there is one aspect that sets MonaCoin apart from the competition. 
Unlike most of its peers, MonaCoin is a unit of trade in Japan, where it was created. In fact, MonaCoin can be bought using Japanese yen via smart ATMs in the country. The coin is widely accepted across stores and by online merchants in Japan.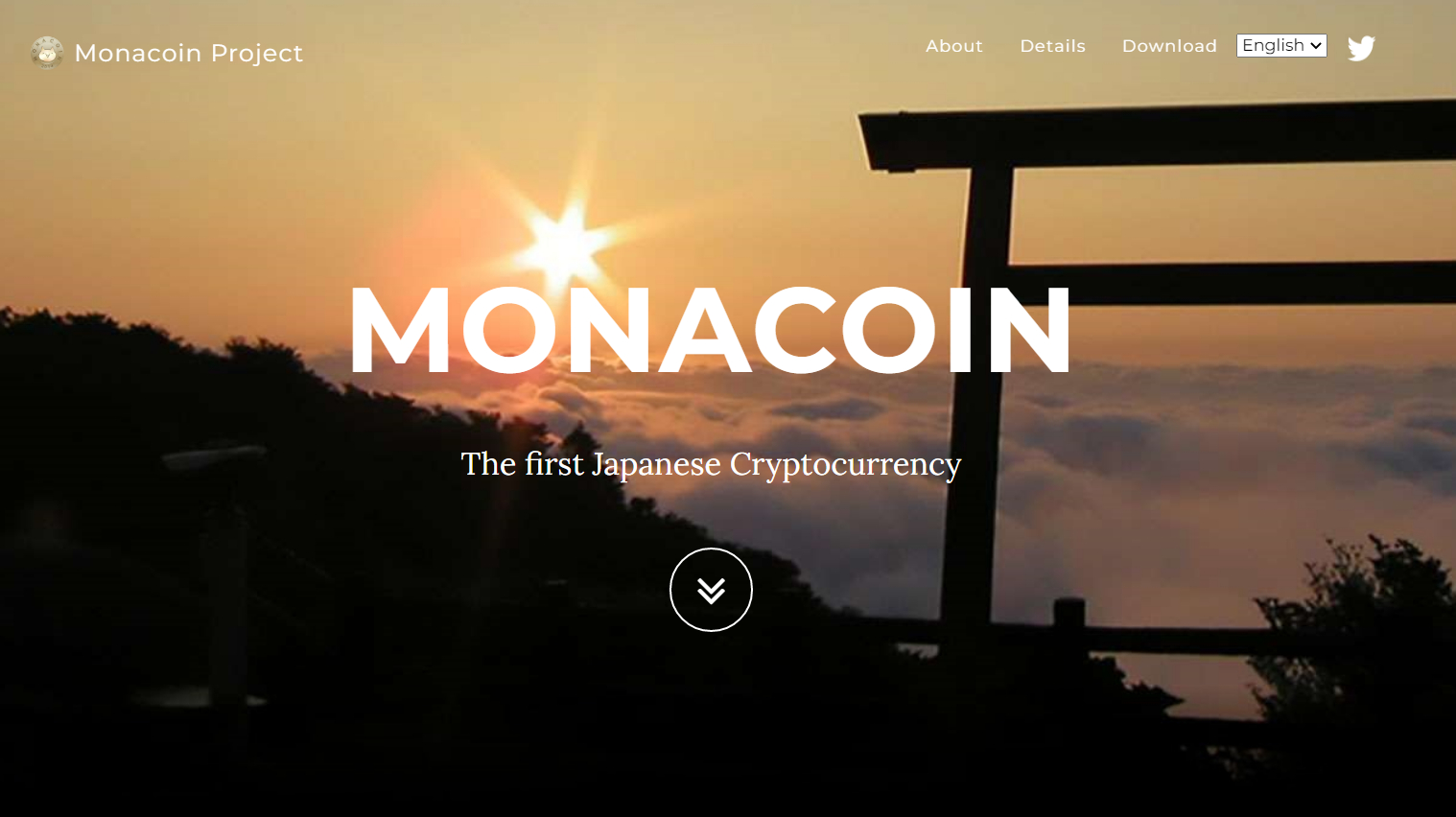 MonaCoin is also approved by the Japanese Financial Service Agency, adding to the credibility of the token. However, this cryptocurrency is as volatile as other meme coins out there. 
MonaCoin hit an all-time high of $16.45 back in 2017. Since then, its value has dropped significantly and it currently trades for around $0.40.
13. Baby Doge Coin – Digital Token Incentivizing Buy and Hold
Baby Doge Coin is one of many meme tokens that was launched in 2021. Needless to say, this cryptocurrency touts itself as the successor of Dogecoin. However, the team also aims to spread awareness about dogs and donate money to animal charities. 
This meme coin has gone through extreme volatility in the market. Immediately after its launch, the price of Baby Doge Coin shot up by over 900,000%. But, within the next couple of days, the price dropped by over 90%.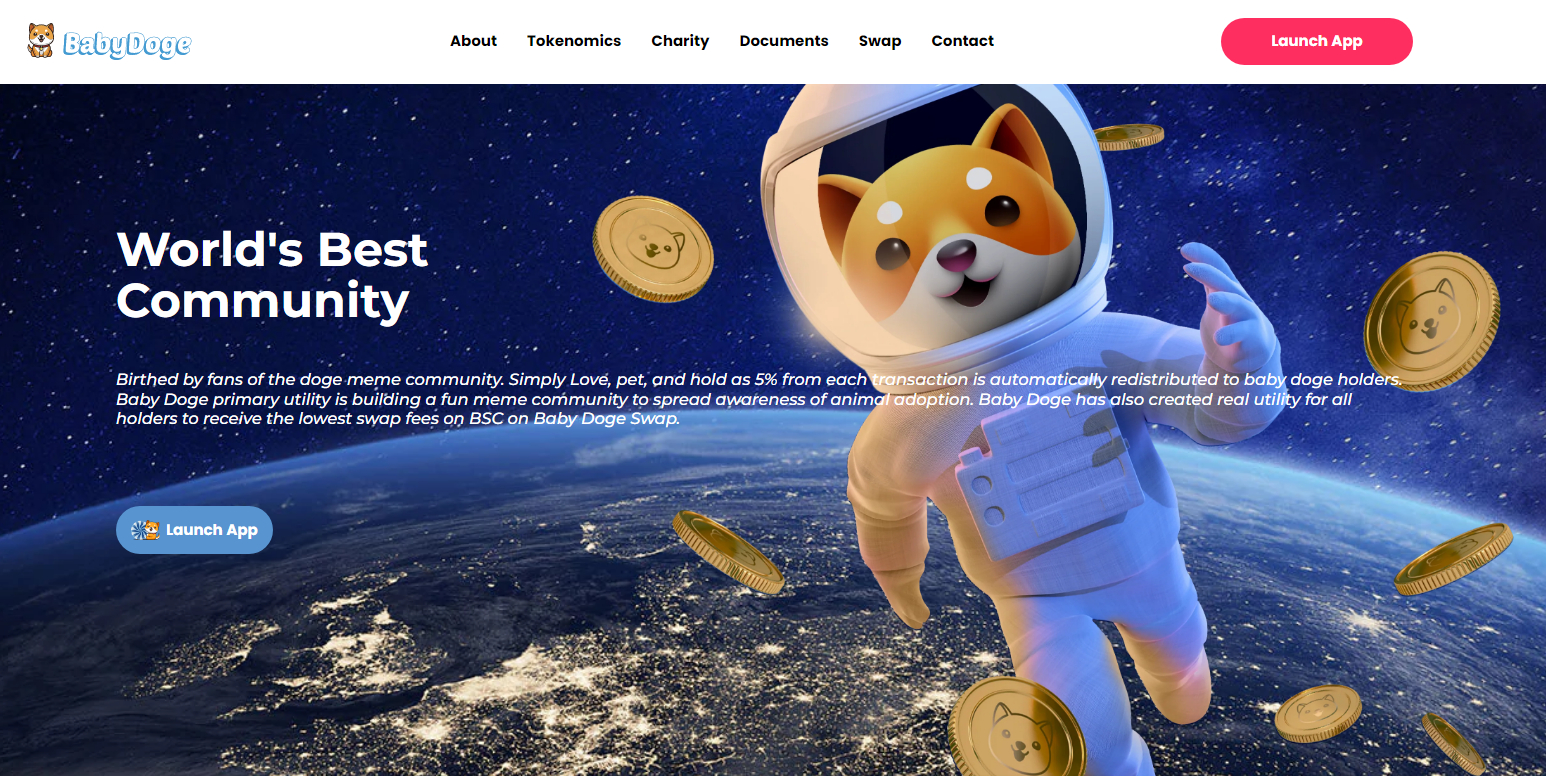 Through the last quarter of 2021 and the first few months of 2022, the price of Baby Doge Coin went through many volatile swings. The crucial point to remember is that there is nothing that makes Baby Doge Coin unique from other meme cryptos. 
Instead, the price of this coin went up due to its close association with Dogecoin as well as a strong social media marketing campaign. Consequently, there is no way to predict how the coin will move in the future. 
14. Samoyedcoin – Experimental Web3 Community Coin Built on Solana
Samoyedcoin dedicates its creation to Solana's co-founder Anatoly Yakovenko and crypto mogul Sam Bankman-Fried. The main purpose of the Samoyedcoin project is to accelerate the adoption, development, and growth of the Solana network. 
The platform also boasts high transaction speed and low fees. Although originally focused on its meme coin, Samoyedcoin has evolved over time to add other Web3 attributes to its ecosystem. Today, it also features an NFT collection, which can be purchased via Solanaart.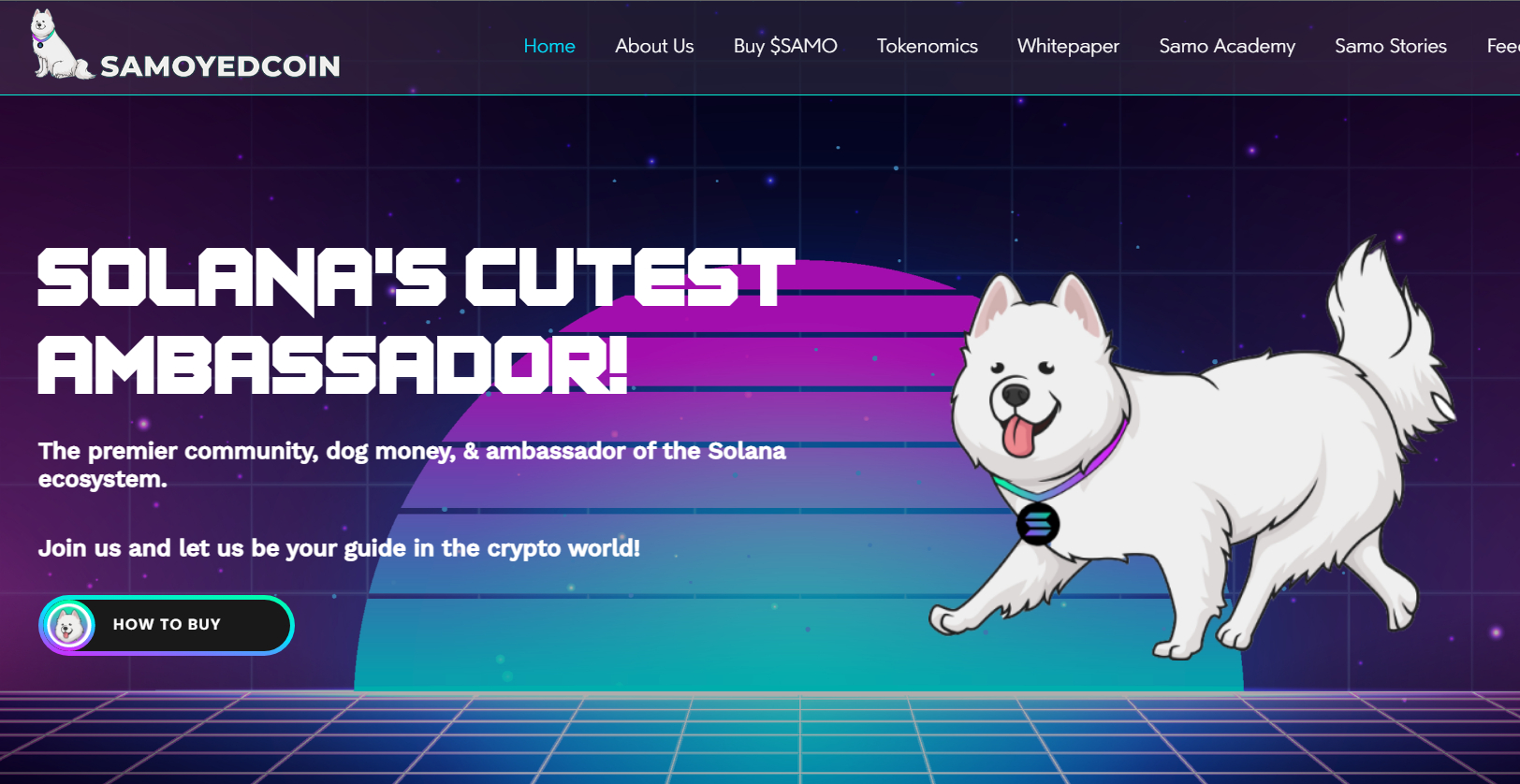 The platform also plans to add more utilities for its token and NFTs. However, at the time of writing, it remains a meme coin with nothing unique to offer. 
Nevertheless, Samoyedcoin has managed to build a strong community, which might help to increase its price in the future. 
What is a Meme Coin? 
Put simply, meme coins are digital tokens that become popular due to their association with online trends. Initially, meme coins were produced as a lighthearted joke, which was heavily influenced by internet ideas. 
And due to the nature of meme coins, they generally do not have any specific utility. Instead, the price of these meme coins is often influenced by social media, discussions on online forums, and even celebrity endorsements. 
As we noted above, Dogecoin was the first digital token to call itself a 'meme coin.' Following the success of dog-themed Dogecoin, an explosion of meme coins began to appear in the crypto market. 
Some of these, such as Shiba Inu and Dogelon Mars, are well-known among crypto investors and can be easily accessed on the best P2P crypto exchanges. 
On the other hand, there are many meme coins that have resulted in investors losing their money. For this reason, investing in meme coins comes with outsized risks as there is no way to predict how the market will move – even in the short term.  
Should I Invest in Meme Coins?
As is evident from our list of meme coins, only a handful of these tokens come with unique value propositions and many have sudden rises then fall and never return – this makes it even more challenging to figure out the best meme coins to buy. 
In the following sections, we will discuss why investors might want to consider meme coins. 
Meme Coins Could Produce High Profits 
As we have established, the majority of meme coins do not have any actual utility, unlike many of the top penny cryptos we have analyzed. Nevertheless, historically, a few of these tokens have produced some of the biggest moves seen in the crypto market. 
For example, in 2021, Dogecoin saw its price go from around $0.009 to $0.68 – translating to gains of over 7,000%. 
These extreme price shifts often happen due to the interest generated by supporting online communities. That being said, the price can also drop to extreme levels – when the frenzy and demand wanes. 
After reaching its all-time high in 2021, the price of Dogecoin dropped to around $0.17 by the end of 2021. This is why investors have to be extremely careful when risking their money on meme coins. 
Meme Coins Can Offer Utility 
Not all meme coins are based on the latest internet trends. Instead, some of the new crypto meme projects discussed today are also adding utilities to their ecosystem. 
For instance, take the case of Shiba Inu. This meme coin also integrates with smart contracts, which opens up a lot of possibilities, while Chimpzee allows holders to help save the environment and preserve nature and wildlife.
Therefore, when looking for the best meme coins for 2023, investors no longer have to base their decisions on wild speculations. 
Rather, they can consider the top meme coins available in the market that offer utility. This way, it will be easier to identify coins that have the potential to grow in the future.   
Strong Community Backing 
When searching for the best meme coins to invest in, investors should attempt to find those with a large community support. As we have pointed out, the community can play a significant role in influencing the price action of a meme coin.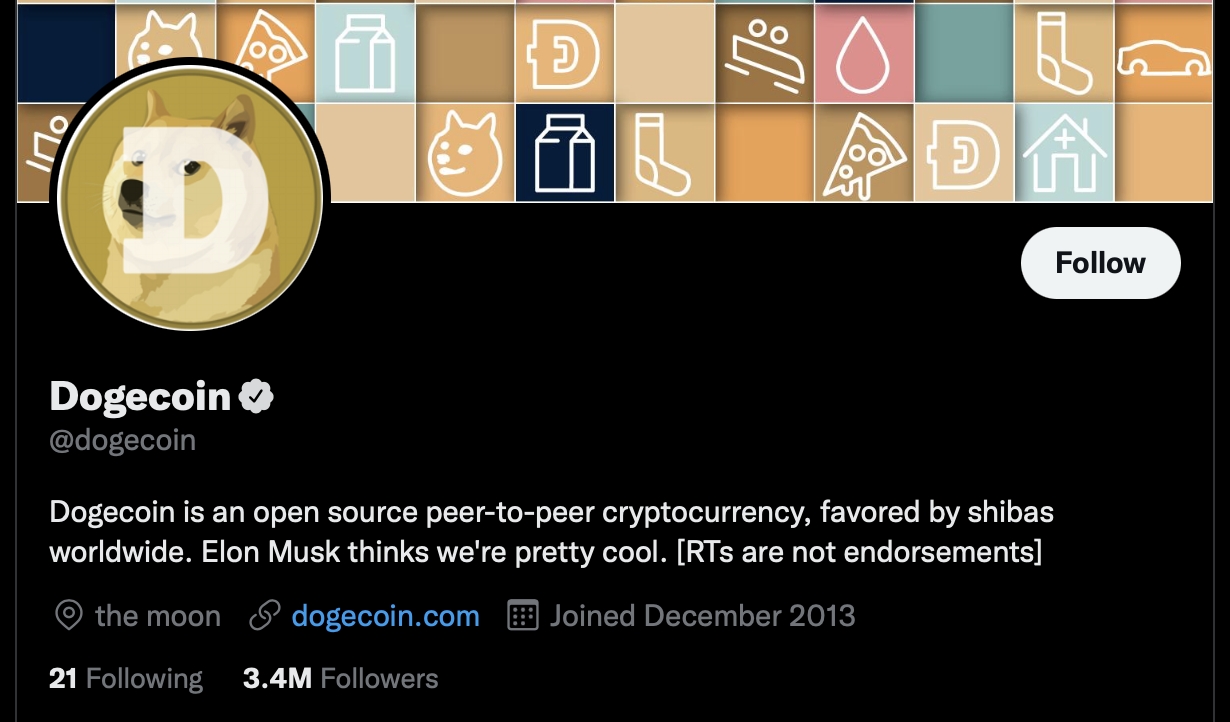 Individuals in the community can help spread the news of the coin, encourage others to invest, or make a token go viral. As such, social media platforms and online forums such as Reddit are good places to spot meme coins that might explode. 
All that being said, there is no guarantee that a meme coin will increase in value exclusively due to its community backing. 
While there are one or two exceptions, it is a highly risky move to invest in a meme coin just because the project has a lot of followers on social media.  
Risks of Investing in Meme Coins
As a whole, cryptocurrency is a largely speculative asset class. Due to the lack of regulation and extraordinary volatility, cryptocurrencies carry a lot of risks. And in the case of meme coins, the stakes are even higher. 
The majority of meme coins out there lack any real utilities, with only a few exceptions. As such, the value of these digital tokens is often based entirely on the frenzy fueled by social media platforms. 
In addition to this, many meme coin projects have also turned out to be rug pulls. For those unaware, rug pulls are ventures where crypto developers abandon a project and run away with investors' funds. 
As such, investors should be extremely careful when looking for the best meme coins to buy for their portfolio. 
If investors manage to buy and sell at the right time, they might be able to make money from meme crypto coins. 
The best strategy would be to focus on cryptocurrencies that have strong fundamentals that are likely to stand the test of time. 
What Influences the Price of a Meme Coin?
As with any other investment, the price of cryptocurrencies is also influenced by the supply and demand in the market. 
However, in the case of meme coins, the factors that affect the general market sentiment are slightly different. 
For instance, since many meme coins do not have any particular utility, the market performance of these tokens is often dictated by speculation. 
To determine the best meme coins to buy, investors should look into its community as well as the influencers associated with the respective token.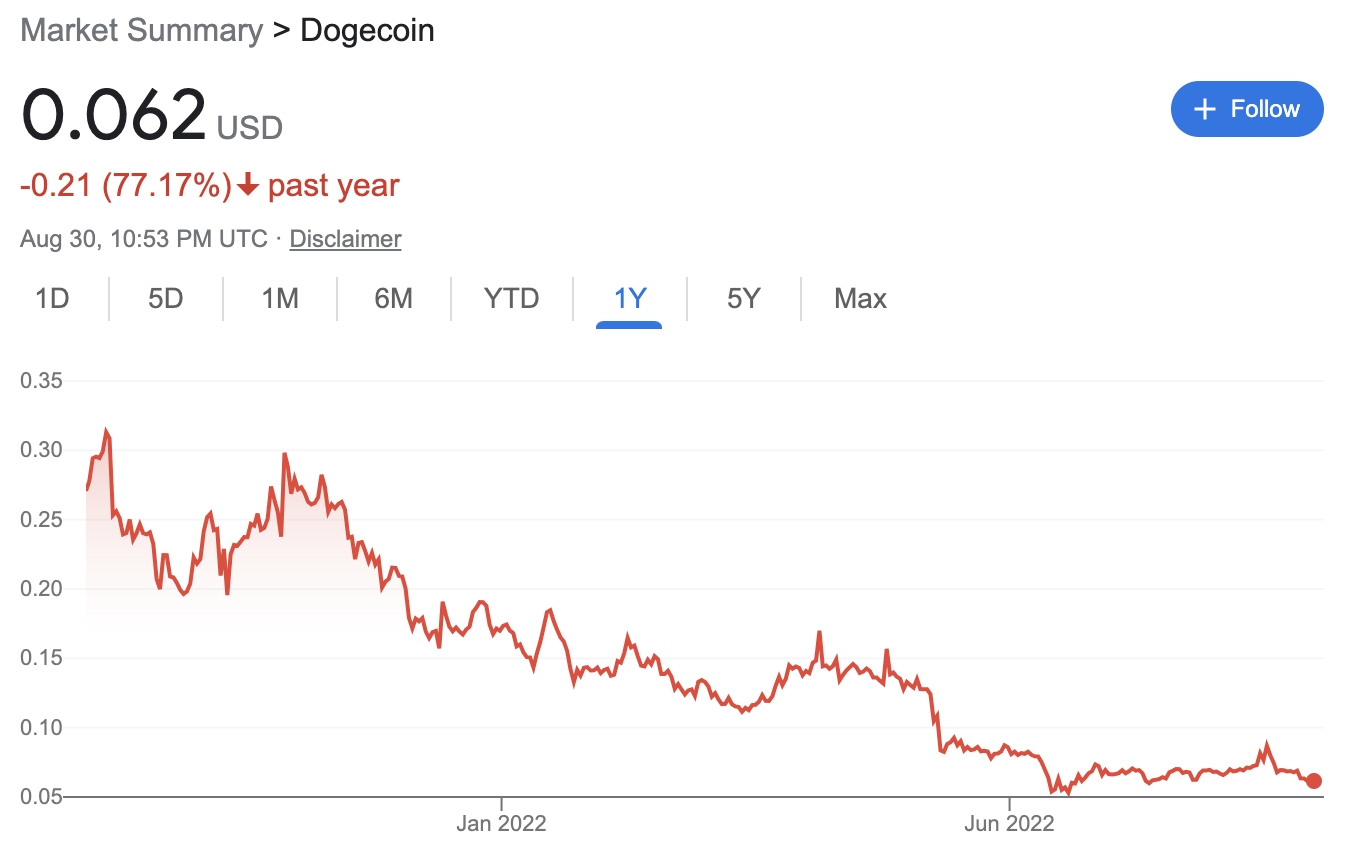 Needless to say, popular influencers and a strong community can be viewed as positive indicators. 
Sometimes, discussions on online forums can lead to a meme coin going viral. When this happens, the community grows, interest piques, demand rises, and the price of the coin may go up. 
Similarly, even a tweet can have an effect on the performance of a meme coin. 
For example:
If we take the case of Dogecoin – its pricing swings often go hand-in-hand with the tweets or actions of Elon Musk. 
In December 2021, Musk tweeted that Tesla would accept Dogecoin as a payment method. 
Following this, the price of Dogecoin increased significantly. 
However, soon after the buzz from the tweets dies down, the price also falls. 
In fact, an investor has even filed a lawsuit against Musk for influencing the price of Dogecoin. 
A more recent rise saw Musk change the Twitter logo to a doge – prompting a huge surge in price and then a dramatic drop.
All in all, if one thing is clear, it is that meme coins are notoriously volatile. One way to mitigate the risk is to get educated about the project and to diversify across multiple cryptocurrencies. 
The Verdict?
In this guide, we have discussed a list of meme coins that have the potential to grow in the future. We have also covered the benefits of buying meme coins and what risks to consider before making an investment. 
Our top pick for the best meme coin right now is Meme Kombat ($MK). This meme token will feature a play-to-earn battle arena where users can fight others and wager on battles. Furthermore, $MK, the native token, can be staked to earn high returns of 400%.
$MK is priced at $0.214 during the presale, which has already raised more than $2.25 million at the time of writing.
FAQs
What is a meme coin? 
Meme coins are digital tokens that are usually designed around a popular internet trend or an idea. These might pay homage to a meme or a celebrity. For instance, Dogecoin is inspired by the dog Shiba Inu. 
What are the top meme coins to buy right now?
The best meme coins to buy right now include Meme Kombat, Wall Street Memes, and Sponge. Bear in mind that this list is based on the market trends at the time of writing. So, when choosing the best meme coins to buy, investors should always conduct independent research. 
What meme coin should I buy in 2023?
Those looking for the best meme coins to buy in 2023 should look for new tokens that are emerging in the market. Meme Kombat ($MK) has just released the $MK token on presale. Investors can leverage the token to earn passive income through a staking contract, and use $MK to wager on bets through a battle arena. 
How do you invest in meme coins? 
The most popular meme coins can be purchased via online crypto brokers and exchanges. Newly launched crypto projects also allow investors to buy their meme coins directly via a direct presale launch. 
What is the best way to find new meme coins to buy?
One of the best ways to find new meme coins is by consulting social media platforms and crypto subreddits. This is where community discussions regarding the best investment opportunities often take place. Investors can also check out crypto aggregators such as CoinMarketCap to find out when new meme tokens are launching in the market.
---